12 Oct
News and Analyses, A Foreign Perspective
Nearly all of these are English-edition daily newspapers. These sites have interesting editorials and essays, and many have links to other good news sources. We try to limit this list to those sites which are regularly updated, reliable, with a high percentage of "up" time.
Recommended:

In 2015 The Guardian named Cork's Mary Harris, or "Mother Jones", among the world's all-time top ten revolutionaries – alongside the likes of Che Guevara, Robespierre, Trotsky and Gandhi. But who was Mother Jones, asks Robert Hume, and what made her such a threat?

It's 'Mother Jones Day' today, October 12 — well, if you happen to be living in Illinois, where you may also have savoured last Sunday's Mother Jones Foundation dinner.
Here in Ireland, Cork City Council declared August 1 as 'Mother Jones Day', to commemorate her baptism in 1837 at St Mary's Cathedral. The Spirit of Mother Jones Festival is held shortly afterwards in Shandon, where a plaque is dedicated to her in John Redmond Street.
Irish roots
"I was born in the city of Cork, Ireland… My people were poor", wrote Mary in her autobiography.
Her family had migrated from the country parish of Inchigeelagh in search of work.
She grew up in the lanes and twisting alleys close to the noisy Butter Market and a foul-smelling tannery.
Perhaps she learned to read and write at the North Presentation Convent, where nuns offered poor girls free education.
Hunger and emigration
In late summer 1845, the potato blight arrived in Cork; and by winter little food was left. Workers could not feed their families. In 1847, aged 10, her father and older brother fled to Canada.
Somehow her mother kept the rest of the family together.
Mary saw starved corpses being carted away. She lay in constant fear of being sent to the workhouse.
In 1851, following a difficult five-week sea passage from Cobh, the family was reunited in Toronto, where Mr Harris had found work as a railway labourer.
Mary learned how to make dresses, before training as a teacher — one of the few careers open to women. In 1860 she left Toronto to take a teaching post at a convent in Monroe, Michigan. She found the school a depressing place.
Moving to Chicago, she opened a dressmaking business: "I preferred sewing to bossing little children", she explained.
During another brief spell of teaching in Memphis, Tennessee, she met and married George Jones, an iron moulder and staunch trade unionist.
As schools would not employ mothers, Mary gave up teaching for good, and spent her time taking care of the home and her four children.
Fever and fire
In 1867 yellow fever struck Memphis. "One by one, my four little children sickened and died", recorded Mary. "I washed their little bodies and got them ready for burial. My husband caught the fever and died".
After staying to help nurse the sufferers, she left Memphis and returned to Chicago where she opened a dressmaker's shop with a partner.
She found herself sewing for wealthy men and women who lived in magnificent houses on Lake Shore Drive, while poor wretches, "jobless and hungry", shivered outside. It didn't seem right, but "my employers seemed neither to notice nor to care".
On the night of October 8, 1871, fire swept through Chicago. Thousands of people became homeless. Mary lost her house, all her possessions, and the dressmaking business.
Reinventing herself
Many people might have caved in. But not Mary.
Amid the smouldering ruins of the fire, she attended lectures by the Knights of Labor and became so "engrossed" in the labour movement that she even claimed her birthday was May 1, Labour Day.
Tragedy had freed her. Unencumbered by family commitments, Mary reinvented herself as "Mother Jones".
By donning long black dresses, whitening her hair, and carrying a handbag, she transformed herself into a wise but harmless-looking old woman — perhaps on her way to a missionary meeting to knit mittens.
Raising hell
While other women were discussing Shakespeare, Mary began talking with streetcar conductors, miners and mill girls, getting them to form unions to agitate for an eight-hour day.
She tramped dusty back roads, spoke from a farmer's wagon in an open field, and crossed mountain ridges from one rally to the next.
When introduced as a "humanitarian" at one meeting, she replied: "I'm not a humanitarian. I'm a hell-raiser".
Socialist leader Eugene V. Debs hailed her as a "modern Joan of Arc".
"Thou shalt not steal"
Like a good mother, she knew how to make her union "boys" behave. Although barely five foot tall, she controlled them with her sharp, steel-grey eyes. She told striking miners and railwaymen "that capitalists had broken the commandment: Thou shalt not steal".
During the depression of the 1870s she campaigned in Kansas for the government to create jobs for the unemployed. In Alabama she encouraged women to form unions in the silk mills.
She spoke with passion and engaged workers by telling stories about herself. United Mine Workers official John Brophy recalled: "She would take a drink with the boys and spoke their idiom… she didn't become shrill when she got excited, instead her voice dropped in pitch".
With her famous slogan: "Pray for the dead and fight like hell for the living!" she whipped up audiences into frenzy: "My father was an Irish refugee", she told them, "and I think some of his rebellious blood must linger in my veins".
In later years her speeches regularly got her arrested and imprisoned.
Inspired by Mother Jones, on October 12, 1898 — 'Mother Jones Day' — miners in Illinois, went on strike. Seven died in a bloody showdown with guards and strikebreakers. During a strike in Pennsylvania, she led a "broom and mop" march of miners' wives to shame scabs.

A rhinoceros hornbill and a white moray eel are among this week's pick of images from the natural world

Sources say audio and video evidence show journalist died at Saudi consulate in Istanbul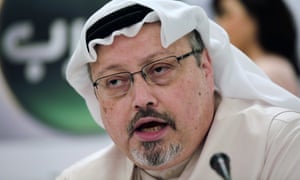 Jamal Khashoggi has not been seen since entering the Saudi consulate in Istanbul last week. Photograph: Hasan Jamali/AP
Turkish investigators have claimed video and audio recordings exist that prove Jamal Khashoggi was killed, a sign that Ankara is willing to keep up the pressure on Riyadh to back up its claims it has nothing to do with the dissident journalist's disappearance.
US government officials told the Washington Post late on Thursday that their Turkish counterparts claimed the recordings from 2 October prove Khashoggi was murdered and his body dismembered during a visit to the Saudi consulate in Istanbul to pick up marriage paperwork.
The alleged audio evidence – which Turkish sources have also suggested exists in comments to the Guardian – is particularly strong, officials said.
"You can hear his voice and the voices of men speaking Arabic," a source told the Washington Post. "You can hear how he was interrogated, tortured and then murdered."
While US officials said the contents of the supposed tapes had been described to them, it was not clear whether they had seen or listened to the recordings themselves.
Admitting the existence of any planted listening or video devices is a difficult balancing act for the Turks, who are wary of revealing any efforts or methods used to spy on foreign operations inside the country, and are also at pains to maintain a delicate political and trade relationship with Riyadh.
Saudi Arabia has vehemently denied all allegations it was involved in the journalist's disappearance and says he left the consulate safely shortly after entering it last week.
Late on Thursday, however, it was announced that US investigators would assist a joint Turkish-Saudi investigation into how the 59-year-old vanished.
Riyadh previously said Turkish investigators could search the consulate, which as a diplomatic building is considered sovereign Saudi territory.
However, permission was withdrawn after Turkish media published the names and pictures of an alleged 15-man assassination team captured on CCTV at Istanbul's Ataturk airport, which included a forensics expert and several Saudi intelligence and military officers.
As well as the six-storey consulate, the investigation is focused on the consul general's home 200 metres away, where it is believed Khashoggi's body was disposed of.
Khashoggi, a well-known and respected member of elite Saudi and Washington DC circles, left Saudi Arabia last year after growing fearful for his safety and has since served as a columnist for the Washington Post.
He has criticised Mohammed bin Salman since his appointment as crown prince and de facto ruler of the kingdom in 2017.
It was reported by the Washington Post on Wednesday that US intelligence officials were aware of a plan to lure Khashoggi back to Saudi Arabia and detain him.
More On This Story:
Read Full Article>>

World Politics
United States
Campaigners say more than 15m people who care about the environment did not vote in the 2014 midterms – can they create a 'green wave' this November?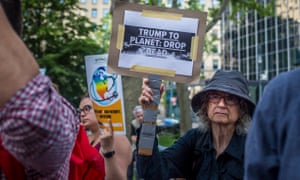 People protest in New York in June 2017 after Donald Trump withdrew the US from the Paris climate accord. Photograph: Michael N/Pacific/BarcroftImages
A

mong the motivating issues for voters in US elections, the environment is typically eclipsed by topics such as healthcare, the economy and guns. But the upcoming midterms could, belatedly, see a stirring of a slumbering green giant.
"The environmental movement doesn't have a persuasion problem, it has a turnout problem," said Nathaniel Stinnett, founder of the Environmental Voter Project, which is aiming to spur people who care about the natural world and climate change to the ballot box. "This group has more power than it realizes. In the midterms we want to flood the zone with environmentalists."
Any such voting surge would go some way to heeding the increasingly urgent warnings from scientists about climate change. A major UN climate report released this week said the world risks worsening floods, droughts, species loss and poverty without "rapid and far-reaching transitions" to energy, transport and land use.
"We show it can be done within laws of physics and chemistry," said Jim Skea, a co-author of the exhaustive report. "The final tick box is political will. We cannot answer that."
An obstacle in the US is the large pool of environmental voters who don't actually vote, according to public records and polls analyzed by the Environmental Voter Project. It estimates more than 15 million people who rank the environment as a top tier issue didn't vote in the 2014 midterms. Since its creation in 2015, the voter project claims it has increased turnout of target voters by as much as 4.5% in elections.
In 2018, it is aiming to reach 2.4 million of these voters across six states as part of a turnout effort that could help swing some key races. An army of 1,800 volunteers will knock on doors, fire off text messages, make calls, send mailouts. The "punchline" of the Environmental Voter Project, Stinnett said, is that it doesn't talk to voters about the environment at all. It simply tries to get them out to vote.
"We are already targeting people who care about the environment, all we want to do is get them to vote on election day," he said. "Peer and social pressure are the best ways – we will send someone a letter saying 'did you know 93 people in your building turned out to vote last time?' We play to societal norms and expectations.
"Our focus isn't to change the outcome of particular elections but there's no doubt the number of non-voting environmentalists in some districts is so large that they will have an impact. We need to hold politicians' feet to the fire on the environment, but first of all we need some fire."
Americans of voting age who care strongly about the environment have been unusually reticent to make their voice heard, for reasons that are still unclear. Stinnett said demographics are part of it – the young, Latinos and black people are simultaneously most worried about climate change and least likely to vote – but this doesn't explain the full story.
"It's hard to figure out why," he said. "Even among young people, for example, environmentalists are less likely to vote. The environmental movement has done a lot of things to change the way we eat, travel and work, but it hasn't flexed its political muscles yet.
Look at the NRA. Their power isn't in the amount of money they spend – it's because if you care about gun rights, you vote like it's your job. Politicians know that and they are in the business of collecting votes. Why would they spend time on an issue that doesn't appear to energize voters?"
Beyond disasters such as hurricanes and wildfires, most politicians and the media, particularly broadcast news, rarely dwell for long on environmental matters. In 2017, the costliest year on record for climate-related disasters, a total of just 260 minutes coverage of climate change was broadcast across the six major TV networks, according to one analysis.
A year prior, no questions on climate change were put to Donald Trump or Hillary Clinton during three presidential debates. Trump has subsequently ignored the issue in office, save the odd disparaging tweet, while overseeing an administration that has systematically dismantled climate, air and water pollution regulations.
At first glance, the evidence suggests there will be only a mild voter backlash to this agenda. Voters asked recently by Yale University to rank 28 issues placed global warming 15th, behind areas like tax reform, immigration, terrorism, healthcare and the economy.
The partisan split is stark, however – while liberal Democrats place global warming fourth out of 28, conservative Republicans rank it dead last. "The issue has become more polarized than abortion in terms of voting priorities," said Anthony Leiserowitz, director of the Yale Program on Climate Change Communication. "The most important factor in belief in climate science is political ideology.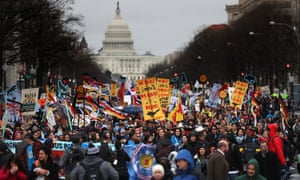 Protesters march during a demonstration against the Dakota Access pipeline on in March 2017 in Washington. Photograph: Justin Sullivan/Getty Images
"It is remarkable that the base of one of the two major parties in the US lists climate change as a top four issue. You wouldn't have seen that five years ago. But those numbers drop among conservative Democrats and so candidates are afraid to touch it when reaching to the middle. And among conservative Republicans, the issue is just toxic."
In a few close midterm races, this split is evident. In Pennsylvania's redrawn 10th district, for example, Democrat George Scott, a former soldier and pastor, is up against incumbent Scott Perry.
While Scott has said there is an "obligation to our children and grandchildren to take immediate action" on climate change, Perry has done little on the issue other than to attempt to prevent the Pentagon from doing anything related to climate change and seemingly blame God for pollution in Chesapeake Bay. The Environmental Voter Project is targeting 31,292 seldom-voting and non-voting environmentalists in Perry's district ahead of the election.
"This is Trump country and the environment and climate change isn't a top issue here," said Alex Bishop, a registered Republican who works in marketing for a tech company. Bishop lives in York, a city in southern Pennsylvania that is a key urban hub in the 10th district, and is involved in outreach to fellow conservatives on climate change.
"Even saying 'climate change' sets off red flags here so it's better to connect climate change with other issues, such as immigration or the military protecting fossil fuels. I would say it's gone from 'it's all a hoax' to 'maybe something is going on.' It doesn't sound like much progress, but it's slowly turning."
The divisiveness of climate change can be separated from broader environmental concerns over the health of the air, water and landscapes. In Yale's poll "environmental protection" ranks as a top 10 issue for Democrats and is number 11 for moderate Republicans, a group Leiserowitz describes as comprising roughly a third of the party that follows in the Teddy Roosevelt tradition of fondness for public lands and wildlife stewardship.
But in a new political landscape where energizing a core of voters is edging out the desire to reach a diminishing middle ground, climate change is vigorously debated by both sides only during Democratic primary races.
This partisan relationship has shown up in Yale's polling of Republicans. In the two years before the election of Trump in 2016, belief that climate change is happening increased 19% among Republican voters, only to crash once the new president made clear his disdain for climate science and decided to pull the US from the Paris climate agreement.

Source: Reuters
Donald Trump has made it clear that whatever the outcome of the inquiry into the disappearance of the journalist from the Saudi embassy in Istanbul, the US will not forgo lucrative arms deals with Riyadh. The president says the possibility of Saudi Arabia sourcing its arms from Russia or China instead is unacceptable