14 Oct
News and Analyses, A Foreign Perspective
Nearly all of these are English-edition daily newspapers. These sites have interesting editorials and essays, and many have links to other good news sources. We try to limit this list to those sites which are regularly updated, reliable, with a high percentage of "up" time.
Recommended:

World Politics
Germany
Organisers say 242,000 turned out to express opposition to racism and xenophobia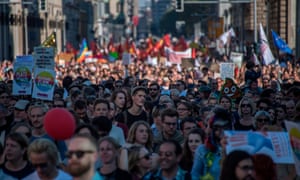 Thousands of protesters march down Leipziger Straße in Berlin on Saturday. Photograph: John Macdougall/AFP/Getty Images
Protesters from across Germany have marched through Berlin against racism, xenophobia and the far right in one of the country's biggest rallies of recent years.
Organisers put the turnout at 242,000 people. The demonstration on Saturday followed anti-immigration protests in several eastern cities over the summer and a rise in support for the far-right Alternative for Germany (AfD) party before a state election in Bavaria on Sunday.
A police spokesman declined to estimate the size of the crowd at the march, which was organised by a broad alliance of associations, labour unions, parties and rights groups including Amnesty International.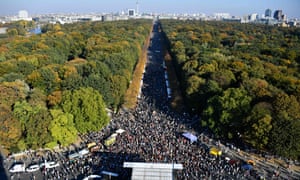 Demonstrators gather in Berlin's Tiergarten district. Photograph: John Macdougall/AFP/Getty Images
Marchers carried placards reading "build bridges not walls", "united against racism" and "we are indivisible – for an open and free society". Some danced to pop music on a warm autumn day.
The arrival of more than 1 million refugees, many from war zones in the Middle East, has increased support for the AfD. It is expected to fare well in the election in Bavaria, long a stronghold of the conservative Christian Social Union, a member of Angela Merkel's federal coalition government.
Far-right groups in the eastern city of Chemnitz clashed with police and chased people they believed to be foreign in August after the fatal stabbing of a German man that was blamed on two immigrants. Similar protests took place in Dresden, Köthen and other eastern cities.
Merkel has accused AfD politicians of using the violent protests to stir up social tensions, although the number of violent attacks on refugees and asylum shelters in Germany fell sharply in the first half of this year.
Two companies have also warned their employees about the dangers of populism before the election in Bavaria, and the head of the BDI industry association has said the economy could be hurt by a wave of nationalism.

United States
Ten days at the White House qualify The Mooch to write a kiss and tell. It's a love letter to the man who hired and fired him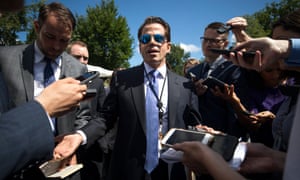 Anthony Scaramucci speaks to reporters at the White House, July 2017. Photograph: Jim Lo Scalzo/EPA
I

n August 2017, after only 10 days on the job, Anthony Scaramucci was bounced from the White House as his reward for a galactically memorable lapse in judgment and couth. The alumnus of Tufts and Harvard Law School decided to share with the New Yorker that Steve Bannon – the man who righted Donald Trump's presidential campaign – was prone to bouts of egotism and, shall we say, auto-erotic gymnasticism.
More than a year after being banished from the castle, Scaramucci is still hovering near the moat, apparently auditioning for another job while looking to settle scores weeks before the midterm elections. His book, Trump: The Blue Collar President, is both his vehicle and weapon of choice.
Not surprisingly, it is a paean to both author and president. It is self-revelatory, self-reverential and an addition to the growing pile of Trump alumni kiss-and-tells. For someone who was an assistant to the president for less than two weeks, "the Mooch" has a lot to say.
As is to be expected, he ladles out praise for Trump, offering hosannas to the president and his father while showering generous portions of filial piety on his own dad. Scaramucci observes: "My father and Fred Trump lived by the simple American equation: the harder you worked, the more opportunity you afforded your family."
More than a year after being banished from the castle, Scaramucci is still hovering near the moat
Unmentioned is that, as recently reported by the New York Times, Fred successfully and possibly fraudulently conveyed hundreds of millions of dollars to his son in an end-run of estate tax laws. Trump himself has not refuted the reality that he was born on third base. Instead, he remains secure in his belief that he hit a game-changing triple in the seventh game of life's World Series.
But then again, so what? As Scaramucci tells it, Trump "understood, even back in the 80s, that people need a good story to make sense of the world". Or at least a narrative to reinforce their beliefs, truth be damned.
While describing Trump's drubbing as a casino operator, Scaramucci attempts to paint a patina of unvarnished success on Trump's West Side Yards project, a real estate development on Manhattan's Upper West Side. Reality was more complicated. Trump did not cover himself in glory.
Scaramucci writes selectively of the city "accepting" Trump's bid on the land, and allows the story to fade. Actually, it appears Trump blew an opportunity to become the city's premier property magnate. As Bloomberg reported in 2016: "It was a deal of genuine magnitude and would have put [Trump] atop the New York real estate market. And he screwed it up."
Specifically, Trump had difficulty navigating the competing demands of lenders and community groups, picked a fight with Mayor Ed Koch, and wound up worse for wear. In the end, "Trump had become a major personality, but he wasn't New York's top developer."
Elsewhere, Scaramucci confirms that Ivanka, the first daughter, was his portal to West Wing employment. In his words, "I got a call from Ivanka Trump asking if I would come in and talk to her and her dad." For good measure he adds: "Ivanka and Jared are good friends of mine, and have remained so." Nous sommes arrivés.
John Kelly is 'ineffective', insecure and a poor pairing for Trump. Reince Priebus is portrayed as a 'rat'
To be sure, Scaramucci is a true American success story, with a managed fund to show for his work. In addition to writing of his ties to the first family, Scaramucci gladly tells of his own upward arc, even as he lugs a huge chip on his shoulder. And yes, good old-fashioned north-east ethnic reductionism colors his tale.
Scaramucci refers to himself as a "Guido", and claims he was never destined for stardom at his one-time employer Goldman Sachs. As he put it: "Nobody there will ever admit to this, but if you're an Italian kid from working-class roots, there's a glass ceiling that you'll never be allowed to break through."
Describing New York's University Club, Scaramucci observes that it resembles a place where "old Wasps covered up their affairs", and looks like a set from the 1980s movie Trading Places. He's not that far off the mark. The club's architects were Charles McKim, William Mead and Stanford White. Like Trump, Scaramucci grew up outside Manhattan's rarified precincts and lets his resentments and yearnings shape his prose.
Campaigners say more than 15m people who care about the environment did not vote in the 2014 midterms – can they create a 'green wave' this November?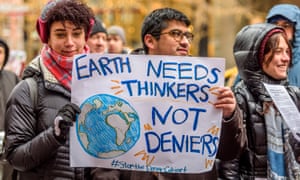 New York activist groups demonstrating in 2017 Photograph: Pacific Press/LightRocket via Getty Images
A

mong the motivating issues for voters in US elections, the environment is typically eclipsed by topics such as healthcare, the economy and guns. But the upcoming midterms could, belatedly, see a stirring of a slumbering green giant.
"The environmental movement doesn't have a persuasion problem, it has a turnout problem," said Nathaniel Stinnett, the founder of the Environmental Voter Project, which is aiming to spur people who care about the natural world and climate change to the ballot box. "This group has more power than it realizes. In the midterms we want to flood the zone with environmentalists."
Any such voting surge would go some way to heeding the increasingly urgent warnings from scientists about climate change. A major UN climate report released this week said the world risks worsening floods, droughts, species loss and poverty without "rapid and far-reaching transitions" to energy, transport and land use.
"We show it can be done within laws of physics and chemistry," said Jim Skea, a coauthor of the exhaustive report. "The final tick box is political will. We cannot answer that."
An obstacle in the US is the large pool of environmental voters who don't actually vote, according to public records and polls analyzed by the Environmental Voter Project. It estimates more than 15 million people who rank the environment as a top tier issue didn't vote in the 2014 midterms. Since its creation in 2015, the voter project claims it has increased turnout of target voters by as much as 4.5% in elections.
In 2018, it is aiming to reach 2.4 million of these voters across six states as part of a turnout effort that could help swing some key races. An army of 1,800 volunteers will knock on doors, fire off text messages, make calls and send mailouts. The "punchline" of the Environmental Voter Project, Stinnett said, is that it doesn't talk to voters about the environment at all. It simply tries to get them out to vote.
"We are already targeting people who care about the environment, all we want to do is get them to vote on election day," he said. "Peer and social pressure are the best ways – we will send someone a letter saying 'did you know 93 people in your building turned out to vote last time?' We play to societal norms and expectations.
"Our focus isn't to change the outcome of particular elections but there's no doubt the number of non-voting environmentalists in some districts is so large that they will have an impact. We need to hold politicians' feet to the fire on the environment, but first of all we need some fire."
Americans of voting age who care strongly about the environment have been unusually reticent to make their voice heard, for reasons that are still unclear. Stinnett said demographics are part of it – the young, Latinos and black people are simultaneously most worried about climate change and least likely to vote – but this doesn't explain the full story.
"It's hard to figure out why," he said. "Even among young people, for example, environmentalists are less likely to vote. The environmental movement has done a lot of things to change the way we eat, travel and work, but it hasn't flexed its political muscles yet.
Look at the NRA. Their power isn't in the amount of money they spend – it's because if you care about gun rights, you vote like it's your job. Politicians know that and they are in the business of collecting votes. Why would they spend time on an issue that doesn't appear to energize voters?"
Beyond disasters such as hurricanes and wildfires, most politicians and the media, particularly broadcast news, rarely dwell for long on environmental matters. In 2017, the costliest year on record for climate-related disasters, a total of just 260 minutes coverage of climate change was broadcast across the six major TV networks, according to one analysis.
A year prior, no questions on climate change were put to Donald Trump or Hillary Clinton during three presidential debates. Trump has subsequently ignored the issue in office, save the odd disparaging tweet, while overseeing an administration that has systematically dismantled climate, air and water pollution regulations.
At first glance, the evidence suggests there will be only a mild voter backlash to this agenda. Voters asked recently by Yale to rank 28 issues placed global warming 15th, behind areas like tax reform, immigration, terrorism, healthcare and the economy.
The partisan split is stark, however – while liberal Democrats place global warming fourth out of 28, conservative Republicans rank it dead last. "The issue has become more polarized than abortion in terms of voting priorities," said Anthony Leiserowitz, the director of the Yale Program on Climate Change Communication. "The most important factor in belief in climate science is political ideology.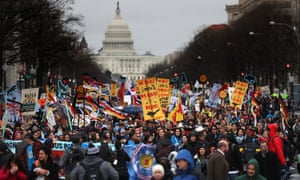 Protesters march during a demonstration against the Dakota Access pipeline on in March 2017 in Washington. Photograph: Justin Sullivan/Getty Images
"It is remarkable that the base of one of the two major parties in the US lists climate change as a top four issue. You wouldn't have seen that five years ago. But those numbers drop among conservative Democrats and so candidates are afraid to touch it when reaching to the middle. And among conservative Republicans, the issue is just toxic."