15 Oct
News and Analyses, A Foreign Perspective
Nearly all of these are English-edition daily newspapers. These sites have interesting editorials and essays, and many have links to other good news sources. We try to limit this list to those sites which are regularly updated, reliable, with a high percentage of "up" time.
Recommended:

World Politics
United States
Trump's fiery interview with 60 Minutes
So far Trump isn't happy with China, Russia, Iran, Europe, Mexico, Canada, and now threatens . He does like Kim from North Korea,
Netanyahu from
Israel and

the King of

Saudi Arabia
though. He likes dictators.
And why? Because he is a fascist.
The McGlynn
In a wide-ranging, combative interview with CBS' Lesley Stahl, the US president spoke about climate change, China, Russia, his mockery of Christine Blasey Ford and his White House team

They came to the US seeking a better life. They ended up behind bars. Thousands of documents analyzed by the Guardian provide the most comprehensive picture yet of what happened to immigrants prosecuted under the Trump administration's zero tolerance policy
Leer este artículo en español
O

n 6 April 2018, the US attorney general, Jeff Sessions, issued a memo to federal prosecutors along the US-Mexico border directing them "to adopt immediately a zero-tolerance policy" for violations of a federal law barring "improper entry" into the country. "You are on the front lines of this battle," Sessions wrote, as if rallying his troops against an invading army.
Over the next six weeks, the collateral damage of the Trump administration's policy was revealed: some 2,654 children were taken from their parents or guardians in order to fulfill the mandate that they be prosecuted for a criminal misdemeanor. As of 27 September, 219 children whose parents had already been deported remained in government custody.
Zero tolerance pushed serious fraud, drugs and weapons trafficking offences out of the courtroom to make way for the flood of people whose only crime was crossing the border. Between March and June, federal prosecutions referred by Customs and Border Protection (CBP) in the five districts along the south-west border rose by 74%, from 6,368 to 11,086.
I don't think this is really about justice anymore Cesar Pierce, defense attorney
Today the Guardian publishes analysis of documents from more than 3,500 criminal cases filed by border district federal prosecutors during a single week of the zero tolerance policy: 13-19 May.
The three-month investigation, the most comprehensive analysis to date of the experiences of thousands of migrants entering the US during that period, shows how:
Zero tolerance churned thousands of migrants through an assembly-line justice system with copy-and-paste criminal complaints converted to hastily accepted guilty pleas.

Just 12.8% of the criminal cases filed by federal prosecutors were the kind of serious crimes – corruption, fraud and trafficking – that citizens expect federal prosecutors to pursue.

Sentence lengths for migrants charged with the same crimes varied dramatically depending on the state where they were arrested.
The court documents shine a spotlight on the migrants' perilous journeys and the extreme lengths immigration enforcement goes to intercept them. They also reveal the lack of documentation created when children were torn away from families at the point of arrest – a shocking omission.
Four months after thousands were charged, only 23 individuals continue to fight their cases. The overwhelming majority have pleaded guilty, and only one case has actually gone to trial, where the defendant was found guilty.
"I don't think this is really about justice anymore," said Cesar Pierce, a defense attorney in Las Cruces, New Mexico, who represented 18 of the individuals in our sample.
"Justice really factors very little into it."

…………………..
The long, perilous journey
J

osé G left El Salvador for the United States on 3 May. The 43-year-old father had previously been deported from the US and was working as a bus driver, but when a gang threatened his 16-year-old son, Marco, he decided to take the risk of traveling to America again.
"It's his age," José said of his son. "It makes me afraid."
It took six days for father and son to traverse Mexico by car. They were walking across the Rio Grande under a bridge linking Juárez with El Paso, about a mile from the official port of entry, when they were spotted by border patrol and arrested. Even though José had no other criminal record, his "illegal re-entry" after a previous deportation triggered a felony prosecution under zero tolerance.
'I've been separated from my son for four months. I don't understand why we are still separated' José G
José was locked up in El Paso county jail to await his criminal case. Marco was sent to a children's shelter.
"I've been separated from my son for four months," José told the Guardian in mid-September. "I don't understand why we are still separated."
José is one of the 3,121 migrants in our sample who risked crossing the border to seek a better life. Just over half were Mexican nationals, closely followed by Guatemalans, Hondurans and Salvadorans. The vast majority are men.
Having made the long, perilous journey from their home countries, some cross at official ports of entry to claim asylum, while others attempt to conceal themselves in trunks of cars, trucks and freight trains.
Many are opting to trek across the border in more remote, dangerous desert and mountain regions. Others wade, raft or swim across the Rio Grande, which defines nearly the entirety of the Texas-Mexico border.

The drive for genetic selection means cattle are increasingly vulnerable to deadly new epidemics that could emerge as the climate warms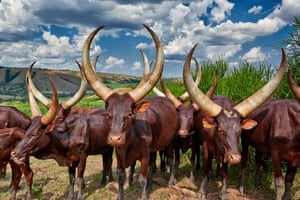 The Ankole longhorn of western Uganda are being replaced with industrial species that produce more milk and meat but are more susceptible to disease. Photograph: Juergen Ritterbach/Alamy
Known for their distinctive long horns, the Ankole cattle of western Uganda have evolved over millennia to withstand their harsh environment, with its lengthy dry spells and abundance of local maladies such as trypanosomiasis, a disease spread by the tsetse fly. But after flourishing for almost 10,000 years, the Ankole have begun to rapidly disappear.
Farmland is dwindling in Uganda due to the expanding human population, and Ankole require vast areas to graze. Local herders have responded to the pressure by replacing them, cross-breeding Ankole cattle with industrial species such as the European Holstein. But while these hybrids gain favourable genetic traits from the Holstein, producing more milk and meat, and requiring less land to keep, there is a hidden cost.
The genetic adaptations which enabled the Ankole to survive in such a harsh climate are diluted in the new hybrids, which lack the immune capabilities to resist local diseases. Instead of reaping profits, the herders now spend much of their money on antibiotics and pesticides to keep the animals healthy. In Burkina Faso, farmers who made similar decisions in recent years have lost almost all of their livestock to disease.
But this problem isn't restricted to impoverished African nations. Across the UK and much of the rest of the world, the cattle farming industry is facing increasing challenges due to environmental pressures as well as the consequences of genetic selection programmes aimed at increasing income.
Research has shown that between 2000 and 2014, nearly 100 native livestock breeds worldwide became extinct, as farmers attempted to boost falling profit margins by either cross-breeding or replacing them altogether with a small handful of industrial breeds.
"If we don't do anything to change this, it could spell long-term disaster for the farming industry particularly in the context of climate change," says Catarina Ginja, a researcher in biodiversity and genetic resources at the University of Porto's Cibio-InBio laboratory. "The industrial breeds may not be capable of resisting new disease epidemics, which could arise as the climate warms over the next century.
"We already had some alarming examples of how vulnerable these breeds can be to a deadly pandemic in the recent past, for example the mad cow disease outbreak in the 1990s, although that was unrelated to climate change. It's a serious concern."
The reason why industrial breeds are particularly vulnerable to new bacterial or viral infections is because they have very little genetic diversity compared with local breeds, due to decades of inbreeding. Ginja estimates that for breeds like the Holstein, millions of these cows originate from a mere handful of bulls.
Over the past 15 years, this has been exacerbated by the advent of genomic sequencing. Breeders can now specifically select cattle with combinations of genes that are known to optimise milk and meat production, and because these are the only animals in the herd that are allowed to mate, over time the entire population becomes descended from a few individuals. This year scientists from the Netherlands published a study showing that genetic diversity in Dutch cattle populations has dropped alarmingly over the past three decades due to such breeding programmes.
But because breeders are solely prioritising genes which improve milk and meat yields, any unusual genes which may have offered immune protection against infections become lost. In addition, inherited disorders caused by a single mutation are far more common, as all the animals are effectively related. A common problem for Holstein cattle breeders is Bovine leukocyte adhesion deficiency (Blad) which can spread from one individual bull. Cattle with Blad are prone to recurrent infections and heal very slowly.
"Breeders want to produce more and more, and they now know what genetic traits to favour in the population, in order to increase meat or milk production," says Stéphane Joost, a researcher at École polytechnique fédérale de Lausanne, who chaired a recent European research project on the future of farm animal genetic resources. "But it's like capitalism in general. They become too extreme. The key is recognising there are limits which are not to be passed."
More On The Environment