18 Oct
News and Analyses, A Foreign Perspective
Nearly all of these are English-edition daily newspapers. These sites have interesting editorials and essays, and many have links to other good news sources. We try to limit this list to those sites which are regularly updated, reliable, with a high percentage of "up" time.
Recommended:

World Politics
United States
Guardian Opinion cartoon Donald Trump
Aras Agalarov, who attended the meeting with Donald Trump Jr in June 2016, formed a shell company with an accountant who has had clients accused of money laundering and embezzlement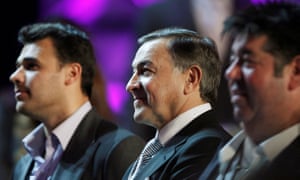 The Russian real estate developer Aras Agalarov, centre, stands with his son, singer Emin Agalarov, and publicist Rob Goldstone, right, after the 2013 Miss USA pageant in Las Vegas, Nevada. Photograph: Steve Marcus/Reuters
A Russian billionaire who orchestrated the June 2016 Trump Tower meeting formed a new American shell company a month beforehand with an accountant who has had clients accused of money laundering and embezzlement.
The billionaire, Aras Agalarov, created the US company anonymously while preparing to move almost $20m into the country during the time of the presidential election campaign, according to interviews and corporate filings.
The company was set up for him in May 2016 by his Russian-born accountant, who has also managed the US finances of compatriots accused of mishandling millions of dollars. One of those clients has its own connection to the Trump Tower meeting.
In June 2016, Agalarov allegedly offered Trump's team damaging information from the Kremlin about Hillary Clinton, their Democratic opponent. The offer led Trump's eldest son to hold a meeting at their Manhattan offices that is now a focus of the inquiry into Moscow's election interference by Robert Mueller, the special counsel.
Agalarov's previously unreported shell company is another example of intriguing financial activity around the time of the Trump Tower meeting. Mueller is looking into such activity and whether any of the money involved could have been used to fund Russian meddling in the US election, which Agalarov denies.
Scott Balber, Agalarov's attorney, said the company was formed for "real estate transactions" and did not elaborate. Bykov, the accountant, said it was created to "handle certain investment projects which never materialised".
Balber said in an email: "For the avoidance of any doubt, no Mr Agalarov has not used his accountant – or anyone else – to commit any wrongdoing and no Mr Agalarov has not used the money you referenced – or any other money – to fund any activity relating to the US election."
Agalarov, 62, is a Moscow-based property developer who has won major contracts from Vladimir Putin's government. He hosted Trump's 2013 Miss Universe contest at his concert hall in Moscow. A leaked opposition research dossier alleged that Russian officials obtained compromising information about the future president during his stay in the city. Trump has denied wrongdoing and claims the dossier is false.
Early in June 2016, a publicist for Agalarov and his son, Emin, said in an email to Donald Trump Jr that Agalarov had been offered "documents and information that would incriminate Hillary" by a Russian prosecutor. The publicist said the material was "part of Russia and its government's support for Mr. Trump – helped along by Aras and Emin".
On 9 June, one of Agalarov's top executives and several other Russians met Donald Trump Jr and two other senior Trump aides at Trump Tower to discuss the offer.
A month earlier, Agalarov's US-based accountant, Ilya Bykov, had incorporated a corporation for him in Delaware, a state favoured by businesses for its low taxes and protection of corporate secrecy. Agalarov was not named in the paperwork but Bykov was listed as the company's president and director.
BuzzFeed News reported last month that Agalarov moved $19.5m from an offshore investment vehicle to a US bank account 11 days after the meeting. The transfer was reportedly flagged to US Treasury officials as suspicious. The Delaware company used the same name, Silver Valley Consulting, as the offshore vehicle.
On the day of the money transfer, Trump fired his campaign manager, Corey Lewandowski, leaving his campaign chairman, Paul Manafort, in charge. Manafort, who has extensive business links to the former Soviet Union, is now cooperating with Mueller after having been convicted of financial crimes.