19 Oct
News and Analyses, A Foreign Perspective
Nearly all of these are English-edition daily newspapers. These sites have interesting editorials and essays, and many have links to other good news sources. We try to limit this list to those sites which are regularly updated, reliable, with a high percentage of "up" time.
Recommended:

World Politics
United States
Trump lauded 'tough cookie' Greg Gianforte at Montana rally

UK PM: violence against reporters 'completely unacceptable'
Laughter as Trump lauds politician's body slam of Guardian journalist – video report
The British government has joined press freedom advocates and journalists in expressing dismay and disgust with Donald Trump's remarks at a rally, where he praised the unprovoked assault on a Guardian US journalist by the state's congressman, Greg Gianforte.
At the Republican rally in Montana on Thursday night, the president lauded and made jokes about the violent attack by Gianforte, when he was a candidate, on the Guardian's political reporter Ben Jacobs in 2017.
A spokeswoman for the British prime minister, Theresa May, when asked about the president's remarks, said on Friday: "Any violence or intimidation against a journalist is completely unacceptable."
Journalists across the US launched into fierce criticism of the congressman, via social media.
"Gianforte is a criminal. He pled guilty to [assault]. The president is congratulating a criminal on committing a crime," said the New York Times correspondent Binyamin Appelbaum on Twitter.
Trump's comments "mark the first time the president has openly and directly praised a violent act against a journalist on American soil," added the New York Times reporter Sheryl Gay Stolberg.
Trump fondly reminisced about the physical assault that occurred on 24 May last year when Jacobs, the Guardian's political correspondent, asked Gianforte a question about healthcare policy in the course of a special congressional election in Montana. At Thursday's rally, Trump said that anyone who could perform a body-slam, as Gianforte did on Jacobs, was "my guy", and that news of the attack, which occurred the night before the special election, probably helped Gianforte win.
Trump finished his account of the physical assault by saying of Gianforte: "He's a great guy. Tough cookie." The partisan crowd at the rally in Missoula in western Montana clapped and cheered.
The writers' organization PEN America, which had filed a lawsuit earlier this week against Donald Trump accusing him of violating the first amendment of the US constitution by using his powerful position to threaten press freedom, has also condemned the president's encouragement for Gianforte's attack.
In a statement issued on Friday, PEN America said Trump's "explicit praise" for Gianforte's assault "marks a startling new low in terms of the White House's open hostility toward the press".
It added: "Trump's remarks are a chilling reminder that US global leadership on press freedom has collapsed utterly under the president's watch. In its place is an attitude of contempt, excusing and now even applauding violence toward the press."
Meanwhile, Axios's national political reporter Jonathan Swan replied to Stolberg's tweet, saying: "Nothing tough about jumping a reporter for asking you a substantive question. Just unhinged," before also pointing out that Gianforte and his staff lied about the assault to police and the public. "Only reason Gianforte got caught is because there was a tape," Swan said.
The world's press would welcome a statement from the US government that it is committed to the rights of journalists everywhere

Katharine Viner
Katharine Viner, the editor-in-chief of the Guardian, said on Friday: "At a time when reporters around the world are being harassed, arrested and even murdered these are incredibly irresponsible comments, which fly in the face of press freedom and send a dangerous message to autocrats and dictators around the world."
She added: "The world's press would welcome a clear statement from the US government that it remains committed to the rights of journalists everywhere to do their work without fear of violence or repression."
The CNN reporter Jim Acosta, who was at the rally in Montana, observed: "The disturbing part of Trump's jokes about Gianforte was the effect on the crowd. I saw one young man in the crowd making body-slam gestures. He looked at me and ran his thumb across his throat. I talked to him after the rally was over. He couldn't stop laughing."
A number of journalists pointed out how Trump's comments are especially troubling this week, coming as evidence mounts that the Saudi Arabian crown prince, Mohammed bin Salman, is directly linked to the presumed murder of journalist and Saudi critic Jamal Khashoggi in Istanbul earlier this month……………
On Friday the White House Correspondents' Association president, Olivier Knox, said: "All Americans should recoil from the president's praise for a violent assault on a reporter doing his constitutionally protected job. This amounts to the celebration of a crime by someone sworn to uphold our laws and an attack on the first amendment by someone who has solemnly pledged to defend it."
He continued: " We should never shrug at the president cheerleading for a violent act targeting a free and independent news media."
Related:
Europe
Movement increasingly appeals to voters frustrated with traditional mainstream parties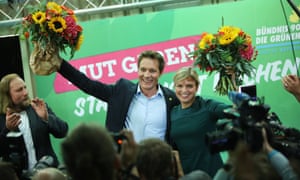 Ludwig Hartmann and Katharina Schulze, co-lead candidates for the German Greens, after the party's best ever result in the Bavarian state elections. Photograph: Sean Gallup/Getty Images
I

n conservative Bavaria, Greens doubled their vote in state elections to become the second largest party. In local elections in Belgium, record scores of more than 30% won them several Brussels districts and left them runners-up overall. In Luxembourg, they increased their tally of MPs by 50%.
Elections in three European countries last weekend suggest that as the continent's historic mainstream parties plummet in the polls and struggle to see off the far right's challenge, for liberal-minded voters the Greens are looking like an answer.
Offering a pro-EU stance, a humane approach to migration and clear positions on existential issues such as climate change, biodiversity and sustainability, Green parties in several countries are now polling higher nationally than the traditional centre-left.
"They represent a clear place where people can go who are frustrated with the traditional mainstream parties but who don't like the far right," said Alexander Clarkson, a lecturer in European studies at King's College London.
"They offer a very clear counter-model to the positions and arguments of parties like Germany's AfD. Also they've been around for a while now, more than 40 years, and they've governed responsibly both locally and regionally. They kind of look like the adults in the room."
In Germany, where the Greens partner parties from the centre-right to the hard-left in nine of the 16 state governments, recent national polling put the party ahead of the centre-left SPD, Angela Merkel's coalition partner, with a 17%-plus share of the vote, compared with 8.9% in last year's federal election.
In the Netherlands, the GreenLeft party, which boosted its tally of MPs from four to 14 in general elections last year, has also advanced to second position in the polls since then, from 9% to nearly 13%.
Green parties score particularly highly among professional, often young, relatively affluent and generally urban voters, analysts say. "If you look at the demographics, many are what you'd once have called typical lefty voters," said Jon Worth, a candidate for the German Green party in next year's European elections.
"They have a young, energetic leadership and a different style of doing politics – straight-talking, acknowledging the limits of what can and can't be done … A mix of ideology and pragmatism that puts individual, everyday choices at the heart of politics again. It's not a party driven by a comms strategy; there's no spin."
Growing environmental awareness among many voters is also plainly a factor. After a summer of record-breaking temperatures across Europe during which wildfires blazed in the Arctic, it is hardly surprising that a movement that since the 1980s has warned of the dangers of climate change is winning greater support.
But if the Green wave has come mainly at the expense of traditional centre-left social democratic parties, whose support has plunged across Europe to the point of near wipeout in countries such as France and the Netherlands, the movement also increasingly appeals to substantial numbers of disillusioned centre-right voters.
The rise of the far right has shifted national debates, dragging the rhetoric of many mainstream conservative parties – particularly on immigration – further and further to the right and alienating their more liberal-minded voters.
In Bavaria's state election, the centre-left SPD lost 210,000 voters to the Greens. But the ecologists gained very nearly as many – 180,000 – from the centre-right CSU, which had tacked sharply to the right in an attempt to win back votes from the far-right AfD.
Perhaps crucially, although the German Greens were in government as junior partners in Gerhard Schröder's Social Democrat-led coalition from 1998 to 2005, few European Green parties have governed nationally since the 2008 financial crash.
"They have not had to take the big national decisions around austerity, have not been sullied in the same way as the main centre-right and centre-left parties that are so implicated in the aftermath of that crisis," said Fabien Escalona, a French political scientist at Sciences Po Grenoble.
Escalona also noted that Green parties appeared to be doing particularly well in relatively prosperous countries, where the effects of austerity had not been felt so severely but where migration had become a major political issue. Elsewhere, a more radical left was more popular, he said.
Europe's Greens have experienced similar polling surges, most recently after the 2011 Fukushima nuclear disaster in Japan. But the trend away from a traditional right-versus-left, socio-economic view of politics towards a more ideological debate could mean this one is more structural.