21 Oct
News and Analyses, A Foreign Perspective
Nearly all of these are English-edition daily newspapers. These sites have interesting editorials and essays, and many have links to other good news sources. We try to limit this list to those sites which are regularly updated, reliable, with a high percentage of "up" time.
Recommended:

Exclusive: Representatives of all opposition parties say ministers must change stance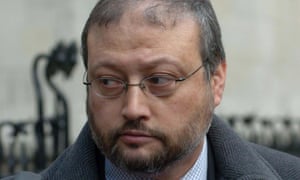 The letter cited the death of Jamal Khashoggi alongside the humanitarian disaster in Yemen. Photograph: Johnny Green/PA
The government is facing renewed pressure over its continued ties to Saudi Arabia following the death of Jamal Khashoggi and the humanitarian disaster in Yemen, after all five main Westminster opposition parties signed an unprecedented joint letter calling for a change of stance.
The foreign affairs representatives for Labour, the SNP, the Lib Dems, Plaid Cymru and the Greens wrote to Jeremy Hunt saying it was "hard to imagine what crime the Saudi government would need to commit" for the UK government to condemn it.
The letter to the foreign secretary, shown to the Guardian, says that reports the dissident journalist Khashoggi was tortured and murdered at the Saudi consulate in Istanbul constituted "the latest in a litany of charges that have been laid before the Saudi regime by the international community".
Saudi Arabia conceded on Friday that Khashoggi died at the consulate, but claimed it was the result of a "fistfight", an explanation dismissed by a succession of other nations. On Sunday the UK Brexit secretary, Dominic Raab, said it did not seem credible, adding: "There is a serious question mark over the account that has been given."
The letter also cites alleged Saudi war crimes in the conflict in Yemen and the wider crisis in the country, where the UN says up to 14 million people are at risk of famine.
Signed by Labour's Emily Thornberry, Stephen Gethins of the SNP, Christine Jardine from the Lib Dems, Jonathan Edwards of Plaid Cymru and Caroline Lucas from the Greens, it also mentions the imprisonment of activists, repression over LGBT rights and religion, and the widespread use of capital punishment.
"Given the repeated nature of these violations and atrocities, it is now hard to imagine what crime the Saudi government would need to commit in order for the UK government to condemn them," says the letter, which was organised by the SNP.
"It cannot be business as usual with a regime that displays blatant contempt and disregard for international law and human rights. The consistent inaction of your government is utterly incompatible with our most basic value as a democracy. We regard it as unacceptable that the UK government not only remains silent, but actively enables this Saudi regime."
The UK, the letter goes on, "has continued to supply Saudi Arabia with weaponry which has been used in the devastating war in Yemen, has shamefully rolled out the red carpet for the Saudi crown prince in a state visit earlier this year, and has repeatedly excused their actions in statements before the House of Commons".
While some concern expressed about the Khashoggi case and other moves were welcome, the signatories wrote, "the time for rhetoric and photocalls is over – it's time to act".
The letter calls for a full condemnation of Saudi Arabia's "reckless and barbaric" behaviour; a suspension of arms sales for use in Yemen pending an investigation of alleged war crimes; a halt to UK military operations in Saudi; details on what diplomatic representations had been made to the Saudis, and support for an independent inquiry into Khashoggi's fate.
Read Full Article>>

World Politics
United States
The McGlynn: Some very sick people.
Donald Trump poses with the Liberty University president, Jerry Falwell Jr. Photograph: Steve Helber/AP
At Liberty University, students and faculty have faith in the president to help 'create generations of rightwing Christians' – but some are uneasy
T

hree times a week, 15,000 students stream into the Vines Center, a huge silver-domed building on the campus of Liberty University for "convocation", an intoxicating mix of prayer, political rally and entertainment. Thousands more watch a live stream of the event.
The star attraction has twice been Donald Trump, in 2012 and 2016. His first appearance was as a successful businessman and reality TV star, the second as the man campaigning to be the Republican party's candidate for president. Last year, he made a third appearance at Liberty, to address the university's graduation ceremony. By then, he was one of the most divisive leaders in the country's history.
But not at Liberty. The Christian university which dominates the town of Lynchburg, Virginia, has become almost synonymous with Trump. It sits at the heart of the alliance between the president and conservative evangelical Christians – an alliance forged in part by Jerry Falwell Jr, Liberty's president, Lynchburg's most prominent citizen and Trump's close associate.
Falwell was instrumental in delivering 81% of white Christian evangelical voters for Trump in 2016. Ahead of next month's midterm elections, that support appears to be holding up, although there has been some erosion among evangelical women. A survey published in early October by the Public Religion Research Institute found that 72% of white evangelical Protestants had a favourable opinion of the president.
In Liberty's coffee bars, random conversations with a dozen or so students found they all backed Falwell's full-throated support for Trump. But not everyone in the town in the foothills of the Blue Ridge mountains is happy. A minority at the university, along with a few churches in town, are deeply concerned. Some speak of a "toxic Christianity".
Falwell endorsed Trump's candidacy two weeks after his January 2016 appearance at Liberty's convocation, a move which triggered the resignation of a member of the university's board of trustees, Mark DeMoss.
Later, Falwell dismissed the furore around the candidate's "grab them by the pussy" comments, saying: "We're never going to have a perfect candidate unless Jesus Christ is on the ballot." He has defended some of the president's most egregious remarks and tweets since taking office.
He recently sent 300 Liberty students to Washington to demonstrate in support of Brett Kavanaugh's nomination to the supreme court. The next day, he tweeted: "Conservatives & Christians need to stop electing 'nice guys'. They might make great Christian leaders but the US needs street fighters like @realDonaldTrump at every level of government b/c the liberal fascists Dems are playing for keeps & many Repub leaders are a bunch of wimps!"

Falwell told the Guardian that Trump was a "good moral person, a strong leader, a tough leader – and that's what this country needs", and that support among white evangelicals was solid in the run-up to the midterms. "The sentiment is there, it's going to come down to turnout," he said in an interview.
According to Bill Leonard, professor of church history at Wake Forest University, North Carolina, the context to white evangelicals hitching their wagon to Trump is "panic at the precipitous decline of Christianity" in US society.
Polls show a drop in the proportion of white evangelicals from a peak in the 1990s of around 27% of the population to between 17% and 13% now, alongside a significant rise in religious pluralism and those – particularly young people – who say they have no religion.
Changing attitudes and legislation on abortion, divorce, gender equality and LGBT rights were "powerful indicators of the loss of Protestant privilege and a prelude to white evangelicals moving in such large numbers to supporting Trump", said Leonard.
Crucially, they wanted a president who would nominate conservative supreme court justices. "Presidents come and go, but appointments to the supreme court are for life. With the right nominees, you could change the supreme court majority for half a century. [Evangelicals] tell themselves that Trump is the vehicle God has chosen to drive the conservative evangelical agenda."

As myxomatosis spreads from rabbits, there are fears for the future of a species that holds a unique place in our affections

Brown hares standing and boxing during mating season in March. Photograph: Alamy

I

usually come across them at night, when I am driving home, or very early in the morning as I cycle across the Somerset Levels. Sometimes one runs down the road ahead, before darting under a gate and disappearing into the long grass. At other times, I glimpse what looks like a clod of earth in the middle of a field, which then surprises me by starting to move. And every once in a while I get a really good view, as I peer through a hedgerow and watch a hare feeding on wild grasses and meadow herbs.

Hares are my favourite British mammal, so when I wrote a book about the natural history of my parish, I decided to call it Wild Hares and Hummingbirds(the latter referring to the hummingbird hawk-moth). Yet now I face the possibility that, in a few years' time, I'll no longer be able to see these captivating animals in the fields around my village. Last week, scientists declared that myxomatosis may have made the jump from rabbits and could wipe out Britain's brown hares. This fills me with dread. After all, up to 99% of Britain's rabbits were wiped out by this disease, before some managed to develop resistance.

The idea of the British countryside without hares is, quite simply, unthinkable. I remember the loss I felt as a child, when the elms behind my house were chopped down as a result of Dutch elm disease. The gap that the loss of these beautiful trees left in the landscape still feels like a bereavement, so I know we cannot take the presence of hares for granted.

Our love of hares is rather odd, given that, just like their cousin the rabbit, they are not native to Britain. Rabbits were brought here after the Norman conquest for food and fur, but hares crossed the Channel far earlier with iron age farmers from continental Europe. Having been here for so long, they have – rather like another "alien species", the corn poppy – been taken to our hearts.

In my neck of the woods, especially the nearby town of Glastonbury, you can't get away from hares. Every craft shop and gallery seems to have them on show: cast in bronze, portrayed in oils and watercolours, they even appear on the label of a fine local ale. Seeing the real thing, however, can be a bit trickier, for unlike the rabbits that gather to feed on my lawn every morning, hares are famously elusive. Indeed, that is the clue to their long association with magic. Whereas rabbits, when frightened, will disappear down burrows, hares just seem to vanish into thin air. In fact, they stay out of sight by crouching as low as they can, in shallow depressions known as "forms". Lying flat, ears pinned back against their body, and completely still, they are almost impossible to see.

But if a hare does decide to run, then it could hardly be more conspicuous. Fortunately, it has a secret weapon – speed. On level ground a hare can, over short distances, reach an incredible 50mph. That's almost twice as fast as Usain Bolt, the quickest human on the planet. Like Bolt, they use their long legs to accelerate from a standing start; unlike him, they just keep on getting faster and faster until they disappear from view. Hares need to be quick, for they are in danger from natural predators such as foxes and human beings. Hare coursing – using greyhounds to chase down and kill hares, and betting on the result – may have been illegal since 2005, but it still occurs in the hare's strongholds, including East Anglia.

Hares have also suffered in recent years from the move away from mixed farming, which provided the variety of grassy habitats they need to feed and raise a family, to intensive arable or livestock production.

Britain's hare population is estimated at around 800,000, a steady decline over the past few decades. Unlike every other kind of game, such as deer or pheasant, hares can be hunted all year round, which results in the needless deaths of many young, known as leverets, if their mothers are shot during the spring or summer.

As with many wild creatures, in the breeding season hares become far easier to see, especially early in the morning or late at night. On fine days in early spring, they gather in groups, and from time to time two hares will stand up on their hind legs and "box" one another. This led to the widespread epithet "mad March hare", embodied in the character from the tea-party scene in Lewis Carroll's Alice's Adventures in Wonderland.