23 Oct
News and Analyses, A Foreign Perspective
Nearly all of these are English-edition daily newspapers. These sites have interesting editorials and essays, and many have links to other good news sources. We try to limit this list to those sites which are regularly updated, reliable, with a high percentage of "up" time.
Recommended:

Following high-profile teacher walkouts across the country, LA teachers voted to strike over school funding, wages and class sizes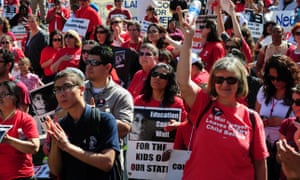 The United Teachers of Los Angeles, the union of the city's public school teachers, voted to authorize a strike. Photograph: Mark Ralston/AFP/Getty Images
At the start of the 2018-2019 school year, members of the Los Angeles teachers' union overwhelmingly voted to authorize a strike, granting the union board the authority to approve a walkout as the union and school district continue to negotiate a new contract. The strike authorization provides the union with a possible tactic to leverage a variety of demands over the second largest school district in the nation.
This year teachers have gone on strike in Arizona, West Virginia and Oklahoma with varying degrees of success. Arizona teachers received a 19% pay raise after a five-day walkout in May. West Virginia teachers ended their nine-day strike after receiving a 5% pay raise in March. Oklahoma teachers' nine-day strike pushed their state legislature to pass an annual $6,100 pay increase and devote $500m to education funding.
The United Teachers of Los Angeles, the union of the city's public school teachers, are demanding the school district increase education investment, hold charter schools accountable, take efforts to reduce class sizes, improve school safety and reduce the quantity of mandated standardized tests in addition to increasing wages by 6.5% for teachers.
"It seems clear talking to over 1,000 teachers in the district that the big issue for teachers in the Los Angeles unified school district is class size, easily at the top of the list. It's gotten out of hand," said Elgin Scott, a teacher at Los Angeles' Taper Avenue elementary school, in an interview. According to Scott and other teachers the Guardian spoke with, it's not uncommon for classes to have more than 30 or 40 students.
"The district says they'll reduce class sizes, but a provision in the current contract gives them an out. All they have to do is claim financial hardship, show no proof and they make the class sizes what they want," said Scott.
The large class sizes undermine the ability for teachers to properly do their jobs, provide individual attention to students with a wide range of needs and pose a fire safety risk, the teachers argue. "When you're doing labs, that's 40 kids doing labs in a class without a sink. Imagine doing that five or six times a day. A lot of science teachers don't really do hands-on stuff because there are too many kids," said Julie Van Winkle, a math and science teacher at Logan Span school.
Los Angeles teachers also face an overabundance of mandated standardized tests, undermining the quality of education they can provide students.
"Testing is in the front seat and it doesn't belong there. The problem with testing is we're doing too much of it, a lot of it unnecessary and a lot of the tests are one-on-one," said Victoria Casas, a teacher at Beachy Avenue elementary school. She cited the Dibels exam mandated three times a year, mandated exams for ESL students, midterm assessments, and Sbac exams as some of the tests she is required to give her students.
During one-on-one exams, she has to come up with work assignments for the rest of the students that are easy enough to do on their own without interrupting the test, but challenging enough to provide some value, all while the rest of the students can listen to the questions and answers provided by the student during their exam.
"Testing is wasting money. It costs the district a lot of money and when you're testing, you're not teaching," said Matthew Kogan, a teacher at Evans community adult school. "If you cared about the results you're testing, how can you explain a district with $2bn in unassigned spending and they can't even arrange to have paper in a classroom?"
Though the school district spends a significant amount of money on a variety of standardized tests, teachers are financially burdened with paying for necessary materials out of their own pocket.
"My wife and I both teach and we'll do $6,000 to $7,000 dollars a year between the two of us, not including the donors choose program on top of the money we spend," noted Elgin Scott.
The materials include things like paper and pencils and materials for in-class visuals, projects and experiments. "We spend a lot of money because if we didn't, the children wouldn't have a lot of things we need them to have or the room environment would be so unappealing," added Victoria Casas. "You have to spend your money, because if you don't, you can't do your job right."
Despite being the fifth largest economy in the world, California's spending per student has regularly ranked from 37th to 50th in the country over the past several years, depending on the criteria used to rank states. The union and public education advocates have called for an increase in per student funding to $20,000 by 2020 in Los Angeles. The current per pupil spending in the Los Angeles district is roughly half that.
"Right now we are around $11,000 per student annually, way below the national average and we are significantly below what we need for a student to succeed in a traditional school," Rudy Gonzalves, the director of Reclaim Our Schools LA, told the Guardian. "That spending makes it hard for the student and makes it hard for the teachers to have the resources to teach."
This lack of spending, in addition to forcing teachers to spending money on materials out of their own pocket, limits resources students are provided within the schools, like art teachers, school nurses, counselors, psychologists and social workers.

World Politics
Poland
After losses for ruling Law and Justice party in local elections Robert Biedro? says Poland is 'ready for progressive politics'
Robert Biedro?, Poland s first openly gay politician, says progressive policies can win in the country's local elections. Photograph: Alik Keplicz/AP
Poland's first openly gay politician has said "progressives" can win in the country, as the ruling Law and Justice party suffered setbacks in local elections at the weekend.
"I don't believe that Poland is not ready for progressive politics," said Robert Biedro?, who stood down as mayor of S?upsk to launch a pro-European, "pro-democratic" movement. "Because if you give people a tempting, credible offer, people are willing to trust you."
Election losses for the rightwing Law and Justice party (PiS) in big cities including Warsaw have buoyed the opposition. PiS took 32.3% of the vote in the battle for regional assemblies – better than its performance in 2014 local elections but worse than the score in 2015 that brought it into government.
Having launched his unnamed movement last month, Biedro?'s first electoral test will be European elections next May, followed by Poland's parliamentary elections later in the year and presidential elections in 2020.
He faces an uphill struggle to turn around the fortunes of the left, which has no seats in the Sejm, the lower house of parliament.
He is seen as a contender on the national stage, after one opinion poll put him in third place for the presidency behind the incumbent, Andrzej Duda, and the former prime minister Donald Tusk, who is believed to be eyeing a return to Polish politics at the end of his stint as European council president.
Biedro?, who eschews the labels left and right, has been called "the Polish Macron" but his political manifesto is not yet complete.
Perhaps like the French president, Biedro? does not want to avoid values. He argues that the Polish left collapsed at the polls because it pursued a technocratic path that ceded questions of history, identity and belonging to PiS. He levels the same charge at the centre-right Civic Platform led by Tusk, which he contends lost touch during eight years of running Poland.
"They were building airports but they were closing small schools," he said. "They ignored the local and that is why the populists grew up, because they said we will bring it back."
He plans to visit 40 small towns and villages before the end of the year and argues it is a myth that these places always vote for conservative parties. "You just need to find someone credible and accountable to articulate their dreams."
His own political trajectory, as a young, openly gay atheist and former LGBT activist who was elected to the Sejm in 2011, testifies to a modern Poland that is more nuanced than the common view of the Catholic country held by many, he argues.
When Biedro? was an MP he was beaten up in the street four or five times, but by the time he was mayor people smiled in the streets, he has previously told the BBC. While he argues that Poland is "not black and white" on social issues, he concedes that life can be very difficult for gay people without his profile. "The LGBT community was a scapegoat for many politicians," he said.
Filip Pazderski, an analyst at the Institute of Public Affairs in Warsaw, said Biedro? had a chance to pick up votes from the one-fifth of Polish voters estimated to lean left, especially younger people sceptical of politics and those motivated by quality of life in their local area. "People are fed up with the old political actors," Pazderski said, adding that Biedro? knew "how to talk with people and use social media".
But the analyst thought it unlikely Biedro? could ever be prime minister without support from other parties.
For now Biedro? is allying with pro-EU forces associated with Emmanuel Macron. He said he was in talks with the French president as well as Udo Bullmann, the leader of the socialists in the European parliament.

United States
Though Warren is an ally of many progressive causes, the best chance we have to reconfigure a generation of American politics lies with Sanders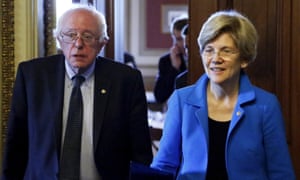 'There are significant differences between Warren and Sanders' approach to politics and what their respective victories would mean in a country desperately in need of change.' Photograph: Jonathan Ernst/Reuters
F

or progressives subjected to daily outrage from the Trump administration, there's something to look forward to. In 2020, they'll be spoiled for choice – presumptive candidates in the Democratic field are tacking to the left and both Elizabeth Warren and Bernie Sanders are acting like people running for president.
While a 2020 campaign by Sanders wouldn't be surprising given that he ran before, Warren has long denied that she has any interest in becoming president. That seems to have recently changed. Warren said last month that she would "take a hard look" at running in 2020. And then, last week, she made headlines by releasing a DNA test to counter Donald Trump's claims that she was misleading people over her ancestry – a move largely interpreted as preparation for a presidential run.
Warren and Sanders have been conflated for years – commentators often talk of a "Sanders-Warren wing" of the Democratic party. But the two are not the same, and though Warren is an ally of many progressive causes, the best chance that we have to not just construct some better policy, but reconfigure a generation of American politics lies with Sanders running and capturing both the Democratic primary and the presidency.
Arguing between two seemingly good choices can seem from afar like the bickering of two rival fan clubs. But there are significant differences between Warren's and Sanders' approaches to politics and what their respective victories would mean in a country desperately in need of change.
To understate things, Sanders' background is unusual. He was trained in the dying remnants of the Socialist party and cut his political teeth in trade union and civil rights organizing. His lifelong lesson? The rich were not morally confused but rather have a vested interest in the exploitation of others. Power would have to be taken from them by force.
Sanders' message from his early days in third-party politics to today has been remarkably consistent. Back in the early 1970s he denounced "the world of Richard Nixon, and the millionaires and billionaires whom he represents". Even back then he was reminding audiences: "This is the world of the 2% of the population that owns more than one-third of the personally held wealth in America."
Warren's career started as an academic, teaching at law schools and establishing herself as an expert on bankruptcy and consumer protection. Believing that markets fundamentally worked, but the rules of the game needed to be fairer, Warren was a registered Republican until 1995.
In the six years since she won her Senate seat, Warren has established herself as a credible, progressive Democrat. But her background hints at the difference between her more wonkish approach – seeking to construct better policy but not an alternative politics – and the class-struggle, worker-centric approach of Sanders. Not surprisingly, Warren has been keen to assure business interests that she believes that "strong, healthy markets are the key to a strong healthy America" and that she "is a capitalist".
Warren does have significant support among the Netroots Nation crowd, but it's telling that she also appears to be getting traction among prominent Democratic party policy types: Anita Dunn, Brian Fallon, John Podesta, Neera Tanden and Matt Yglesias, among others, have had positive things to say about her in the media lately. Sanders – an outsider without ties to many prominent in the liberal politics during the Obama years – gets no such love.
Yglesias, in particular, has showed interest in Warren's Accountable Capitalism Act, a plan that, to her credit, is far more ambitious than that of her other Democratic colleagues. It would require the largest businesses to engage in "codetermination" with their employees, giving workers more say in management, and limit corporate political activity and what executives could do with their company shares.
But it relies on notions of "corporate citizenship", and it's clear in her Wall Street Journal op-ed promoting the act that Warren sees neoliberalism as an ideological shift that can be corrected while retaining many of the existing parameters of capitalism. For Warren, US capitalism used to be good: "Corporations sought to succeed in the marketplace, but they also recognized their obligations to employees, customers and the community." But then something changed in the 1980s: "Building on work by conservative economist Milton Friedman, a new theory emerged that corporate directors had only one obligation: to maximize shareholder returns."
But it wasn't a moral failing that brought about neoliberalism, but a structural shift: corporations in the 1970s couldn't keep up with militant wage demands from unions, the after-effect of the Opec oil shock and increased international competition. Profitability sagged. Without a broader ideological agenda, capital knew that it had to restructure itself and saw labor regulations and unions as impediments. Neoliberal mantras and ideology followed these developments.
The only way to undo that U-turn is to rebuild the trade unions and leftwing political movements that could actually bring about a different sort of political economy. And that won't come from the politics of shared responsibility, or clever policy initiatives, it'll come from the mobilization of people on the streets, and in their workplaces and communities. Sanders is the only candidate that can open up those possibilities.

Rathlin Island, County Antrim: Seals gather at the toe of this boot-shaped island; at the top of the boot, fulmars hang in the air, almost within reach; to the west: 2,000 miles of ocean
Seals drape themselves over rocks on Rathlin Island. Photograph: Courtesy of Philip Hartwell
O

n the map, Rathlin lies on the sea like a discarded boot. (If Italy is high-heeled and elegant, this version has a battered, medieval look.) The sea here is the Sea of Moyle, where, according to Irish mythology, the Children of Lir were banished for 300 years after being turned into swans by their stepmother.
The ferry from Ballycastle has delivered us to Church Bay, the inner angle of the island. The wind is strong, bright sunlight alternates with showers, mackerel clouds stream overhead. We have six hours. An elderly bus waiting at the harbour makes up our minds about where to go first; it bounces us along a winding road, past fuchsia hedges and scattered farms, to the RSPB centre at Bull Point. Here, at the top of the boot, viewing platforms overlook precipitous cliffs and fulmars hang in the air, almost within touching distance. Westwards: 2,000 miles of ocean.

Rathlin island Photograph: Courtesy of Philip Hartwell
Delivered back to Church Bay, we set off on foot for Rue Point, the toe of the boot. The road dips and climbs, edged by windswept grassy banks still showing the odd harebell, scabious and tormentil, stragglers from late summer. Everywhere are sparkling glimpses of sea. The cottages peter out and the loughs begin, glinting with ruffled water or tightly packed with reeds. Black cattle graze between rocks and gorse, meadow pipits dart and call. It has begun to rain, but we sit on a wall to eat our sandwiches anyway.
The sun reappears as the road dwindles and disappears into a low, narrow headland at Ushet. We walk down to a ruin, waves slapping the shore on either side, and sense we are being watched. Across an inlet are two seals draped over rocks, heads raised. Picking our way past, we spot three more, silver, brown and blotchy cream, and suddenly realise there are dozens, all around. Mostly they ignore us, though occasionally one takes offence, heaves itself off its sunbed and flops into the water. From time to time their woeful sounds cut through the noise of wind and sea.
Legend has it that after ferocious storms the Children of Lir were reunited at Seal Rock on Rathlin. Might it have been here?
More On The Environment