26 Oct
News and Analyses, A Foreign Perspective
Nearly all of these are English-edition daily newspapers. These sites have interesting editorials and essays, and many have links to other good news sources. We try to limit this list to those sites which are regularly updated, reliable, with a high percentage of "up" time.
Recommended:

Officials name suspect as Cesar Sayoc, 56, of Aventura

Two more suspicious packages discovered in US on Friday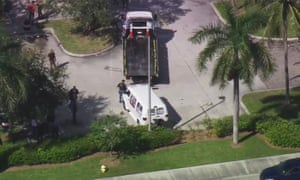 FBI agents and police officers prepare to load a suspicious van parked in Plantation on to a flatbed tow truck. Photograph: AP
The suspect's Facebook page features photos from a Trump rally in 2016 and various political memes, per the New Republic's Matt Ford.
Sayoc posted several photos of himself wearing a "Make America Great Again" hat, and a video where he's wearing the hat as Trump speaks at the October 2016 rally.
The images from the rally also include photos of Trump speaking and "Blacks for Trump" signs.
Memes he posted on his page include an image of Hillary Clinton – one of the bomb targets – labeled "hypocrite." There are images criticizing Islam and referring to Muslims as "paedophiles and rapists" and opposing gun control.
Kevin Cooper, the Republican Executive Committeeman in Miami Dade County representing the city of Aventura, condemned the crimes:
"The alleged actions of this suspect have no place in our community or in our political discussion. The Republican Party has always been the party of growth, opportunity, and progress, and it is shameful that our politicals have gotten to this level. No one should use fear and intimidation to silence free speech. The actions of one individual do not speak for our party or our community."
Third of coastline cannot be affordably protected, government climate change advisers say, with current plans 'not fit for purpose'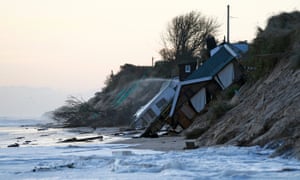 Collapsed houses lie on the beach after a storm surge in Hemsby, Norfolk, in 2013. Photograph: Darren Staples/Reuters
Rising sea levels will claim homes, roads and fields around the coast of England, the government's official advisers have warned, and many people are unaware of the risks they face.
The new report from the Committee on Climate Change (CCC) said existing government plans to "hold the line" in many places – building defences to keep shores in their current position – were unaffordable for a third of the country's coast. Instead, the CCC said, discussions about the "hard choices" needed must be started with communities that will have to move inland.
"There genuinely will be homes that it will not be possible to save," said Baroness Brown, chair of the CCC's adaptation committee. "The current approach is not fit for purpose. This report is really a wake-up call to the fact that we can't protect the whole English coast to today's standard."
She added: "We could see as much as a metre of sea level rise before the end of the century, so within the lifetime of today's children, and that has a major impact on coastal flooding and erosion." Prof Jim Hall, another member of the committee, said: "We are not prepared."
The regions affected include areas with soft, eroding shores in the south and east, as well as low-lying areas in East Anglia, Lincolnshire, parts of the south-west such as the Somerset Levels, and the coast between Liverpool and Blackpool in the north-west.
The entire coast of England is already covered by shoreline management plans, developed by the Environment Agency and local councils. These would cost £18-30bn to implement, but have no funding and no legal force. The CCC analysis found that, for more than 150km of coast, the plans to hold the line would cost more than the property and land that would be protected.
For another 1,460km of coast, the benefit of holding the line was twice the cost, but the government only currently funds defences with at least a sixfold cost-benefit ratio. "Funding for these locations is unlikely and realistic plans to adapt to the inevitability of change are needed now," said the report.
The report also found that 520,000 properties are already in areas with significant coastal flood risk. However, this may treble to 1.5m by the 2080s without action.
Currently, 8,900 properties are at risk from coastal erosion and in 2014 the Environment Agency calculated that 7,000 homes, worth more than £1bn, would fall into the sea this century. But the CCC report found that in the 2080s another 100,000 properties would be at risk of sliding into the sea.
As well as properties, key infrastructure is also at risk from the sea level rise and bigger storms being driven by climate change. In the 2080s, 1,600km of major roads, 650km of railway line and 92 stations will be at risk, the CCC found. Ports, power stations and gas terminals are also in danger. A further risk is toxic waste from old landfill sites falling into the sea as the coast is eroded; a 2016 study found 1,000 such sites at risk.
Brown said people living in coastal areas do not have access to good information about the risks they face. "A retired couple could buy, with cash, a house with a fabulous sea view without being given any information about whether it was at risk of erosion," she said.
Making better information easily available would alarm people but was vital, said Hall. It would also affect property values, he said: "If it was better communicated, as we think it should be, then that would have a [negative] impact on house prices."
The government must work with local councils on long-term, funded programmes that engage people and help them move if necessary, the CCC said. "Those are very difficult decisions," said Brown. "Local councils are in a very tough situation having to raise those kind of issues with their communities. There may be a bit of denial going on in local authorities."

Package sent to actor follows wave of attempted pipe bombings

Trump attacks 'mainstream media' for 'anger in society'
Bomb disposal van seen leaving Tribeca after suspicious package sent to Robert De Niro – video
Police in New York are investigating a suspicious package addressed to Robert De Niro following a wave of pipe bomb discoveries this week.
CNN and NBC's New York affiliate reported the package was similar to ones sent to prominent Democrats and was sent to an address in lower Manhattan that houses a restaurant and offices owned by the actor.
Authorities said on Wednesday that pipe bombs had been sent to prominent critics of Donald Trump, spreading terror in the US less than two weeks before the midterm elections.
De Niro received a standing ovation at the Tony awards in New York in June for a speech attacking the president.
Packages containing suspected explosives were sent to the homes of former president Barack Obama and the former Democratic presidential nominee Hillary Clinton. The bombs were intercepted by the Secret Service.
Investigators also discovered suspect packages addressed to former attorney general Eric Holder and Democratic congresswoman Maxine Waters. Police said a "live explosive device" was found in CNN's New York City mailroom addressed to former CIA director John Brennan.
This followed the discovery on Monday of a bomb at the New York home of liberal billionaire donor George Soros
On Wednesday night the packages were being analyzed by the FBI at its lab in Virginia. At least five of the packages, including the one sent to Soros, were in matching envelopes with similar labeling and stamps, according to the FBI.
Donald Trump condemned the attempted bombings on Wednesday and then at a rally later that night, he attacked the media for being negative. The president reiterated the criticism on Twitter Thursday morning.
"A very big part of the Anger we see today in our society is caused by the purposely false and inaccurate reporting of the Mainstream Media that I refer to as Fake News," Trump tweeted. "It has gotten so bad and hateful that it is beyond description. Mainstream Media must clean up its act, FAST!"

World Politics
United States
Source: Reuters
Donald Trump has called for 'all sides to come together in peace and harmony' after US authorities intercepted bombs sent to CNN and prominent Democrats. The president said the media must 'stop the endless hostility and constant negative and oftentimes false attacks and stories' before congratulating himself on how nice he was being. Suspect packages mailed to Barack Obama, Hillary Clinton, other politicians and CNN have been intercepted.
.