27 Oct
News and Analyses, A Foreign Perspective
Nearly all of these are English-edition daily newspapers. These sites have interesting editorials and essays, and many have links to other good news sources. We try to limit this list to those sites which are regularly updated, reliable, with a high percentage of "up" time.
Recommended:

Local media reports eight fatalities and police say three officers shot

Asked about gun laws, Trump says temple should have had 'protection inside'
At least four people are dead after a man began shooting at a synagogue in the Squirrel Hill neighbourhood of Pittsburgh on Saturday.
Bill Peduto, mayor of Pittsburgh, told reporters four people died at the Tree of Life synagogue. Local media reported the toll at eight. Police officials told media the gunman was in custody but did not officially conform the number of fatalities.
The gunman was taken to Mercy hospital in the city, police said.
At a brief press conference early on Saturday afternoon, Pittsburgh's public safety director, Wendell Hissich, said: "The scene is very bad inside. There are multiple fatalities."
Six people were injured, he said, four of them police officers. None of the officers suffered life-threatening injuries, he said, adding that the other two people's injuries were "critical and serious in nature". He would not say if one of those two injured people was the suspect.
Hissich did not confirm the number of dead.
Earlier, the local CBS affiliate KDJA reported that the suspect was "white male [with] a beard" and said he "walked in yelling 'All Jews must die'". The station and many other outlets later named the suspect as Robert Bowers.
The shooting "falls under a hate crime, being in a Jewish synagogue", Hissich said, adding that the FBI was therefore the lead investigating agency. There was no active threat, Hissich said, and no explosives were used.
KDKA reported that people barricaded inside the synagogue made calls out during the shooting. A reporter described "an exchange of gunfire between the police and suspect on the third floor". The gunman was injured and surrendered after negotiation, the station said.
Jeff Finkelstein, chief executive of the Jewish Federation of Greater Pittsburgh, told reporters the Tree of Life was a Conservative synagogue and said a little more than half of the Jewish community in the greater Pittsburgh area lived in and around the Squirrel Hill neighborhood.
The shooting was reported shortly after 10am. Michael Eisenberg, a past president of the synagogue, told media there would have been three services going on in the main building, with 30 to 40 people in two larger services and about 15 in a smaller one. One of the services was a bris, a circumcision ceremony involving a male infant.
"We've never had any threats," Eisenberg said, adding that the synagogue had consulted the Department of Homeland Security and other synagogues about safety precautions, including making doors easier to open from the inside so people could escape in the event of an attack.
At Joint Base Andrews in Maryland, Donald Trump expressed sympathy. Asked if gun laws needed to be changed, the president said: "If they had protection inside the results would have been far better. If they had some kind of a protection inside the temple, maybe it would have been a much different situation."
Speaking as confirmed facts remained scarce, Trump said people who carried out mass shootings were "wackos" and said he thought the death penalty should be applied more stringently.
"It's a terrible thing what's going on with hate in our country," the president said………..Trump's remarks stoked instant debate over whether the shooting could have been prevented or whether the synagogue should have been better protected…………..Congressman Mike Doyle, who lives in nearby Forest Hills, said: "It's horrific. I know people that go to church there. One of my employees got married there and her parents go there. It just makes you numb, that's all."
In 2016, the Democrat helped lead a sit-in on the House floor, calling for gun control legislation. "You know," he said, "you have disturbed minds and hate in hearts and guns in their hands and this is what happens and Congress does nothing."

Decision is latest in 'quiet revolution' of seismic social and political changes in the country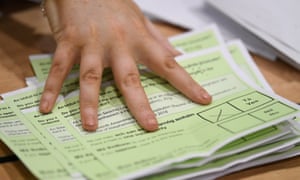 Ballot sheets at the count centre for the blasphemy referendum in Dublin. Photograph: Clodagh Kilcoyne/Reuters
Campaigners in Ireland celebrated the end of a "medieval" ban on blasphemy on Saturday, after voters overwhelmingly supported a referendum to remove the offence from the constitution.
More than two-thirds of voters supported the move, exit polls showed, with final results expected later in the day. The decision was the latest reflection of seismic social and political changes in Ireland, which the taoiseach Leo Varadkar has described as a "quiet revolution".
"It means that we've got rid of a medieval crime from our constitution that should never have been there," said Michael Nugent, chairperson of Atheist Ireland, which had campaigned for years to have blasphemy taken out of the constitution.
Voters also returned president Michael Higgins to office, giving the 77-year-old poet and human rights campaigner another seven-year term by a comfortable margin.
Until recently, Ireland was deeply conservative, dominated by the Catholic church, but the country has legalised gay marriage and abortion in popular votes, and is now led by an openly gay taoiseach.
Reflecting the speed of changes in Ireland, the strongest support for ending the ban came from younger voters, exit polls suggested. Four in five voters under 35 backed the change, according to the Irish Times, while over-65s only approved it by a narrow margin, with 52% in favour and 48% against.
The government had already laid out legislation to remove the offence of blasphemy from the constitution and all relevant laws, should the referendum be passed.
It has been over 150 years since anyone was prosecuted for blasphemy in Ireland, but the country had passed a blasphemy law in 2009, making it the only western democracy to bring in new legislation in the 21st century.
Three years ago, Irish police investigated comments made by comedian Stephen Fry on TV, when he described God as "capricious", "mean-minded", and an "utter maniac". They ultimately dropped the case, deciding that not enough people had been outraged.
Poor turnout slightly undermined the celebrations, with only around 45% of eligible voters casting a ballot, potentially the lowest ever recorded for a presidential vote.
But Nugent said the premlinary result, if confirmed, would be another important step towards realigning national laws with contemporary Irish life.
"The population has moved on, [people are] no longer controlled by the Catholic church, but a lot of the laws that were put in place are still there," he added. "We have to chip away at them and get the state to catch up with the people."

Exclusive: Simple act of breathing is killing 7 million people a year and harming billions more, but 'a smog of complacency pervades the planet', says Dr Tedros Adhanom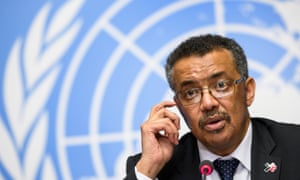 Dr Tedros Adhanom Ghebreyesus speaks at a press conference in 2017. Photograph: Fabrice Coffrini/AFP/Getty Images
Air pollution is the "new tobacco", the head of the World Health Organization has warned, saying the simple act of breathing is killing 7 million people a year and harming billions more.
Over 90% of the world's population suffers toxic air and research is increasingly revealing the profound impacts on the health of people, especially children.
"The world has turned the corner on tobacco. Now it must do the same for the 'new tobacco' – the toxic air that billions breathe every day," said Dr Tedros Adhanom Ghebreyesus, the WHO's director general. "No one, rich or poor, can escape air pollution. It is a silent public health emergency."
"Despite this epidemic of needless, preventable deaths and disability, a smog of complacency pervades the planet," Tedros said, in an article for the Guardian. "This is a defining moment and we must scale up action to urgently respond to this challenge."
The WHO is hosting its first global conference on air pollution and health in Geneva next week, including a high-level action day at which nations and cities are expected to make new commitments to cut air pollution.
Children and babies' developing bodies are most at risk from toxic air, said Dr Maria Neira, WHO director for public health and the environment, with 300 million living in places where toxic fumes are six times above international guidelines.
"Air pollution is affecting all of us but children are the most vulnerable of all," she said, noting the alarm among child health experts about the links between toxic air and respiratory diseases, cancer and damaged intelligence. "We have to ask what are we doing to our children, and the answer I am afraid is shockingly clear: we are polluting their future, and this is very worrying for all us."
Tedros said: "A clean and healthy environment is the single most important precondition for ensuring good health. By cleaning up the air we breathe, we can prevent or at least reduce some of the greatest health risks."
The WHO is working with health professionals not only to help their patients, but also to give them the skills and evidence to advocate for health in policy decisions such as moving away from fossil-fuel-powered energy and transport. "No person, group, city, country or region can solve the problem alone," he said. "We need strong commitments and actions from everyone."
In the UK, most urban areas have illegal levels of air pollution and ministers have lost three times in the high court after challenges over the inadequacy of their action. The latest government action plan, called "pitiful" by environmental lawyers, revealed air pollution was actually much worse than previously feared.
The figure of 7 million early deaths is certain to be an underestimate, as it only includes particle pollution and the five most firmly linked causes of death. Early estimates using improved models indicate a total figure of 9 million from particle pollution.
World Politics
United States
The prospect of electing the state's first black governor is expected to boost African American voter turnout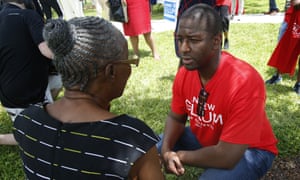 Democratic gubernatorial candidate Andrew Gillum talks with a supporter after speaking to voters and public school teachers at a rally in Miami Gardens, Florida. Photograph: Brynn Anderson/AP
I

t has been nearly two years since Florida's black voters mostly stayed home on election day and, in the eyes of some, gave Donald Trump a free pass to win the state and the White House. To Quiana Malone, it was a mistake that cannot be allowed to happen again.
Malone has been fired up for months about November's midterms, and after spending most of this year knocking on doors and speaking at community meetings around Florida for the African-American advocacy group Color of Change, she is convinced black voters have regained their enthusiasm.
"It's a moment of history for us, one of those things where you have a dream of something you want to achieve and see it can actually happen," Malone, 35, said after delivering a motivational speech to about 150 Color of Change supporters at a rally in Orlando.
"A lot of the people I've met are excited. I didn't know it would be such a fight, but now it's here, people are ready to go out and vote."
The moment of history that Malone believes will spark a revival in the black vote is in reality two moments. Firstly, there is the prospect of electing Tallahassee mayor Andrew Gillum as Florida's first black governor. Gillum, the surprise winner of the Democratic party's primary in the summer, leads Republican Ron DeSantis in a gubernatorial race that pollsters have recently switched from toss-up to "Leans Dem".
The second is an issue personal to Malone, a proposed amendment to Florida's constitution that would sweep away post-slavery era disenfranchisement of former felons and restore voting rights to those who served their sentences for crimes other than sexual offences or murder.
While about 1.6 million people, or one in 10 Florida citizens, are "felony disenfranchised" according to the Sentencing Project, the percentage of the African American population affected is significantly and disproportionately higher at 21.35%.
"You have people like me who have served their time, are transformed in every way and deserve their second chance. We are as much upstanding citizens as anybody else," said Malone, who was released from an 18-month sentence in 2009 for a crime she says she prefers not to discuss.
Since then she has turned her life around; she operates a not-for-profit to help released felons readjust to society and owns a catering company employing many of those she has assisted. She spoke of her experiences at the Orlando rally, hoping to inspire voters in a similar way.
"We've been talking to people nonstop, but there's still work to do before election day," she said.
Arisha Hatch, the managing director of campaigns for Color of Change, said direct contact was the key to reinvigorating black voters in Florida, who were uninspired by Hillary Clinton in 2016 and reflected a national slump in black and minority voting.