28 Oct
News and Analyses, A Foreign Perspective
Nearly all of these are English-edition daily newspapers. These sites have interesting editorials and essays, and many have links to other good news sources. We try to limit this list to those sites which are regularly updated, reliable, with a high percentage of "up" time.
Recommended:

Why would someone want Saudi Arabian Jamal Khashoggi dead? The former FBI agent Ali Soufan says that the journalist posed a threat to the House of Saud.
Victims due to be named as synagogues across the US tighten security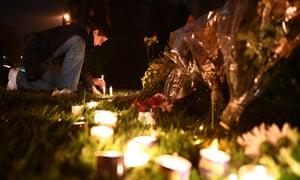 A woman places a candle outside the Tree of Life synagogue after a shooting that left 11 people dead. Photograph: Brendan Smialowski/AFP/Getty Images
The names of 11 people shot dead in a synagogue in Pittsburgh were expected to be released on Sunday morning as Jewish organisations around the world expressed horror at the carnage and synagogues across the US stepped up security.
The gun attack during a Shabbat service was the deadliest assault on Jews in US history, according the to Anti-Defamation League, which monitors antisemitism.
Hundreds of people gathered for a candlelit vigil near the Tree of Life synagogue in the Pennsylvania city on Saturday night to stand in solidarity with the local Jewish community.
"This was a very emotional, beautiful vigil, so proud of our community. Our hearts are broken from this senseless, senseless hate crime against the Jewish community," said Mike Doyle, a Republican member of Congress for Pennsylvania.
Stephen Cohen, the co-president of New Light Congregation, which rents space at the Tree of Life, said: "When you spew hate speech, people act on it. Very simple. And this is the result. A lot of people dead. Senselessly."
A gunman entered through the unlocked door of the synagogue on Saturday morning bearing an assault rifle and three handguns and allegedly shouting "all Jews must die". He opened fire, killing 11 people and injuring six, including two police officers.
Robert Bowers, a Pittsburgh resident, was later charged with 29 offences, including obstructing the exercise of religious beliefs resulting in death, 11 counts of using a firearm to commit murder, weapons offences and seriously injuring police officers.
Bowers had posted antisemitic comments and material on social media. The FBI said it was investigating the shooting as a federal hate crime.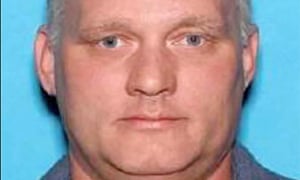 Robert Bowers has been charged with 29 offences. Photograph: Pennsylvania authorities
Donald Trump called the attack "an act of pure evil". In response to questions about gun control, however, he appeared to suggest the synagogue should have had armed guards.
"If they had protection inside the results would have been far better. If they had some kind of a protection inside the temple, maybe it would have been a much different situation," he said.
Michael Eisenberg, a former president of the Tree of Life, said he was not aware of any threats made against the synagogue before the shooting, but that security was a concern and the synagogue had started working to improve it.
Security at synagogues in other US cities was stepped up after the attack. Authorities in New York City, Los Angeles, Chicago, Houston, Philadelphia and elsewhere deployed extra patrols at synagogues and other places of worship.
Pittsburgh's mayor, Bill Peduto, said the names of those killed in the attack would be released at 9am local time on Sunday. There was "really strong insistence by the FBI that we identify everybody with 100% accuracy before giving out any information, for the families' sake," he told CNN.
Related:
World Politics
United States
Rowan Williams backs call for mass civil disobedience 'to bypass the government's inaction and defend life itself'.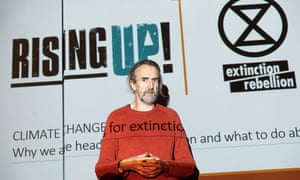 A new group of "concerned citizens" is planning a campaign of mass civil disobedience starting next month and promises it has hundreds of people – from teenagers to pensioners – ready to get arrested in an effort to draw attention to the unfolding climate emergency.
The group, called Extinction Rebellion, is today backed by almost 100 senior academics from across the UK, including the former archbishop of Canterbury Rowan Williams.
In a letter published in the Guardian they say the failure of politicians to tackle climate breakdown and the growing extinction crisis means "the 'social contract' has been broken … [and] it is therefore not only our right, but our moral duty to bypass the government's inaction and flagrant dereliction of duty, and to rebel to defend life itself."
Those behind Extinction Rebellion say almost 500 people have signed up to be arrested and that they plan to bring large sections of London to a standstill next month in a campaign of peaceful mass civil disobedience – culminating with a sit-in protest in Parliament Square on 17 November.
Roger Hallam, one of the founders of the campaign, said it was calling on the government to reduce carbon emissions to zero by 2025 and establish a "citizens assembly" to devise an emergency plan of action similar to that seen during the second world war.
On top of the specific demands, Hallam said he hoped the campaign of "respectful disruption" would change the debate around climate breakdown and signal to those in power that the present course of action will lead to disaster.
"The planet is in ecological crisis – we are in the midst of the sixth mass extinction event this planet has experienced," he said. "Children alive today in the UK will face the terrible consequences of inaction, from floods to wildfires, extreme weather to crop failures and the inevitable breakdown of society. We have a duty to act."
Extinction Rebellion is part of the Rising Up activist group, and organisers have spent the past few months holding public meetings in towns and cities across the country.
Hundreds of people have gathered in libraries and meeting halls, cafes and universities, pubs and churches to hear dire warnings about the consequences of the unfolding climate emergency – and what they can do about it.
"It feels like we are tapping into something very powerful in terms of the frustration and urgency many people are feeling as the evidence mounts of the scale of the climate emergency we are facing," said Hallam, an academic at King's College who specialises in social change and protest. He said the group was now getting 20 requests a week from people across the UK wanting to be given the talk.
"To put it simply," he said, "we're fucked. From the melting ice in the Arctic to the release of methane from the permafrost, the evidence is overwhelming and people are starting to realise that. What we need now is to start working out what we are going to do about it."
The attempt to organise wide-scale civil disobedience around the looming climate breakdown comes just weeks after three people were jailed – and then released – for anti-fracking campaigns in the UK. And it follows dire warnings from the UN that there are only 12 years left to prevent global ecological disaster.
Almost 100 academics – half of them professors – on Friday backed the call for rebellion.
In a letter to the Guardian they state: "While our academic perspectives and expertise may differ, we are united on this one point: we will not tolerate the failure of this or any other government to take robust and emergency action in respect of the worsening ecological crisis. The science is clear, the facts are incontrovertible, and it is unconscionable to us that our children and grandchildren should have to bear the terrifying brunt of an unprecedented disaster of our own making."
Last week the US politician Bernie Sanders posted a link to an article supporting Extinction Rebellion, civil disobedience and the wider anti-fracking campaign to his 7.5 million followers. Hallam said the group was in talks with campaigners in the US about organising similar Extinction Rebellion events in Washington DC next month.
Caroline Lucas, the Green party MP, is also supporting the plan and will be among the speakers at the launch in parliament next week.
As part of their attempt to mobilise the wider environmental movement, activists from Extinction Rebellion, armed with flowers and letters, occupied Greenpeace headquarters last week. Describing the move as a "tap on the shoulder of a friend", they wanted the environmental organisation to email its members highlighting the rebellion plan – and ideally calling on them to take part.
More On The Environment: