29 Oct
News and Analyses, A Foreign Perspective
Nearly all of these are English-edition daily newspapers. These sites have interesting editorials and essays, and many have links to other good news sources. We try to limit this list to those sites which are regularly updated, reliable, with a high percentage of "up" time.
Recommended:

Report says air pollution is having a devastating impact on children worldwide, storing up a public health time bomb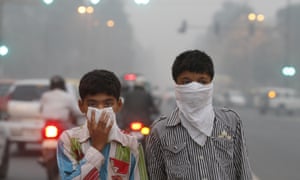 Children cover their face from air pollution in New Delhi, India. Photograph: Hindustan Times/Hindustan Times Via Getty Images
Poisonous air is having a devastating impact on billions of children around the world, damaging their intelligence and leading to hundreds of thousands of deaths, according to a report from the World Health Organization.
The study found that more than 90% of the world's young people – 1.8 billion children – are breathing toxic air, storing up a public health time bomb for the next generation.
The WHO said medical experts in almost every field of children's health are uncovering new evidence of the scale of the crisis in both rich and poor countries – from low birth weight to poor neurodevelopment, asthma to heart disease.
Dr Tedros Adhanom, WHO director general, said: "Polluted air is poisoning millions of children and ruining their lives. This is inexcusable – every child should be able to breathe clean air so they can grow and fulfil their potential."
The findings coincide with the start of the first global conference on air pollution and health in Geneva, including a high-level action day at which nations and cities are expected to make new commitments to cut air pollution.
The WHO study found that children are particularly vulnerable to air pollution because pollutants are often more concentrated nearer to ground level. It added that their developing organs and nervous system are also more susceptible to long-term damage than those of adults.
"Air pollution is stunting our children's brains, affecting their health in more ways than we suspected," said Dr Maria Neira, WHO director of public health and the environment.
The study found that 600,000 children die from acute lower respiratory infections caused by dirty air and 93% are exposed to one of the most damaging pollutants – PM2.5. In poorer countries, 98% of all children under five are exposed to PM2.5 above WHO guidelines.
Pregnant women are particularly vulnerable, with dirty air linked to premature and underweight children. Air pollution also increases the risk of chronic diseases such as cardiovascular disease later in life.
Tedros, writing in the Guardian on Saturday, described air pollution as the "new tobacco", saying the simple act of breathing is killing 7 million people a year and harming billions more.
In the UK, most urban areas have illegal levels of air pollution and ministers have lost three times in the high court after challenges over the inadequacy of their action. The latest government action plan, called "pitiful" by environmental lawyers, revealed air pollution was actually much worse than previously feared.

World Politics
Germany
Chancellor also tells Christian Democrats she will not seek re-election as party chairwoman in December
Angela Merkel's 'moving words' when she announced her decision to the party were greeted with a standing ovation. Photograph: Kai Pfaffenbach/Reuters
Angela Merkel has announced she will not seek another term as chancellor when her mandate ends in 2021, ending a more than decade-long era in which she has dominated European politics.
Merkel also told a press conference she would not seek re-election as party chairwoman in December, kickstarting the race to replace her as Christian Democrat candidate in 2021, when the next federal election is due. She will also not seek re-election to the Bundestag.
The statements were made following a meeting of the party leadership, which was called to discuss two electoral disasters in regional elections in as many weeks. She had earlier announced her decision to the party, when her "moving words" were greeted with a standing ovation, sources told German media.
Merkel said her 13 years as chancellor had been "a daily challenge and honour" but she recognised it was time to start a new chapter.
It had been widely assumed that this would be Merkel's final term as chancellor but she had not confirmed that herself. The 64-year-old has been CDU chairwoman since 2000 and chancellor since 2005.
Whoever becomes the next CDU leader will likely be put forward as the party's candidate for chancellor in 2021. Merkel's favoured successor is the CDU party secretary general, Annegret Kramp-Karrenbauer, who announced her candidacy on Monday.
German media reported that Friedrich Merz, a former parliamentary leader of the CDU/CSU alliance, was also joining the race to succeed Merkel. Other favourites are the health minister Jens Spahn and the state premier of North Rhine-Westphalia, Armin Laschet.
The German news agency DPA reported that Merkel intended to continue as chancellor for now. Traditionally, the person who holds position of party chair of the government's largest party also takes position of chancellor, but this is not a binding rule. Previously Merkel has said the two jobs belong together.
Merkel's predecessor, Gerhard Schröder, made the same move in February 2004, giving up the position of chairman but remaining chancellor until November 2005. At the time, Merkel, who was then leader of the opposition, spoke of a "loss of authority all along the line", and "the beginning of the end" of Schröder.
Christian Lindner, the leader of the liberal FDP party, was the first to demand Merkel's resignation as chancellor on the back of the news, calling for her ruling conservative bloc to "be prepared for a real new beginning in Germany".
Merkel's CDU allies, however, seem ready to accept her decision to stay on as chancellor for now. The former president of the German parliament Norbert Lammert told Die Welt it was acceptable as part of a "transition phase", whereas the head of the CDU in the German state of Thuringia, Mike Mohring, spoke of a "turning point". Others greeted the chance for renewal in the party.
The developments on Monday came after the CDU haemorrhaged support in a vote in the western state of Hesse. Preliminary final results from Sunday's election, seen as decisive for the future of Germany's increasingly wobbly coalition, showed the CDU slumping to 27%, the party's worst showing in the state since 1966 and a drop of 11 percentage points since Hesse last went to the polls in 2013.

Brazil
United States
Steve Bell on Donald Trump's reaction to pipe bombs – cartoon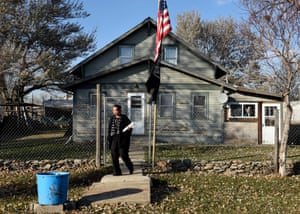 Honorata Defender canvassing in the remote settlement town of Selfridge on Thursday with information on how to vote for Standing Rock tribal members. Photograph: Dan Koeck/Getty Images for The Guardian
On the tribal reservations, Republicans are accused of trying to suppress a potentially decisive bloc who tend to swing Democratic.
A

s the blanket of morning fog evaporates over the outskirts of Fort Yates, a group of volunteers files inside a nondescript yellow building, decorated with signs that read: Standing Rock Will Vote. Everyone here knows the office. It has stood for decades and is owned by the reservation tribal government. But one thing about it has remained a mystery: its address.
Until recently that would hardly have mattered. Many properties, from government buildings to small homes, have no formal street address. Members of the Lakota Sioux tribe who live on Standing Rock, like the Native Americans on four other reservations in North Dakota, just know where people live. Most residents use PO Boxes to collect their mail. For years, thousands have used their PO Boxes when registering formal identification documents.
Now, with less than two weeks left before the crucial midterm elections, that poses a problem some fear could change the outcome in a pivotal race.
Following a supreme court decision earlier in the month, North Dakota's voter ID laws will go into effect in November. That means voters will be forced to show ID documents that include a full address before they can cast a ballot. The Republican-backed law has been branded a deliberate attempt to suppress the Native American vote.
"They proposed this legislation and never invited us to be at the table," said Danielle Ta'Sheena Finn, Standing Rock's external affairs director. "We were not invited to propose comments or questions or concerns. It was done almost under the rug, which tells you the intent."
Inside the unnamed yellow building, the small army of volunteers, brought together by a coalition of Native civil rights groups, are determined to fight back. They plan to knock on every single door in the northern side of this vast reservation, which straddles North and South Dakota, and bus people to the single government building issuing new tribal ID cards until all Standing Rock's population has the documentation required.
It is a mammoth task, in an open place where 3,000 eligible voters live in communities dotted around 1,128 square miles of land.
Alva Cottonwood-Gabe sat in the office, her old tribal ID card in her hand. It expired years ago but the 57-year-old, who lives on $393 a month in food stamps and other government subsistence, simply could not afford to pay $5 to replace it.
"I've got four grandchildren to support and I need it to pay for other things in the home," she said.
Following the supreme court decision, tribal governments in all of North Dakota's reservations moved to waive the fee for new documents – soaking up the costs themselves. Cottonwood-Gabe was among the first to be bussed in to collect her new ID, which she brandished above her head, a small marker of victory. It was identical to her previous ID card, bar a single line that noted her address was 568 Sioux Avenue.
The laborious process, which involved three forms and a queue at the federal office, was a reminder to her of what she believed was the new law's true intent.
"They are trying to suppress our vote because they don't want to hear what we have to say," she said. "But voting is so important, not just for me but for my children, my grandchildren, my great grandchildren."
A mother of 13 and grandmother of 20, Cottonwood-Gabe is a veteran of the pipeline protests that commanded international attention in 2016. She was maced three times in clashes with police and left partially deaf in one ear, after authorities used sound cannons.
She has lived in Standing Rock her whole life and voted in every election since 1984. Environmental protection, she said, was the issue that concerned her the most at this year's election.
The battle for the US Senate seat in North Dakota is among the most crucial races in the midterms. Democratic incumbent Heidi Heitkamp faces Republican congressman Kevin Cramer in an election that could be decided by just a few thousand votes. If Democrats cannot hold the seat, it will be almost impossible for them to take the Senate. Heitkamp, who voted against Donald Trump's controversial supreme court nominee, Brett Kavanaugh, currently trails in the polls.
Her victory in 2012 was decided by less than 3,000 votes – making Native Americans, who make up about 5% of the state's population and tend to swing Democratic, a potentially decisive bloc in 2018.
Almost immediately after Heitkamp was elected, Republicans in the state legislature passed the voter ID law. Following court rulings that initially blocked it, 2018 will be the first election the law is in full effect.
Cramer, an arch-conservative, has like other Republicans in the state argued the law is vital to protect against voter fraud. At a debate last week he suggested there was no discriminatory effect and accused the law's critics of playing "identity politics".
History tells a different story.
North Dakota, the only state in the union that does not require individuals to register before they vote, has prosecuted just one case of voter fraud in decades. According to the Standing Rock tribal council, there has never been a cases of voter fraud in Sioux county, the jurisdiction that covers all of Standing Rock's territory in the state.

Alva Gabe, who has lived in Standing Rock her whole life and voted in every election since 1984, shows her new tribal ID with a street address, which will allow her to vote in North Dakota. Photograph: Dan Koeck/Getty Images for The Guardian