30 Oct
News and Analyses, A Foreign Perspective
Nearly all of these are English-edition daily newspapers. These sites have interesting editorials and essays, and many have links to other good news sources. We try to limit this list to those sites which are regularly updated, reliable, with a high percentage of "up" time.
Recommended:

Historian Deborah Lipstadt exposed author David Irving for being a Holocaust denier in 1993. Now, she warns of the growth of what she calls "softcore" anti-Semitism. Trump and his kind, she says, are even more dangerous than those who openly agitate against Jews.

We're now at a fork in the road: either we cut out fossil fuels completely, or we pass on a dying planet to our children.
The McGlynn:
"What a legacy we are bequeathing – regions of the world becoming uninhabitable at an accelerating rate, creating potentially millions of ecological refugees; a burgeoning world population, diminishing reserves of finite and other resources, shortages of water and food, calamitous loss of genetic variability, and wars of survival."
For a lot of people in the world, this describes their current situation.
If you are already a refugee, or living a precarious life, due to the ever-present possibility of war, of drought, of flood, of persecution or of poverty then it won't matter much to you whether there is climate change or not.
Alternatively, if you live a comfortable life that you feel is insulated from the vagaries of weather, shortages, lack of entertainment or transport you may not care much what happens to everybody else, either.
The problem that the rest of us face, is how to persuade those two opposite ends of the spectrum that they should do anything, so that we in the middle can lead better lives. It is all very well saying we have got to do this … or that. But like every other piece on the subject, there is no answer given for how do we get from where we are now, to where we should all be.
Merely saying "stop using fossil fuels" is like telling a fat person to cut out carbs. Science tells us that yes, that is what they should do. But experience also tells us that this advice will be ignored, or tried and then behavior will revert to its old patterns.
As so, as long as all the climate change people keep saying "we must all do this" or that without creating an environment that makes it easy – the path of least resistance – then like failed dieters, nothing will change. How do you persuade people who have very little for that they should give up a disproportionate amount of that so that others with far more comfortable lives can be a bit more secure?
How do you persuade an

Isolationist

, I'm-all-right-Jack nation that it should sacrifice its lifestyle to help a load of strangers that it either feels threatened by, or doesn't much like the look of? How do you persuade

a NATIONALIST; CAN NOT BE DONE.
 I am afraid  extreme exhortations to give up our cheap and easy energy will fail. The problem is real, the solutions are real, but the motivation to apply them are missing. That is what needs fixing.
More talk is obviously failing.
The McGlynn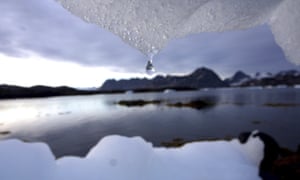 An iceberg melts in Kulusuk, Greenland. 'The process of permafrost thawing in tundra regions is releasing dangerous greenhouse gases on an unimaginable scale.' Photograph: John Mcconnico/AP
The world faces a near-impossible decision – one that is already determining the character and quality of the lives of the generations succeeding us.
It is clear from the latest IPCC climate report that the first and only effective course, albeit a deeply unpopular one, would be to stop using any fossil fuels. The second is to voluntarily minimise their use as much as climate scientists have calculated would deliver some prospect of success. Finally, we can carry on as we are by aiming to meet the growth in demand for activities dependent on fossil fuels, allowing market forces to mitigate the problems that such a course of action generates – and leave it to the next generation to set in train realistic solutions that the present one has been unable to find.
These are the choices. There are no others. Future generations will judge us on what we choose to do in full knowledge – accessories before the fact – of the devastating consequences of continuing with our energy-profligate lifestyles.
What a legacy we are bequeathing – regions of the world becoming uninhabitable at an accelerating rate, creating potentially millions of ecological refugees; a burgeoning world population, diminishing reserves of finite and other resources, shortages of water and food, calamitous loss of genetic variability, and wars of survival.
Remarkably, public expectations about the future indicate that only minor changes in the carbon-based aspects of our lifestyles are anticipated. These expectations are informed by a widespread refusal by politicians to acknowledge that the process of permafrost thawing in tundra regions is releasing dangerous greenhouse gases on an unimaginable scale, that melting ice caps are contributing to sea level rises and that higher temperatures cannot now be reversed. The longer we procrastinate, the greater the certainty of environmental degradation, social upheaval and economic chaos.
National leaders are unable to reconcile the expectations of their electorates for higher living standards by burning fossil fuels, with the absolute need to live within the planet's finite environmental capacity. Nor can they move too far ahead of public opinion.
In this key area of international policy, the undesirable outcomes can all too often be laid at the door of scientists who inform politicians of the options now open to them. They subscribe to many fallacious assumptions about carbon dioxide emissions that are close to tenets of faith.
Progress continues to be measured in terms of carbon dioxide reductions towards the goal of zero emissions. However, carbon dioxide emitted into the global atmosphere remains there for well over 100 years. Switching to low-carbon developments and renewable energy sources makes no contribution to reducing its concentration: it can only reduce the rate at which the concentration continues to rise. Fossil-fuel dependent economic growth is the prime cause. Most growth can only be partly decoupled from its use. Happiness, positive health, nature, life-long education, community, love, music: these things have no price that can realistically be attached to them so are not counted for the purposes of measuring "growth" – although their enjoyment requires hardly any of these fuels.
The claims of future generations on reserves are not considered to be sufficiently relevant to policy to be included in any share-out. Likewise, no value is given to cover unquantifiable yet potentially huge adverse effects, such as the resettlement of ecological refugees. One may ask: whose brief within governments is it to speak out about the consequences of decisions affecting medium- and long-term futures?
Concern about the reliability of climate data stems from the changing role of carbon sinks of oceans and forests only partially absorbing CO2 emissions. Until recently, just over half the emissions were taken up by the sinks, with the balance accumulating in the atmosphere. This is no longer the case. The present upward path of global emissions from fossil fuel burning shows clearly that "sink-efficiency" has been noticeably decreasing since 2010.
More On Climate Change:

World Politics
United States
President falsely claimed US is 'the only country in the world' to endow the right and that he would move to sign order ending it
Donald Trump has insisted he will move to end the right to American citizenship for the children of non-citizens born in the US, a pledge he made frequently throughout the 2016 campaign and one often dismissed by scholars as legally unfeasible.
Birthright citizenship, as it is referred to in the US, is enshrined by the 14th amendment to the constitution. But Trump suggested in an interview with the news site Axios that he would move to sign an executive order that ended the right. Any such order would probably be instantly challenged in the courts.
The comments came as the administration hardens its already extreme line on immigration in a bid to win the midterm elections next week. Trump dispatched more than 5,000 active-duty military troops to the southern border on Monday, as a slow-moving group of around 3,500 Central Americans , including mothers and children, trekked towards the US border at least 1,000 miles away.
The order immediately gave rise to pictures of troops in combat gear and armored vehicles heading to join already heavily armed border patrol agents, as Trump characterized the caravan as "an invasion of our country". Many of the migrants are expected to seek asylum, as US and international law allows.
The White House has also floated the prospect of Trump making a major speech on border policy days before the elections, which take place on 6 November.
In the interview with Axios , Trump falsely claimed: "We're the only country in the world where a person comes in and has a baby, and the baby is essentially a citizen of the United States for 85 years with all of those benefits." He added: "It's ridiculous. It's ridiculous. And it has to end."
In fact, dozens of states around the world, including Canada and Brazil, endow the same right. Countries such as the UK and Australia endow a restricted version.
Trump told Axios he had discussed the move with legal counsel and had been told it could be accomplished with a presidential order.
"It was always told to me that you needed a constitutional amendment," Trump said. "Guess what? You don't."
He offered no timeframe on the signing of such an order and was not asked to give one.
Constitutional amendments cannot be overridden by the president and can only be altered by a two-thirds majority in both houses of Congress or support from two-thirds of state governments.
Nonetheless, attempts to curtail the right to citizenship at birth have long been pursued by hardliners in the Republican party. Legislation has been proposed in both the Senate and the House in recent years but has never passed a vote.
On Tuesday, Republican senator Lindsey Graham said he would introduce legislation to support Trump's plan. In a statement, he said his measure would be "along the same lines" as the executive order. He did not give any details or timeline.
It is likely that any bill in the Senate would need 60 votes to pass. Republicans hold a slim 51-49 majority. If a law were to pass both houses, it could still be challenged in the courts.
As a candidate, Trump frequently lambasted birthright citizenship, accusing so-called "anchor babies" of not being Americans.
"I don't think they have American citizenship and if you speak to some very, very good lawyers – and I know some will disagree, but many of them agree with me – and you're going to find they do not have American citizenship," Trump told Fox News in 2015.
The 14th amendment reads: "All persons born or naturalized in the United States, and subject to the jurisdiction thereof, are citizens of the United States and of the State wherein they reside."
Republicans who have sought to alter the right contend the amendment does not apply to the children of undocumented migrants, and likely hope that the supreme court, now with a conservative majority, could side with them.
Speaking after Trump's comments aired, Vice-President Mike Pence told Politico: "The supreme court of the United States has never ruled on whether or not the language of the 14th amendment, subject to the jurisdiction thereof, applies specifically to people who are in the country illegally."
Migrant advocacy groups responded with fury.
"This is an attempt to whiteout America's history and heritage as a nation of immigrants," said Jess Morales Rocketto, chair of Families Belong Together. "Americans will reject this cynical political ploy to stoke hate before the election. It is a radical hateful agenda at odds with our core American values of love, community and inclusion."
A study by the Migration Policy Institute suggested that curtailing birthright citizenship would lead to a swell in America's population of undocumented people, from 11 to 16 million by 2050.
Statistics from US Customs and Border Protection (CBP) show that illegal border crossings have declined significantly from record highs in the early years of the century. Last year, 396,579 undocumented people were apprehended after entering the US illegally. In 2000, more than 1.6 million were apprehended.