31 Oct
News and Analyses, A Foreign Perspective
Nearly all of these are English-edition daily newspapers. These sites have interesting editorials and essays, and many have links to other good news sources. We try to limit this list to those sites which are regularly updated, reliable, with a high percentage of "up" time.
Recommended:

Organizers accuse the president of emboldening 'a growing white nationalist movement' with hateful speech
World Politics
United States
FBI to investigate whether a hoaxer offered women money to make false allegations about special counsel investigating Russian election meddling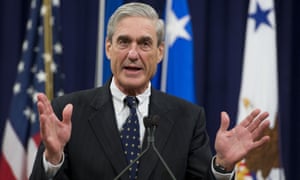 Special counsel Robert Mueller is investigating Russian interference in the 2016 presidential election. Photograph: Saul Loeb/AFP/Getty Images
The FBI has been asked to investigate whether a hoaxer offered women money to make false allegations about Robert Mueller, the special counsel investigating Russia's interference in the 2016 election.
Several journalists and bloggers in the US received an email this month purporting to be from a woman who had been offered money to smear Mueller with bogus claims of inappropriate behaviour decades ago.
After Mueller's office was told about the email, it referred the matter to federal investigators, who are now likely to examine whether the hoax scheme described in the woman's email is real – or if the email itself contains false information.
Peter Carr, Mueller's spokesman, said in a statement on Tuesday: "When we learned last week of allegations that women were offered money to make false claims about the special counsel, we immediately referred the matter to the FBI for investigation."
This statement itself was rare for Mueller's office, which has built a reputation over the past 17 months for almost never making public remarks about its activities outside of court hearings and legal filings.
Mueller has come under sustained pressure from Donald Trump and some Republicans in Congress, who have tried to dismiss his investigation as a "witch-hunt". Mueller has so far obtained criminal convictions of Trump's former campaign chairman Paul Manafort for financial crimes, along with guilty pleas from several people including Mike Flynn, Trump's former national security adviser, and Rick Gates, his former deputy campaign chairman.
The sender of the email to journalists and bloggers claimed to be a woman in Florida who had worked with Mueller at a law firm in the 1970s. She said she had been offered $30,000 and other benefits to make false allegations against Mueller. But, she said, Mueller was in fact "always very polite to me, and was never inappropriate".
The woman identified herself by a name that could not be matched with public records and efforts by journalists to contact her were unsuccessful.
She also said she was told the man behind the scheme was named Jack Burkman. A rightwing talk radio host with that name, who has pushed discredited conspiracy theories in the past, has publicly claimed to know of similar allegations about Mueller.
Burkman, who is also a registered lobbyist in Washington, has in the past raised money to help pay the legal fees of Rick Gates, Donald Trump's former deputy campaign chairman, who pleaded guilty to conspiracy and lying to the FBI.
Gates recorded a thank-you video message for a fundraiser held by Burkman in Virginia in December 2017, where Burkman described him as "our good friend Rick". In his message, Gates said: "Jack, thank you for your work, your commitment and your dedication."
News of the video message prompted the judge in Gates's case to demand that he explain "the nature of his relationship" with Burkman. Attorneys for Gates confirmed that "he knows" Burkman but said he had "not physically met with him". An attorney for Gates did not immediately respond to an email on Tuesday.

Largely relieved of pressure from deforestation and hunting, bears are increasingly coming into contact with people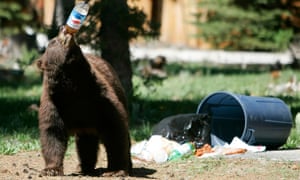 A black bear drinks from a plastic soda bottle near South Lake Tahoe, California. Photograph: Chad Lundquist/AP
The swift rebound of bear populations in the US is presenting a growing number of Americans with a major challenge – what to do about the enormous hirsute neighbors that are breaking into their homes, gorging on their food and guzzling their cans of soda?
Black bears, largely relieved of pressure on their numbers from untrammeled deforestation and hunting, are increasingly coming into contact with people in places where the two species haven't interacted in many decades.
"Bears are a good conservation story, but they are starting to show up in places that haven't seen them in generations, 80 years or more," said Jon Beckmann, science director of the Wildlife Conservation Society's Rocky Mountain west program. "We are seeing conflicts happen in the west, as well as New York, New Jersey, all over the place. We want to see more species on the landscape but we have to realize there's an impact on people when they interact, too."
Beckmann took part in newly published research that analyzed expanding bear populations around Nevada, including the Lake Tahoe region.
The study found that between 1997 and 2013, nearly 300 bears died in the region from car collisions or being shot for being a nuisance or a danger to people. In this period, the bear population in the area grew by about 16%, meaning ursine overlap with new housing developments in places such as Reno and Carson City.
Residents unused to the presence of black bears rapidly became acquainted – a confectionary maker was targeted by a bear that broke in and ate 24lb of pure butter. Another resident was the victim of a raid where a bear consumed a 50lb bag of birdseed in one sitting. Others realized bears were rummaging around for cans of Coca-Cola and Pepsi, opening them using their canine teeth.
Conservationists have worked to dampen conflict by urging communities to install bear-proof garbage bins, remove bird feeders and ban the feeding of black bears, a species that typically consumes about 25,000 calories a day before winter hibernation. But the spread of bears means it is hard to keep up.
In eastern states, there have been sharply divided views on whether hunting should be used more widely to curb bear numbers. New Jersey, which has the densest population of bears of any state, recently banned bear hunting on state land. State officials have previously said New Jersey's bear population would double within four years without a hunt.
In Connecticut, there is an increasing population of several hundred bears, state authorities say. In a recent incident, a 82-year-old woman woke up to find a bear in her bedroom in the town of Canton. The bear headed to the kitchen, where it rifled through her cabinets before fleeing into the woods after police officers fired bean bags at it. Another bear broke into a car. Yet another was shot after being found in a pen of goats.
There have been a record 22 bear break-ins in Connecticut over the past year. "It's scary," said Tom Bradley, whose house, also in Canton, was visited by a bear . "Sooner or later, some child, some elderly person, some dog is going to walk out between a bear and her cub and it's going to be a disaster."There have also been record levels of human-bear interaction in upstate New York, with more than 1,300 nuisance incidents reported to state authorities this year.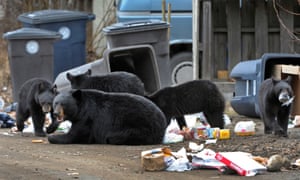 A black bear sow and her cubs forage through garbage cans in Government Hill near downtown Anchorage, Alaska. Photograph: Bill Roth/AP
Although black bear habitat has radically shrunk since European arrival to North America, a slowdown in deforestation and new hunting laws have helped reverse their fortunes. An estimated 300,000 now roam the US, a far larger population than their humpbacked cousin, the grizzly, which is only found in a few remnant areas and recently narrowly avoided being hunted for the first time in decades around Yellowstone.
Despite the increasing overlap, however, bear attacks on people are vanishingly rare and improved practices around removing food sources has meant the increase in population has been faster than the uptick in incidents.
New housing developments in picturesque bear habitat and climate change, which may alter areas suitable for bears, will play further roles in future interactions between bear and human.
"There's no shortage of bear food in the world, but there's a shortage of human tolerance to coexist," said David Mattson, a bear expert and former official at the US Geological Survey. "Black bears and mountain lions are relics of the Pleistocene, they are one of the few large carnivores to survive the onslaught of humans on this continent. They have done so well because they are shy and retiring. They tend to avoid conflict."
Mattson said there are "straightforward" things that can be done to avoid conflict, such as securing waste food and building bear-resistant fences.
"It's not inevitable that we will have more conflicts if we have more bears around," he said. "Sure, if you slaughter enough bears you won't have conflicts, but that would take us back to where we were in 1900, which would be tragic.
"It all really gets back to our world view, specifically our view of ourselves in nature in relation to other animals. Bears make demands of us that other wildlife don't, which throws our attitudes into sharp relief."

Body of Julián Carrillo found with multiple bullet wounds in Chihuahua state on 24 October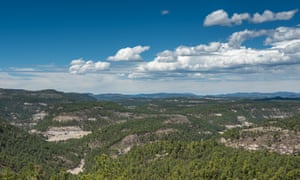 Sierra Madre, Chihuahua, Mexico. Photograph: Thom Pierce for the Guardian
Mexico is cementing its reputation as one of the deadliest places in the world for environmental and land defenders, human rights activists have warned after the latest murder of a prominent indigenous rights campaigner.
The body of Julián Carrillo, a member of the Alianza Sierra Madre organisation, was found with multiple bullet wounds in the mountains of Chihuahua state on the evening of 24 October.
He was killed a few weeks after his community of Coloradas de la Virgen registered opposition to a mining concession that they say was located in their territory without their permission, according to Amnesty International.
Carrillo had received multiple death threats. In the last two years, five members of his family have been killed, as have numerous other members of Alianza Sierra Madre, including the Goldman environmental prize winner Isidro Baldenegro López. Only one of the killers has been identified by police and no arrests have been made, says Amnesty.
Mexico is rapidly becoming a killing ground for activists, particularly those in indigenous communities. In 2017, 15 defenders were killed (a more than fivefold rise over the previous year), pushing the nation up from 14th to fourth place in the grim global rankings collated by the watchdog group Global Witness.
"Julián's murder is emblematic of the threats facing defenders across Mexico: the imposition of natural resource exploitation on to communities without their consent, widespread violence fuelled by ongoing impunity, and a governmental protection unit consistently failing groups of activists at risk in rural areas," said Ben Leather of Global Witness, who called on the president elect, Andrés Manuel López Obrador, to hunt down the killers, protect the family and address the root causes of the rising death toll.
While narco gangs are usually blamed, the state is often complicit. Senior politicians receive bribes and kickbacks for granting lucrative mining and logging concessions on indigenous land. When local communities resist attempts to clear their forests, pollute their rivers or destroy their crops, they are met with violence and assassinations.
Isela Gonzalez of Alianza Sierra Madre said: "It's very sad. Julian is irreplaceable. He was very important in the fight for indigenous rights and the environment."
Amid the grief and anger, she said his colleagues and community hoped the death would prompt an investigation of how the threats and killings are linked to the mining companies.
On Friday, she met government officials and called for the four mining concessions in the territory to be cancelled, for the perpetrators and masterminds of the killing to be brought to justice and for extra security for the Coloradas de la Virgen community under the state protection system.
"We are being exterminated with impunity because of the push for mineral resources that is destroying communities and the environment," she said, and called for support from people and governments in other countries.
Gonzalez told the Guardian earlier this year: "This is about the government giving permits to exploit everything recently. And then you have communities who don't want to sell the land, they have a different vision of things, they want to keep things as they are."
More On The Environment