07 Nov
News and Analyses, A Foreign Perspective
Nearly all of these are English-edition daily newspapers. These sites have interesting editorials and essays, and many have links to other good news sources. We try to limit this list to those sites which are regularly updated, reliable, with a high percentage of "up" time.
Recommended:

World Politics
United States
Trump repeatedly attacked Sessions, one of his earliest supporters, for recusing himself from Russia investigation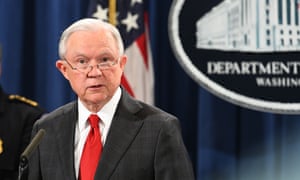 Jeff Sessions departed on Wednesday, a day after the midterms. Photograph: Xinhua/Barcroft Images
Jeff Sessions, the attorney general, has been fired by Donald Trump, ending a long-running feud with the president over the Russia investigation.
Sessions said in a letter to Trump on Wednesday: "At your request, I am submitting my resignation". He took credit for reversing a recent rise in violent crime and for taking a hardline stance on illegal immigration and gangs.
Trump said in a tweet that Matthew Whitaker, Sessions's chief of staff, had been appointed acting attorney general and that a permanent replacement would be nominated later.
"We thank Attorney General Jeff Sessions for his service, and wish him well," Trump said.
Sessions, a former US senator for Alabama, was one of the earliest supporters of , but almost immediately ran into controversy in the new administration.
The president repeatedly attacked Sessions in public, including via aggressive tweets, after the attorney general recused himself in March 2017, within two months of Trump taking office, from investigations into Russian interference in the 2016 election.
That decision followed revelations that Sessions had held two undisclosed meetings with Russia's then ambassador to the US, Sergey Kislyak, the previous year.
Sessions did not disclose the conversations when asked under oath during his Senate confirmation hearing in early 2017 about possible contacts between Trump's campaign and Moscow. The revelation led to calls for his resignation, but Sessions hung on.
In May 2017, special counsel Robert Mueller was appointed by the deputy attorney general, Rod Rosenstein, to oversee the investigation after Trump fired FBI chief James Comey. That investigation continued ever since without Sessions being involved, and is still underway.
Trump has continually vilified Sessions for recusing himself, when the president felt he should have been an ally to protect him against allegations of collusion between the Trump campaign and Russia.
In a feud in mid-August, Trump attacked Sessions in a TV interview the day after the president's former lawyer, Michael Cohen, pleaded guilty to campaign finance violations and his former campaign manager Paul Manafort was convicted of fraud – both cases having stemmed from the Mueller investigation. Trump said: "I put in an attorney general that never took control of the justice department."
Sessions hit back with a statement that said, in part: "I took control of the Department of Justice the day I was sworn in … While I am attorney general the actions of the department will not be improperly influenced by political considerations."

The extent of Republican gains in the senate were unclear, with Democrat Bill Nelson calling for a recount in Florida, the Arizona race too close to call and Mississippi headed for a runoff.

In a sign of rejection of Trump, significant Democratic gains came in suburban and wealthier non-rural areas including in right-leaning cities and suburbs that had voted heavily for Trump.
The extent of the Democratic victory Tuesday night came into focus as the party flipped seven governor's mansions and 333 state legislative seats, and gained full control of government in six states.

That was in addition to advancing successful ballot initiatives on criminal justice reform and voting rights, and to the big prize – winning a robust majority in the House of Representatives.

The McGlynn:

The following items are complete

BULLSHIT

.

Donald Trump declared "complete victory" for Republicans and claimed that the loss of uniform Republican control of Congress would ease gridlock and was a success "from the standpoint of dealmaking."

Trump warned that he would reply to oversight attempts by Democrats with retaliatory investigations that would cause governmental gridlock which he would then blame Democrats for.

In a pugnacious, interminable news conference, Trump nastily attacked an African American reporter for a question about whether his rhetoric emboldens white nationalists, calling it a "racist question."

Trump also said "I am a great moral leader," "This is a hot White House" and "I think people like me."

Likely incoming majority leader declared that "health care won" in the election. Both Pelosi and Trump said they would try to work together on issues such as drug prices and infrastructure. The McGlynn: To Pelosi, Please go away. Get the hell out of the way!

Source: Reuters
After being challenged on the migrant caravan by CNN's Jim Acosta, Trump took the opportunity to berate the reporter. Trump said 'I think you should let me run the country, you run CNN'. He added: 'You are a rude, terrible person.' He once again labelled CNN 'the enemy of the people'
The McGlynn Comments:
How can a question like that be considered rude? If rudeness is the issue of the day, why aren't Trump's comments to reporters considered very rude? He's always telling them to shut up and sit down. Trump can't stand being asked compromising questions, so he stops the person who asks them with his own brand of hate and rudeness.
But it is good fun for people in foreign countries  who find it so funny seeing how dumb Americans are to elect a leader like Trump
The McGlynn

Democrats seized control of the lower house of Congress in midterm elections Tuesday, dealing a rebuke to Donald Trump almost two years into his polarizing, roller coaster presidency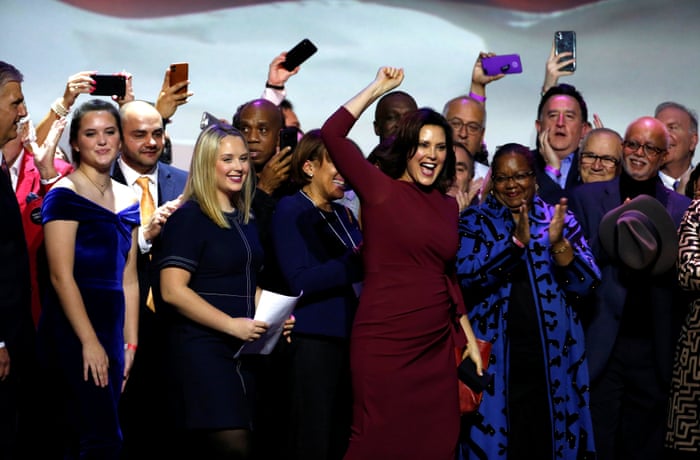 The Democratic gubernatorial candidate Gretchen Whitmer reacts after declaring victory at her midterm election night party in DetroitnPhotograph: Jeff Kowalsky/Reuters
Trump will face new levels of scrutiny from Congress, but despite Democratic gains he looks in a strong position for 2020
The trailblazing candidates who have broken barriers in the midterms – video
The 2018 midterm election is still not entirely over. Ballots will still be counted in close races for days, if not weeks, to come. But there are already clear lessons to take from Tuesday night, when Democrats took control of the House of Representatives for the first time in eight years, but Republicans increased their majority in the Senate.
Checks and balances are coming
Perhaps the most important result of the election will be that the Democrat Elijah Cummings will chair the House Government Oversight and Reform Committee. The Trump administration will face a level of scrutiny from Congress that it has not yet faced. Democrats will have subpoena power and be able to even demand Trump's tax returns. Trump has faced a plethora of scandals so far with relatively pliant Republican majorities in both chambers, but things will change with Democrats in control of the House.
The Senate will be confirming a lot of judges
Republicans netted three Senate seats on Tuesday, with Arizona and Montana still yet to be called. This means that Mitch McConnell will have a robust majority in 2019.
With Democrats in control of the House, there is a strong chance that Washington will face even more gridlock next year on most legislative priorities. But with a bigger Republican majority, McConnell will be able to comfortably confirm just about any nominee that Trump sends him and the Senate's focus on filling the federal judiciary with a generation of conservative judges will continue.
The 'blue wave' washes up in weird places
Democrats won seats in places like Oklahoma and South Carolina on Tuesday night in addition to their expected victories in suburban districts around urban centers. The result is that there will be several members of the new Democratic majority running for re-election in traditionally Republican areas that Trump won by double digits in 2016. This serves up an additional check on what the new but narrow Democratic majority will be able to do legislatively in the next two years.
Trump's 2020 election map still looks OK
While Democrats made gains in some of the states that were part of the much vaunted "blue wall" in 2016, Trump is still in strong position in the swing states that gave him his electoral college victory.
Democrats lost governor's races in Florida and Iowa that party operatives were feeling bullish about. Further, Democrats had an underwhelming performance in Ohio, where gubernatorial nominee Richard Cordray lost and incumbent senator Sherrod Brown won by only six points against a weak Republican. All are states that Barack Obama won twice but that Trump won in 2016, and are a indication that Republicans may have made lasting gains in those states.
However, Democrats did eke out a narrow win to beat Scott Walker in Wisconsin and comfortably won the governor's office in Michigan.
Progressive policy wins in some conservative states
A number of progressive ballot measures were passed on Tuesday in otherwise conservative states. A constitutional amendment to grant almost 1.5m ex-felons their voting rights passed in Florida, while Idaho, Nebraska and Utah all passed Medicaid expansion. All of those states backed Republicans for statewide office.
However, in Washington, a much vaunted proposal to implement carbon tax failed, an effort that had long been pushed by environmentalists.