08 Nov
News and Analyses, A Foreign Perspective
Nearly all of these are English-edition daily newspapers. These sites have interesting editorials and essays, and many have links to other good news sources. We try to limit this list to those sites which are regularly updated, reliable, with a high percentage of "up" time.
Recommended:

A Bengal tiger, oystercatchers and a new species of butterfly are among this week's pick of images from the natural world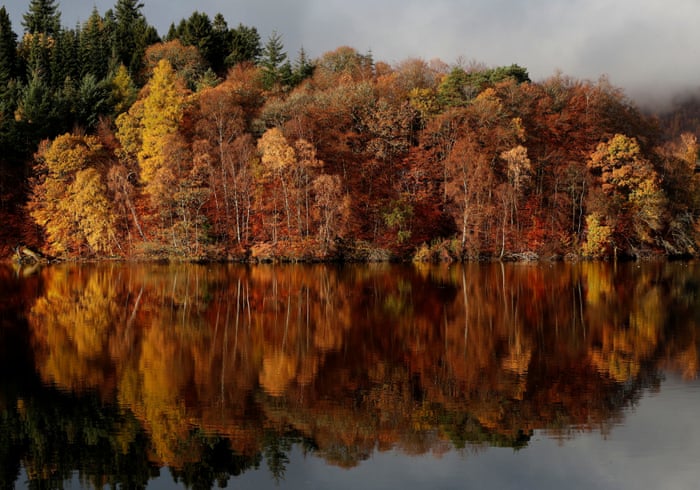 Autumn colours are reflected in Loch Faskally, in Pitlochry, Scotland.
Photograph: Russell Cheyne/Reuters

Hundreds say they will skip school, urging politicians to treat climate change as an emergency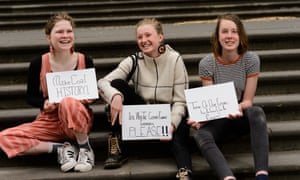 Three Castlemaine student strikers, Milou Albrecht, 14, Harriet O'Shea Carre, 14, Nimowei Johnson, 13, say they cannot yet vote to influence climate policy so they will protest instead. Photograph: Julian Meehan
Hundreds of students around the country are preparing to strike from school because of what they say is a failure by politicians to recognise climate change as an emergency.
They've been inspired by 15-year-old Greta Thunberg, a Swedish student who has been sitting outside the parliament in central Stockholm to draw attention to the fears younger generations hold about the global climate crisis and the failure of countries to take urgent action.
Fourteen-year-old Milou Albrecht, a year 8 student at Castlemaine Steiner school in Victoria, her classmate Harriet O'Shea Carre, and 11-year-old Callum Bridgefoot from Castlemaine North primary school, started by protesting last week outside of the offices of their local representatives, the Labor MP Lisa Chester and the Nationals deputy leader, Bridget McKenzie. They've been joined by 50 students from local schools and are planning weekly events.
And what began as a small local protest is growing into a nationwide movement. Students in Melbourne, Sydney, Canberra, Perth, Hobart, the Whitsundays, Lismore, the Gold Coast, Albury-Wodonga and the Sunshine Coast are planning to walk out of classes this month.
Similar plans are being explored in other regional areas including Coffs Harbour, Cairns, Townsville and the southern highlands of New South Wales. Hundreds of students have indicated they want to attend protests outside state parliaments in the capital cities on 28, 29 and 30 November.
The idea for the strikes came from the Castlemaine students, who contacted the Australian Youth Climate Coalition for help.
They have had assistance from the coalition and their parents with contacting media, building a website and spreading the word about the strikes through their social networks.
"We think it's important because it's a huge problem," Milou said. "The Earth is already too hot, with droughts in winter in NSW and the coral reef is dying."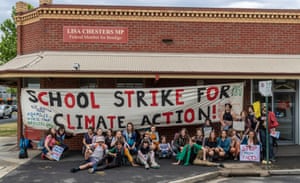 A school strike in Bendigo last week.
She said students were speaking to Greta in Sweden each week. "I would like our politicians to acknowledge climate change is an emergency and take the necessary steps in order to have a sustainable world," she said.
A 14-year-old Fort Street high school student, Jean Hinchliffe, is organising the Sydney walkout on 30 November. She said there was a template letter students who were worried about taking time off class could give to their teachers.
"We've got involved because at this stage we can't vote, we're not politicians and we want to make a difference," she said. "We can't stand around waiting.
"I think it's because climate change is scary seeing that it's our future. This is a fact and not to be debated."

World Politics
United States
Source: AP
Ayanna Pressley has  become Massachusetts' first black woman elected to the US House of Representatives. At her victory speech, Pressley told her cheering supporters that women of colour have had to create 'seismic shifts' in order to break through barriers that have kept them from office. 'Can a congresswoman wear her hair in braids? Rock a black leather jacket?' she asked the crowd. The Democratic candidate sailed through Tuesday's general election unopposed, two months after unseating 10-term Republican Michael Capuano in a political upset in the state primary

Matthew Whitaker, now acting attorney general after the president fired Jeff Sessions, said of prospective federal judges, 'are they people of faith? Do they have a biblical view of justice? Which I think is very important.' Whitaker made the remarks at a conservative forum in April 2014, where he appeared as a candidate for the Republican US Senate nomination in Iowa

The McGlynn:

The United States

is a member of the military coalition led by Saudi Arabia and the United Arab Emirates.
Hodeidah hospitals struggle to treat people hurt in airstrikes as well as hungry children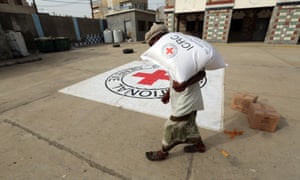 A man receives aid distributed by the Red Cross in the war-torn port city of Hodeidah, Yemen. Photograph: Abduljabbar Zeyad/Reuters
Aid agencies and medical staff on the ground in Hodeidah have begged the international community to intervene to stop the violence in the besieged Yemeni city as coalition and Houthi rebel forces struggle to gain the upper hand ahead of a planned ceasefire at the end of the month.
"The violence is unbearable, I cannot tell you. We're surrounded by strikes from the air, sea and land," said Wafa Abdullah Saleh, a nurse at the barely functioning al-Olafi hospital in the Houthi-controlled city centre.
"The hospital treats the hungry and people injured in airstrikes day in and day out, but there is a serious shortage of medicine," she said. "Even if we try our hardest we cannot treat patients because we lack the necessities for basic operations."
Hodeidah, a large and cosmopolitan city on Yemen's Red Sea coast, was seized by Yemen's Houthi rebels early on in the three-year-old war. More than 80% of the country's food, aid, fuel and commercial goods enter the country through the city's port.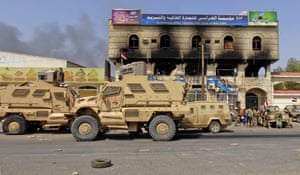 Yemeni pro-government forces advance into rebel-held Hodeidah. Photograph: Nabil Hassan/AFP/Getty Images
Attempts by the military coalition led by Saudi Arabia and the United Arab Emirates to retake the city from the rebels have been delayed after warnings from the UN and aid agencies that any damage to the port facilities could plunge Yemen – where three-quarters of the 28 million population are now reliant on aid to survive – into full-blown famine.
Fighting restarted in earnest last week, however, after US calls for a ceasefire at the end of November, as pro-government militias aim to seize as much ground as possible before hostilities are supposed to stop.
There have been at least 200 airstrikes, many on civilian neighbourhoods, and at least 150 people have been killed. Many residents are too poor to afford fuel or safe passage out of the city, but even those with the means to do so have been prevented from leaving by Houthi roadblocks on main roads. The passage of aid to the rest of the country has also been stalled by the fighting.
The latest violence has centred on eastern neighbourhoods and near a university campus just 4km (2.5 miles) from the vital port. Over the weekend, as first reported by the Guardian, the Houthis stormed the 22 May hospital in Hodeidah's east, stationing snipers on the roof and panicking patients and staff who were terrified of being targeted in a coalition airstrike.
The fighting has already disrupted services at the hospital, which is one of only two properly functioning facilities left in the city, the Red Cross said.
Appearing in a televised address from the capital, Sana'a, on Wednesday night, the Houthi leader, Abdel Malik al-Houthi, said his fighters would not surrender their positions in the city.
In a joint statement on Thursday, several international aid agencies condemned the intense new violence in Hodeidah, calling it a "deeply disturbing development", and calling on all parties to the conflict to cease the fighting and engage with the UN-sponsored peace process.
A new round of peace talks to end the war – which has killed an estimated 56,000 people and left 14 million on the brink of starvation – are scheduled for early December in Sweden.
At the UN, diplomats were working frantically to get agreement on a draft resolution by next Friday that would demand a ceasefire and the free flow of humanitarian aid. But there is concern that the US is demanding the draft include passages criticising Iran's role in Yemen that might be sufficient to prompt a Russian veto. Sweden is leading calls for a full resolution and believes it now has the support of the British.
China has been pushing for a political declaration passed by consensus, something that has less legal force. The UN special envoy Martin Griffiths is due to brief the security council next Friday and on Thursday called on Saudi Arabia to end the violence.
He said: "Any military escalation does not help efforts to launch the political process. No one wants to see a catastrophe in Hodeidah."
David Hale, an under-secretary in the US State Department, said "over 18 million Yemenis do not know where their next meal is coming from" and again called for an end to Saudi airstrikes in built-up areas. But he made no direct call for the Saudi-led coalition to end the assault on Hodeidah port.

From the dentist who felled Cecil the lion to the woman who shot a goat on Islay, keen hunters are happy to fork out small fortunes to kill wildlife. But why do they do it – and what is the true cost of their obsession?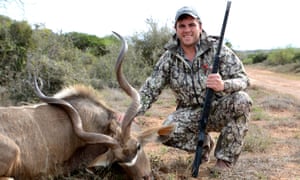 Loodt Büchner with his prey: his customers pay £10,000 to kill 10 animals in 10 days
T

he most elephants that Ron Thomson has ever killed by himself, in one go, is 32. It took him about 15 minutes. Growing up in Rhodesia, now Zimbabwe, Thomson began hunting as a teenager and quickly became expert. From 1959, he worked as a national parks ranger and was regularly called on to kill animals that came into conflict with man. "It was a great thrill to me, to be very honest," he says by phone from Kenton-on-Sea, the small coastal town in South Africa where he lives. "Some people enjoy hunting just as much as other people abhor it. I happened to enjoy it."
Now 79, Thomson has not shot an elephant for decades, and he struggles to find an open-minded audience for his stories of having, in his own words, "by far hunted more than any other man alive". Today there are people who hunt, and many more people who feel a deep-seated aversion to it; for whom the image of an animal slain by man – regardless of species, motive, legal status or even historical context – is nothing but repellent.
Today, these fault lines are most often exposed when a picture of a hunter grinning above their kill goes viral, as it did last month for the US hunter and television presenter Larysa Switlyk. Photographs of her posing with a goat and a sheep she had shot weeks earlier, and entirely legally, on the Scottish island of Islay went well beyond hunting circles on social media to be met with widespread disgust. Mike Russell, the local member of the Scottish parliament, told BBC Scotland it was unacceptable "to see people in camouflage … rejoicing at the killing of a goat".
Nicola Sturgeon publicly sympathised with the outcry and said the law would be reviewed. Switlyk posted on Instagram that she would be heading out of internet access on her "next hunting adventure". "Hopefully, that will give enough time for all the ignorant people out there sending me death threats to get educated on hunting and conservation."
And that was a goat. In the case of species that people travel to glimpse in the wild, or just watch on the Discovery Channel, the outrage can reverberate around the world. What would possess someone to want to kill these animals, let alone pay tens of thousands of pounds for the opportunity to do so?
"If you ask 100 hunters, you will get 100 different answers," says Jens Ulrik Høgh by phone from woodlands in Sweden, where he has been escorting groups on hunts of wild boar. Høgh, who works for Limpopo Travel & Diana Hunting Tours, a Danish hunting travel company, compares the attraction to that of mountaineering, scuba diving or golf: a physical hobby through which you can see the world. Hunters travel to experience different challenges. Zebras, for example, are tricky because they gather in herds out in the open and are watchful for predators. "There are always eyes looking in every direction – it typically takes a couple of days to get one." With baboons, numerous but intelligent primates, "you need to be a good hunter, a good stalker and a good shot".
The demand is reflected in the price tag. It costs relatively little – about £3,000 – legally to hunt a giraffe because doing so is widely considered easy by hunters and therefore not desirable. "A giraffe is basically a very docile pile of meat. I could go shoot a cow in a field," says Høgh. (For the same reason, he tells me, he is rolling his eyes at Switlyk, the self-styled "hardcore huntress", posing with her trophies on Islay: "Who wants to kill a sheep?")
Although Høgh has made about 30 trips to Africa, he has never killed a lion, elephant or much "super-big game" for a straightforward reason: it is very expensive, typically upwards of £20,000. (And rightly so, he adds.) "I simply cannot afford to go lion hunting. But if I could, I would."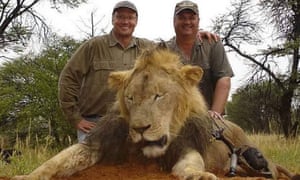 US dentist Walter Palmer (on left) with Cecil, the lion he paid £32,000 to kill in 2015. Photograph: Rex Shutterstock
It is a tiny proportion of hunters who can, he says; he guesses fewer than 1%, although he is upfront about the distinction between hunting a wild lion and a "canned" one, an animal raised for slaughter. That comes much cheaper – but to hear Høgh tell it, it is a price no hunter with integrity would want to pay. "That's basically a farmed animal. You wouldn't even call it a hunt," he says.
One name keeps cropping up in conversations about so-called trophy hunting: Cecil, the lion killed by Minnesota dentist Walter Palmer in Zimbabwe in 2015. Although it was legal to shoot him, he had been lured out of a national park where he was well-beloved, and Palmer, hunting with a bow and arrow, did not kill Cecil outright, meaning the animal suffered. "It was an outrageous and shabby thing," says David Quammen, a US science writer who has written extensively about humanity's relationship with predators. But, he adds, there is a skill, even nobility, to hunting when "old-fashioned" rules of fair chase are observed. "Anyone who is not vegetarian is ill-advised to condescend to the people who do that."
More On The Environment