09 Nov
News and Analyses, A Foreign Perspective
Nearly all of these are English-edition daily newspapers. These sites have interesting editorials and essays, and many have links to other good news sources. We try to limit this list to those sites which are regularly updated, reliable, with a high percentage of "up" time.
Recommended:

From a bat's hunting flight to a mountain hare in a storm, this year's winning images capture the behaviour and variety of our wildlife

Animal behaviour winner: Life and Death at the Edge of the World (Great Skua and Puffin), Fair Isle, Shetland.
Photograph: Sunil Gopalan/BWPA 2018

Fears of famine as fighting escalates between Houthi rebels and Saudi-led coalition

Peace talks aimed at ending Yemen's war have been pushed back to the end of the year, sparking fears that intense violence in Hodeidah will worsen and the country will be plunged into famine as the Saudi-backed coalition seeks to completely retake the vital port city.
Fighting in Houthi rebel-controlled Hodeidah has flared in the past week as militias loyal to the Yemeni government attempt to break the current stalemate before the end of November, when the US and UN had called for a ceasefire.
More than 200 coalition airstrikes have hit civilian neighbourhoods and at least 150 people have died in the bombing, after stepping on Houthi landmines or being caught in artillery fire, aid workers said.
The May 22 hospital in Hodeidah's east – stormed by Houthis who took up sniper positions on the rooftop six days ago – has been emptied of staff and patients and the building has now been engulfed in street fighting, local Baseem al Janani said. This has left the city with just one functioning medical facility.
"Before they left, the Houthis burnt down the section where paper records and files were stored," he said. "They wanted to create fire and smoke so they are not easily spotted and targeted."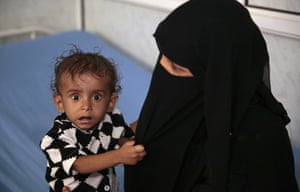 A woman holds her malnourished boy at a feeding centre in a hospital in Hodeidah Photograph: Hani Mohammed/AP
If the gruelling urban warfare continues, Hodeidah's vulnerable 600,000 population stands to suffer. Half of the population are children, who are at increased risk of cholera and malnutrition.
Even a small amount of damage to the city's port, through which 80% of the country's food, fuel and aid flows, is likely to lead the UN to declare a famine. The fighting has already prevented aid from leaving Hodeidah, endangering 14 million starving Yemenis.
Since the peace talks have been delayed until the end of December, however, it is believed the coalition could continue with a full-scale assault, despite repeated calls from aid agencies for an immediate halt to hostilities.
"If the battle rages on at this level of intensity, I believe it will only take a month or a month and a half to liberate Hodeidah, unless the international community intervenes because of the dire humanitarian conditions and stalls the efforts of the coalition," said local Ibrahim Seif.
The human cost could be the highest in Yemen's three-year-old war to date, but similar coalition tactics managed to drive the Houthis out of Aden, another port city, relatively quickly in 2015.
"Hodeidah is on the verge of a terrible humanitarian disaster which will only add to the wider tragedy already suffered by Yemenis in this ugly war," said Tawakkol Karman, a Yemeni Nobel peace prize laureate.
"My country is being systematically destroyed."
The future of the vital port is unclear: the UN has repeatedly demanded the port is placed under its jurisdiction, but forces loyal to Yemeni commander Tareq Saleh and the separatist Southern Transitional Council – on paper coalition members allied against the Houthis – are also likely to jostle for control.
Despite a vow from Houthi leader Abdel Malik al-Houthi that he will not surrender, many rebels fear that if Hodeidah falls, the capital of Sana'a is likely to be next.
While the coalition hopes removing the Houthis from Sana'a will bring the war to an end, in reality, the decades-old Houthi movement is likely to retreat to its highland strongholds and continue to wage guerilla warfare.
Even in the face of the imminent military threat, peace talks planned for early December in Sweden were reportedly derailed by the Houthis, who objected to the American impetus and refused to come to the table unless several new demands were met.
"The UN isn't blunt enough with them," a source close to the talks said. "Certain Houthi leaders pay [UN special envoy Martin Griffith's office] lip service about negotiation and they take it at face value."

World Politics
United States
Former neighbours of Ilhan Omar at the camp are celebrating the Somali's election victory

Ilhan Omar, elected to Congress for the Democrats, arrives for her victory party in Minneapolis on 6 November. Photograph: Kerem Yucel/AFP/Getty Images
Fadumo Kuusow remembers a thin and shy girl who lived next door. Her memory is hazy as the girl left more than 20 years ago.
Last week Kuusow organised a small celebration with friends in Ifo camp, one of a vast complex of refugee settlements on dry, scrubby plains around the remote Kenyan town of Dadaab. Eight thousand miles away that thin, shy girl – now 37 – had just become the member elect of the US House of Representatives for Minnesota's fifth district.
Ilhan Omar, a Democrat, will assume office in January, sharing the historic distinction with Rashida Tlaib of being the first Muslim women elected to the US Congress.
"The women here talked about her. I remember in the hot weather afternoon, Ilhan and I used to play jumping rope near our homes. My family lived in a tent and Ilhan's family lived in a makeshift structure made of sticks and cloth," she said when reached by telephone by the Guardian.
Omar was born in the Somali capital, Mogadishu, but was raised in the inland town of Baidoa. She fled Somalia's civil war with her parents at the age of eight and spent four years at what became known as the Dadaab camp in neighbouring Kenya.
Now a vast, impoverished city with an estimated population of at least 250,000 people, conditions were rudimentary when Omar was a resident. Many refugees had arrived from Somalia with nothing more than they could carry.
"We were neighbours in Ifo camp within Dadaab complex," Kuusow, 40, said. "Life was very tough those days. That was soon after the civil war in Somalia and many people were coming to the camp. I remember in the beginning we did not get school here.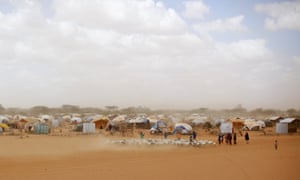 The Ifo refugee camp outside Dadaab, eastern Kenya, where Ilhan Omar lived for four years after fleeing Somalia's civil war. Photograph: Jerome Delay/AP
"Camp security was a disaster. Girls and women were raped and we always feared about men. I can remember when it was evening; my mother could not allow me to go outside because of the risk."
In 1995, Omar arrived in the US as a refugee, settling first in Arlington, Virginia, before moving to Minneapolis in 1997. She won a seat in the state's legislature in 2016, becoming the first Somali-American lawmaker in the country. She had previously worked as a community organiser, a policy wonk for city leaders in Minneapolis, and as a leader in her local chapter of the African-American civil rights group the NAACP.
"I saw her on the television last night when her election victory was projected. Well done I can say. She tried her best. Thank God she has won now," said Kuusow.
Abdullahi Osman Haji Adam came to Dadaab with his family in 1991 and he too remembers Omar in the refugee camp.
Ilhan Omar reacts to becoming the first Somali American in Congress – video
"In early 1991, I was [a] young man when I arrived Dadaab camp. Soon after that Ilhan's family came as there was intense fighting in Somalia. I remember she was always alone and sat near their makeshift home. I thought that life was hopeless but today I am sure that it was not," he said.
"What I can tell about her is only her smile and how shy she was. She was eight years old. She did not talk much.
"The camp had no hospital and no emergency service available. The only ambulance service we could find was one wheelbarrow which we used to carry sick people to a far away hospital. We had no school for two years."

President also insisted on Friday morning he 'didn't know' Matt Whitaker but that he is 'very highly thought of'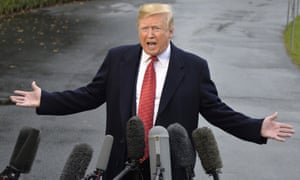 Donald Trump speaks to reporters at the White House in Washington DC on 9 November. Photograph: UPI/Barcroft Images
Donald Trump told reporters on Friday that he has not discussed the Mueller investigation with his new acting attorney general, Matt Whitaker.
The president was speaking before departing for Paris to join other world leaders in western Europe for ceremonies commemorating 100 years since the end of the first world war.
Trump said he "didn't speak to Matt Whitaker" about special counsel Robert Mueller's investigation into Russian interference in the 2016 presidential election, and possible collusion and obstruction by the Trump campaign, before he named him to the elevated role earlier this week. On Wednesday, Trump fired the attorney general, Jeff Sessions, and named Whitaker as his replacement at the justice department.
On Friday morning Trump also insisted both that he "didn't know" Whitaker, a former US attorney and Republican candidate in Iowa, and that he was "very highly thought of".
Trump also dismissed the controversy over whether his designation of Whitaker to serve as acting attorney general was legal. Whitaker, who was serving as chief of staff for Sessions, was not serving a post that required Senate confirmation.
An op-ed in the New York Times by the former solicitor general Neal Katyal and prominent Republican attorney George Conway laid out this argument on Thursday. Conway is the husband of the top White House aide Kellyanne Conway. However, Trump derided his argument, calling him "Mr Kellyanne Conway" and insisted that Conway, who has been a critic of Trump, was only interested in publicity.
Trump dismissed concerns that Whitaker had not been confirmed by the Senate by noting Mueller had not been confirmed either. Serving as a special counsel does not require Senate confirmation by statute. Trump also labeled a question from a reporter about whether he wants Whitaker to restrict Mueller's investigation as "stupid".
On Friday morning, the Senate Democratic leader Chuck Schumer questioned the legality of Whitaker's appointment as acting attorney general, which was not confirmed by the Senate, and sent the president a list of questions about the move.
He said: "President Trump has ignored the statutory line of succession and potentially violated the appointments clause of the constitution, which requires all principal officers of the government to be nominated by the president by and with the advice and consent of the Senate."
Talking to the press just outside the White House, Trump also condemned CNN's chief White House correspondent, Jim Acosta, who had his access to the White House revoked earlier this week in an unprecedented move, in which the administration also issued a controversial video. Trump, a frequent critic of Acosta, said the reporter was a "very unprofessional guy" and insisted: "I don't think he's a smart person, but he's got a loud voice."
Trump defended the ban by saying: "This is a very sacred place. You have to treat the White House with respect. You have to treat the presidency with respect."
Trump dismissed Michelle Obama's criticism of him in her upcoming memoirs. "I guess she wrote a book," he said. "She got paid a lot of money to write a book and they always insist you come up with controversial." He added: "I'll give you a little controversy back; I'll never forgive [Barack Obama] for what he did to our United States military."