10 Nov
News and Analyses, A Foreign Perspective
Nearly all of these are English-edition daily newspapers. These sites have interesting editorials and essays, and many have links to other good news sources. We try to limit this list to those sites which are regularly updated, reliable, with a high percentage of "up" time.
Recommended:

by

Joy Gordon
The

brutal murder of the Saudi journalist Jamal Khashoggi has put the policies of the Saudi monarchy under crown prince Muhammad bin Salman under the spotlight, drawing rare criticism from the kingdom's western allies. Perhaps in consequence, the US called for a ceasefire to the four-year war in Yemen, which has been fuelled by the military actions of the Saudi-led coalition. Yet only two days later, the coalition launched new airstrikes on the stricken country. And as the death toll continues to rise, it seems doubtful that the western powers will put a halt to their lucrative arms supplies to Saudi Arabia.
If the world has looked the other way during Yemen's 'forgotten war', the role of the UN Security Council (SC) (1) in authorising the actions of the Saudis and their allies has also escaped public attention. The Council's failure to respond to these well-documented actions in what is now the world's most urgent catastrophe is disturbing, particularly since UN investigators said in late August that these may amount to war crimes, committed by all sides. Since three of the Council's permanent members are allies of the Saudis, or supply them with arms, or both, UN silence may not be surprising.
Less apparent is the Security Council's role in the famine and cholera epidemic gripping Yemen. This has largely come about through the UN body's apparent authorisation of the Saudis and their allies to act on its behalf. Security Council resolution 2216 'calls upon Member States, in particular States neighbouring Yemen,' to inspect cargo to Yemen 'in their territory' if the state has information that provides 'reasonable grounds' to believe the cargo contains weapons prohibited by the resolution. The state can then seize and dispose of these weapons 'and related materiel of all types'. It need only provide a report explaining the grounds for their inspections and seizures.
If the world has looked the other way during Yemen's 'forgotten war', the role of the UN Security Council in authorising the actions of the Saudis and their allies has also escaped public attention
The Saudi-led coalition has invoked this resolution as authorising the blockade of Yemen's ports and a major airport, as well as inspections well beyond any legitimate concerns about weapons. All this has delayed the delivery of humanitarian goods, contributing to severe shortages of food and other critical needs.
The coalition has also failed to comply with the resolution's (very modest) requirements for monitoring and reporting; and the Security Council has done little to clarify the resolution's scope or intent, or address the Saudis' failure to comply with it.
Since the end of the cold war, the Security Council has often used a kind of 'proxy authorisation', inviting member states to take on these tasks directly, without any clear oversight by the Council, and enabling states to serve their own interests. Through this mechanism, the Security Council could in effect authorise the indiscriminate killing of civilians or blockades resulting in widespread famine. That is what has happened in Yemen. And although Saudi Arabia has sometimes cited self-defence or other justifications for its interference with maritime shipments, it has also consistently cited Security Council resolution 2216 as its authority…………………The Security Council confers the imprimatur of an institution of global governance on the Saudis and their coalition. Supplied with weapons from three of the Council's permanent members — the US, the UK and France — the Saudis and their allies can pursue their own political interests. Having initially authorised the Saudi-led forces with resolution 2216, the Council failed to hold them to its own very minimal mechanism for oversight and accountability. It is not just that the Security Council has failed to take action in a crisis. In fact, it did much to set it in motion.
Proxy authorisation, it would seem, is used in situations where agreement could not be secured if a member of the Council were to be transparent in its intentions. It is hard to imagine the Security Council adopting a resolution that explicitly proposed to blockade a civilian population and prevent deliveries of food, fuel and equipment for water treatment, since that would clearly violate the most basic principles of international human rights law. To the contrary, the Council's stated goal — preventing arms transfers — is legitimate and within its mandate, while the authorisation for the enforcement of the arms embargo is framed in innocuous and vague terms. All permanent members of the Council are expected to agree, or at least not object; and most of the elected members can be expected to agree too. There is no reason to dispute such a measure, which on the face of it seems unobjectionable.
But in this case, the outsourcing of authority, and the discretion granted in interpreting the scope of that authority, has provided the machinery to maximise human damage while allowing disavowal. The list of prohibited goods is opaque and arbitrary, so compliance is nearly impossible. And the costs and delays of the inspection process are unpredictable; combined with the risk of arbitrary confiscation, a ship owner, supplier or insurer would be foolish to do business with Yemen.
The decision to cancel trade with Yemen then becomes attributable to other actors — not to the Security Council or the coalition, but to suppliers and shipping companies. So Security Council members can distance themselves from the growing famine and rapidly spreading cholera epidemic. After all, it is not technically their doing. But it is the likely and predictable outcome of the conditions they have deliberately created.

Starlings, a goldfinch, flamingos and winners of wildlife photography awards are among this week's pick of images from the natural world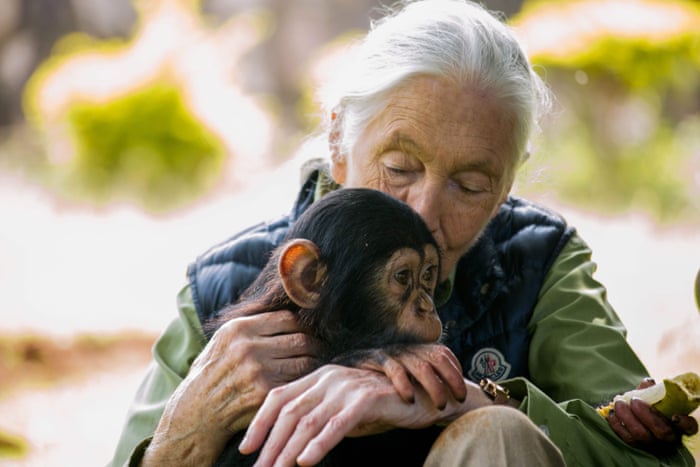 British primatologist Jane Goodall visits a chimp rescue centre in Entebbe, Uganda.
Photograph: Sumy Sadurni/AFP/Getty Images

World Politics
United States
Thousands protest against Trump's firing of Jeff Sessions, but good news in Florida as 1.5m former felons win the right to vote
Protesters rally in New York to protect the Mueller investigation. Photograph: Alba Vigaray/EPA
Protests against Sessions firing
Across the US, thousands of demonstrators protested against Donald Trump's firing of attorney general Jeff Sessions. The protests were the result of a longstanding commitment people made through the "Nobody is above the law" campaign.
Activists signed up to rally to protect Robert Mueller, should Trump do anything that threatened the special counsel's investigation of Russian election interference, links between Trump aides and Moscow and possible obstruction of justice by the president.
When Trump booted Sessions, people received texts and emails with details on their nearest protests. The campaign was planned as far back as March by more than a dozen organizations including MoveOn, Indivisible and Women's March.
Activists are hoping to keep the pressure on as Trump ponders a permanent appointment to replace Sessions – and controversy rages over the man he named to fill the role on a temporary basis, Matt Whitaker.
Victory for voting rights in Florida
Confusion reigned in Florida on Friday, over potential recounts in both Andrew Gillum's campaign for governor and Bill Nelson's run for Senate. There was, however, one big success in the Sunshine State this week: 1.5 million ex-felons won the right to vote.
Florida voted overwhelmingly in favor of amendment 4 on Tuesday, which reinstates voting rights for nearly all of the state's former felons. It passed by a 30-point margin, 65% to 35%, and had strong bipartisan support, Jamiles Lartey reported for the Guardian.
Jamiles spoke with Valencia Gunder, who was convicted of a felony after writing a bad check to her university in 2007. She was part of the campaign to reinstate voting rights.
As a United States citizen, as a resident of the state of Florida, as a person who is affected by these leaders that we put into office and the decisions that are being made, I should be able to weigh in," Gunder said. "I strongly believe that taxation without representation is against my human rights and civil rights as a United States citizen.
House Republicans held a private conference call on Thursday to "take stock of the election results", according to Politico. It can't have been that private because Politico got a ton of information on the call including:
Representative French Hill of Arkansas said he would not vote for any candidate to lead the [National Republican Congressional Committee] unless they've come up with a way to address ActBlue – the online fundraising platform that funnels millions of dollars to Democrats.
It was not clear what Hill wanted to be done about the fundraising software that allows Democratic campaigns and candidates to easily accept individual donations online. But ActBlue is something Republicans have darkly warned of over the past few weeks, even when they've accidentally called it "Code Blue", which is often.
More than $1bn was raised through ActBlue for Democrats in the 2018 midterms, according to Mother Jones.
"That there's no comparable tool on the right has been a subject of concern among conservatives for a long time," Mother Jones says. "Since at least 2007, Republicans have talked about building their own ActBlue."
That hasn't happened, so maybe Hill is suggesting Republicans do now build their own ActBlue. Or maybe he wants Republicans to investigate this mysterious, shadowy, but-actually-quite-well-known Code Blue.
What we're reading
Vox interviewed activist and journalist LA Kauffman about her new book, How to Read a Protest: The Art of Organizing and Resistance. The book looks at the 2017 Women's March and the knock-on effect it had on activism across the US.
Vox's Sean Illing asked Kauffman about some of the misconceptions around protests, and she explained that protests are sometimes about long-term goals:

Donald Trump has continued his attack on journalists, telling CNN reporter Abby Phillip her question on the Trump-Russia investigation is 'stupid'. It came as the president defended Matt Whitaker, the new acting attorney general. Trump denied talking to Whitaker about the Mueller investigation and insisted he 'didn't know' him.

In Paris, president cancels first world war graves visit due to rain and faces Le Monde report he muddled Baltics and Balkans

Donald Trump is currently in Paris visiting Emmanuel Macron. Photograph: Blondet Eliot-POOL/SIPA/REX/Shutterstock
As Donald Trump met Emmanuel Macron in Paris on Saturday, he was beset by potential diplomatic embarrassment.
First, the French newspaper Le Monde reported that on a previous diplomatic occasion in Washington, the American president caused embarrassment by mixing up the Baltic states and the Balkans.
Then, amidst ceremonies in the French capital to mark the 100th anniversary of the end of the first world war, a planned presidential visit to the American cemetery at Belleau, a site of immense importance to the US military, was cancelled because it was raining.
The Le Monde report concerned events in Washington in early April this year, when the leaders of Estonia, Lithuania and Latvia visited the White House for a meeting and a joint press conference. At the press conference, Trump praised his visitors and their countries for being good members of Nato and for not producing "fake news".
But Le Monde perhaps risked provoking a presidential tweet on the latter subject when it reported that at the private meeting, "Trump opened by attributing to [the Baltic leaders] the responsibility for the war in Yugoslavia".
Dalia Grybauskait? of Lithuania, Kersti Kaljulaid of Estonia and Raimonds V?jonis of Latvia, the paper said, took "a moment to realise that 'Baltics' and 'Balkan' were getting mixed up in the mind of the American president".
Trump, Le Monde said, remained "apparently uneducated in the matter by his wife, Melania, originally from the former Yugoslavia".
Melania Trump is from Slovenia, which gained its independence in 1991, at the start of the bloody Balkan conflicts which only ended with the Kosovo war of 1998-99.
The White House did not immediately comment on the Le Monde report.

Matthew Whitaker was paid advisory board member for WPM

Veteran: 'I spent the money on a dream. I lost everything'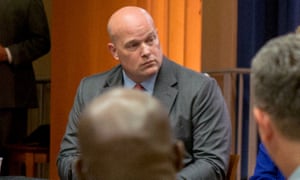 Matthew Whitaker publicly vouched for WPM, claiming in December 2014 it went 'beyond making statements about doing business 'ethically' and translate[d] those words into action.' Photograph: Allison Shelley/Reuters
Donald Trump's new acting attorney general, Matthew Whitaker, was involved in a company that scammed US military veterans out of their life savings, according to court filings and interviews.
Whitaker, a former US attorney in Iowa, was paid to work as an advisory board member for World Patent Marketing (WPM), a Florida-based company accused by the US government of tricking aspiring inventors out of millions of dollars. Earlier this year, it was ordered to pay authorities $26m.
Several veterans, two of them with disabilities, said they lost tens of thousands of dollars in the WPM scam, having been enticed into paying for patenting and licensing services by the impressive credentials of Whitaker and his fellow advisers. None said they dealt with Whitaker directly.
"World Patent Marketing has devastated me emotionally, mentally and financially," Melvin Kiaaina, of Hawaii, told a federal court last year, adding that he trusted the firm with his life savings in part because it "had respected people on the board of directors".
The 60-year-old said he was a disabled veteran US army paratrooper and paid the company in 2015 and 2016 to patent and promote his ideas for fishing equipment.
"I received nothing for the $14,085 I paid to the company, other than a bad quality drawing and logo that my grandson could have made," he said.
Kiaaina and other WPM customers described their experiences in declarations to court written under penalty of perjury, as part of a civil lawsuit brought by the Federal Trade Commission (FTC) against WPM and its chief executive, Scott Cooper. Emails filed as evidence to the case showed desperate customers begging Cooper and his team for their money back.
It was a lot of money, and he blamed me for losing it

Gwendolyn Artman, ex-wife of WPM client
"You have caused me tremendous grief, I can't sleep, my stress level is at an all-time high and the last of my savings has been stolen with nothing to show for it," one unemployed widow, who lost $8,000, wrote to Cooper in December 2016. Another inventor who paid $12,000 said he was left with "a stress related condition that is eating away at my hair".
In particular, WPM promoted itself as a champion of those who served in the military. "Not only do we honor the veterans and soldiers of our armed forces but we are also celebrating what they are protecting – the American dream," it said in a statement timed for Veterans Day 2014, which highlighted Whitaker's role at the firm. WPM claimed to have made an unspecified donation to the Wounded Warrior Project nonprofit, which did not respond to an email seeking confirmation of the payment.
Whitaker publicly vouched for WPM, claiming in a December 2014 statement it went "beyond making statements about doing business 'ethically' and translate[d] those words into action".
He said: "I would only align myself with a first-class organisation."
But customers reported to authorities that they had been treated unethically by a company that, beneath its glossy marketing pamphlets, was a shabby operation.
Dennis Artman, a 24-year veteran of the army and air force reserves from Washington state, took $25,000 from his retirement savings account in 2015 to pay WPM to patent and promote a wearable device his then-wife had created to jolt sleepy drivers awake and guide them to accommodation.
"He said, 'I know it's a lot of money but I believe in it and I believe in you,'" his ex-wife, Gwendolyn Artman, 58, said in an interview. Gwendolyn Artman said she received approximately 25 emails from WPM that touted the backgrounds of Whitaker and other board members.
In late 2015, Artman said, WPM stopped returning her calls and emails. Only after she complained to the office of Florida's attorney general did Cooper call – pleading with her to withdraw the complaint and promising to make amends. Again, nothing materialised.
The Artmans divorced this year after more than 10 years of marriage. Gwendolyn, who runs a nonprofit treatment center for people suffering from opioid addiction, said the WPM saga was partly to blame.
"I think he lost faith in me," she said. "It was a lot of money, and he blamed me for losing it."
A justice department spokeswoman, Kerri Kupec, said in an email: "Acting attorney general Matt Whitaker has said he was not aware of any fraudulent activity. Any stories suggesting otherwise are false."
Attorneys for Cooper did not respond to emails seeking comment. Cooper denied wrongdoing in the FTC case. He was ultimately ordered to pay $1m and surrender any proceeds from selling his $3.5m mansion in Miami, in return for the rest of the $26m judgment being suspended.
Some veterans who gave money to WPM said they were impressed by the inclusion on the advisory board of congressman Brian Mast, a Florida Republican who lost both his legs in a September 2010 bombing while serving with the army in Afghanistan.
One of these veterans, identified in court filings and company materials as "John D", complained to Cooper that WPM had deserted him after using his status as a veteran to promote his idea for a new type of umbrella.