12 Nov
News and Analyses, A Foreign Perspective
Nearly all of these are English-edition daily newspapers. These sites have interesting editorials and essays, and many have links to other good news sources. We try to limit this list to those sites which are regularly updated, reliable, with a high percentage of "up" time.
Recommended:

After marking the 100th anniversary of the end of the Great War in a show of unity on Sunday, world leaders gathered in the French capital to hear impassioned pleas for global cooperation at a "Peace Forum" shunned by US President Donald Trump.
During French President Emmanuel Macron's weeklong pilgrimage of Great War landmarks, a carefully choreographed prelude to Sunday's Armistice Day commemorations, the presidency arranged for students to read out letters, poems and quotes from protagonists of the gruesome conflict. In the martyred village of Eparges, a pupil recited an oft-quoted line by France's wartime leader Georges Clemenceau. "It is easier to make war than peace," an aging Clemenceau observed on the battlefield of Verdun, months after the guns had fallen silent on the Western Front. It could have been a motto for the Paris Peace Forum that opened in the French capital on Sunday – a catchier one perhaps than the somewhat drab "Peace is linked with global governance" adopted by the organisers.
As one of the key Allied victors who made a hatchet job of negotiating a peaceful settlement after 1918, Clemenceau knew all about the difficulties of making peace. Largely because of the flaws of the 1919 Versailles Treaty, Europe would be back at war just two decades later, torn apart by resentment, national rivalry and authoritarianism. Macron, who has cast himself as the champion of a liberal and cohesive Europe, believes those forces are once again threatening the continent and the wider world. In the words of its organisers, the Paris Forum is part of the "fightback" against the tide of authoritarian nationalism surging from Brasilia to Manilla.
Lessons from 1918
"A hundred years ago we were unable to produce a lasting peace, because France and Germany remained divided," Macron told delegates gathered inside the vast steel-and-glass Grande Halle de la Villette, a former slaughterhouse that is now a culture and conference centre in northern Paris. Surrendering the podium after an unusually brief speech, the French president added that, in the spirit of reconciliation, unity and multilateralism, German Chancellor Angela Merkel and UN Secretary-General Antonio Guterres would open the three-day event.
Offering a passionate plea for global cooperation, Merkel denounced the "national vaingloriousness and military arrogance" that led to the "senseless bloodshed" of two world wars. The German chancellor said the world "must not simply stand by and watch" as more conflicts continue to unfold around the world. "Isolationism didn't work 100 years ago, how could it work in today's interconnected world," she asked, in a veiled dig at Donald Trump.
Merkel warned that the benefits of international cooperation, "the peaceful balancing of interests, even the European peace project — people are calling them into question again." She added: "The concern I have is that blinkered nationalist views may gain ground once again." Echoing her words, the UN's Guterres spoke of "parallels" between the present day and the unstable and dangerous interwar years that dragged Europe back into global conflict.
Peace 'Davos'
Financed by international donors and NGOs, the Paris Peace Forum aims to "bring together all actors of global governance to strengthen multilateralism and international cooperation". Designed to come up with practical solutions to international challenges, it showcases 120 projects selected from almost a thousand applications, divided into five areas: peace and security, environment, development, new technologies and inclusive economy. All share the notion that multilateral solutions are the answer to global problems. Examples include international mechanisms to crack down on tax evasion, climate-resilient "zero-budget" programmes to help farmers in developing countries, and initiatives to help firms and states fight off cyber-attacks.
"The aim of the forum is to show that there are lots of forces in the international system — states, NGOs, foundations, intellectuals, companies — who believe we need a world of rules, an open world and a multilateral world," said the Forum's chief organiser Justin Vaisse. On Monday and Tuesday, philanthropists, corporate leaders and leading figures from international institutions will debate ways to tackle global challenges such as climate change and policing the internet. Macron is hoping the forum will become an annual gathering of political leaders and civil society groups to discuss democracy — along the same lines as the Davos meeting of business leaders in Switzerland.
Trump no-show
With its workshops and roundtable discussions devoted to global governance, climate change and regulation, it is easy to see why Trump, who has made no secret of his contempt for "unelected, unaccountable global bureaucracies" such as the United Nations, decided to skip the Paris event despite attending the Armistice Day commemorations earlier in the day. Other world leaders routinely criticised for disregarding international norms, such as Russia's Vladimir Putin and Turkey's Recep Tayyip Erdogan, were present at the Forum, though it was hard to imagine them offering more than polite applause to the pleas for multilateralism.

Organisation cites 'apparent indifference' to atrocities committed against the Rohingya by Myanmar's military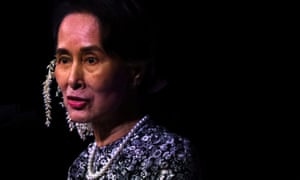 Amnesty International said on Monday that Aung San Suu Kyi, now Myanmar's civilian leader, was no longer a symbol of hope. Photograph: Athit Perawongmetha/Reuters
Amnesty International has withdrawn a prestigious human rights award from Aung San Suu Kyi, following what it described as a "shameful betrayal" of the values she once stood for.
It is the latest in a series of accolades to be withdrawn from Aung San Suu Kyi, including the US Holocaust Museum's Elie Weisel award and Freedom of the City awards, which were revoked by Edinburgh, Oxford, Glasgow and Newcastle.
Amnesty International said on Monday that Aung San Suu Kyi, now Myanmar's civilian leader, was no longer a symbol of hope, and that it had withdrawn its highest honour, the ambassador of conscience award. It cited her "apparent indifference" to atrocities committed against the Rohingya and her increasing intolerance of freedom of speech.
Aung San Suu Kyi received the ambassador of conscience award in 2009, while under house arrest, for her role in championing peace and democracy. She was described as "a symbol of hope, courage and the undying defence of human rights" by Irene Khan, Amnesty International's then secretary general.
Kumi Naidoo, the organisation's current secretary general, said in a letter to Aung San Suu Kyi that her ambassador title could no longer be justified.
"Our expectation was that you would continue to use your moral authority to speak out against injustice wherever you saw it, not least within Myanmar itself," Naidoo wrote in the letter.
Aung San Suu Kyi has been widely accused of being apathetic or complicit in the plight of Rohingya Muslims in Myanmar, who, the UN has warned, continue to be targeted in an "ongoing genocide".
More than 700,000 Rohingya people remain in Bangladesh, having fled a brutal military crackdown that began in August 2017. UN investigators said that during the campaign, Myanmar's military carried out killings and gang rapes with "genocidal intent", and called for the commander-in-chief and five generals to be prosecuted for the gravest crimes under international law.
Yanghee Lee, the UN special investigator on human rights in Myanmar, said she believed Aung San Suu Kyi was in "total denial" about accusations of violence.
"Without acknowledgement of the horrific crimes against the community, it is hard to see how the government can take steps to protect them from future atrocities," said Naidoo.
Amnesty International added that Aung San Suu Kyi's administration had stirred up hatred against Rohingya by labelling them "terrorists", obstructed international investigations into abuses, and failed to repeal repressive laws used to silence critics.
In September, Aung San Suu Kyi defended the imprisonment of two Reuters journalists who were given seven-year jail terms after investigating the massacre of Rohingya Muslims in Rahkine state. The sentences were widely condemned by international governments, human rights groups and the UN as a miscarriage of justice and a symbol of the major regression of freedom of expression in Myanmar.
PM is first western leader to confirm Turkey has shared audio with other countries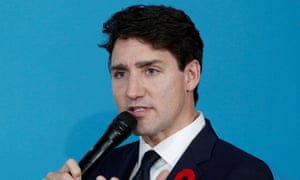 Justin Trudeau in Paris. He said Canada had been 'fully briefed on what Turkey had to share'. Photograph: Reuters
Canada's prime minister, Justin Trudeau, has become the first western leader to confirm Turkish claims that an audio recording of Jamal Khashoggi's murder exists and has been passed to intelligence agencies.
The Turkish president, Recep Tayyip Erdo?an, said he had given recordings "to Saudi Arabia, to America, to the Germans, the French, to the British, to all of them", but initially there was no independent confirmation from any country that they had received it.
Speaking at a press conference in Paris, where he attended a peace forum after armistice ceremonies, Trudeau said Canadian intelligence had listened to the audio tape provided by Turkish intelligence, but he had not done so.
"Canada's intelligence agencies have been working very closely on this issue with Turkish intelligence and Canada has been fully briefed on what Turkey had to share," he said.
"I had a conversation with Erdo?an a couple of weeks ago, and here in Paris we had brief exchanges and I thanked him for his strength in responding to the Khashoggi situation."
In contrast, the French foreign minister, Jean-Yves Le Drian, said recordings related to Khashoggi's murder were not to his knowledge in France's possession, directly contradicting Erdo?an.
Asked on France 2 television why the Turkish president had made the claim, Le Drian replied: "It means he has a political game to play in these circumstances. If the Turkish president has information to give to us, he must give it to us."
His remarks were seized on by the Saudi press to imply Erdo?an was misleading the world about the extent of his knowledge of Khashoggi's killing in an attempt to undermine the Saudi crown prince, Mohammed bin Salman. Turkey rejected the French statements.
Turkey said the French remarks were unacceptable and not a reflection of the facts. "Let us not forget that this case would have been already covered up had it not been for Turkey's determined efforts," said Fahrettin Altun, the Turkish presidency communications director.
It is thought the British officials have listened to a tape, but not been given possession of it, a state of affairs that would square with Le Drian's claim that France does not possess the tape.
Altun said: "I confirm that evidence pertaining to the Khashoggi murder has also been shared with the relevant agencies of the French government."
A representative of French intelligence listened to the audio recording and detailed information including a transcript on October 24, he added. "If there is miscommunication between the French government's various agencies, it is up to the French authorities — not Turkey — to take care of that problem."
Steffen Seibert, the spokesman for the German chancellor, Angela Merkel, was asked about the existence of a tape and said: " I can tell you that there has been an exchange of intelligence service information on that." He declined to give any further details.
British sources previously said they had been briefed on the contents of an alleged tape, but due to the sensitivity of intelligence exchanges, they have refused to elaborate.
Canada has taken a tough line on Saudi Arabia's human rights record for months, provoking reprisals from Riyadh, including the withdrawal of investment.
The dispute over the tape is important as it concerns Erdo?an's credibility. He has been pushing for the west to demand Saudi Arabia hand over the alleged culprits behind the admitted killing. He has also implied that Prince Mohammed was aware of the plot to kill Khashoggi and that it was not a rogue operation undertaken by Saudi intelligence without his knowledge or permission.
It is not known whether any tape implicates the crown prince or instead simply provides gruesome details of the murder.

World Politics
United States
Tweet appears to mock US president who cancelled visit to war graves due to weather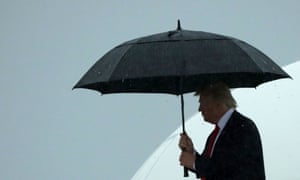 After Donald Trump failed to make it to the American war cemetery at Belleau in France at the weekend, the US president has been gently mocked by the official Twitter account of the French army.
Using the hashtag #MondayMotivation, they posted a picture of a soldier training, with the caption: "Il y a de la pluie, mais c'est pas grave", meaning "It is raining, but it's not serious".

At the weekend, the French weather was given as the reason for Trump not visiting the cemetery. The president's press secretary, Sarah Huckabee Sanders, said "near zero visibility" meant Trump could not visit via helicopter, and that he did not use a motorcade to travel for fear of disrupting traffic in Paris.
The jibe from the French military came after social media users picked up Justin Trudeau's rain-soaked appearance at the weekend, seized on by many as a rebuke to Trump's non-attendance. Dispensing with his umbrella mid-speech, the Canadian prime minister said: "As we sit here in the rain, thinking how uncomfortable we must be these minutes as our suits get wet, and our hair gets wet … it's all the more fitting that we remember on that day in Dieppe the rain wasn't rain, it was bullets.
Amid the furore over the cancellation of Donald Trump's trip to the American military cemetery in Belleau, France, due to wet weather, a clip has resurfaced of the Canadian prime minister in rain-soaked Dieppe last year. As Justin Trudeau paid tribute to the service personnel who were killed during the second world war, he took down his umbrella and told onlookers: 'As we sit here in the rain, thinking how uncomfortable we must be … it's all the more fitting that we remember on that day, in Dieppe, the rain wasn't rain – it was bullets'
The US president was bombarded on social media with images of his predecessor Barack Obama paying respects on veterans on multiple occasions in the rain.
Trump, who has made paying respect to veterans a significant element in his complaints about black NFL athletes kneeling during the national anthem, has a history of recent difficulty with the rain. A couple of weeks ago he was filmed dumping an umbrella outside Air Force One, after struggling to put it down so that he could get through the door of the plane.
Related: