13 Nov
News and Analyses, A Foreign Perspective
Nearly all of these are English-edition daily newspapers. These sites have interesting editorials and essays, and many have links to other good news sources. We try to limit this list to those sites which are regularly updated, reliable, with a high percentage of "up" time.
Recommended:

Video by Peter O'BRIEN
Text by FRANCE 24
Israel carried out more strikes on the Gaza Strip on Tuesday as Palestinians kept up rocket attacks on Israeli territory in the most serious exchanges of aerial fire since a 2014 war.
The fighting – which has killed six Palestinians, five of them militants, and a Palestinian man in Israel since Monday -threatened to derail efforts by the United Nations, Egypt and Qatar to broker a long-term ceasefire and head off another major conflict in the impoverished, densely populated enclave.
Hamas, Gaza's dominant Islamist movement, and other armed factions fired over 400 rockets or mortar bombs across the fenced border after carrying out a surprise guided-missile attack on Monday on a bus that wounded an Israeli soldier, the military said.
The salvoes were the fiercest since the seven-week Gaza war in 2014 between Israel and Gaza militants. Hamas said it was retaliating for a botched Israeli commando raid in Gaza that killed one of its commanders and six other gunmen on Sunday. An Israeli colonel was also killed in that incident.
In Gaza City, people gathered in front of a large mound of debris that was once a multi-floor structure. It was flanked by five-storey buildings still standing after the air strike, their shattered stone facades adding to the tall pile of rubble.
In the Israeli coastal city of Ashkelon, a video shot by a resident showed a bleeding woman, lying in the debris of an apartment and covered by dust, weakly raising her arm. She was taken to hospital in critical condition.
The body of a man, killed when a rocket hit the home, was next to her. He was identified by Israeli officials as a Palestinian from Halhoul, in the Israeli-occupied West Bank. Israel Radio said he had a permit to work in Israel.
Israeli Prime Minister Benjamin Netanyahu, who said on Sunday he hoped to avoid another Gaza war and reach an "arrangement" that would also ease Palestinian economic hardship, convened his security cabinet to discuss Israel's next moves.
A Palestinian official said Egypt and the United Nations had stepped up efforts to end the current round of fighting.
"The (Palestinian factions) agreed to hold fire to give Egyptian efforts to end Israeli aggression a chance, but the factions will respond to every Israeli attack," the official said.
There was no word from the security cabinet session whether Israel would agree, and rocket attacks continued amid Israeli air strikes as the forum met.
Since the 2014 war, both Hamas and Israel have pulled back after brief bouts of fighting from another large-scale conflict.
Sirens again rang out in southern Israeli towns on Tuesday after Palestinian rockets crashed into several homes overnight. The military said the Iron Dome anti-rocket system intercepted more than 100 projectiles.
Israel responded with dozens of air strikes, hitting buildings overnight that included a Hamas intelligence compound and the studios of Hamas's Al-Aqsa Television, whose employees had received advance warnings from the military to evacuate.
In aerial attacks on Tuesday, Israel's military said it took out a rocket-launching squad and fired at several Palestinians infiltrating through the border fence around Gaza, which Israel keeps under blockade.
Warning shots
A statement issued by militant groups in Gaza said Ashdod, a major Israeli port just north of Ashkelon, and Beersheba, the biggest city in southern Israel, would be hit next if Israel didn't cease fire.
In Gaza, Israeli missiles flattened seven buildings, mostly in Gaza City including the TV station. Witnesses said warning missiles, which carry small warheads, were fired first.
Abdallah Abu Habboush, 22, said he was awakened by shouts from neighbours to get out of his residential building after what Israel terms the "tap on the roof" warning. They all gathered in a room on the first floor to wait out the attack.
"Old men who were with us fainted because of the smoke," he said, adding that he had no idea why the structure was hit. Conricus said all of the buildings targeted by the Israeli military were "owned, operated and used by Hamas".
Egypt, which borders Gaza to the south, urged Israel to back down. The United States, whose peace mediation has been stalled since the seven-week war in 2014, condemned Hamas.
Turkey on Tuesday called on Israel to halt the strikes. "Israel must immediately stop its attacks against the Gaza population," Turkish presidential spokesman Ibrahim Kalin said, quoted by state news agency Anadolu.
"The international community, which stays silent in the face of Israel's attacks, must take responsibility and take action," Kalin added.

World Politics
Germany
Chancellor's remarks come after Trump steps up attack on French leader over same idea
Angela Merkel delivers her speech at the European parliament in Strasbourg. Photograph: Elyxandro Cegarra/Zuma Wire/Rex/Shutterstock
Angela Merkel has said EU leaders should one day consider "a real, true European army" shortly after Donald Trump ramped up a Twitter attack on Emmanuel Macron over the same idea.
Speaking to the European parliament in Strasbourg, the German chancellor backed the bold step in European defence policy, as part of a speech extolling the need for EU cooperation in migration, climate change and counter-terrorism. "The times when we could rely on others is past," she said.
To a mix of applause and jeers from Eurosceptic MEPs, she said: "We have to look at the vision of one day creating a real, true European army." The chancellor said the idea would complement Nato, but gave no details on when the ambitious idea could become reality.
Her words echoed those of the French president, who in an interview said Europe needed to better defend itself.
Nigel Farage, leader of the Eurosceptic group in the parliament, seized on Merkel's remarks, claiming they showed the EU wanted to become an empire, while accusing the bloc of starting a cold war with the US. "I think Brexit becomes a necessity after this," he said.
Merkel had earlier brushed aside heckling from Eurosceptic MEPs with a smile, saying the opposition showed she was in a parliament. "This is great, I am annoying some people," she said.
During her 25-minute speech, the chancellor mentioned Brexit only once, describing it as a "deep wound". She was echoed by the European commission president, Jean-Claude Juncker, who said Brexit was "a tragedy, a historical error [and] a mistake".
Merkel was the 12th EU leader to address MEPs, as part of a series on the future of Europe, with six more scheduled before the European elections.
The theme of the speech was a call for solidarity, whether in defence, migration policy or for the EU to find a single voice on foreign policy. "Solidarity always means that we have to overcome national egoism," she said, adding that it had taken Germany "far too long" to realise that refugee policy was a European issue.
Solidarity also required a commitment to the rule of law, she said, a coded reference to member states, such as Poland and Hungary, that stand accused by the EU institutions of backsliding on democratic values.
She was speaking shortly after Romania was given an unusually strong rebuke by the commission for "backtracking" on the fight against corruption and the creation of fully independent judiciary.
One of the EU's newest member states, Romania has been on the EU's critical list, since new laws changing the judiciary and abolishing some anti-corruption offences were introduced last winter, sparking mass street protests.
Romania, which will take over the EU's rotating presidency from 1 January, was told to suspend a justice law that has been criticised by independent observers for violating judicial independence. Brussels also called on the Romanian government to re-start the process to appoint an independent anti-corruption prosecutor, after the previous one, was sacked.
Related:

United States
Sinema becomes state's first female senator after a lengthy vote count in one of the most closely watched midterm races
Arizona has rejected petty political attacks, says Democrat Kyrsten Sinema – video
Democratic representative Kyrsten Sinema speaks about the importance of rising above personal rivalries after beating Republican Martha McSally to take Arizona's open US Senate seat. She said: 'Arizona rejected what has become far too common in our country, name-calling, petty, personal attacks and doing and saying whatever it takes just to get elected. It's dangerous and it lessens who we are as a country, but Arizona proved there is a better way forward.' She also paid tribute to 'irreplaceable' senator John McCain, saying 'his example shines a light on our way forward.' The race between Sinema and McSally was one of the most closely watched in the nation. Sinema is a former liberal activist who became a centrist member of Congress. Her win follows years of Democratic shutouts at the statewide level in Arizona and shows that the longtime Republican bastion is becoming a swing state. Sinema succeeds Republican senator Jeff Flake, who opted not to run.

Congresswoman Kyrsten Sinema, a Democrat, won a remarkable victory in the race for an open Arizona Senate seat, defeating her Republican opponent after a campaign in which she cast herself as an independent in the tradition of the state's late senator John McCain.
At 7.41ET on Monday, six days after the polls closed and as votes were still being counted, the Associated Press declared that Sinema had beaten the US congresswoman Martha McSally, a former air force fighter pilot, to become the state's first female senator. The last time a Democrat was elected to an open senate seat in this conservative western state was 1976, the year Sinema was born.
"Arizonans had a choice between two very different ways forward: one focused on fear and party politics and one focused on Arizona and the issues that matter to everyday families," Sinema said in her victory speech in Scottsdale. "I am so honored that Arizonans chose our vision."
"I just called Kyrsten Sinema and congratulated her on becoming Arizona's first female senator after a hard-fought battle," McSally said in the video, as she pet her dog Boomer.
Sinema won the race with with roughly 1.7 percentage points, though her vote share could grow as more ballots are tallied. McSally initially held the lead after election night. But as election officials rushed to tabulate the votes in one of the most closely watched Senate races of the cycle, McSally's margin slipped – a development that prompted Donald Trump and other prominent national Republicans to claim without proof that election officials were engaging in "electoral corruption" to boost Sinema.
Following the midterm elections, Republicans hold the majority in the Senate by a margin of 51 to 47, with two races yet to be called: in Mississippi, where there is a run off election and in Florida, where there is a recount.
Sinema, who began her political career as a Green party activist and was one of the most liberal members of the state legislature, embraced a far more centrist posture in the federal government. When she arrived in Congress in 2013, she joined the conservative Blue Dog coalition and was the first Senate candidate to declare that she would not support the minority leader, Chuck Schumer, if she were elected. She will also make history as the first openly bisexual member of Congress.
"Arizonans went to the polls last Tuesday looking for bold new leadership, and that's exactly what they're going to get with their first-ever female senator and our nation's second openly LGBTQ senator," the DNC chairman Tom Perez said in a statement.
McSally, who represents a swing congressional district in Tucson, was dragged to the right by her Republican primary opponents, the former state senator Kelli Ward, and the former Maricopa county sheriff, Joe Arpaio. A onetime critic of the president who refused to say whether she had voted for him, McSally embraced Trump and moved sharply to the right on issues of immigration.
Both dogged by their political realignments, Sinema and McSally ran sharply different campaigns. Sinema, who faced no real primary challenge, emphasized her independence and did not call herself a Democrat in her campaign ads. She courted Republican voters with a message singularly focused on healthcare.
McSally, who faced a competitive primary, tried to cast Sinema as a liberal disguised as a centrist and accused her of "treason" during a contentious Senate debate in October – a charge referencing Sinema's antiwar views in a 15-year-old interview. The posture reflected Trump's influence on her campaign, beginning in January with a video in which McSally called on Washington Republicans to "grow a pair of ovaries and get the job done".
On Monday night, Sinema said: "Arizona rejected what has become far too common in our country, name-calling, petty, personal attacks and doing and saying whatever it takes just to get elected. It's dangerous and it lessens who we are as a country, but Arizona proved there is a better way forward."
Sinema, who frequently voted with conservatives in the House and leads a bipartisan spin class in Congress, promised to "seek common ground" and said she would work "with anyone", even the president. In her remarks, she paid tribute to McCain and said she would try to follow his example of putting "country before party".
Sinema's victory marks a dramatic political shift in a state that was once a conservative western outpost. For decades Arizona has eluded Democrats even as the state grew increasingly diverse.
As Democrats debate their future ahead of 2020, Sinema's supporters argue that her strategy offers a case study in how to win in traditionally conservative states. She resisted the party's swerve to the left. In a move that set her apart from other Democrats in the state, she refused to back her party's nominee for governor, David Garcia, who ran on an unapologetically liberal platform and lost to the Republican incumbent, Doug Ducey, on 6 November.
Her election could significantly shift the battleground map ahead of 2020 as Democrats turn increasingly toward the diverse sun belt states like Arizona. Elsewhere in 2018, Democrats fiercely contested races in Florida, Georgia and Texas, some of which have yet to be called.
Democrats' only gains in the Senate so far have been in Arizona and Nevada, where congresswoman Jacky Rosen unseated the Republican senator Dean Heller. These victories stand in stark contrast to the Democratic losses this cycle: three moderate incumbents were decisively defeated by Republican opponents in increasingly conservative states thanks to the support from rural and small-town voters.
Desperate efforts to save the whales – and the Chinook salmon on which they depend – risk fishing communities losing a way of life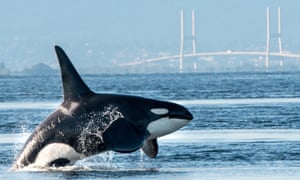 A large male killer whale in the Fraser River, where southern resident whales are now endangered. Photograph: jonmccormackphoto/Getty Images
D

ays before the start of the summer fishing season, when guides and outfitters on Canada's west coast gamble their financial prospects for the year, fishing lodge owner Ryan Chamberland received devastating news.
The coastal waters of Vancouver Island, which he and four generations of his family had fished for salmon, would be out of bounds. The unexpected closure was part of a desperate effort by the Canadian government to save an endangered population of killer whales.
That same summer, Tahlequah, one of the threatened whales, nudged the lifeless body of her newborn calf for 17 days of mourning. Shortly after, the once-playful Scarlet, a three-year-old female orca, succumbed to a bacterial infection as scientists from the Canadian and US governments worked desperately to save her.
The unfolding tragedy of the southern resident killer whales – and the government response – has exposed a complex ecosystem in crisis. Chinook salmon, the whale's main prey, are also disappearing. In an area heavily reliant on tourism and fishing, an impending collapse of the two species has led to feuding over how to stave off an ecological disaster.
"Shutting us down to create more prey for them is not going to do anything for their diet," said Chamberland. After the news broke, he began receiving panicked calls from clients, looking to cancel trips planned months in advance. Shock quickly gave way to frustration for the young business owner. "I think it's really scary that we are the target," he said of the closures.
At the end of October, the federal government announced additional steps in its plan to save the whales, unveiling C$61.5m (£36m) in funding to establish protected zones, limit marine traffic and increase food sources for the whales. The funding comes in addition to a previously pledged C$167.4m for similar measures promised early in the year.
"We have an obligation both legally and from a moral perspective, from the context of sustaining biodiversity, to do what we can to protect and recover these whales," the federal fisheries minister, Jonathan Wilkinson, told the Guardian. "The decline of biodiversity around the world we're seeing is extremely sobering."
The staggering body of evidence that marine waters are in trouble has prompted bitter finger pointing: fishermen blame the jarring noise of whale watching boat engines for the declining health of the whales. Whale watching companies in turn blame overfishing and agricultural waste dumped into the ocean. And First Nations face accusations they over-harvest salmon in some parts of the province.
In spite of the urgency, the crisis has been decades in the making: engine noise from commercial shipping, which has increased dramatically over the years, harms a whale's ability to hunt. Toxic pollutants from agriculture and industry have built up in the whale's blubber, and when they become stressed – often the result of hunger – the pollutants metabolise into their bodies, sickening them.

A dead chinook salmon in Adams River in British Columbia. Photograph: Andy Clark/Reuters
But many of the groups that spend time on the water agree: the largest and most troubling element of the whale's trajectory to extinction is the disappearance of Chinook salmon – known by anglers as the "king salmon".
For millennia, pods of orcas hunting along the rugged coast of British Columbia were a common sight. Held in high regard by First Nations communities, European settlers saw their voracious appetite for coveted Chinook salmon as a problem – going as far as lobbying for a cull of the whales they called the "blackfish".
Today, there are only 74 of the salmon-eating killer whales left in the Salish Sea, known to researchers as "southern residents". With a dwindling breeding population, the demographics aren't promising: no successful births have been recorded over the last three years.
While the demise of the whales have captured the public's sympathy, scientists worry that far less attention is given to the plight of salmon, a bellwether species for both the health of the whales and the ecosystem.
The remaining killer whales consume roughly half a million Chinook salmon per year, but years of overfishing, degradation of habitat and warming waters have crushed the once-healthy Chinook populations, along with other species of Pacific salmon. Even the sizes of salmon have decreased. Chinook once frequently exceeded 100 pounds (45kg). Now, they're often less than half that weight.
The annual return of salmon on the mighty Fraser River, the largest source of salmon in the province and a feast for the whales, has become increasingly bleak. Millions of fish are disappearing, despite predictions they will return. Most of the known stocks of Chinook salmon around British Columbia are considered threatened or endangered, said Greg Taylor, a commercial fishing industry veteran-turned-conservationist.
More On The Environment: