15 Nov
News and Analyses, A Foreign Perspective
Nearly all of these are English-edition daily newspapers. These sites have interesting editorials and essays, and many have links to other good news sources. We try to limit this list to those sites which are regularly updated, reliable, with a high percentage of "up" time.
Recommended:

The Empire of the Eagle: An Illustrated Natural History, by Mike Unwin and David Tipling, is published by Yale University Press and celebrates the world's 68 eagle species in all their magnificence and beguiling diversity
Two adult steller's sea-eagles raise their heads to utter their deep cackling call, while a third looks on. Found in far-eastern Russia, the northwestern Pacific coast and Japan. Conservation status: vulnerable
Photograph: David Tipling/Yale University Press

Saudi prosecutor recommends death penalty for five suspects over killing of journalist in Istanbul consulate in October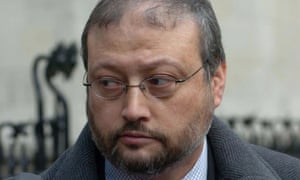 Jamal Khashoggi was killed in Saudi Arabia's Istanbul consulate on 2 October. Photograph: Johnny Green/PA
Saudi Arabia says it will pursue the death penalty for five suspects charged with ordering and carrying out the killing of the Saudi writer Jamal Khashoggi, in the latest effort to distance the country's de facto ruler, Crown Prince Mohammed bin Salman, from the grisly murder.
The Saudi public prosecutor claimed that Saudi agents, including the head of forensics at the national intelligence service and members of Prince Mohammed's security detail, had orders to abduct Khashoggi but decided to kill him when he resisted. The claim had been contradicted by an earlier Saudi finding that the murder was premeditated.
Prince Mohammed was not implicated in the murder, a spokesman for the prosecutor said. Turkey has been formally asked to hand over audio tapes that allegedly capture the journalist's death, he added.
The announcement follows growing international outcry over the killing of Khashoggi, a Washington Post columnist last seen entering the consulate on 2 October to obtain paperwork for his marriage.
Almost seven weeks later, who ordered the exiled journalist's death remains central to the scandal. Turkey believes that approval was given by the Prince Mohammed himself, and has continued its efforts to isolate the designated heir to the throne through a damning drip feed of evidence. On Thursday Turkey's foreign minister, Mevlüt Çavu?o?lu, described the Saudi statement as insufficient and insisted that the killing had been premeditated.
Saudi prosecutors say 21 of its officials have been indicted – including the 15-man hit team as well as crews alleged to have carried out reconnaissance before the murder.
Ankara and Riyadh have been conducting a joint investigation into Khashoggi's death. However, Turkish officials accuse their Saudi counterparts of stonewalling on the whereabouts of his body, and sending a forensic team disguised as investigators, who, rather than investigating the murder, attempted to scrub the consulate of Khashoggi's DNA.
Turkey says it holds audio recordings that prove Khashoggi was strangled, then dismembered within minutes of being lured into the consulate. A search for his remains in an Istanbul forest has been unsuccessful. However, biological evidence of the murder is understood to have been found at the nearby consul general's residence.
Investigators are working on the assumption that a second phase of the murder operation was carried out in the garage of the official residence, where Khashoggi's body parts were dissolved in acid and poured down drains and into a garden well.

Crown Prince Mohammed bin Salman: the Saudi public prosecutor said he had not been implicated in Jamal Kashoggi's murder. Photograph: Reuters
Turkey is yet to publicly table full transcripts of the audio tapes it says depict the killing, or reveal how the recordings were made. However, they have been widely shared with allied intelligence agencies and even played to a Saudi agent, according to President Recep Tayyip Erdo?an, who is leading the diplomatic offensive against Prince Mohammed.
Erdo?an has said the order to murder Khashoggi came from "the highest levels" of the Saudi government. The former head of MI6, Sir John Sawers, has described Saudi claims that Prince Mohammed was unaware of the murder plot as a "blatant fiction".
The US, meanwhile, is attempting to shield Prince Mohammed from an investigation that poses the greatest threat to the kingdom since the 9/11 attacks, in which 15 of the 19 hijackers who attacked the twin towers and Pentagon were Saudi citizens.
The US national security adviser, John Bolton, said earlier this week that nothing on the tapes incriminates the crown prince. Turkey has hinted that separate, as yet undisclosed material it is holding brings the killing to the doorstep of the royal court, from where Prince Mohammed's most influential domestic aide, Saud al-Qahtani, has been forced to leave. Qahtani is accused of being the figure who organised the hit squad. The crown prince's critics, and even some loyalists inside the kingdom, say it is inconceivable that such an operation could have been ordered without his authority.
In the last 18 months of his life, which he had lived in exile mainly in Washington, Khashoggi had been an influential critic of some aspects of Prince Mohammed's reform programme. An insider turned outsider, he had used the powerful platform of his column at the Washington Post to pen pointed critiques and political observations that had made him one of the Arab world's most influential pundits.
He had been an advocate of political Islam, which is viewed by Saudi Arabia and the United Arab Emirates as a subversive threat, and had defied overtures from al-Qahtani to return to Riyadh.

World Politics
United States
Former US secretary of state criticises Trump's failure to attend Armistice Day ceremony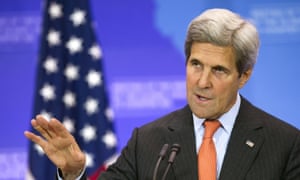 John Kerry: 'Every country is feeling the pressure of this nationalistic populist, and in some cases very frightening, rightwing advance.' Photograph: Cliff Owen/AP
America cannot afford "a truculent child president" if it is to fulfil its global leadership role, the former US secretary of state John Kerry said on Thursday as he lambasted Donald Trump for failing to attend a key Armistice Day commemoration ceremony in Paris at the weekend.
Kerry is visiting the UK to promote his book and will be speaking at a Guardian Live event in London on Thursday night.
Speaking on BBC Radio 4's Today programme, Kerry spoke of "a dearth of a leadership on a global basis" adding: "Every country is feeling the pressure of this nationalistic populist and in some cases very frightening rightwing advance."
He said: "I was appalled that rain drops prevented the president from going to pay honour to those that died in rain, gas, snow and mud. That was the reason he came to Paris."
Trump refused to attend the rain-swept ceremony citing concerns that his helicopter could not fly due to the weather, and his belief that if he travelled by car, the Paris traffic would be severely disrupted.
Kerry said: "People are tired of the embarrassment of what took place in Paris in the last few days. We cannot have a truculent child president. We need something serious."
Despite his personal criticism of Trump, Kerry urged his party to avoid becoming so obsessed with Trump by calling for his impeachment. The Democrat-controlled House of Representatives should do whatever is appropriate, he explained, but he said: "the Democrats should not even be talking about impeachment right now. We should be talking about the alternatives that might make life better for the people in our country."
He highlighted climate change, saying in 30 years of political activity he had "never seen evidence mounting so powerfully as it is today about the urgency of action, but it is not happening on a global basis. Scientists have just said if we do not get our act together in the next 12 years we are in for a serious catastrophe".
He also called for a global cyber-agreement on a similar scale to the deal restricting nuclear weapons.
Speaking on the UK Brexit debate, he said: "Suffice it to say both President Obama and myself, as secretary of state, came here to Britain before the referendum and we both were remainers". When asked if he supported a second referendum, he replied: "I said President Obama and I were, and are, remainers".

A boy watches the strong winds and rain from Hurricane Maria in September 2017. Photograph: Linda Rodriguez Flecha/AP

Climate change worsened the most destructive hurricanes of recent years, including Katrina, Irma and Maria, by intensifying rainfall by as much as 10%, new research has found.

High-resolution climate simulations of 15 tropical cyclones in the Atlantic, Pacific and Indian Oceans found that warming in the ocean and atmosphere increased rainfall by between 5% and 10%, although wind speeds remained largely unchanged.

This situation is set to worsen under future anticipated warming, however. Researchers found that if little is done to constrain greenhouse gas emissions and the world warms by 3C to 4C this century then hurricane rainfall could increase by a third, while wind speeds would be boosted by as much as 25 knots.

"Climate change has exacerbated rainfall and is set to enhance the wind speed," said Christina Patricola, who undertook the study with her Lawrence Berkeley National Laboratory colleague Michael Wehner. "My hope is that this information can be used to improve our resilience to the kinds of extreme weather events we are going to have in the future."

The research, published in the journal Nature, used climate models to see how factors such as air and ocean temperatures have influenced hurricanes. Projections into the future were then made, based upon various levels of planetary warming.

The findings suggest that enormously destructive storms have already been bolstered by climate change and similar events in the future are on course to be cataclysmic.

In a world where temperatures were 3C warmer on average, Hurricane Katrina, which resulted in nearly 2,000 deaths when levees breached near New Orleans in 2005, would've been even worse, with around 25% more rainfall. Cyclone Yasi, which hit Australia in 2011, would have had around a third more rain, while the deluge during Gafilo, a huge storm that killed more than 300 people in Madagascar in 2004, would have been 40% more intense.

Jennifer Francis, a hurricane expert at Rutgers University, said: "This study adds exclamation points to the already clear message that we must slow global warming by conserving energy and switching from fossil to renewable fuels while preparing for more extreme weather to come."

Hurricanes, or cyclones as they are known in the Pacific region, draw their strength from warmth in the upper layers of the ocean, while their rainfall is influenced by the amount of moisture in the atmosphere. Climate change, driven by human activity, is creating more favorable conditions for stronger hurricanes, with recent research finding that storms are intensifying more rapidly than they were 30 years ago.

Last year was the costliest hurricane season on record for the US, with $306.2bn in damage caused by a trio of category four storms – Harvey, Irma and Maria – which, respectively, drowned parts of Houston, rattled most of Florida, and decimated Puerto Rico. Two further major storms this year, Michael and Florence, caused widespread damage and dozens of deaths in Florida and North Carolina.

More On The Environment:
https://www.theguardian.com/environment/2018/nov/14/climate-change-hurricanes-study-global-warming