18 Nov
News and Analyses, A Foreign Perspective
Nearly all of these are English-edition daily newspapers. These sites have interesting editorials and essays, and many have links to other good news sources. We try to limit this list to those sites which are regularly updated, reliable, with a high percentage of "up" time.
Recommended:

Case highlights failure to honour promise of free elections, say campaigners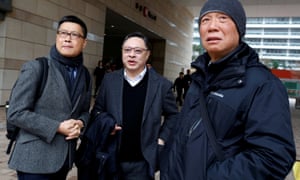 Occupy Central founders Chan Kin-man, Benny Tai and Chu Yiu-ming are facing various charges for participating in pro-democracy protests. Photograph: Bobby Yip/Reuters
Nine leaders of Hong Kong's 2014 pro-democracy Umbrella Movement go on trial on Monday on various charges that each carry a maximum penalty of seven years' imprisonment.
The justice department has prosecuted leading activists from the 2014 protests, in which huge crowds turned out to call for political reform, with some barred from standing for office and others removed from the legislature.
Most of those prosecuted have been young campaigners but now it is the turn of the older generation who originally came up with the idea of taking to the streets to demand a fairer system.
Three leading pro-democracy campaigners – sociology professor Chan Kin-man, 59, law professor Benny Tai, 54, and baptist minister Chu Yiu-ming, 74 – founded the Occupy Central movement in 2013. The campaigners called for the occupation of Hong Kong's business district if the public was not given a fair vote for the city's leader, who is appointed by a pro-Beijing committee. They urged people to join what became known as the Umbrella Movement as protesters used umbrellas to shield themselves from teargas and pepper spray.
The campaign was overtaken by a student movement that took off in September 2014 when police fired teargas on gathering crowds.
The three men are among nine pro-democracy defendants facing public nuisance charges for their participation in the protests, which ultimately failed to win political reform, despite bringing parts of the city to a standstill for more than two months. The defendants accept that they encouraged citizens to occupy parts of the city-state but argue that the charges are unconstitutional.
Campaigners say that the case raises the question of whether Hong Kong's 50-year governing agreement with China, due to expire in 2047, still stands. The one-country, two-systems arrangement negotiated by Margaret Thatcher promised free elections and a democratic Hong Kong. Twenty-one years since the city was handed to China by the UK, there is less autonomy and weaker civil rights.
Chan has spent years negotiating for democratic changes to Hong Kong's election system. He said: "The reason we had this protest is that China did not honour a promise to Hong Kong to let it have democracy.
"We are just an example, showing how the rise of an undemocratic China can be threatening to the rest of the world."
Hong Kong's quest for electoral autonomy coincided with a drive for stability by the Chinese president, Xi Jinping. He has worked to quell restive regions, most notably in Xinjiang, where up to 1 million Uighur Muslims are imprisoned in detention camps.
Hong Kong is different by design. It's a place within China but not completely of China, with open courts, independent news outlets and many political parties.
Since the Umbrella Movement took off, the government has stifled protest and punished democracy activists, according to human rights agencies.
More than 200 people face prosecutions, including many who were sentenced to prison. Judges ejected six politicians from office, who were accused of deliberatly ignoring their official oaths. Several people were barred from seeking office because the government claimed that their political stances violated the constitution.
One young politician who joined a street brawl with police was sent to prison for six years. The tiny Hong Kong National party, an independence movement, was banned this summer. It was the first time a ban had been issued under national security law since the city's handover. Soon afterwards, the city denied a work visa to Financial Times journalist Victor Mallet, who hosted the party's convener at the Foreign Correspondents' Club. Recently, he was barred from returning to the city.
"There is a snowball effect taking place here," said Joshua Rosenzweig, the East Asian research director with Amnesty International, who is based in Hong Kong. "Those concerns about erosion of speech is what agitates young people in particular … Things are potentially more and more risky for people to speak their minds."
Earlier this month, the UN's Universal Periodic Review for China, a project that monitors the nation's human rights record, recommended for the first time that China and Hong Kong strengthen civil liberties in the territory.
The head of China's delegation, Matthew Cheung, disagreed sharply with the conclusions. "Any concerns that Hong Kong's freedoms of speech and freedom of the press is under threat are totally groundless," he said.

World Politics
Great Britain
Plan allows two extra years for negotiation, but would cost billions and enrage Tory Brexiters
Europe's chief Brexit negotiator, Michel Barnier, has raised the prospect of the UK remaining under EU control until the end of 2022, a proposal that would cost billions and infuriate Tory Brexiters.
At a special meeting with ambassadors from the EU's 27 member states, Barnier floated the prospect of extending the Brexit transition until the end of 2022. His idea would allow an extra two years to negotiate a trading relationship, but means the UK would continue to follow EU rules and pay into its budget with no say for six and a half years after the 2016 vote to leave.
Both sides have already agreed a transition period of 21 months, until the end of 2020, as well as the chance to extend once by mutual consent. The length of the extension is still to be finalised by negotiators.
The transition period, which the British government prefers to call the implementation period, would see the UK following all EU laws and European court of justice rulings, while having no ministers or MEPs in the EU decision-making process.
Theresa May has previously suggested an extension of only a few months would be needed, but the EU is still waiting on the UK to make a formal proposal.
Negotiations between the EU and UK were continuing on Sunday as Brexit talks entered a critical final week, ahead of a special summit on 25 November when both sides hope to seal the deal.
United States
Hundreds displaced by wildfires who are gathered in a parking lot have more pressing concerns than the president's comments
'I don't agree with his statements': residents react to Trump's California wildfire visit – video
As Donald Trump landed in northern California on Saturday morning, hundreds of evacuees at a Walmart in Chico were frantically trying to figure out their next steps – which shelter they would go to, and if they should stay close to what's left of their homes in the fire-ravaged town of Paradise.
At the giant box store, which has become a refugee camp for those forced to flee their homes when the worst blaze in state history incinerated their town, people ate lunch and packed their belongings and worried about the future.
There was little talk of Trump, even though his motorcade was just miles away.
The president flew by helicopter to the city of Chico to meet first responders and victims after Air Force One arrived at Beale air force base, about an hour's drive from the devastated town of Paradise.
Trump was criticized for his initial response to the fire and threat to withhold funding, after he tweeted: "There is no reason for these massive, deadly and costly forest fires in California except that forest management is so poor. Billions of dollars are given each year, with so many lives lost, all because of gross mismanagement of the forests. Remedy now, or no more Fed payments!"
When asked about the president's visit to the area, Kirk Ellsworth, whose adult children lost their homes in the fire, shook his head in disgust.
"My kids lost everything. I voted for him – and now? He can kiss my red ass," Ellsworth said. "What he said was ridiculous. It hurts my heart. A lot of us voted for him and he [talks] down to us?"
Still, the hope for many evacuees was that Trump's visit might draw attention to their plight and bring help for those who need it most. Nearly 10,000 homes were lost in the fire, which has killed 71, razed Paradise and caused severe damage to the smaller communities of Magalia and Stirling City.
"The president of the United States to come here and meet the most vulnerable – that's important whether you're a Democrat or Republican," Tammy Mezera said. "[He] has a responsibility to do that."
Mezera hadn't given much thought to Trump's visit, she said. She's been "frantic" trying to pack up the tent that has been her home since 8 November, when the Camp fire first erupted.
Meanwhile, Ryan Belcher and his wife Casey have been doing the same, preparing to leave Walmart and find a new home for their two children. They hope Trump better understands the struggles of evacuees after seeing the devastation and shows more sympathy.
"We are not the ones to blame. We are not in charge of managing the forest," Ryan said, frustrated, as he held two toys someone donated for his children.
"I hope he sees how this community has come together," he added, trailing off as someone asked if he and Casey were fire victims, and handed them gift cards.
"People are still here helping us. it's an amazing thing and I hope he sees that," Casey said, wiping away tears.