19 Nov
News and Analyses, A Foreign Perspective
Nearly all of these are English-edition daily newspapers. These sites have interesting editorials and essays, and many have links to other good news sources. We try to limit this list to those sites which are regularly updated, reliable, with a high percentage of "up" time.
Recommended:

Group is now designated 'with ties to white nationalism' according to report produced by Washington law enforcement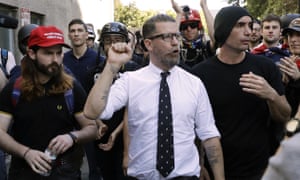 Vice Media co-founder Gavin McInnes, center, founder of the far-right group Proud Boys, is surrounded by supporters after speaking at a rally in Berkeley, California on 27 April 2017. Photograph: Marcio José Sánchez/AP
The FBI now classify the far-right Proud Boys as an "extremist group with ties to white nationalism", according to a document produced by Washington state law enforcement.
The FBI's 2018 designation of the self-confessed "western chauvinist group" as extremist has not been previously made public.
The Proud Boys was founded by Vice Media co-founder Gavin McInnes. McInnes has insisted that his group is not white nationalist or "alt-right" but the Proud Boys have a history of misogyny and glorifying violence. The Southern Poverty Law Center (SPLC) lists them as a hate group.
The document also says: "The FBI has warned local law enforcement agencies that the Proud Boys are actively recruiting in the Pacific north-west", and: "Proud Boys members have contributed to the recent escalation of violence at political rallies held on college campuses, and in cities like Charlottesville, Virginia, Portland, Oregon and Seattle, Washington."
The report, and the FBI's warning to south-west Washington police agencies about the Proud Boys' role in escalating violence at these events came in August, two months before the group was involved in an infamous weekend of street violence in New York City and Portland, and not long after they participated in street violence in downtown Portland on 30 June.
The document, provided to the Guardian by government transparency Property of the People, was part of an internal affairs investigation into a probationary deputy in the Clark county sheriff's department.
The former clark county deputy, Erin Willey, was fired last July after a photo of her wearing a "Proud Boys Girls" sweatshirt was published by the Vancouver, Washington newspaper the Columbian. The Proud Boys Girls is the female auxiliary of the men-only group founded by McInnes in 2016.
The author of the document, headquarters commander Michael McCabe, is in charge of internal affairs, training, background investigation and courthouse security in the Clark county sheriff's department.
After confirming the authenticity of the document, he told the Guardian in a telephone interview that the FBI's classification of the Proud Boys as an extremist group was revealed to him in "a briefing we were given by the FBI" on 2 August, at Clark county's west precinct.
The briefing included agency heads from local law enforcement, and in it the FBI said that they "have been warning (local law enforcement) for a while" about the Proud Boys, "not just in Washington but around the nation".
The briefing including the Proud Boys was delivered by an FBI analyst, according to information forwarded to the Guardian by McCabe.
It touched on topics including "How the FBI tracks hate/extremist groups", "Brief history of these groups in the Pacific NW", "A description of currently active groups with a focus on the Portland/Vancouver area", and "Current trends or concerns over law enforcement officers/employees involvement with these groups".
Street fighting in Portland, Oregon, with men in 'Proud Boys' uniform to the fore on 30 June. Photograph: John Rudoff/Sipa USA/REX/Shutterstock
The document says that Willey was an active Proud Boys Girls member between November 2016 and October 2017, and in February 2017 she "actively participated in the manufacturing, advertising and selling of Proud Boys Girls' merchandise on a website".
The document concludes that membership in the Proud Boys may constitute a violation of the Clark county sheriff's department oath to support and protect the laws of the United States, since Proud Boys "members have been documented as having called for the closure of all prisons, the issuing of firearms to everyone, the legalization of all drugs, the deportation of all illegal immigrants and the shutdown of the government".
Another concern expressed in the document produced by McCabe – which was handed to the sheriff, Chuck E Atkins, so he could make a decision on Willey's future in the department – was the possibility that the deputy's membership in the group would constitute a so-called "Brady violation".
The Brady doctrine requires prosecutors to disclose any potentially exculpatory evidence to defenses in the discovery phase of criminal trials.
Membership in the Proud Boys, the document says, may constitute "evidence that a deputy is biased or has some motive to lie" which could constitute a prosecutorial risk.
According to the report, Willey was placed on administrative leave after the Columbian contacted the sheriff's department on 2 July. She was fired on 17 July, before the report was completed, and just before the Columbian published their story.
The report also states Willey's belief that the photo of her in a Proud Boys sweatshirt was given to the Columbian by her former boyfriend, and "active Proud Boy member", Graham Jorgensen.
Jorgensen has been a regular participant in rallies organized by the Clark county-based Patriot Prayer group, whose events have included Proud Boys, and which have frequently culminated in violence.
Other law enforcement agencies have discovered Proud Boys in their midst and responded in a similar manner. A month after Willey was fired, Brian Green, a patrol deputy in Louisiana, was also let go after social media posts revealed his allegiance to the group.
Willey and Jorgensen could not be reached for comment.
In Clark county, Proud Boys have been integral to the Patriot Prayer movement, which organizes rightwing street marches and rallies in Portland, Seattle, Vancouver and other cities in the Pacific north-west.
Related:
World Politics
Great Britain
Labour leader addresses the CBI after Theresa May's said businesses would lose out from plans to stop low-skilled EU workers coming to the UK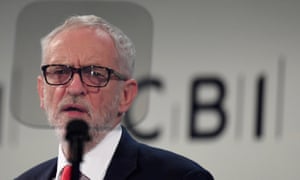 Jeremy Corbyn speaks at the Confederation of British Industry's (CBI) annual conference in London. Photograph: Toby Melville/Reuters
Q: Why do you think your plan would be easier to negotiate with Brussels?
Corbyn says Labour would not be approaching negotiations with the EU on the basis of threats. He would not be threatening to turn the UK into Singapore.
The approach would be difficult.
Q: What is your view of people doing well from businesses they start or lead?
This is a philosphoical question, he says. He likes that. He says he does not have a problem with people doing well at all. He says people who start business all go through pain and work very hard. He does not have a problem with that. Some succeeed, some fail.
He says these people need support to launch their companies. If people do well, he invites them to share their wealth and pay their taxes. He says he does not think anyone want to walk past rough sleepers on the way to work.
Many firms do support their communities. But it is important to have public services too, he says.
Q: With 130 days to Brexit how can you get your measures agreed in time to get avoid a no deal Brexit?
Corbyn says there must be a sense of urgency. The deal on offer is not acceptable.
He says the government should recognise that, and go back to negotiate something that more acceptable.
He says he wants to finish on this point; it is important to understand why people voted as they did, and to put forward proposals that bring society together.
And that's it.
I will post a summary soon.
Corbyn's Q&A

United States
Immigrant asylum seekers wait at a bus station after being released by US Customs and Border Protection in McAllen, Texas. Photograph: John Moore/Getty Images
As a war reporter, Bryan Mealer had witnessed people in physical trauma. In Texas, he met with lawyers, social workers and locals worn down by life in one of the world's most militarized corners
I

've come to look for trauma in every place I go. This practice began years ago when, as a war correspondent in Congo, I encountered entire populations reeling from conflict and displacement – and it's continued ever since.
I remember the wild-eyed 10-year-old soldier in Bunia who had developed a stutter after watching his parents' massacre. He was now the militia commander's bodyguard and one of the most feared killers in the group. Or in Bukavu, the woman who lay in bed staring at the wall, practically comatose, after having been raped by a dozen men.
Such horror, of course, isn't exclusive to war zones or the developing world. And here in the richest, most powerful country on earth is a vast landscape of trauma found everywhere, from city housing projects to suburban country clubs.
Just scratch the surface and you'll find it, telling a story of the land and its people.
When I reported from Belle Glade, Florida, nearly every kid on the town's high school football team had lost an immediate family member to Aids, guns, or prison. Last year, while covering southern Ohio's opioid epidemic, I met caseworkers suffering severe PTSD from managing a never-ending surge of traumatized children.
Most recently, I spent several weeks in the Rio Grande Valley, driving across the border into Mexico. At migrant shelters and bus stations, I met families from Central America who fled from violence, survived the harrowing odyssey to America, only to be jailed and separated once here.
But I also encountered trauma in people you might not suspect.
I met lawyers experiencing secondary trauma – the compassion fatigue that comes from absorbing the suffering of others – after watching clients get deported back into harm's way. Immigration judges are also dealing with the same stress.
And I spent time with local families – both documented and not – whose trauma has been triggered by raids, cartel violence, and the daily grind of poverty in one of the most militarized corners of the world.
In May, when the Trump administration imposed its zero-tolerance policy along the border and began separating families seeking asylum, pediatricians and mental health experts warned of the long-term damage children would suffer. Research now shows that prolonged exposure to toxic stress is linked to chronic health problems such as cancer and heart disease years down the road, a public health crisis that doctors are only beginning to grasp. Trauma brews like slow poison in the body and, when left untreated, spills over into loved ones, into the classrooms and the surrounding community, infecting every sector of society. And along the border, I found it everywhere I looked.
For Nora, who's from Honduras, it was her six-year-old son who first showed signs of severe trauma. The boy had forgotten how to speak. Ever since Nora had awoken Alex and his two brothers in the middle of the night and fled their home, she'd noticed him slipping. They'd fled from the Mara Salvatrucha (MS-13) gang which now terrorizes Central America, having been formed in Los Angeles in the 1980s by migrants who settled there after fleeing the US-backed civil war in El Salvador and violence in Guatemala and Honduras, only to be deported back to their countries.
Nora and her boys had covered more than 3,500 miles, across Guatemala to Tijuana and now to Nuevo Laredo, in north-eastern Mexico. Along the way, Alex had grown agitated and was constantly afraid. He had nightmares about his father, who had disappeared back home, and was wetting the bed. And his sentences, once rapid and cartwheeling, had become choppy and unformed, as if trauma was editing him down to a toddler.
Now there was more reason to be afraid. A man who'd offered to drive them from the bus station turned out to be a smuggler working for the local cartel. He'd brought them to a stash house in a run-down neighborhood, one of many used by smugglers to hold migrants while they extorted them for money. The smugglers demanded $6,500 to take them across the river into Texas, a journey of less than a mile. When Nora said she didn't have it, they rummaged through her bag and took her cellphone, looking for relatives who could pay ransom. Then they put her and the boys in a room alone to ponder their chances. Her oldest son, who's 10, asked what they all feared…………………….

A mother migrating from Honduras holds her one-year-old child as she surrenders to US border patrol agents near McAllen, Texas. Photograph: David J. Phillip/AP
In recent years, a growing body of research has revealed that people who experience prolonged levels of trauma, especially as children, have higher rates of chronic disease and mental illness. For migrants, the separation and isolation, experts said, both qualified as adverse childhood experiences, or ACEs, that trigger the brain's "fight or flight" mode and cause toxic stress.
Prolonged exposure to toxic stress raises blood pressure, heart rate, and floods the brain with cortisol and other chemicals, which can rewire neural pathways and change the very architecture of the mind. In children, too much toxic stress can sabotage the nervous system and affect learning, memory and decision making. It can elevate levels of inflammation in the body that cause heart disease, stroke and autoimmune disease, and disrupt growth and development. It can even alter your DNA and change how it gets expressed.
The list of ACEs, first introduced in a landmark study in the late 1990s, includes such things as physical, emotional and sexual abuse, mental illness or substance abuse in the household, a loved one being incarcerated, divorce, neglect, and others. By 18, most people are saddled with at least one ACE that therapy or resilience can sometimes overcome, depending on the experience – sexual abuse can leave deeper wounds than, say, divorce.

Freedom … Jonathan Franzen with Guardian writer Oliver Milman at Natural Bridges Farm in Santa Cruz. Photograph: Talia Herman for the Guardian
'The two things I love most are novels and birds, and they're both in trouble,' says The Corrections author, one of the world's most famous birdwatchers
by Oliver Milman in Santa Cruz, California
Author and birdwatcher Jonathan Franzen, at Natural Bridges Farm where he goes to birdwatch in Santa Cruz, California, September 30th, 2018. Photograph: Talia Herman for the Guardian
B

irdwatching was once an activity that elicited a sense of mild shame in Jonathan Franzen. The author stalked New York parks with binoculars in hand, rather than on a strap, carefully hiding from view the word "birds" on his field guide. Debonair friends in London recoiled in horror when told of his pastime. Franzen was furtive, almost embarrassed. Now, he is one of the most famous birdwatchers in the world.
"I totally let my freak flag fly now," Franzen says as he scans for birds at a community garden near his home in Santa Cruz, California. His phone has an app that deciphers bird sounds. He travels the world to see recondite species. He has written about birds in essays, op-eds and novels.
"I was so socially unsuccessful in my youth and such a pariah in junior high that I really didn't want to look like a dork," says Franzen, the 59-year-old author whose best known works include The Corrections and Freedom. "I got over that. The success started to make me think: 'Hey, it's not me who's got the problem.'"
Having taken up the birder habit in New York's Central Park in his 40s, Franzen is now firmly ensconced in the world of twitchers, with their early mornings, their meticulously kept lists, their argot (the elastic harness attached to binoculars is called a "bra"). "Within the bird world the gull people are considered the super freaks," Franzen confides. "They talk about 'I think this is a worn alternate plumage of a second year whatever Iceland Gull which really looks a whole lot like a Herring Gull'. Oh, who cares."
Unusually for most birdwatchers, Franzen's circumstances have allowed him access to birds in places like Peru, Antarctica and Cyprus, the latter a place where he documented "the most intensive songbird-killing operations in the European Union".
It has also provided him a glimpse of the existential perils that confront many bird species. In April, an exhaustive compendium of population data revealed that one in eight bird species are threatened with global extinction, with once widespread creatures such as puffins, snowy owls and turtle doves suffering punishing losses.
In all, 40% of all 10,000 or so bird species are in decline in the face of threats such as agricultural expansion, logging, invasive species and hunting. "The situation is deteriorating and the trends are intensifying," said Tris Allinson, senior global science officer for BirdLife International, which produced the report.
The world's population of seabirds, a group that includes gulls, terns, albatrosses and others, has dropped by around 230m, a 70% slump, over the past 60 years due to slightly different group of maladies that also includes overfishing and plastic and oil pollution.
"What does that tell us? Tells us something is not good," Franzen says of the seabirds, as he pads the garden, looking at a couple of California towhees through his binoculars.
Towhees, essentially bulkier everyman sparrows, are Franzen's favourite bird, which is perhaps surprising given the planet is inhabited by cassowaries, bald eagles and iridescent birds of paradise. The birds are the subject of a passage in Freedom, a book that has a cerulean warbler adorning its cover.
"Well, look what it's doing," Franzen, an angular figure who wears a plaid shirt and jeans, says of the towhee. It has taken him a decade to confidently identify different sparrows. "It's hopping back and forth. Scratching in the dirt. It's got this wonderful taupe and then the peachy accent underneath the tail and it's very, very beautiful.
"Little brown birds hopping around quietly in the underbrush, picking at seeds. They're shy. Hard to see. It's friendly."
Climate change looms as a further hammer to birds but Franzen has argued conservationists have gravitated to climate campaigning at the detriment of more immediate threats, such as the loss of wetlands or, in the case of seabirds in remote locales, rats that eat hapless chicks alive.
"Right now climate change is among the four or five minimal reasons for decline, (there's) very little direct effect on seabird populations so far," he says. "For the moment the one big reason is cats, rats, and mice. It's that simple." Line-caught tuna, Franzen said, is decimating albatrosses, which lay at most one egg a year, to the point of no return. "You can do the math but it's like 20 years and they'll be extinct," he says.
In 2015, Franzen had a minor spat with Audubon, the US bird conservation group, over the organisation's finding that around half of all North American bird species face potentially dire changes to their habitats from warming temperatures.
More On The Environment: