20 Nov
News and Analyses, A Foreign Perspective
Nearly all of these are English-edition daily newspapers. These sites have interesting editorials and essays, and many have links to other good news sources. We try to limit this list to those sites which are regularly updated, reliable, with a high percentage of "up" time.
Recommended:

by Andrei Poama

&

Tom Theuns
Restoring Florida's felon voting rights is less democratic than you think
O

n 6 November 2018, voters in Florida made history. Following a popular initiative started about four years ago, 64% of Floridians voted in favour of a constitutional amendment (no 4) that will automatically restore the voting rights of all people with felony convictions who have executed their sentences, as long as they were not convicted of murder or a felony sexual offense.
The main effect of this constitutional change is that approximately 1.5 million people will be able to vote in the next elections. Since most criminal offenders get convicted at a young age, many among those who are now enfranchised because of amendment 4 will be able to vote for the first time in their life.
Florida's amendment 4 is great news for a state whose laws so far prevented about 10% of the voting-age population from taking part in elections. From now on, Florida will no longer be part of the infamously select club of states (which includes Kentucky and Iowa) that permanently strip convicted felons of their right to vote.
The amendment is also a significant step in the right direction for the whole of the US, the democratic country with the worst criminal disenfranchisement worldwide. The amendment reduces the number of citizens who are disenfranchised due to felony convictions by approximately 25% — from a total of 6.1 million last week to some 4.6 million today.
On the face of it, the success of amendment 4 looks like a groundbreaking victory for democracy.
Read also Serge Halimi, "No rules for the US game", Le Monde diplomatique, October 2018. Here are three reasons why. First, the decision does much to upset the entrenched electoral racism that has characterised Floridian politics. After Congress outlawed slavery, granted equal citizenship rights to freed slaves and prohibited the denial of voting rights based on 'race, colour, or previous condition of servitude' in the 19th century, Florida vigorously used its criminal laws to continue excluding African-Americans from the electoral process.
This was notably done by attaching disenfranchisement sanctions to crimes the legislature knew were more likely to be committed by newly-freed slaves. Since criminal conviction rates are still largely biased against African-Americans, felony disenfranchisement continues to function as a deeply racist institution, especially when it is imposed permanently.
Second, amendment 4 testifies to the huge potential that direct democratic mobilisation has for enforcing a progressive agenda. The amendment was drafted and promoted by Floridians for Democracy, a grass-roots movement that included 'voters from all corners of the state and all walks of life'. Moreover, it gave some felons the opportunity to fight for their inclusion in the electoral body. For instance, Valencia Gudner, a community organiser who lost her right to vote because of a 2007 felony conviction for writing a bad cheque, was now able to actively join the grass-roots movement, and actively win back one of her fundamental democratic rights.
Third, the adoption of amendment 4 makes the restoration of felons' voting rights less arbitrary than it was before. Prior to the 6 November vote, the restoration of felons' voting rights was granted only upon request and depended on the discretion of the Florida Clemency Board, a small bureaucratic committee headed by the state governor.
This meant that the governor got to ultimately decide who, among former felons, got to vote and who didn't. While the Democratic former governor, Charlie Crist, enfranchised over 150,000 ex-felons in his four-year term, Republican governor Rick Scott has enfranchised only around 3,000 ex-felons since 2011. By making the restoration of former felons' voting rights automatic, amendment 4 puts an end to this era of bureaucratic arbitrariness.
However, despite its democratic appearance, resorting to ballot initiatives to decide who has the right to vote risks making this right more fragile in the long run. Treating the right to vote as a chip that can be won or lost during the game of ordinary politics is a bad idea. It signals that the majority of citizens are entirely free to change their mind about who counts, and who doesn't, as a political equal. Majorities might be sympathetic to electorally vulnerable groups on some occasions, as was the case in Florida this time around. But similar majorities might just as well decide to restrict or suppress voting rights under different circumstances, as they did in North Carolina and Arkansas.
To put it another way, the legitimacy of ballot initiatives on who should have the right to vote can be dubious. Consider a historical example. In the 19th century, there were 480 campaigns to put women's suffrage to ballot in various US states. Just 17 of these actually resulted in ballots being held, and in only two cases (Colorado in 1893 and Idaho in 1896) did they result in women obtaining the right to vote.

A haul of fresh pelts and rotting remains marks the end of a five-year probe into an international crime ring. Authorities fear it points to a wider problem in Europe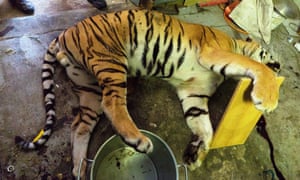 The body of a tiger discovered in a house in Prague, next to a pot used to cook down tiger parts. Photograph: Handout Czech customs authority
T

he first thing that hit the inspectors was the smell. It was a sweltering midsummer day in Prague, and they had just opened an unplugged freezer filled with the rotting remains of tigers, lions and cougars. Pavla Rihova, the lead environmental inspector on the scene, said she had never seen anything like it.
"I have been working for the inspectorate 25 years … but the situation there was really horrible. If you can imagine: an old freezer, without electricity, full of meat and dead bodies, in the garden for two years. Absolutely incredible."
In a shed next to the house they found a freshly killed tiger, shot through the neck so as not to damage its valuable pelt. In the same room was a heavy duty cooking pot on a gas hob, filled with the unidentified meat and bones of animals.
The raid was the culmination of five years of work carried out by the Czech police, customs authorities and environmental inspectorate, who say they have uncovered an organised ring of Czech and Vietnamese criminals illegally killing and processing protected big cats for the traditional Chinese medicine market. Officials across Europe are now beginning to realise that illegal tiger farms are not just a problem in south-east Asia, but are also operating in the middle of the EU.
The trail of evidence began in early 2013, when customs inspectors found a bag of tiger bones in the van of a Vietnamese man who claimed he had received them from a breeding facility in Slovakia. A few months later, the skeletons of two tigers were found concealed within a set of loudspeakers being exported to Hanoi.
As well as tiger remains, authorities were increasingly finding processed products such as tiger wine and broth, which seemed to have originated in the Czech Republic. Concerned about the source of these items, the environmental inspectorate conducted a full inspection of the country's captive tiger population in 2015.
The movement of tigers across international borders is tightly controlled under international rules, while Czech laws go even further: each birth, death or sale of a tiger has to be recorded and the environmental inspectorate notified.
The inspectors soon realised the paperwork was a mess. Tigers were reportedly being exported multiple times, disappearing altogether, or not having their deaths recorded. Most worryingly, the mortality rate of tigers kept in private facilities was shockingly high. In zoos or in the wild, tigers can live to well over 20 years. In the Czech Republic's private breeding facilities they were consistently dying before they reached five.
Police believe the criminals could sell the tiger skins for about €2,000-€4,000 and the claws for €100 each. Photograph: Handout Czech customs authority
The attention of the authorities turned to Ludvík Berousek, a member of a well-known Czech circus family, who runs the country's largest breeding facility for tigers and lions. Officially, he breeds big cats to supply circuses, stage shows and petting zoos. Customs officials, however, believed he was also the likely source for the tiger products they were seizing en route to Vietnam.
It took almost two years, but eventually Czech customs and police unravelled the network. At the top was Le Xuan Vu, a Vietnamese trader who would place the orders for the tigers. Berousek would then deliver them to the house of the taxidermist, a Czech hunting enthusiast called Miloš Hrozínek. Together with Vu, Hrozínek would dismember and cook the tigers in his house and shed.
Through covert surveillance operations, the officers understood that the gang could sell cubes of tiger stock, which in Chinese medicine is widely believed to strengthen bones and alleviate arthritis, for €60 (£52) per gram. The skins were worth from €2,000-€4,000 and the claws were worth €100 each. Though much of this product was clearly destined for Vietnam, authorities believe that a significant amount was also traded within the large Czech-Vietnamese community.
"You can use the small tiger or lion cubs only for half a year, or one year, absolutely no longer. Because it is too dangerous for children," Rihova said. In order to fulfil the growing demand for tiger and lion cubs, it is necessary to breed more and more animals.
When the cubs have outgrown the petting zoos, other businesses such as circuses and stage shows can make use of them for another few years. But once tigers and lions reach full sexual maturity, at four or five years old, they are too big and dangerous for any of these uses. At this point they are worth significantly more dead than alive.
More On The Environment:
World Politics
United States
White House adviser sent hundreds of emails last year, many in violation of federal records rules, the Washington Post reported
Associates of Trump said she was unaware of some records rules when she used her personal email account to send emails about government business. Photograph: Michael Brochstein/Zuma Wire/Rex/Shutterstock
Donald Trump's daughter Ivanka used a personal email account for government business, a spokesman has confirmed, reportedly sending hundreds of emails from the account.
The revelation in the Washington Post on Monday prompted immediate accusations of hypocrisy. Trump branded his 2016 election rival "Crooked Hillary" Clinton over her use of a private email server and encouraged supporters in chants of "Lock her up!"
The Post report said Ivanka, a White House senior adviser, used a personal account to send hundreds of emails last year to White House aides, cabinet officials and her assistants – many in violation of federal records rules.
White House ethics officials learned of her practice when reviewing emails gathered last autumn by five cabinet agencies to respond to a public records lawsuit, according to the report. They found that Ivanka often discussed or relayed official White House business using a private email account with a domain that she shares with her husband, Jared Kushner, during much of last year.
Her excuse is that she was unaware of some details of the records rules, her associates told the Post.
Peter Mirijanian, a spokesman for Ivanka's lawyer and ethics counsel, Abbe Lowell, told the Post: "While transitioning into government, after she was given an official account but until the White House provided her the same guidance they had given others who started before she did, Ms Trump sometimes used her personal account, almost always for logistics and scheduling concerning her family."
He denied that any of the messages contained classified information.
Clinton's use of a private server was a major issue in the 2016 presidential campaign. The then FBI director James Comey's decision to reopen an investigation just a week before the election is still seen by many as critical in her defeat.
Philippe Reines, a Clinton campaign aide, tweeted: "John Kelly [White House chief of staff] must be compelled to explain to Congress why Ivanka & Jared's security clearances were granted on a permanent basis despite their email practices being known at that time to the White House as running afoul of security requirements."
Laurence Tribe, a constitutional law professor at Harvard, added: "You can't make this stuff up. Not after that gang did the 'Lock Her Up!' chant against Hillary for two solid years so Ivanka could become First Daughter. Above the law, just like daddy. Disgusting hardly says it."