21 Nov
News and Analyses, A Foreign Perspective
Nearly all of these are English-edition daily newspapers. These sites have interesting editorials and essays, and many have links to other good news sources. We try to limit this list to those sites which are regularly updated, reliable, with a high percentage of "up" time.
Recommended:

by

Nafeez Mosaddeq Ahmed
Crown Prince Muhammad bin Salman at the U.S. Department of State in Washington, D.C.
The

brutal murder of Jamal Khashoggi, the Saudi journalist and Washington Post columnist, sent shockwaves around the world and highlighted the mendacity of the kingdom he once called home. But who was he really? The liberal press has painted him as a pioneering reformer and uncompromising dissident, killed for cutting too close to the bone in his criticisms of Crown Prince Muhammad bin Salman (MBS). But some US right-wing outlets have described him as an al-Qaida sympathiser and secret Muslim Brotherhood operative, killed because MBS saw him as an extremist threat. The characterisation fits neatly into the Saudi kingdom's own narrative — in a phone call with the White House, the crown prince described him as a dangerous Islamist and Brotherhood member.
The US and UK governments have engaged in obligatory moral denunciations, plus handwringing about what to do. The Saudi war on Yemen continues apace with US and British-backing, and despite some hot rhetoric, no steps have been taken to 'punish' the Saudi regime.
Both sides are wrong. The conservative media has cherry-picked Khashoggi's background to depict him as a militant Islamist, a picture which simply goes too far; but the liberal portrait of him as a reformist democrat is also one-sided, misleading and self-serving. The truth is more complex.
Just over a decade ago, I was in discussion with Khashoggi to explore the prospect of doing a book on Saudi Arabia. I was represented by the literary agency Curtis Brown, and Khashoggi was working for the Saudi government as a media aide based out of the Saudi embassy in London. He wanted to find a journalist who could travel to the kingdom and be granted unprecedented access to officials and documents. At the time, the Saudis were keen to launch a PR offensive after widespread criticism of the kingdom's relationship to Islamist terrorists: the project would give them an opportunity to prove their innocence.
My agent thought it might be a good way to follow on from my previous work (1). I had documented not just evidence that the Saudis had overseen decades-long financing of al-Qaida as a sort of 'protection racket' — keep the money rolling to prevent the terrorists from targeting the Saudi Kingdom at home — but that much of this had gone on under the watchful eyes of the US and British governments. This was a 'special relationship' to keep the oil spigot on.
When my agent had first broached the idea to Khashoggi, the Saudis were supposed to see it as an opportunity to 'tell their side of the story' of events leading up to 9/11, through a journalist willing to listen. While I was open to the idea, I made clear to Khashoggi that my previous work had been highly critical of the kingdom's relationship to terrorism. I understood that their goal was to clear the kingdom's name, but I told him I'd have to follow wherever the evidence led, whether it extolled or incriminated the Saudi kingdom, and would need complete editorial freedom.
The idea was discussed enthusiastically at first, but after some back-and-forth exploration of what the Saudis were hoping to achieve, it quickly became clear that Khashoggi wasn't interested in onboarding a writer who wanted to dig between the lines. Khashoggi lost interest, and the project died.
Prince Turki and 9/11
In the end, Khashoggi's bid to rehabilitate the Kingdom's public image was helped out in other ways. The 9/11 Commission's final report went out of its way to absolve the Saudis of direct culpability in the attacks. 'Saudi Arabia has long been considered the primary source of al-Qaida funding, but we have found no evidence that the Saudi government as an institution or senior Saudi officials individually funded the organisation,' the report said. But there remain strong grounds to doubt the veracity of these findings, and allegations of high-level Saudi complicity in terrorism have not gone away. Even former 9/11 commissioners have spoken on record about how they believed their entire investigation had been compromised by the White House, accusing the US government of wanting to 'cover up' the full story.
Earlier this year, a US lawsuit on behalf of families of the 9/11 victims linking Saudi officials to the 9/11 attacks was cleared to proceed by US District Judge George Daniels in New York. 'The [Saudi] Ministry of Islamic Affairs in the United States and other parts of the world had government officials who conspired with al-Qaeda to support them and to support the 9/11 hijackers,' said Andrew Maloney, a lawyer for the 9/11 victims' families. 'The 9/11 Commission back in 2003 and 2004 either didn't pursue, didn't want to pursue, covered up for the Saudis or just never got around to finishing the investigation. That's where we picked it up, and we've collected a lot more information and evidence since then.'
Meanwhile, Khashoggi, since his assassination in the Saudi consulate in Istanbul, has become, thanks to the international media, the outspoken and brave reformer, targeted by the kingdom for criticisms that were just too much for the regime to tolerate. This is a highly selective narrative. Many journalists who knew Khashoggi have spoken of his aspirations for democracy in the Middle East. Yet for most of his career Khashoggi was not a reformer at all, but an insider embedded at the heart of the Saudi establishment. By framing him purely as a dissident, the press has obscured the real motivations behind his murder.
At the time of my brief discussions with him, Khashoggi happened to work for a man at the heart of some of the issues I had been investigating: he was a media aide to Prince Turki al-Faisal, then Saudi ambassador to London, and later Washington, and previously Saudi intelligence chief for 25 years before he abruptly left the post just prior to the 9/11 attacks.
It was Prince Turki as former head of intelligence who brokered the Saudis' fateful deal with al-Qaida, according to documents and testimony from Taliban insiders cited by Vanity Fair journalists Anthony Summers and Robbyn Swan. In their book Eleventh Day (2012), they report that under al-Faisal's deal, as early as 1995 the Saudi royal family paid 'protection money' to Osama bin Laden on condition that he avoided targeting the kingdom……………..
Could his discovery of evidence for Saudi Arabia's use of chemical weapons in Yemen be the straw that broke the camel's back? And did US and British intelligence do nothing because they worried that Khashoggi posed not just an unprecedented threat to the kingdom, but to their own interests there?
We may never know. But one thing is clear. With Khashoggi's murder, many secrets that both the kingdom and its western allies wanted buried, will stay that way.

Gwen Harrison explains why she has become a law-breaker and Sue Tytler suggests other ways of saving the world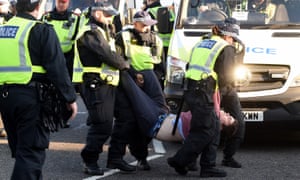 A man is arrested by police on Lambeth Bridge in London on Saturday 17 November – part of a protest organised by the Extinction Rebellion group. Photograph: Facundo Arrizabalaga/EPA
On Monday last week I was arrested for gluing myself to the Department for Business, Energy and Industrial Strategy in London. On Saturday I risked further detention by illegally occupying Lambeth Bridge, along with hundreds of others, as part of Extinction Rebellion's campaign of mass civil disobedience (Report, 19 November). Why?
Scientists warn that the sixth mass extinction is now under way, that the survival of human civilisation itself is threatened, and that we have only a few short years in which to act. The UN also warns that we have just 12 years to avoid catastrophic climate change. The science is clear – we're heading for an existential crisis.
Until last week I was an ordinary, law-abiding citizen. I've tried to drive change through all the normal channels – making lifestyle changes, lobbying politicians, being active in the Green party, and even standing for election. These things are crucial, and I'll continue to do them, but they're no longer enough. I now believe that non-violent direct action and mass civil disobedience are both necessary and urgent. I've become a law-breaker. I'll continue to get arrested and I'll go to prison if I must.
When my beautiful, innocent little niece grows up, enthralled as she is by the natural world, I can't face her, knowing that I sat back passively and allowed its destruction. Along with thousands of others I'm now willing to sacrifice my freedom in an attempt to draw attention to this emergency, and to force our government to act immediately and radically.
Gwen Harrison
Kendal, Cumbria
•

Climate change experts are doing all they can to keep our somnolent world leaders supplied with industrial quantities of strong black coffee. As you report, on its current trajectory, the planet will overshoot the 1.5C target set by the IPCC (Russia, Canada and China threaten to warm world by 5C, 17 November).
The common denominator of mass extinctions is rapid change. It's not the rise in average global temperature that is of concern, or the level of atmospheric carbon dioxide. It's the rate at which these things are changing, in a sliver of time so infinitesimally small, on a geological timescale, it is virtually unquantifiable.
If scientists' worst fears are realised, and the 5C-6C barrier is breached, humanity will kickstart a runaway mass extinction event that could dwarf even the "mother of mass extinctions" about at the end of the Permian, 250m years ago, when virtually all life on Earth was snuffed out.
Have you smelt that coffee yet? Good. Now that I have your full attention, read on. There's still time. Just about. So lobby your MP, sign online petitions calling for climate change action, donate to environmental pressure groups, and take part in protests. Above all, think carefully about which political party will get your vote. We can do this thing, people. We can save the world. What are you waiting for? Why are you still reading this? Let's roll.
Sue Tytler
Thurston, Suffolk
More On The Environment:

Exclusive: ambitious plan to campaign in EU elections would fall foul of laws in nine of 13 targeted states
How Steve Bannon's far-right 'Movement' stalled in Europe – video
Steve Bannon's political operation to help rightwing populists triumph in next year's European parliamentary elections is in disarray after he conceded that his campaign efforts could be illegal in most of the countries in which he planned to intervene.
The former chief strategist to Donald Trump has spent months trying to recruit European parties to his Brussels-based group, the Movement, which he promised would operate as kind of a political consultancy for like-minded parties campaigning in the bloc-wide vote in May 2019.
But the Guardian has established that Bannon would be barred or prevented from doing any meaningful work in nine of the 13 countries in which he is seeking to campaign, according to national electoral bodies and relevant ministries. Confronted with the findings, Bannon acknowledged he was taking legal advice on the matter.
"I'm not totally disagreeing with you," he told the Guardian in Paris. "I think there is more flexibility in some areas. But there's no chance we would ever break the law."
Further disclosures about Bannon's operation to foment a Trump-style populist insurgency in Europe are revealed in a Guardian documentary.
Bannon's intervention in European politics comes amid heightened sensitivity about foreign involvement in elections. Questions have been mounting over the scale of Russia's influence over the 2016 US presidential campaign and the UK's referendum to leave the EU.
However, in an interview with the Guardian, Bannon rejected the comparison between his movement and meddling by foreign states. "It's very different from Russia, or Chinese, or other people trying to have influence, because I'm a private citizen," he said. "I'm not associated with the White House."
A former investment banker with a reported net worth of about $50m (£40m), Bannon is personally bankrolling his European operation. He has pledged to spend millions of dollars to provide nativist and ultra-conservative European parties free access to specialised polling data, analytics, social media advice and help with candidate selection.
But officials working on electoral law and independent experts in multiple countries said this kind of assistance would be considered in-kind donations.
Professional services that have a monetary value and are provided by foreign sources are banned in France, Spain, Poland, Czech Republic, Hungary and Finland. In Germany and Austria, in-kind services must be valued and are included in the limited sums parties may take from foreign donors.
In October, Bannon told the Guardian he had already spent $1m of his money on polling he planned to provide for free to parties in seven European countries. He described it as the most significant and most expensive political polling ever undertaken in Europe, and said it would be used by political consultants with experience in data analytics to help target voters in the European elections.,……………In his final interview before the Observer's disclosure, Bannon, who spent much of October and early November campaigning for pro-Trump Republicans in the US midterms, insisted his intervention in Europe could not be described as foreign "interference". "I think it is very different," he said. "I'm not doing this as a White House guy. I'm not associated with the White House, I'm not associated with the Republican party."

World Politics
United States
John Roberts, a George W Bush nominee, praises independent judiciary, while Cindy McCain condemns Trump for attacking late husband
Erin Durkin in New York (now) and Ben Jacobs in Washington (earlier)

John Roberts with Samuel Alito and Ruth Bader Ginsburg at the Medal of Freedom ceremonyat the White House last week. Photograph: Andrew Harnik/AP
Chief Justice John Roberts is pushing back against President Donald Trump's description of a judge who ruled against Trump's new migrant asylum policy as an "Obama judge."

It's the first time that the leader of the federal judiciary has offered even a hint of criticism of Trump, who has previously blasted federal judges who ruled against him.

Roberts said Wednesday the U.S. doesn't have "Obama judges or Trump judges, Bush judges or Clinton judges." He commented in a statement released by the Supreme Court after a query by The Associated Press.
Roberts said on the day before Thanksgiving that an "independent judiciary is something we should all be thankful for."

Last year, the president used the term a "so-called judge" after the first federal ruling against his travel ban.

Mr Trump also referred to a judge who was presiding over a fraud lawsuit against Trump University as a Mexican who would be unable to rule fairly because of the president's proposal to build a wall along the US-Mexican border.

The president's latest remarks come as the Supreme Court is enmeshed in controversy over his appointment of Justice Brett Kavanaugh.