27 Nov
News and Analyses, A Foreign Perspective
Nearly all of these are English-edition daily newspapers. These sites have interesting editorials and essays, and many have links to other good news sources. We try to limit this list to those sites which are regularly updated, reliable, with a high percentage of "up" time.
Recommended:

The conservative conservation movement's dark history of racism and eugenics
by

Gaby Del Valle
Litter in the Coxcomb mountains
On

his prime-time show in August, Fox News host Tucker Carlson declared that his opposition to immigration partly stems from his deep love for the environment. Instead of banning helium balloons, plastic straws, and other "things that bring ordinary people joy," Carlson suggested, liberals would be better advised to get tough on immigration. "I actually hate litter, which is one of the reasons I'm so against illegal immigration: It produces a huge amount of litter—a huge amount of litter," Carlson said. "And I mean that with total sincerity."
Carlson's comment was mostly lost amid the uproar over the separation and indefinite detention of migrant children and their families at the US-Mexican border. But those who did catch it found themselves a bit confused about his point. "It's unclear whether Carlson was equating migrants themselves with trash or making an assumption about the litter they produce when they enter the country," wrote Salon's Rachel Leah. "The latter seems odd, and the former undoubtedly bigoted and hateful."
Odd as it may seem, though, Carlson was indeed implying that undocumented immigrants pose a serious threat to the country's ecosystems. In doing so, he was continuing—perhaps inadvertently—a century-old tradition of American politicians, philanthropists, and public figures blaming immigrants for the country's environmental woes.
In the latter decades of the 19th century, outspoken nativist environmentalists lobbied for restrictions on hunting and for the creation of national parks, all while warning of the dangers posed by "inferior" people from Southern and Eastern Europe and advocating policies that would prevent them from coming to the United States.
There's a century-old tradition of American politicians, philanthropists, and public figures blaming immigrants for the country's environmental woes.
The marriage of nationalism and environmentalism isn't exclusive to this country. In Latvia, the Union of Greens and Farmers, the liberal-conservative Unity party, and the right-wing populist National Alliance have teamed up to form a center-right coalition. In the United Kingdom, conservatives are trying to win over young voters by banning plastic drinking straws and microbeads. In Mexico, the Ecologist Green Party has become better known for its corruption than for its environmental activism: In 2004, Jorge Emilio González Martínez, the party's current leader and the son of its founder, Jorge González Torres, was caught discussing a $2 million bribe to secure permits for the construction of a new hotel in Cancún, which would have required the destruction of nearby stands of mangrove trees. (González Martínez later claimed that he was actually attempting to expose corruption himself.)
In most cases, these alliances do not originate in a genuine desire to protect the environment; rather, they seek to make right-wing policies more palatable. In the United States, however, the environmentalist and anti-immigration movements originated in tandem and were often led by the same people.
Madison Grant, an Ivy League—educated lawyer whose family dates back to the earliest days of the colonial era, exemplifies how closely these movements have been linked. His father descended from one of the first settlers in 17th-century New England, his mother from the first colonists in New York. Grant was close friends with early conservationists like Theodore Roosevelt, Henry Fairfield Osborn, and George Bird Grinnell, and he used his wealth and connections to champion their cause. He co-founded a half-dozen conservationist groups, including the National Parks Association, the Save the Redwoods League, and the New York Zoological Society, and despite never having held office, he drafted legislation prohibiting the "unsportsmanlike" hunting of game. He was also instrumental in creating a number of national parks, including Denali National Park in Alaska and Everglades National Park in Florida.
At the same time, Grant dabbled in racist pseudoscience: He co-founded the American Eugenics Society, served as president of the Eugenics Research Association and vice president of the Citizens' Committee on Immigration Legislation, and, in 1916, published The Passing of the Great Race, a since-discredited racial history of the West that Adolf Hitler once referred to as his "Bible." In it, Grant argued that the peoples of Europe could be divided into three distinct races: Nordic, Mediterranean, and Alpine. The Alpine race, largely made up of Central Europeans, had an "essentially peasant" character and was not fit to rule; the Mediterraneans had a sluggish attitude and "feeble" build. Only the Nordics, who hailed from Northern Europe, constituted the purest form of the white race.
Yet the Nordics, Grant believed, were an endangered species in the United States, their existence threatened by intermarriage and by the immigration of Slavs, Poles, Russians, Greeks, Italians, and Jews. As he explained in The Passing of the Great Race: "The cross between a white man and an Indian is an Indian; the cross between a white man and a Negro is a Negro. The cross between a white man and a Hindu is a Hindu; the cross between any of the three European races and a Jew is a Jew."………………..These days, Grant's dual concerns—conservation and eugenics—might seem like an unusual mix, especially given a political context in which the party of immigration restriction is also the party of deregulation and climate-change denial. But according to Jonathan Spiro, who published the definitive biography of Grant in 2009, these seemingly antithetical ideals were perfectly consistent at the dawn of the 20th century.
For Grant, Spiro explains, eugenics was a way of ensuring the survival of those who had made the United States a prosperous country, while conservation was a way of preserving the land with which nature—and natural selection—had endowed them. "Grant dedicated his life to saving endangered fauna, flora, and natural resources; and it did not seem at all strange to his peers that he would also try to save his own endangered race," Spiro wrote in his introduction to the provocatively titled Defending the Master Race: Conservation, Eugenics, and the Legacy of Madison Grant. Or as he told me recently: "You and I might disagree with the politics of the immigration-restriction movement 100 years ago, but their love of nature was genuine."
Grant and his allies considered immigrants an "infestation," Spiro continued—outsiders who had no respect for American laws or culture or for the country's natural beauty. They believed that the influx of undesirable immigrants at the turn of the 20th century was the impetus for declining birth rates among native-born Americans, particularly those "old stock" Nordics who could trace their lineage to the colonial era. "One argument was that immigrants are litter and vermin," Spiro said. "The other argument was that we need to protect our natural resources. That's the redwood trees, the American bison, the bald eagle, and the blond-haired, blue-eyed white male. These guys were genuinely trying to protect the best and brightest species, whether it's the redwood tree or the Nordic male."………………….
Today's most prominent nativist groups can be traced directly to John Tanton, an elderly ophthalmologist and former Sierra Club official from Michigan.
Before Tanton became the "mastermind behind the organized anti-immigration movement," as the Southern Poverty Law Center dubbed him in 2002, he was concerned with overpopulation on environmentalist grounds. Tanton chaired the Sierra Club's National Population Committee and served on the board of Zero Population Growth in the 1970s. He started FAIR in 1979 with the intent of persuading liberals and moderates on the need to restrict immigration (though a founding member conceded that "we didn't convince anybody.")
John Hultgren, a professor of environmental politics at Bennington College and the author of the 2015 book Border Walls Gone Green, believes that Tanton, like Grant, is sincere in his environmentalism. "He is somebody [who got] involved in the population-reduction movement…out of a desire to protect nature," Hultgren says.
But Tanton's love of all things natural dovetailed nicely with his other pet project: eugenics. Carly Goodman, a historian of immigration and US foreign relations, notes that Tanton "had particular ideas about the environmental impacts of certain kinds of people." In Skirmish in a Wider War, an oral history of his life and career, Tanton argued "that certain cultural values supported a conservation ethos," Goodman says, and "that environmentalism was a value characteristic of American society that he suggested could be traced to the tenets of 'Western civilization.'" (Tanton also insisted, Goodman adds, that Latin Americans and Southeast Asians "don't have the same sort of conservation ethic we have here.")……………….
Under Trump, this influence has grown exponentially. The Tanton network has drafted versions of controversial policies like the mandatory detention of asylum seekers and the defunding of sanctuary cities. And as Brendan O'Connor reported for Splinter in July, it has helped place allies in key administration posts: Kellyanne Conway previously worked as a pollster for FAIR, the CIS, and NumbersUSA; Stephen Miller has regularly cited work from all three organizations; and US Citizenship and Immigration Services ombudsman Julie Kirchner was FAIR's executive director from 2007 to 2015.
The recent resurgence of nativism has made these groups' invocation of environmental arguments unnecessary; Republicans, it seems, no longer need to disguise their racism as part of a greater concern about the fate of cute pandas and baby elephants. "When Tucker Carlson makes absurd statements about needing to close up the border to prevent desert ecosystems from being trashed, I don't see him persuading a lot of moderates or liberals, or certainly not the left," says John Hultgren, noting that groups like the Sierra Club and Earthjustice have taken a decidedly pro-immigration stance in recent years.
Rather, nativist conservationism could find a more powerful vehicle in the geopolitics of climate change. This approach may prove more seductive to younger generations as the consensus grows over the dangers of global warming, and as fears over climate migration start to shape national immigration policies.
The countries most responsible for global climate change—the United States and the member states of the European Union—will likely feel fewer and less-catastrophic immediate effects than do impoverished countries in the Global South. And many of the people most vulnerable to the damaging effects of climate change hail from the very countries that right-wing nativists have deemed racially and culturally inferior.

Rapid emissions turnaround needed to keep global warming at less than 2C, report suggests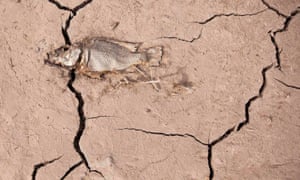 The drought-stricken La Sorrueda reservoir in Gran Canaria, Spain. Rising emissions could trigger extreme weather events around the world, the UN says. Photograph: Reuters
Countries are failing to take the action needed to stave off the worst effects of climate change, a UN report has found, and the commitments made in the 2015 Paris agreement will not be met unless governments introduce additional measures as a matter of urgency.
New taxes on fossil fuels, investment in clean technology and much stronger government policies to bring down emissions are likely to be necessary. Governments must also stop subsidising fossil fuels, directly and indirectly, the UN said.
Gunnar Luderer, one of the authors of the UN report and senior scientist at the Potsdam Institute for Climate Impact Research in Germany, said: "There is still a tremendous gap between words and deeds, between the targets agreed by governments and the measures to achieve these goals.
"Only a rapid turnaround here can help. Emissions must be reduced by a quarter by 2030 [to keep warming to no more than 2C (35.6F) above pre-industrial levels] and for 1.5C emissions would have to be halved."
In all, a tripling of effort may be needed to keep warming to less than 2C, meeting scientific advice on avoiding the most dangerous effects of climate change.
Greenhouse gas emissions continued their long-term rise last year, according to the UN, but they could be brought under control. There are promising signs, such as investment from the private sector in renewable energy and other technologies to cut carbon, but these are currently insufficient to meet scientific advice.
Joyce Msuya, deputy executive director of UN Environment, said: "The science is clear: for all the ambitious climate action we've seen, governments need to move faster and with greater urgency. We're feeding this fire, while the means to extinguish it are within reach."
Global emissions have reached what the UN has called "historic levels" of 53.5 gigatonnes of carbon dioxide equivalent, and are showing no signs of peaking, despite a levelling off in the past decade.
Last month, the Intergovernmental Panel on Climate Change warned of the dire effects of allowing global warming to reach 1.5C above pre-industrial levels. The world has a little over a decade to bring down greenhouse gas emissions before such dangerous levels of warming become inevitable.
Only 57 countries, representing 60% of global greenhouse gas emissions, are on track to cause their emissions to peak before 2030. If emissions are allowed to rise beyond that, the IPCC has said countries are likely to breach the 1.5C limit, which will trigger sea-level rises, droughts, floods and other extreme weather events.
On Monday, the biggest review of climate change in the UK for a decade found that flooding was likely to become more severe and summers could become more than 5C hotter within 50 years.
The UN's warning comes before key talks in Poland next month, when governments will meet to discuss how to implement the commitments made in Paris in 2015. According to the Paris agreement, the first global pact to bind both developed and developing countries to a specific temperature goal, governments must do all they can to stop warming reaching 2C above pre-industrial levels, with an aspiration to limit warming to no more than 1.5C.
Jian Liu, the chief scientist at UN Environment, said some of the necessary policies were clear and available, if there was political will to implement them. "When governments embrace fiscal policy measures to subsidise low-carbon alternatives and tax fossil fuels, they can stimulate the right investments in the energy sector and significantly reduce carbon emissions. If all fossil fuel subsidies were phased out, global carbon emissions could be reduced by up to 10% by 2030."
Carbon pricing is one way of achieving this, but has run into difficulties as taxes are often unpopular and schemes to reduce carbon through emissions trading are often contested by businesses and other interests.
Greenhouse gas emissions stalled soon after the global financial crisis of a decade ago, then quickly resumed their rise, to the consternation of climate experts. For three years before 2017 they fell once again, but last year there was an increase. Emissions are expected to rise further this year, pointing to an emissions gap between what countries promised in Paris and what their policies are delivering.
More On Climate Change:

World Politics
United States
The McGlynn: The absolute ignorance of this jackass never ceases to amaze me. That he has

only gone bankrupt 6 times is beyond my comprehension

.  Ops, almost forgot, he was  funneled hundreds on millions of dollars by daddy to fund his next asinine venture.
Donald Trump rejected the central conclusion of a government climate report finding by his own administration

As 'blue wave' talk dissipates, the racial subtext of the race between Cindy Hyde-Smith and Mike Espy has fallen inwards to the state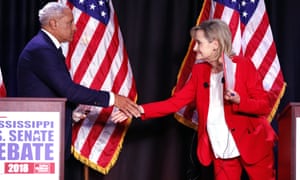 Democrat Mike Espy and Republican Cindy Hyde-Smith shake hands at a debate in Jackson, Mississippi, on 20 November. Photograph: Rogelio V Solis/AP
F

or weeks, a string of awkward remarks and investigative reports had placed race squarely in the center of Tuesday's Mississippi Senate runoff election. There was talk of "public hangings" and Confederate symbology, and what that all meant in an election between a white woman and a black man in the US state that, rightly or wrongly, has long been held in public imagination as the nation's most racist.
Then, on the eve of the contest between the Republican senator Cindy Hyde-Smith and her Democratic challenger, Mike Espy, the racial subtext burst open when trees at the state capital were found adorned with nooses and "hate symbols" on Monday afternoon.
It was an almost cartoonish final stanza to a contest that was once viewed as the possible vanguard of a "blue wave" during the midterms as voters turned out for Democrats nationwide. Instead, with control of the Senate already in Republican hands, the race has collapsed inwards to Mississippi and into a referendum of sorts, on what place traditional "old south" racism has in the Senate in 2018.
"Her victory would say that Mississippi has not changed," said Wesley Bridges, president of the Lawrence County chapter of the National Association for the Advancement of Colored People (NAACP). "It would say that Mississippi is still like the stories that we heard and were taught growing up – that Mississippi is a predominantly racist state."
Hyde-Smith, who was appointed to the Senate in April after the retirement of Thad Cochran, enters the runoff far more politically battered than when she entered the first round of the midterm three weeks ago. First she received waves of criticism after video emerged of her remarking publicly that if invited to a "public hanging" by a constituent she would "be on the front row".
The off-kilter remark rang loud in Mississippi, which holds the dubious distinction of having lynched more black Americans than any other state through the late 19th and early 20th century – usually in a public hanging spectacle. More than a dozen high-profile corporate donors including AT&T and Major League Baseball asked Hyde-Smith to return campaign donations in the wake of the comments, for which she issued a half-hearted apology during a debate with Espy last week.
Then reports began to emerge about Hyde-Smith's apparent affection for the southern Confederacy, which fought the Union in defense of slavery during the US civil war. A picture of Hyde-Smith in Confederate regalia was discovered on Facebook with the caption from Hyde-Smith: "Mississippi history at its best!"
Then a CNN review of Hyde-Smith's legislative work as a state senator found that she "once promoted a measure that praised a Confederate soldier's effort to 'defend his homeland' and pushed a revisionist view of the civil war". Affection for the Confederacy and appropriation of its symbolism, especially its battle flag, is common among white conservatives in the south, despite the fact that many Americans, especially black Americans, find it offensive.
The runoff was triggered when no candidate received more than 50% of the vote during the election day contest earlier this month. Hyde-Smith led that race with 42% of the vote to Espy's 40%. Virtually all the remaining ballots were cast for Chris McDaniel, a conservative Republican whose voters are unlikely to move to Espy in the runoff.
Still, the seat in this reliably Republican state has been seen by many as a possible, if longshot, Democratic pickup after Democrat Doug Jones's surprise victory in a 2017 special Senate election in neighboring Alabama. The two deep south states share similar political, cultural and demographic fundamentals.
Races for statewide office between Democrats and Republicans are not typically very competitive in either state, but in both cases anti-Trump resistance was seen as a force that could skew turnout rates and eke out a victory for the Democratic candidate. Like in Alabama, prognosticators have said that a Democratic victory in Mississippi would require record turnout from black voters, and for Espy to take 20 to 25% of the expected white vote.