28 Nov
News and Analyses, A Foreign Perspective
Nearly all of these are English-edition daily newspapers. These sites have interesting editorials and essays, and many have links to other good news sources. We try to limit this list to those sites which are regularly updated, reliable, with a high percentage of "up" time.
Recommended:

Civil rights advocates said in a letter to US officials that the federal office is using data to 'arrest and deport' families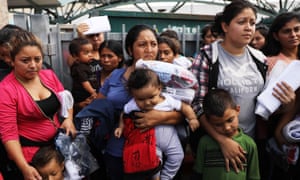 'Children are being turned into bait to gather unprecedented amounts of information from immigrant communities,' Becky Wolozin, a Legal Aid Justice Center lawyer, said in a letter to top officials. Photograph: Spencer Platt/Getty Images
The federal agency tasked with caring for asylum-seeking children separated from their parents at the US-Mexican border has officially taken on a new, little-publicized role in recent months: helping to deport relatives of the young migrants.
More than 40 potential sponsors of detained migrant children in the US may be deported because a government agency that is supposed to help refugees instead uses minors to glean information on their US-based relatives, activists warned on Wednesday.
Civil rights advocates said in a letter to top Department of Health and Human Services (HHS) and Department of Homeland Security (DHS) officials on Wednesday that this data is being employed to "arrest and deport those families", making these relatives "too scared to step forward to sponsor children".
The initiative – described as an information-sharing accord that was "quietly" solidified in April – reflects a novel role for the Office of Refugee Resettlement, which comes under the HHS umbrella. The HHS section is supposed to help unaccompanied migrant children by reuniting them with family until their immigration cases are decided.
"Children are being turned into bait to gather unprecedented amounts of information from immigrant communities," Becky Wolozin, a Legal Aid Justice Center lawyer, said in the letter.
From July to September, at least 41 family or household members of children who have been separated from their parents were detained for deportation due to this information-swapping. An Immigration and Customs Enforcement (Ice) official recently told Congress that more than 80% of potential sponsors lived in the US illegally.
Potential sponsors' fingerprints and other personal information are entered into a DHS system. While this database was initially meant to track criminal records, it was modified in May to assist with immigration verification. Because authorities at local, state and federal levels of the US government have extensive access to this data, would-be sponsors could be put under unprecedented scrutiny.
While federal authorities maintain this initiative is geared toward protecting migrant children from abusers and traffickers, migrant children entering the US unlawfully are spending increasing amounts of time in federal custody.
Bob Carey, who ran the resettlement agency for nearly two years until January 2017, said the average time in custody for unaccompanied children "hovered around 33 days the entire time I was there". Now it's closer to 70 days, HHS says.
Trump administration officials show no signs of budging.
The Associated Press asked the Office of Refugee Resettlement how the new policies square with its mission to place children as quickly as possible with relatives or other sponsors. The office did not respond directly, but in an emailed reply called the longer stays "a symptom of the larger problem, namely a broken immigration system that encourages them to make the hazardous journey".

Young people talk about how it feels to grow up in 2018, from dealing with racism in New York and fighting for LGBT rights in Jakarta to facing exam pressures in the Kenyan Rift Valley and the importance of giving back to society in Delhi

World Politics
United States
New York Times story comes after prosecutors accused Trump's former campaign chair of violating plea deal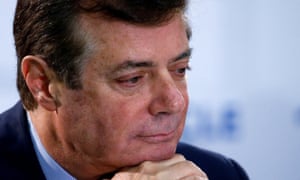 Paul Manafort was found guilty of fraud in August. Photograph: Carlo Allegri/Reuters
Donald Trump's lawyers have reportedly been briefed by an attorney for Paul Manafort about the former Trump campaign chairman's discussions with special counsel Robert Mueller.
The New York Times reported Tuesday night that Kevin Downing, a lawyer for Manafort had given Trump's legal team a précis of questions asked by prosecutors. The report comes a day after prosecutors accused Manafort of breaching his plea agreement with Mueller.
Manafort reached his plea agreement in September on charges brought in Washington DC related to unregistered lobbying on behalf of pro-Russian politicians in Ukraine. A jury in Virginia had previously found Manafort guilty on eight charges of fraud in August.
Manafort had entered into a joint defense agreement with Trump prior to his guilty plea but the Times reported prosecutors were surprised about the continued cooperation between Manafort's lawyers and Trump.
In an interview with the Washington Post on Tuesday, Trump declined to discuss Manafort on the record. "Let me go off the record because I don't want to get in the middle of the whole thing," said Trump. "At some point, I'll talk on the record about it. But I'd rather not."
He did continue his criticism of Mueller Tuesday night, tweeting: "The Mueller Witch Hunt is a total disgrace."
He endured a lot in his long life, yet he kept giving back, attempting to save society from itself with his writing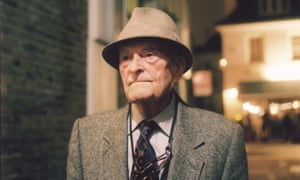 'People marvelled at the progressive and forthright views of this nonagenarian, railing against injustice and the creep of rightwing ideology.' Photograph: Ollie Grove
T

his morning, I woke up to news that the writer and activist Harry Leslie Smith had died aged 95. There were already some lovely tributes to him online, praising his determination to keep fighting against inequality and his desire that younger generations understand the horrors of war.
I struck up a friendship with Harry back in 2013, when I read something he'd written for The New Left project about his time serving in the second world war and was moved to try to find him. The editor of the site kindly gave me his email and I dashed off a quick message asking him if he'd let us run the piece on the Guardian. To my surprise, he replied almost instantly, giving me permission and striking up a conversation. The piece is worth reading again, a passionate plea to the modern world to remember the ideals that those who endured the trauma of war pinned their hopes on upon coming home. "The Green and Pleasant land was for everyone after the war because we had bled for it and died for it. We demanded a truly democratic society where merit was rewarded and no one would be left behind because of poverty, poor health or an inadequate education."
We continued to email across continents – Harry in Canada, me in London. He was funny and kind to me when I was going through a difficult time in my life, and was always up for writing a piece, and filed on deadline – an editor's dream! I think his two most-read pieces were probably his explanation for why he would no longer wear a poppy on Remembrance Day, and his eulogy to the NHS. People marvelled at the progressive and forthright views of this nonagenarian, railing against injustice and the creep of rightwing ideology, all at a time in life when most of his peers were either well into their retirement or dead.
But my favourite piece he wrote for the Guardian was about his son Peter's struggle with schizophrenia. Mental illness is shrouded in stigma, and even now people often shrink from those with a diagnosis like the one his son was unlucky enough to be given, but Harry described tackling it with warmth and understanding and, above all, with love. Having dealt with mental health problems myself, his openness and acceptance moved me to tears as I read his copy. It was another example of his ability to learn and grow at any age, not fossilise and retreat into ourselves, as so many of us do. His son later died, another huge loss in Harry's life. He suffered many tragedies in his long life, starting when his sister Marion died in a workhouse infirmary. He spoke of his grief bluntly, but never lost his optimism about the world, despite what he had experienced – a feat many of us could not manage.
His articles in the Guardian grabbed the attention of a publishing house, and he was commissioned to write a book about his life and his fury that the UK was returning to the inequalities of his childhood. Harry's Last Stand came out in 2014, his first book published when he was a sprightly 92. He was flown over from Canada for the launch, which the publisher held, rather incongrously, at the Garrick club in London – a private members' establishment for the elite. I was invited to dinner there, my first meeting with him after more than a year of communication. When I arrived, I was ushered over to meet him, a small man with oversized glasses and a flat cap on, drinking a shandy (I assume the barman at the Garrick has since recovered from the shock). He hugged me to him, and sat me next to him over dinner, where he held my hand and thanked me for ushering in this new phase of his life. Sometimes writers are a disappointment in real life, but Harry was better. He knew of what he spoke, read everything he could, stayed up to date with the modern world, took no nonsense………………
I left the Guardian a few years ago, but Harry kept on writing. His last piece for the paper was in September 2017, about Britain's housing crisis. His unique skill came in combining tales from his past with warnings about our society's future. He was not nostalgic for the prewar days, but keen to talk of the deprivation, the awful inequality, the lack of a safety net for those most in need of one. Having lived through those times, he was well equipped to speak about what he saw as a return to those days – creeping privatisation, the selling-off of the NHS, the growing space between the ultra rich and everyone else. He urged us to strengthen the social safety nets, to band together in communities, to demand more from our leaders than cuts, austerity and policies led by fear.
His popularity was, in part, because his wisdom came from his long life. We have all lost something in his passing: a link to a time that most of us cannot imagine and have no desire to. For me, personally, I've lost a man who sort of felt like family to me in some way. My grandfathers both died some years back, and Harry felt like an wonderful last-minute gift. An unfailingly kind man, who lived his values and grabbed his chance at a second act with both hands until the very end. We should remember his lessons, and be thankful we had the chance to hear them. I shall miss him very much.