02 Dec
News and Analyses, A Foreign Perspective
Nearly all of these are English-edition daily newspapers. These sites have interesting editorials and essays, and many have links to other good news sources. We try to limit this list to those sites which are regularly updated, reliable, with a high percentage of "up" time.
Recommended:

Investigation has established foundation to charge Israeli prime minister and his wife, Sara, police say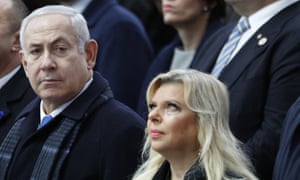 The scandal engulfing Benjamin and Sara Netanyahu implicates the telecom company Bezeq. Photograph: François Mori/AP
Israeli police have recommended indicting Benjamin Netanyahu, the prime minister, on bribery charges related to a corruption case implicating the country's telecom giant, prompting immediate calls for his resignation.
On Sunday police said their investigation had established an evidentiary foundation to charge Netanyahu and his wife, Sara, with accepting bribes, fraud and breach of trust.
The case revolves around suspicions that confidants of Netanyahu promoted regulations worth hundreds of millions of dollars to the Bezeq telecom company in exchange for positive coverage of the prime minister on Bezeq's subsidiary news website, Walla.
Police have already recommended indicting Netanyahu on corruption charges in two other cases. One involves accepting gifts from billionaire friends, and the second revolves around alleged offers of advantageous legislation for a newspaper in return for positive coverage.
The prime minister has denied any wrongdoing, dismissing the accusations as a witch-hunt orchestrated by the media.
"The police recommendations regarding me and my wife don't surprise anyone," Netanyahu said in a statement. "These recommendations were decided upon and leaked even before the investigation began."
The Bezeq case, known as Case 4,000, is the most serious of all those of which Netanyahu has been accused. Two of his top confidants have turned state witnesses and are believed to have provided police with incriminating evidence. Netanyahu held the government's communications portfolio until last year and oversaw regulation in the field. Former journalists at the Walla news site have attested to being pressed to refrain from negative reporting of Netanyahu.
Police say the investigation, which included the testimony of 60 witnesses, revealed that Netanyahu and Bezeq boss Shaul Elovitch engaged in a "bribe-based relationship".
From 2012 to 2017 the Israeli prime minister and his associates "blatantly intervened" on a near-daily basis in the Walla news site, using the connections with Elovitch to influence appointments there and to promote flattering articles and pictures while quelling critical stories of the prime minister and his family, police said.
Police are also recommending charges be brought against Elovitch and members of his family.
"The most serious bribery case yet leaves no room for doubt: a prime minister who is accused of the most serious offence for a public servant in the Israeli rulebook cannot keep serving one minute longer," said Tamar Zandberg, head of the dovish opposition Meretz party.
"The prime minister has no moral mandate to keep his seat and must resign today. Israel must go to elections."
Netanyahu's colleagues in the ruling Likud party have lined up behind their leader, attacking outgoing police commissioner Roni Alsheikh for releasing the recommendation on his last day on the job. The appointment of Alsheikh's potential successor is being held up after a government-appointed committee rejected his candidacy.
The latest development further threatens the wobbly government, already weakened by the recent departure of defense minister Avigdor Lieberman and his party. Netanyahu's coalition currently enjoys only the slimmest of parliamentary majorities. Elections are scheduled for November 2019.
Police are also recommending that charges be brought against Netanyahu's wife, Sara, who has been at the center of much of the corruption allegations surrounding the longtime Israeli leader. Reports have surfaced of Sara Netanyahu relaying requests to Bezeq officials.
She has already been charged with fraud and breach of trust for allegedly overspending roughly $100,000 (£78,000) on private meals at the prime minister's official residence, even as there was a full-time chef on staff.
Sara Netanyahu has long faced allegations of extravagant living and abusive behaviour. In 2016, a court ruled she abused an employee and awarded the man $42,000 (£32,000) in damages. Other former employees have accused her of mistreatment, charges the Netanyahus have vehemently denied.

World Politics
France
Shops and cars set alight after peaceful gilets jaunes protest turns violent
Police and protesters clash in Paris – video
The French president, Emmanuel Macron, has instructed his prime minister to hold talks with protest groups after anti-government demonstrations led to the worst violence in central Paris in a decade, with more than 100 people injured as cars and buildings were set alight.
Macron is facing his biggest crisis since taking office 18 months ago after the violence erupted on Saturday following weeks of street protests that began against fuel taxes and have turned into an anti-government movement.
The Élysée and key ministers appeared to rule out imposing any kind of state of emergency after thousands of masked protesters from the gilets jaunes – named for their fluorescent yellow jackets – fought running battles with riot police, torched cars, set fire to banks and houses and burned makeshift barricades.
Macron, who had said he would "never accept violence", instructed the prime minister, Édouard Philippe, to meet what he has called legitimate protest groups and opposition politicians this week in an effort to calm tensions and stop "professional" rioters from infiltrating street demonstrations.
The Paris prosecutor Remy Heitz said 378 people were in custody, including 33 under the age of 18. He said many of those arrested in battles with police were men aged between 30 and 40, often from regions far from Paris, who had "come to fight police while claiming to be part of the gilets jaunes movement".
The interior minister, Christophe Castaner, and his head of staff will be questioned by a senate committee on Tuesday over how thousands of protesters were able to play cat and mouse with police through central Paris for hours.
Macron flew back from the G20 summit in Argentina on Sunday and went straight to inspect damage at the Arc de Triomphe. Graffiti all over the base of the 19-century monument read: "We've chopped off heads for less than this" and: "Topple the Bourgeoisie." Scores of used teargas canisters filled the gutters.
Near the Champs Élysées there were splashes of paint on buildings after protesters had paint-bombed police. Used bottles of eye-drops on the ground indicated that some protesters – many of whom wore ski-masks and breathing equipment – stood their ground despite the teargas fired from rows of police behind shields.
Along the Avenue Kléber near the Arc de Triomphe on Sunday morning, passersby peered at scorched pavements where the burnt-out carcasses of cars had been towed away, and where a private residence had been set alight. Graffiti read: "Babylon is burning."
The far-right leader Marine Le Pen and Jean-Luc Mélenchon, head of the leftwing party La France Insoumise, both called on Macron to dissolve parliament and hold elections.
The violence started on Saturday in broad daylight on the edges of a peaceful demonstration by the gilets jaunes movement, which began two weeks ago in protest at rising fuel prices and a new green fuel tax.
After three successive Saturday citizens' marches in Paris organised on social media, the security forces seemed at a loss to stop the rioting, with groups of masked men spilling into nearby streets, ripping up benches and traffic lights and hurling bits of paving stones from roadworks.
Related:
An Élysée spokesman said Macron wanted policing procedures to be reviewed in terms of "maintaining order in the days to come". No date was set for the prime minister to meet representatives from the gilets jaunes movement to revive talks that last week amounted to nothing.
Demonstrators continued to stage small roadblocks in towns around France on Sunday. Other cities saw violent clashes between protesters and police on Saturday, notably Toulouse where 48 police officers were injured. In the town of Puy-en-Velay on Saturday, the prefect's office briefly caught fire after it was petrol-bombed.
Over the weekend more than 130,000 people demonstrated across France in the gilets jaunes movement, and there were more than 580 roadblocks around the country.

United States
Progressives should hope the centrist billionaire runs: he would showcase exactly what Democrats shouldn't do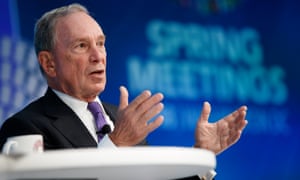 'Bloomberg seems to be a man of yesterday.' Photograph: Shawn Thew/EPA
T

he former New York mayor Michael Bloomberg is seriously considering running for president as a Democrat – a prospect that has horrified many progressives. At a time when the Democratic party appears to be moving swiftly to the left, the candidacy of a white, centrist Wall Street billionaire feels like a big step backwards.
But a Bloomberg run should ultimately benefit the left more than hurt it. Between his stale politics, his stiffness as a campaigner, and his identity as a restrained elite in an era of raucous populism, Bloomberg's bid to secure the Democratic nomination seems destined to fail spectacularly. More importantly, the pushback he'd experience on the campaign trail would help the left form clearer standards for more viable candidates – and indict the Democratic establishment that helped get us into the mess we're in today.
The Democratic party – and progressive politics more broadly – have changed a great deal since he left politics
As one of the richest men in America, Bloomberg has a colossal war chest, an ego to match it, and substantial name recognition. But he's also woefully out of touch with the political moment: the Democratic party – and progressive politics more broadly – have changed a great deal since he left politics five years ago.
Bloomberg is bound to face a big #MeToo reckoning on the campaign trail. Dozens of women have accused Bloomberg's company of creating a hostile work environment for female employees. One lawsuit from the 90s claimed that Bloomberg responded to a female employee reporting that she was pregnant by declaring, "Kill it!" (Bloomberg has denied this.) More recently, Bloomberg has expressed doubt about the veracity of #MeToo accusations, saying that he doesn't "know how true" all of them are.
Bloomberg's past treatment of women is just one of many new vulnerabilities he has with a Democratic base that has raised the bar for treatment of marginalized communities. He would also take heat for his administration's use of stop-and-frisk police tactics, which involved stopping people on the street to search them for guns, a policy that resulted in systematic racial profiling of black and Latino New Yorkers. Recently he defended the practice as necessary for bringing down crime, even though New York's crime rate has fallen since the practice was ended and the Black Lives Matter movement has stigmatized such practices among progressives.
And on the economy, too, Bloomberg seems to be a man of yesterday. At the 2016 Democratic national convention, he chided Democrats for inattention to deficit reduction and a tendency to "wrongly blame the private sector for our problems". He also continues to defend Wall Street from stringent regulation. But polling data shows that among Democrats there's huge appetite for government interventions in the economy in the form of Medicare-for-all and a federal jobs guarantee; in fact, a recent Gallup poll found that Democrats are now more fond of the idea of socialism than capitalism. It seems doubtful the base will be inspired by a banker-friendly billionaire who thinks that the key to success is taking fewer bathroom breaks instead of building a fairer economy.
Should Bloomberg undertake a sustained campaign for the Democratic nomination, he will in all likelihood became a lightning rod for the progressive wing of the party. Just the way that in 2016 Black Lives Matter relentlessly – and successfully – pushed Democratic candidates to adopt radically more progressive criminal and racial justice platforms, this time around, activists and advocates will probably target Bloomberg on his past treatment of women, his criminal justice policies, and his ties to Wall Street. Whether or not Bloomberg repents, the left will have crystallized new benchmarks for winning over the base.
This ultimately should help deal a serious blow to the old guard of the Democratic party. That may sound counterintuitive: Bloomberg has previously registered as a Democrat, a Republican, and an independent, and he's supported politicians from both parties. But in reality, he almost perfectly typifies the Democratic worldview that became dominant in the 1990s, when the party's leaders believed that they could only win power by operating as centrists and presenting themselves as independent-minded technocrats. That paradigm prevailed among the party establishment until 2016, when Hillary Clinton lost to Donald Trump and Bernie Sanders became the most popular politician in America, tearing a hole in the party's conventional wisdom about what the base wants.
Bloomberg's policy record and his pride in masking overt expressions of ideology represents that old worldview – as Al Sharpton recently said, a Bloomberg run would be "a billionaire version of Bill Clinton". Indeed, the parallels between the two are striking: a history of treating women inappropriately, a dangerous deference to banks, and a disturbing record on fighting crime. All signs suggest that the Democratic base knows that it's time to say goodbye to all that.