03 Dec
News and Analyses, A Foreign Perspective
Nearly all of these are English-edition daily newspapers. These sites have interesting editorials and essays, and many have links to other good news sources. We try to limit this list to those sites which are regularly updated, reliable, with a high percentage of "up" time.
Recommended:

French Prime Minister Édouard Philippe cancelled his appearance at the COP24 climate change summit in Katowice, Poland, on Monday, instead meeting with French political leaders to formulate a response to the violent 'yellow vest' protests.
Philippe will announce new "measures" this week to defuse the crisis, which sparked the worst clashes in the capital since the uprising of May 1968.
The prime minister will also meet with spokespeople from the yellow vest movement on Tuesday afternoon.
President Emmanuel Macron held emergency talks with the prime minister, interior minister and top security service officials at the presidential palace in Paris after flying in from the G20 summit in Argentina on Sunday.
There will be a debate on the political situation at the National Assembly on Wednesday, followed by a debate in the Senate on Thursday. A planned visit by Jean-Claude Juncker, the president of the European Commission, to the National Assembly this week has been cancelled as a result.
Protests spread on Monday to around a hundred high schools across the country. Teenagers demonstrated in front of their blockaded schools, setting rubbish bins on fire and shouting for Macron to resign. The renewed protests come after wide-scale student demonstrations in 2018 against proposed educational reforms, including a new university application system.
Finance minister Bruno Le Maire said on Monday that the government would be attempting to speed up tax cuts as well as decreases in public spending in order to respond as quickly as possible to the riots.
Paris police said 412 people were arrested on Saturday, with 378 remaining in custody.
A total of 263 people were injured nationwide, with 133 injured in the capital, including 23 members of the security forces who battled rioters for most of the day in famous parts of the city.
"I will never accept violence," Macron told a news conference in Buenos Aires before flying home.
"No cause justifies that authorities are attacked, that businesses are plundered, that passers-by or journalists are threatened or that the Arc du Triomphe is defiled," he said.
Yellow Vests will win'
Overnight a motorist died after crashing a van into traffic that had built up due to a "Yellow Vest" demonstration in Arles, southern France, a local prosecutor said Sunday. Three people have now died in incidents linked to the protests.
The so-called "Yellow Vest" anti-government protests that have swept France over the last fortnight were sparked initially by a rise in taxes on diesel.
In a separate incident, arsonists torched a motorway toll booth in southern France near the city of Narbonne, a judicial source told AFP Sunday. Five people were taken into custody, a prosecutor said.
The main north-south motorway in eastern France, the A6, was also blocked by protesters near the city of Lyon on Sunday morning, its operator said.
The capital was calm, however, but as groups of workers moved around cleaning up the mess from the previous day, the scale of the destruction became clear.
Around famous areas including the Champs-Élysées, the Louvre museum, the Opera and Place Ven

dôme

, smashed shop windows, broken glass and the occasional burned-out car were testament to the violence.
Dozens of cars were torched by the gangs of rioters, some of whom wore gas masks and ski goggles to lessen the effects of tear gas, which was fired continually by police.
One person was in a critical condition after protesters pulled down one of the huge iron gates of the Tuileries garden by the Louvre, crushing several people.
Nearly 190 fires were put out and six buildings were set alight, the interior ministry said.
At the Arc de Triomphe graffiti had been daubed, with one slogan saying: "The Yellow Vests will win."
State of emergency?
Some 136,000 demonstrators, most of them peaceful, were counted across the country on Saturday, the interior ministry said Sunday in updated figures.
The number was well below the first day of protests on November 17, which attracted around 282,000 people, and also down on the revised figure of 166,000 who turned out last Saturday.
Interior minister Castaner attributed the violence to "specialists in sowing conflict, specialists in destruction".
Referring to the possibility of imposing a state of emergency – a demand made by the police union Alliance – Castaner declared: "Nothing is taboo for me. I am prepared to examine everything."
'We won't change course'
Over the last few weeks, the "Yellow Vest" movement has morphed into a broad opposition front to Macron, a 40-year-old pro-business centrist elected in May 2017.
Violent anarchist and far-right groups have infiltrated it and are thought to be behind Saturday's clashes.
Violent anarchist and far-right groups have infiltrated it and are thought to be behind Saturday's clashes.
Macron faces a dilemma in how to respond to the "Yellow Vests", not least because they are a grassroots movement with no formal leaders and a wide range of demands.
Some representatives have also insisted on public talks broadcast on TV.
"We have said that we won't change course. Because the course is good," government spokesman Benjamin Griveaux told BFM television defiantly on Sunday morning.
"It's been 30 years that people change course every 18 months," he added, referring to Macron's presidential predecessors who have often caved in to pressure from French street protests.
Macron has so far refused to roll back taxes on fuel, which he says are needed to fund the country's transition to a low-emission economy.
And he remains a fervent defender of the tax cuts he has delivered for businesses and the wealthy, which he believes were necessary to lower the country's chronic high unemployment.
Opposition politicians condemned the violence but also criticised the government's response.
"The government is not entitled to a third black Saturday," said Senate President Gérard Larcher, amid warnings that protests could resume in Paris next weekend.
Far-right and far-left leaders Marine Le Pen and Jean-Luc Melenchon called Sunday for new parliamentary elections.
Despite the violence, opinion polls suggest the protests still attract the support of two in three French people.

Naturalist tells leaders at UN climate summit that fate of world is in their hands
'Continuation of civilisation is in your hands,' Attenborough tells world leaders – video
The collapse of civilisation and the natural world is on the horizon, Sir David Attenborough has told the UN climate change summit in Poland.
The naturalist was chosen to represent the world's people in addressing delegates of almost 200 nations who are in Katowice to negotiate how to turn pledges made in the 2015 Paris climate deal into reality.
As part of the UN's people's seat initiative, messages were gathered from all over the world to inform Attenborough's address on Monday. "Right now we are facing a manmade disaster of global scale, our greatest threat in thousands of years: climate change," he said. "If we don't take action, the collapse of our civilisations and the extinction of much of the natural world is on the horizon."
"Do you not see what is going on around you?" asks one young man in a video message played as part of a montage to the delegates. "We are already seeing increased impacts of climate change in China," says a young woman. Another woman, standing outside a building burned down by a wildfire, says: "This used to be my home."
Attenborough said: "The world's people have spoken. Time is running out. They want you, the decision-makers, to act now. Leaders of the world, you must lead. The continuation of civilisations and the natural world upon which we depend is in your hands."
Attenborough urged everyone to use the UN's new ActNow chatbot, designed to give people the power and knowledge to take personal action against climate change.
The COP24 summit was also addressed by António Guterres, the UN secretary general. "Climate change is running faster than we are and we must catch up sooner rather than later before it is too late," he said. "For many, people, regions and even countries this is already a matter of life or death."
Guterres said the two-week summit was the most important since Paris and that it must deliver firm funding commitments. "We have a collective responsibility to invest in averting global climate chaos," he said.
He highlighted the opportunities of the green economy: "Climate action offers a compelling path to transform our world for the better. Governments and investors need to bet on the green economy, not the grey."
Andrzej Duda, the president of Poland, spoke at the opening ceremony, saying the use of "efficient" coal technology was not contradictory to taking climate action. Poland generates 80% of its electricity from coal but has cut its carbon emissions by 30% since 1988 through better energy efficiency.
Friends of the Earth International said the sponsorship of the summit by a Polish coal company "raises the middle finger to the climate".
A major goal for the Polish government at the summit is to promote a "just transition" for workers in fossil fuel industries into other jobs. "Safeguarding and creating sustainable employment and decent work are crucial to ensure public support for long-term emission reductions," says a declaration that may be adopted at the summit and is supported by the EU.
In the run-up to the summit, Donald Trump expressed denial about climate change, while there were attacks on the UN process from Brazil's incoming administration under Jair Bolsonaro.
Ricardo Navarro, of Friends of the Earth in El Salvador, said: "We must build an alternative future based on a just energy transformation. We face the threat of rightwing populist and climate-denying leaders further undermining climate protection and racing to exploit fossil fuels. We must resist."
Another goal of the summit is for nations to increase their pledges to cut carbon emissions; currently they are on target for a disastrous 3C of warming. The prime minister of Fiji, Frank Bainimarama, who led the 2017 UN climate summit, said his country had raised its ambitions. He told the summit: "If we can do it, you can do it."
Related:

World Politics
France
About 100 schools under blockade while prime minister meets opposition leaders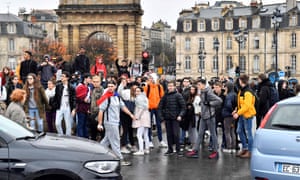 High school students block a road during a demonstration against education reforms in Bordeaux. Photograph: Nicolas Tucat/AFP/Getty Images
The French prime minister, Edouard Philippe, has met opposition party leaders as nationwide protests continue to spread across France, with students blockading about 100 schools.
After thousands of masked protesters fought running battles with police and burned cars, buildings and barricades in the most affluent areas of Paris on Saturday, the gilets jaunes – or yellow vests – citizens' protest movement continued on Monday with peaceful anti-government demonstrations at barricades on roads and at fuel depots across France.
High-school students – who have been protesting against changes to colleges and the university system – also seized on the mood of protest and stepped up their blockades.
About 100 high schools were fully or partially blockaded around the country, including in the southern city of Toulouse and in Créteil in the Paris area.
Seven teenagers were arrested after riot police were called to the Jean-Pierre Timbaud high school in Aubervilliers in the northern Paris suburbs where a car was overturned and bins were set alight.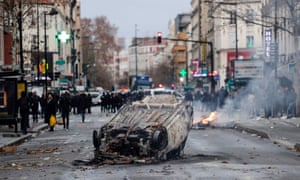 A car burns outside the Jean-Pierre Timbaud high school in Aubervilliers. Photograph: Thomas Samson/AFP/Getty Images
French authorities traditionally fear high school students joining protests because their demonstrations often spread fast. An official at the education authority in Créteil said: "Pretexts are clearly being used to commit urban violence."
An 80-year-old woman died in Marseille on Monday after she was hit by a police teargas grenade on Saturday. She was inside her apartment and had opened her windows to close her shutters when she was hit by the grenade as police confronted protesters. She died in hospital after surgery.
Meanwhile, 11 fuel depots across France were shut down after being blockaded by protesters. More than 70 petrol stations had run out of fuel and restrictions were in place in Brittany on how much fuel motorists could purchase.
An opinion poll for Harris Interactive taken after Saturday's violence in Paris found 72% of French people still supported the protest movement that began last month in response to a rise in environmental taxes on fuel and has morphed into opposition to the government of the centrist president, Emmanuel Macron, amid a sense that the tax system is unfair and favours the rich.
The prime minister is expected to meet protesters' representatives on Tuesday, but the grassroots movement, which emerged on social media, has no leadership nor a defined structure. One Paris representative said he had received death threats warning him not to meet the government.
Jacline Mouraud, one of the protest movement's prime instigators, said scrapping the fuel tax was a "prerequisite for any discussion" with the government.
Macron's challenge in calming the widespread anger against the government is complicated by his own desire not to yield to street protests, which repeatedly forced his predecessors into U-turns.
"Thinking that, as we have always done for 30 years, that you make a little symbolic gesture and then we sweep the dust under the carpet, that doesn't resolve the fundamental, structural problem," the government spokesman Benjamin Griveaux said, implying the government would not make major concessions.
Most opposition politicians urged the government to abandon a planned tax on fuel that was to begin in January; the only exception was the Green party, which said instead that tax must be fairer.
Laurent Wauquiez, the hardline leader of the rightwing Les Républicains party, said Macron should call a referendum on carbon tax "to let the people's voice be heard", but did not specify exactly what form a referendum would take.
The economy minister, Bruno Le Maire, said the solution for tackling the low purchasing power of struggling families lay in reducing the tax burden in France, which is among the highest in Europe.
"We must speed up the reduction of taxes," he said. "But for that we must speed up the decrease in public spending."
Saturday's violence in Paris has alarmed the French business community, which claims it has already lost billions of euros, as representatives met the economy minister.
Hotel unions said bookings were down 15%. Retailers in Paris and other cities in which there were violent protests on Saturday, such as Toulouse, said they had suffered major losses in the crucial run-up to Christmas.

United States
What a catalogue of rogues – and what a tantalizing pile of clues. Surely we will soon know where all this leads
The McGlynn:
A few thoughts:
We already knows where this leads. Trump was and is heavily comprised by his Russian ties. He wanted to a build a massive tower hotel in Moscow and has probably been money laundering for years. He was also going to give Putin a massive gift at the top of his Moscow phallic symbol.
No-one, absolutely no-one, benefits from contact with Donald Trump. Even those who think they are using him are sucked into his maelstrom and destroyed. His emptiness exerts a colossal, mindless gravity, and it takes an even bigger, colder object (for example, a Putin) to resist it. That bigger thing pulls Trump towards it and we are all caught in their wake.
I think that Mr Mueller will come through and the result will be to send this evil to Russia, where he belongs.
The McGlynn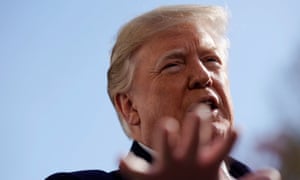 Donald Trump outside the White House. Last week came the astounding revelation that Paul Manafort was acting as a double agent inside Robert Mueller's office. Photograph: Jonathan Ernst/Reuters
The rogues' gallery exposed in Robert Mueller's court filings last week make the Watergate burglars look positively classy.
Even veteran lawyers who were involved in the investigations of Richard Nixon say they've never seen this level of chicanery. Most importantly, last week's events showed that Special Counsel Mueller is getting closer to exposing the scope and depth of it all. His most recent filings make clear that considerable evidence touches the president himself.
The disclosures from Michael Cohen, the former Trump fixer who is now a cooperating witness, drew the connection tighter. In his guilty plea to an additional charge of lying to Congress, Cohen revealed, and Trump confirmed, that the Trump Organization was pursuing a luxury skyscraper deal in Moscow while Donald Trump, identified as "Individual 1" in the latest court filings, was sewing up the Republican party presidential nomination.
As a candidate, Trump repeatedly reassured voters that he had no business dealings in Russia. But as he uttered those lies, he knew Cohen was planning to sell Russian kleptocrats $250m units in a future Trump Tower Moscow by luring Putin into the project with a free $50m spread. This was all unfolding as emails from Democratic officials, hacked by the Russians, disrupted the Democratic convention and the Republican party was making its party platform much kinder to Russia.
Trump tried to dismiss this Moscow real estate bombshell, saying it was fine for him to pursue his business affairs while running for president, because if he lost, he expected to return to the throne of the Trump Organization. Could this help Mueller close the circle of collusion between Trump and Russia?
Cohen had previously connected President Trump to payoffs made to Stormy Daniels and Karen McDougal, which may violate election law. But the additional guilty plea last week goes to the heart of Mueller's investigation into Russian meddling and possible links to Donald Trump.
Also last week came the astounding revelation that Paul Manafort was acting as a double agent inside Mueller's office. After Manafort was convicted on multiple counts of bank and tax fraud related to the millions he was paid by Ukrainian clients, he cut a deal with Mueller before his second trial, agreeing to plead guilty and to cooperate with the special counsel. Instead of cooperating, turncoat Manafort was spying and tipping off the president's lawyers about the prosecution's areas of interest.
Clownish though some of them seem, these men may hold some keys to Mueller's investigation
Manafort's deal then went where it belonged, in the trash. Big jail time should be in store for him, but it is more than likely that he will receive a presidential pardon for being such a standup guy. "I wouldn't take it off the table," President Trump said in an Oval Office interview with the New York Post. "Why would I take it off the table?" Mafia dons often dangle protection to silence snitches. But this isn't the mafia, it's the White House.
It's hard to imagine anything lower than what Manafort did. But also trotting on stage last week were the conspiracy-loving tag team of Roger Stone and Jerome Corsi. In a draft court filing related to a collapsed plea deal with Corsi, 72, Mueller also revealed that in email exchanges, Stone told Corsi to get hold of hacked emails from WikiLeaks and that the pair discussed optimum times to release them in order to damage Clinton's candidacy. Stone and Corsi have ties to Alex Jones's ultra-right conspiracy site, Infowars, and Corsi was the man behind the false birther campaign against Barack Obama and Swift Boat Veterans for Truth, a rightwing group that tried to besmirch John Kerry's military record in his 2004 bid to become president. Stone is a trickster from way back (he even has a Nixon tattoo on his back). Stone and Corsi have both denied contacts with WikiLeaks.
Clownish though some of them seem, these men may hold some keys to Mueller's investigation. And we have yet to hear from Michael Flynn, the Trump foreign policy adviser and short-lived national security adviser, who has also pleaded guilty in the Mueller investigation and whose role in this muck is soon to be revealed in court. Though last week's documents did not deal with the suspect meeting in Trump Tower during the campaign with a Russian lawyer claiming to have dirt on Clinton. Manafort, Jared Kushner, and Donald Trump Jr, were there and the meeting remains a subject of interest to Mueller.
What a tantalizing pile of clues. Surely, we will soon know where they lead.
During the Nixon years, a famous journalist, Jimmy Breslin, wrote two books. One was a novel about the mafia called The Gang That Couldn't Shoot Straight, that I thought about as I watched Manafort et al trot across the television screen last week. He also wrote a book after Nixon resigned about the politicians who helped restore honesty and dignity to Washington. It was called How the Good Guys Finally Won. That one deserves a sequel.