05 Dec
News and Analyses, A Foreign Perspective
Nearly all of these are English-edition daily newspapers. These sites have interesting editorials and essays, and many have links to other good news sources. We try to limit this list to those sites which are regularly updated, reliable, with a high percentage of "up" time.
Recommended:

Rapid cuts needed to protect billions of people from rising emissions due to increase in use of cars and coal
Meanwhile which country has invested the most in solar panel manufacture? China. Which country has plans to reforest a million acres of land? China.
I am damn critical of China in many areas- its grab of the south china sea, its shark fining, ivory consumption, how it treats Tibet and others. But with regard to its environmental impact, it is at least trying.
Complacency Reigns.
The McGlynn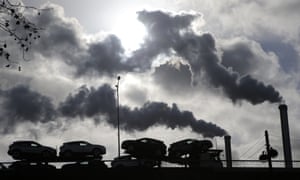 Almost all countries are contributing to the rise in emissions, with China up 4.7%, the US by 2.5% and India by 6.3% in 2018. Photograph: Michel Euler/AP
Global carbon emissions will jump to a record high in 2018, according to a report, dashing hopes a plateau of recent years would be maintained. It means emissions are heading in the opposite direction to the deep cuts urgently needed, say scientists, to fight climate change.
The rise is due to the growing number of cars on the roads and a renaissance of coal use and means the world remains on the track to catastrophic global warming. However, the report's authors said the emissions trend can still be turned around by 2020, if cuts are made in transport, industry and farming emissions.
The research by the Global Carbon Project was launched at the UN climate summit in Katowice, Poland, where almost 200 nations are working to turn the vision of tackling climate change agreed in Paris in 2015 into action. The report estimates CO2 emissions will rise by 2.7% in 2018, sharply up on the plateau from 2014-16 and 1.6% rise in 2017.
Almost all countries are contributing to the rise, with emissions in China up 4.7%, in the US by 2.5% and in India by 6.3% in 2018. The EU's emissions are near flat, but this follows a decade of strong falls.
"The global rise in carbon emissions is worrying, because to deal with climate change they have to turn around and go to zero eventually," said Prof Corinne Le Quéré, at the University of East Anglia,who led the research published in the journal Nature. "We are not seeing action in the way we really need to. This needs to change quickly."
The current Paris agreement pledges from nations will only limit global warming to 3C, while even a rise of 1.5C will be disastrous for many people, according to the world's scientists.
Le Quéré said: "I hope that by 2020, when [governments] have to come back with stronger commitments, we will then see a turning point."
The International Energy Agency's data also shows rising emissions in 2018. Its executive director, Fatih Birol, said: "This turnaround should be another warning to governments as they meet in Katowice this week."
Harjeet Singh, at ActionAid International, said news of the emissions' rise should galvanise those at the climate summit: "There's way too much complacency in the air at these talks."
The "dark news" of rising emissions is merging with two other alarming trends, according to Prof David Victor, at the University of California, San Diego, in an article with colleagues also published in Nature on Wednesday.
Falling air pollution is enabling more of the sun's warmth to reach the Earth's surface, as aerosol pollutants reflect sunlight, while a long-term natural climate cycle in the Pacific is entering a warm phase. Victor said: "Global warming is accelerating. [These] three trends will combine over the next 20 years to make climate change faster and more furious than anticipated."
The Global Carbon Budget, produced by 76 scientists from 57 research institutions in 15 countries, found the major drivers of the 2018 increase were more coal-burning in China and India as their economies grew, and more oil used in more transport. Industry also used more gas. Renewable energy grew rapidly, but not enough to offset the increased use of fossil fuel.
"There was hope China was rapidly moving away from coal power, but the last two years have shown it will not be so easy to say farewell quickly," said Jan Ivar Korsbakken, at the Centre for International Climate Research in Norway.
"Every year of rising emissions puts economies and the homes, lives and livelihoods of billions of people at risk," said Christiana Figueres, at the Mission 2020 campaign, who was the UN climate diplomat overseeing the Paris agreement. "We are in the age of exponentials," she said, with renewable energy and electric cars expanding rapidly, but with the extreme weather impacts of climate change doing the same. "We have to ensure it is the solutions exponential curve that is going to win the race."
Prof David Reay, at the University of Edinburgh, UK, said: "This annual balance sheet for global carbon is comprehensive and scientifically robust. Its message is more brutal than ever: we are deep in the red and heading still deeper. For all our sakes, world leaders must now do what is required."
Related:
World Politics
United States
Weeks after the midterms, several states face continued wrangling as GOP accused of undermining voters' will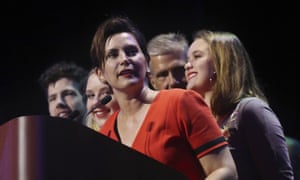 The Democrat Gretchen Whitmer won Michigan's governor's race. Republicans are seeking to reduce the position's power. Photograph: Carlos Osorio/AP
A month after the midterm elections on 6 November, several states continue to be convulsed by bitter partisan fighting in which Republicans are being accused of flagrantly undemocratic attempts to steal victory from the clutches of their Democratic rivals.
The most intense battle is playing out in Wisconsin, where Republican lawmakers are attempting a power grab that would strip key functions from the state's incoming Democratic governor and attorney general. Opponents are denouncing the move, which sparked protests on Monday, as a blatantly undemocratic negation of the November election results.
Similarly contentious efforts are afoot in Michigan, where Democrats regained three important statewide positions in November – that of governor, attorney general and secretary of state. Instead of accepting the will of voters, Republican lawmakers are now seeking to reduce the control of those post-holders over campaign finance and legal proceedings involving the state before the Democratic victors take office.
Elsewhere, Georgia continues to be racked with disputes over claims of Republican voter suppression before Tuesday's runoff election for the key post of secretary of state, while North Carolina is grappling with allegations of voter fraud in a close congressional race that remains unresolved.
Wisconsin's power play is attracting the most nationwide attention given the unashamed attempt by state Republicans in effect to reverse the outcome of the November ballot, in which all six statewide positions were won by Democrats, including the governorship. The Republican-controlled legislature is hoping to vote on Tuesday on 40 proposed amendments contained in five bills that would starkly weaken the remit of the incoming Democratic officeholders even before they take office.
The proposed changes would prevent the governor-elect, Tony Evers, and attorney general-elect, Josh Kaul, from honoring one of their central promises to voters in the midterm campaign: the pledge to pull Wisconsin out of a multi-state legal challenge to Barack Obama's Affordable Care Act. The new legislation would also gut the state's department of justice of several core functions, transferring them from Kaul's office to the Republican-controlled legislature.
The incoming post-holders have decried their rivals' tactics as fundamentally undemocratic. "It goes to the heart of what democracy is all about," Evers told reporters, saying the flurry of conservative moves was "an embarrassment for the state".
Kaul told the Wisconsin State Journal: "This is fundamentally inconsistent with how a democracy is supposed to work. If this passes it's going to significantly impair the ability of the state government to function effectively next year, because if it passes, it's almost certain to end up in court."
Should the bills pass and end up for approval on the desk of the outgoing Republican governor, Scott Walker, they would bookend his eight years in office in an inferno of controversy. Walker started his governorship in 2011 by introducing the notorious Act 10, which removed most collective bargaining rights from public sector unions, sparking mass protests at the capitol building in Madison.
Those protests were echoed on Monday with a fresh round of unrest in Madison, with opponents of the power grab heckling Republican lawmakers with chants of "Respect my vote".
The audacious effort to defy the will of voters is a direct repeat of the playbook first adopted by Republicans in North Carolina two years ago. In the wake of the 2016 elections, in which the Democrat Roy Cooper unseated the Republican governor Pat McCrory, GOP leaders staged a special session in which they pared down the governor's executive powers three weeks before Cooper took office.
This November, Republicans in North Carolina tried further to water down the governor's powers with two constitutional amendments that would have limited his control over appointments to the state judiciary and board of elections. The amendments failed at the ballot box, but had they passed one commentator for the Raleigh News & Observer noted they would have reduced the role to that of "a potted plant".
Bill designed to reduce the powers of Tony Evers, who beat Scott Walker last month, denounced by critics as a threat to democracy
Wisonsin's Democratic governor-elect, Tony Evers. Photograph: Scott Olson/Getty Images
Wisconsin's Republican-controlled state senate voted just before sunrise on Wednesday, following an all-night session, to pass a sweeping bill in a lame-duck session designed to weaken the incoming Democratic governor, Tony Evers, who ousted the Republican Scott Walker last month.
Republicans pushed on through protests, internal disagreement and Democratic opposition to the measures designed to reduce the powers of Evers and the incoming attorney general, Josh Kaul, also a Democrat replacing a Republican. Critics have called the move a threat to democracy. The Wisconsin battle is one of several going on around the country where bitter bipartisan wrangling continues a month after the midterm elections.
Evers and Kaul urged Republicans not to pass the bill early on Wednesday, warning that lawsuits would bring more gridlock to Wisconsin when the new administration, and the first divided state government in Wisconsin in 10 years, takes over early in 2019.
But Republicans forged ahead regardless. The assembly was expected to pass the bill later on Wednesday, sending it on to Walker for his consideration in the waning weeks of his controversial governorship. Walker is in his final five weeks as governor after losing a bid for a third term to Evers, the state schools superintendent.
"This is a heck of a way to run a railroad," the Democratic senate minority leader, Jennifer Shilling, said as debate resumed at 5am. "This is embarrassing we're even here."
In one concession, Republicans backed away from giving the legislature the power to sidestep the attorney general and appoint their own attorney when state laws are challenged in court. An amendment to do away with that provision was part of a Republican rewrite of the bill, made public around 4:30am after all-night negotiations.
Walker was booed and heckled during an afternoon Christmas tree lighting ceremony in the Capitol rotunda.
Despite the victories by Evers, Kaul and every other Democrat running for statewide office, Republicans maintained majority control in the legislature for the next two years. Democrats blamed partisan gerrymandering by Republicans for stacking the electoral map against them.