08 Dec
News and Analyses, A Foreign Perspective
Nearly all of these are English-edition daily newspapers. These sites have interesting editorials and essays, and many have links to other good news sources. We try to limit this list to those sites which are regularly updated, reliable, with a high percentage of "up" time.
Recommended:

Wisdom, a 68-year-old Laysan albatross, has laid another egg with her longtime lover at the Midway Atoll national wildlife refuge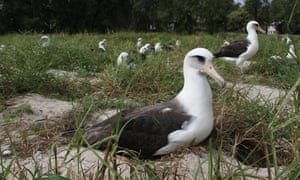 The world's oldest Laysan albatross, a female named Wisdom, nesting on Midway Atoll national wildlife refuge. Photograph: USFWS – Pacific Region
In sea mariner lore, an albatross is considered a good omen, and for almost seven decades, one bird has spread generations of blessings across the Pacific Ocean.
Wisdom, a 68-year-old Laysan albatross believed to be the world's oldest known wild bird, has returned to her home at the Midway Atoll national wildlife refuge for yet another winter – and laid yet another egg to add to the already impressive brood that she has built up over an impressive lifetime.
Biologists with the US Fish and Wildlife Service think the almost-septuagenarian has birthed and raised as many as 36 chicks over the years. Should her latest egg with her longtime lover, Akeakamai, hatch, fledge and take to the open sea, it will be her 37th.
Wisdom was first banded in 1956 by biologist Chandler Robbins, who estimated that she was about five years old at the time. The biologist and bird met again in 2002 when he went to band her and recognized that she had been one of the 8,400 birds he recorded during his first season, 46 years previously.
Albatrosses are known for their long life spans and often outlive their researchers – Robbins died in 2017 at the age 98 – but what makes Wisdom unique is that researchers have been able to monitor her habits for so long. She may or may not be the oldest wild bird, but she is the oldest known wild bird, and her habits have been lovingly documented by the fish and wildlife service over social media.
And because so much of her background and history is known, researchers are learning more about her species by observing her. To a human, 68 years old may seem preposterous to still be laying eggs, but Wisdom and the other few documented examples of albatrosses in their 50s and 60s who do not appear to have trouble breeding at that age show the situation may be different for birds, said Beth Flint, a USFWS wildlife biologist.
Like many albatrosses, Wisdom returns nearly every year to the place she was born for nesting and mating. Midway Atoll, a two-and-a-half-sq-mile island belonging to the US that was the site of the decisive Battle of Midway during the second world war, remains mostly uninhabited when it comes to humans. But come winter, more than 1m Laysan albatrosses flock to the beaches to nest.
Albatrosses spend 90% of their lives at sea, soaring over the northern Pacific Ocean and feeding on squid and fish eggs. The fish and wildlife service estimates that Wisdom has clocked more than 6m miles in her travels – according to the Cornell lab of ornithology, Laysan albatrosses can range anywhere from the Aleutian Islands and the southern Bering Sea to Costa Rica.
Albatrosses take mating and nesting seriously, forming bonds with their mates for life. The Cornell lab describes their courtship displays as elaborate; they include "coordinated movements in which the birds touch bills, spread one or both wings, bob their heads, place their bill under one wing, and pause with their bill pointed at the sky".
Once they've met their mates, the birds will rendezvous at the same nest site every winter – and go through some iteration of the courtship process again, Flint said.
More On The Environment:

Air force failed to submit Devin Kelley's fingerprints to the FBI after he was accused of violent crimes dating back to June 2011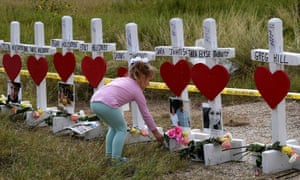 A child leaves flowers on crosses for victims of the First Baptist church shooting that killed 26 people in Sutherland Springs, Texas, on 9 November 2017. Photograph: Mark Ralston/AFP/Getty Images
The US air force missed four chances to stop the gunman who killed 26 people at a church in Texas in 2017 buying guns after he was accused of violent crimes while in the military, a report by the Department of Defense's inspector general said on Friday.
Because the air force failed to submit Devin Kelley's fingerprints to the FBI, the former airman cleared background checks to buy the guns he used at First Baptist church in Sutherland Springs.
Kelley, who was 26, was shot by a bystander as he fled and was found dead soon after, having shot himself in the head.
According to the inspector general's report, the first missed chance came in June 2011, after the air force office of special investigations began investigating a report of Kelley beating his stepson while based in New Mexico.
The second chance came in February 2012, after the air force learned of allegations Kelley was beating his wife.
The third was in June 2012, when Kelley confessed on video to injuring his stepson.
The fourth was after Kelley's court-martial conviction for the assaults in November 2013.
"If Kelley's fingerprints were submitted to the FBI, he would have been prohibited from purchasing a firearm from a licensed firearms dealer," the report said.
Each missed instance was a breach of policy, the report said. Multiple officials did not understand policies or were unable to explain why they were not followed.
The inspector general recommended that the air force improve training and examine whether officials should face discipline.
Previous reports have found widespread lapses in military reporting of criminal histories to the FBI.
The air force agreed with the inspector general's findings and said they matched the conclusions of its own investigation, a spokeswoman said. The air force said it has been correcting other instances where it failed to submit fingerprints to the FBI, going back to 1998.
Related:
Texas Church Shooting Kills 26 People
Tuesday February 28, 2017 President Donald Trump quietly signed a bill into law rolling back an Obama-era regulation that made it harder for people with mental illnesses to purchase a gun. Monday November 05, 2017 Trump Blames Texas Shooting On Mental Health, Says It's Not About Guns.
The first image of Devin Patrick Kelley, the gunman who stormed a small-town Texas church, killing 26 people and injuring 20 others before being found dead in his car, has emerged. NBC News has confirmed the 26-year-old had been discharged from the Air Force for bad conduct. NBC's Craig Melvin reports for TODAY from Sutherland Springs, Texas.
Armoured vehicles and 8,000 police officers in French capital to contain violent fringe of gilets jaunes movement. Follow the latest developments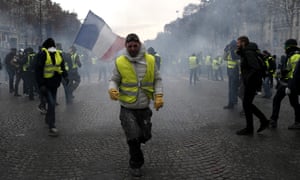 A demonstrator wearing a yellow vest grimaces through teargas in Paris. Photograph: Rafael Yaghobzadeh/AP
In the 17th arrondissement, Le Monde's reporter saw a group of young men wearing yellow high-vis vests overturn scooters and set them on fire. Disgusted, more peaceful gilets jaunes protesters tried to stop them:
Some provincial gilets jaunes protesters have been prevented from boarding trains to Paris as part of the stringent security measures aimed at preventing a repeat of last week's rioting.
A national police spokesman said officers had been stationed at train stations around the country and ordered to check all passengers and turn away those carrying equipment that could be used to "cause damage to people or property."
If the Champs-Elysées remains relatively calm, trouble is spreading to other areas of Paris.
According to BFMTV, police and gendarmes on Boulevard Haussmann and the Grande Boulevards in the centre of Paris have used water cannon and teargas to disperse protesters who were trying to erect barricades using bus shelters and benches.
A barricade has been set on fire near République.
Boulevards are near Paris's best-known department stores, Galeries Lafayette and Printemps, both shut on what would normally have been one of their busiest days just before Christmas.

World Politics
United States