12 Dec
News and Analyses, A Foreign Perspective
Nearly all of these are English-edition daily newspapers. These sites have interesting editorials and essays, and many have links to other good news sources. We try to limit this list to those sites which are regularly updated, reliable, with a high percentage of "up" time.
Recommended:

World Politics
Populism preys on rose-tinted memories of past glories and distorts it into something ugly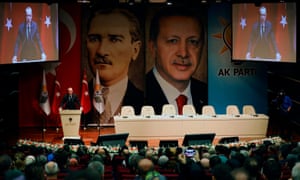 'President Erdo?an says the republic of Turkey is a continuation of the Ottoman empire.' Photograph: Adem Altan/AFP/Getty Images
"T

he Russians blame everything on their government, the Americans on their parents, and the Poles on history." So said the Russian-born American poet Joseph Brodsky. If he were alive today, he might have added: "And the leading Brexiters blame everything on the loss of an imaginary past." The seeds of this nostalgia were, of course, present in Britain long before the referendum, but years of austerity and inequality, topped with incendiary debates on refugees and discontent with the status quo, generated a feeling of longing for the "good old days".
Some 63% of British citizens think life was better and easier in the past. The Brexit hardliners exploited this emotional nostalgia for their own political interests. History is purged of its dark chapters, stripped of its complexity, simplified and sanitised. Facts do not matter. Historical accuracy is sacrificed for the sheer lure of rhetoric. When Boris Johnson claimed: "If Chequers were adopted it would mean that for the first time since 1066 our leaders were deliberately acquiescing in foreign rule", he was only following a trend. But while hardcore Brexiters rave about British exceptionalism, it is worth underlining that there is nothing new or exceptional about this. They are simply joining a dangerous trend that has taken hold at the fringes of Europe.
Take Turkey, a nation-state that was formed out of a multi-ethnic empire. The dramatic demise of democracy in Turkey holds important lessons for progressives everywhere. It shows us that history does not necessarily go forward; it can slide backwards. Turkey's trajectory reveals the stark difference between democracy and majoritarianism; and how, once majoritarianism settles in, it is a short step from there to authoritarianism.
Much has been written about Turkey's populist isolationism, but it is a less known fact that this regression was underpinned by a rhetoric of imperial nostalgia. Years ago, after the publication of my novel The Architect's Apprentice, I gave a talk in Pera, the most cosmopolitan quarter of Istanbul. A young man in the audience put up his hand and told me I had offended him by writing that there were prostitutes with the Ottoman army on their marches. I asked him whether he was questioning the validity of this historical fact. "Not at all," he said. "I understand, there might have been such issues. But that's not the point. The point is, why mention it? Why don't you write about the glories of our empire instead? That's what we want to hear."
Imperial nostalgia is deliberately selective. It sweeps the darker sides of history under the carpet. It imposes from above a version of history that is one-sided, distorted, biased. It tells us what we are allowed to remember, and what we need to forget. It also pretends that history was simple. It never was. That young man's sentiment is very much in line with the Turkish government's ideology. President Erdo?an says the republic of Turkey is a continuation of the Ottoman empire. In a ceremony held on the centenary of the death of Sultan Abdulhamid II, Erdo?an said: "Some people insistently try to start this country's history from 1923. Some unrelentingly try to break us from our roots and ancient values."
Imperial nostalgia shapes Turkey's popular culture. TV series and movies are built on this need to glorify the past. Resurrection-Dirilis, a big commercial hit, focuses on the onset of the empire in the 13th century, romanticising wars and warriors. The series Payitaht (Capital), which focuses on the demise of the Ottomans, is deeply antisemitic, accusing Jews of trying to destroy the empire. Meanwhile, writers, academics and journalists who dare to question the new Ottomanism are seen as traitors and pawns of western powers. Turkey's two leading universities, METU and Bosphorus University, are targeted by AKP politicians for not being national enough. Open Society has pulled out of the country after Erdogan declared that "Hungarian-Jew Soros" was behind the Gezi protests in 2013. Osman Kavala, a well-respected civil society activist and businessman, is still unlawfully held in prison after over a year. Academics have been arrested on ridiculous charges, thousands are blacklisted or sacked. Charles Darwin was even removed from the national curriculum. After all, he wasn't Turkish.
Change a few details, and you might as well be describing the situation in Hungary. Viktor Orbán, who similarly attacks the Soros Foundation, even though he was a recipient of a Soros-funded scholarship, has recently banned gender studies programmes."The government's standpoint is that people are born either male or female, and we do not consider it acceptable for us to talk about socially constructed genders rather than biological sexes." Just as in Turkey, in Hungary, too, the obsession with "great empire" helps to build a tribalist-populist narrative.
A Hungarian band, Kárpátia, sing songs about a "Greater Hungary", which they describe as paradise. The fans of the band go to concerts wearing T-shirts with maps of their lost empire. Just like in Turkey, these sentiments are manipulated by the political elite from above. Victor Orban constantly talks about the Kingdom of Hungary, lamenting its demise and the loss of wider territories.
One must pay special attention to those countries in and around the continent that were once empires to understand Europe today. These are the places where a toxic imperial nostalgia is spreading and spreading fast. Many of us have watched Croatia's World Cup success, cheering on the underdog. It was remarkable that a small Balkan country performed so well, and citizens of the world everywhere cheered with them. But that sweet feeling of global solidarity was destroyed by what followed next. During the celebrations in Zagreb, the team invited Marko Perkovi? to perform – a man known for his fascist lyrics glorifying the Ustashe nationalists, who fought alongside the Nazis.
Like all ultranationalists, Perkovi? over-uses historical symbols and begins all his concerts with the Ustashe salute – the direct equivalent of the Nazi salute. Let us not forget that it was the Ustashe movement that set up concentration camps where thousands of liberal-leftist Croatians, Serbs, Jews and Roma citizens were sent to their death. The most infamous of these camps is Jasenovac where 100 000 are estimated to have been killed.
Imperial nostalgia is alive and kicking in yet another bygone empire: Russia. Shaun Walker, in The Long Hangover: Putin's New Russia and the Ghosts of the Past, tells how the past is polished and used to avoid the unwanted realities of the present. Today,almost half the population find it natural that it should have an empire. It's a significant change from the mood in the 1990s.
Imperial nostalgia is not only a feeling but a catalyst. It takes social discontent and transforms it into a dangerous form of political tribalism. In The Future is History, Masha Gessen demonstrates how nostalgia has changed the fabric of Russian society. Once people believe in their "imperial exceptionalism" they start to read history in a dim light. More than 25% of Russians believe that Stalin's rule was good for the country. Gessen's analysis reveals how imperial nostalgia goes hand in hand with an increase in nationalism, isolationism, sexism and homophobia.
This year, the centenary of the demise of the Habsburg dynasty, tribalists in Austria have been busily trying to revive their own romanticised past. The Black-Yellow Alliance, a monarchist movement founded in 2004, aims to restore a hereditary monarchy in Austria and beyond the wider Danube. Its members claim that central Europe was unique. They yearn to unite Austria with Slovakia, Slovenia, Croatia and the Czech Republic. Many of their sentiments are backed by the government under Kurz, Conservative People's Party, who want to propose citizenship to German-speaking Italians. Meanwhile, Alternative für Deutschland, the first rightwing nationalist party in the country's parliament since the second world war, continues to use Nazi-era terms, such as Überfremdung – "foreign infiltration". This month the magazine, Compact, known for its close ties to the party issued a special report titled "The shame of Versailles: how the victorious powers enslaved Germany".
Imperial nostalgia is openly quarrelsome and secretly expansionist. It may start as an innocent patriotic pride, but it will never stop there. Once resentments about the end of empires have been brought to the table clashes are inevitable. The next step is to believe that the neighbouring countries are in fact parts of "us" that are waiting to be joined to the fatherland.
Memory is a responsibility. We ought to remember the past, not only in its polished glories but also its atrocities and injustices. Rhetoric about returning to a golden past is not innocent and it is not the right way forward. Let us please not be so complacent as to assume that imperial nationalism, a toxic liquid that has turned sour in country after country, will not have the same effect in the UK because, after all, "this place is different". That's exactly what a Hungarian, Turkish, Croatian, Austrian or German imperial-nationalist would have said.
As Europe witnesses a rise in a new form of political nostalgia, the last thing we need is for British politicians to jump on this doomed bandwagon. No country is exceptional. We are all in this mess together.

France
French ministers line up to appeal for calm after three die in Tuesday night's attack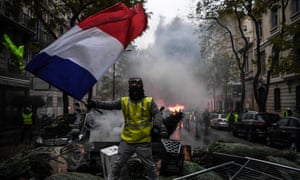 The gilets jaunes protest movement has held marches for the past four weekends. Photograph: Alain Jocard/AFP/Getty Images
French government ministers have appealed for the nationwide gilets jaunes protests to stop in the wake of the Strasbourg attack.
After a gunman opened fire near a Christmas market in Strasbourg city centre on Tuesday night, killing three people and injuring several more, the justice and interior ministers suggested that the anti-government tax revolt should wind up its nationwide protests and street marches.
The gilets jaunes – named after their high-visibility yellow jackets — have staged four weeks of protests on roundabouts and tollbooths across the country, as well as four Saturdays of street marches that led to violence and vandalism in Paris and other cities.
Despite the French president, Emmanuel Macron, this week promising to raise the minimum wage and drop taxes on pensions as well as scrapping the green fuel-tax that sparked the protests, many gilets jaunes had vowed to stage a fifth Paris street march this Saturday, insisting Macron had not done enough to address social inequality.
But the justice minister, Nicole Belloubet, told French radio the protests should stop, adding: "There has been a dramatic event in Strasbourg and also the president has responded [to the gilets jaunes]."
The interior minister, Christophe Castaner, said the "massive mobilisation" of security forces to deal with the Strasbourg attack and the gunman, who was still on the run, "also has an effect on our capacity to intervene on other sites".
Olivier Dussopt, a junior minister for public finances, said it was time for the gilets jaunes to "sit down around the table for discussions" rather than demonstrate, while the education minister, Jean-Michel Blanquer, criticised what he called "vile" social media posts suggesting the government had exaggerated the Strasbourg attack in order to detract from the protest movement. Laurent Nuñez, a junior minister for the interior, said he was "outraged" by conspiracy theories about the attack.
At roundabout barricades, particularly near Strasbourg, gilets jaunes expressed sadness and sympathy over the attack and said they would have to discuss whether or not to maintain their protests this weekend.
Many voices in the gilets jaunes – a grassroots citizens' movement with no clear leadership – condemned conspiracy theories about the Strasbourg attack.

Australia
The prime minister is making a list and checking it twice for those he believes are 'having a go'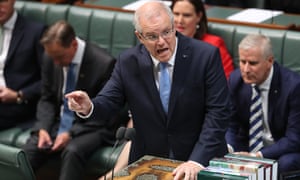 'As the election draws ever closer, Morrison will set out on his gift-laden sleigh, elves bickering in the back seat, to fill millions of stockings' Photograph: Mike Bowers for the Guardian
T

he festive season is in full swing and Santa Claus is coming to town, accompanied by a familiar warning that "he's going to find out who is naughty or nice" and distribute his gifts accordingly. Children doing the grocery shopping with their parents are reminded that "He knows if you've been bad or good – so be good for goodness' sake!" We all recognise that while the threat of missing out is ever-present, it would be a bad Santa indeed who robbed any child of the magic of Christmas morning based on a capricious judgment of worthiness passed down from a distant Arctic toy factory.
Yet prime minister Scott Morrison is hoping that Australians will ignore the merry spectacle of his frantic elves tearing one another apart and gift his own bad Santa routine with their vote at the upcoming election. His oft-repeated catchphrase "a fair go for those who have a go" reminds all that he is "making a list and checking it twice" as he prepares to distribute funding to the stockings of those he believes are "having a go".
The flaw in his mantra is its utterly arbitrary foundation. Morrison gets to decide who'll receive the privilege of a fair go based on nothing more than whether he has placed them in the naughty or nice column on his personal Christmas list.
We've learned recently that the Muslim communities who – police and security agencies have reminded us – have gone to great lengths to combat religious extremism and youth disengagement remain on Morrison's naughty list.
Migrants moving to big cities to "have a go" at education and employment opportunities are to blame for congestion and overstretched schools and hospitals – and not governments who have failed to invest enough in infrastructure and planning.
People seeking asylum who had a courageous go at escaping war, terror and persecution are refused access to a fair go, while au pairs with connections in high places seem to get a fast-track to freedom.
Even those who by their own admission haven't had a go have been delivered early Christmas presents
Australia's first peoples had a go at building an historical consensus around a pathway to recognition and reconciliation that was summarily rejected.
Coal barons plying a finite resource at diminishing returns are nice and smart, renewable energy innovators investing in an infinite resource that's increasingly cost-effective believe a nasty fantasy. The former deserve their massive tax breaks and subsidies, the latter should prove their worth without government assistance.
Unions who have a go at ensuring Australian workers receive fair wages for secure jobs in safe workplaces are permanently entrenched on the Coalition's naughty list while Morrison has spent the last five years trying to give corporations and wealthy Australians tax cuts – including the big banks that the royal commission has clearly demonstrated don't deserve a place in anyone's "nice" column.
Even those who by their own admission haven't had a go have been delivered early Christmas presents. The Great Barrier Reef Foundation received a $443m grant – in what must be the most lucrative game of secret Santa ever conducted – during Morrison's time as treasurer.
Departing from Santa's oft-sung tradition, there is evidence that raising a loud-enough cry can result in a shift from Morrison's naughty list. After announcing significant cuts to Foodbank and Father Chris Riley's "Youth Off the Streets" program and suddenly pulling grants for 16 financial counselling, legal aid and charity groups, Morrision swiftly restored funding after being publicly outed as a community sector grinch. The "Keeping Women Safe in their Homes" – which helps women and children live safely away from perpetrators of family and domestic violence – hasn't yet been so lucky, now relying on a Labor election victory to have $18m of funding restored.

United States
Cohen guilty of hush money payments and lying to Congress

Cohen admitted covering up Trump's 'dirty deeds'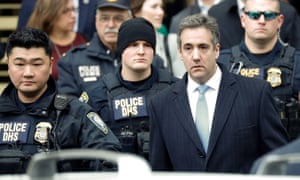 Michael Cohen, Donald Trump's former lawyer, departs federal court after being sentenced to three years in prison in New York on Wednesday. Photograph: Jason Szenes/EPA
Michael Cohen, Donald Trump's longtime personal fixer, was sentenced to 36 months in prison in New York on Wednesday for crimes including lying to Congress and facilitating illegal payments to silence two women who alleged affairs with Trump.
The sentencing by the US district judge William Pauley in Manhattan capped a stunning about-face for a lawyer who once said he would "take a bullet" for Trump but has now directly implicated the president in criminal conduct.
In an emotional court scene in which he described his disillusionment with Trump, Cohen said he had committed the crimes out of "blind loyalty" to the president.
"I have been living in a personal and mental incarceration ever since the day that I accepted the offer to work for a real estate mogul whose business acumen that I deeply admired," Cohen said. "I know now, in fact, there is little to be admired."
"I take full responsibility for each act that I pled guilty to," Cohen told the judge. "The personal ones to me and those involving the president of the United States of America …
"It was my duty to cover up his dirty deeds."
As the sentence was imposed, Cohen stood to face the judge and shook his head repeatedly. Afterwards, he sat at the table and put his head in his hands, then exchanged hugs with family members in the room.
Cohen, 52, admitted in August that on the eve of the 2016 presidential election he made a $130,000 payment to the porn star Stormy Daniels and arranged for a $150,000 payment to the former Playboy model Karen McDougal.
Cohen's lawyers agreed with prosecutors that those payments violated campaign finance laws, which require disclosure and allow maximum individual donations of $2,700.
Trump directed Cohen to make the illegal payments, prosecutors in the southern district of New York said in a court filing last week.
Trump has denied the affairs with Daniels and McDougal and dismissed the six-figure hush payments to them as a "simple private transaction", having previously denied knowledge of them.
The prominent supreme court lawyer Neal Katyal called the sentence "bad news for Trump". "In most jurisdictions, subordinates who carry out felonies at the direction of their boss get lower criminal sentences than the boss," Katyal tweeted.
Concurrent to his three-year prison term for crimes prosecuted in New York, Cohen will serve two months for lying to Congress, the judge ruled, and he will be on three years of supervised release following his prison term. Cohen also was hit with nearly $2m in fines and restitution requirements.
Pauley ordered Cohen to surrender himself to authorities by 6 March. His lawyers requested that Cohen be allowed to serve his term at a facility in Orange county about two hours north of Cohen's homes in New York City.
Guy Petrillo, a lawyer for Cohen, argued in court for leniency, saying that Cohen offered evidence "against the most powerful person in our country … knowing that he'd face a barrage of attack by the president."
"He knew that the president might shut down the investigation," Petrillo said.
Cohen indicated that attacks on him by Trump in recent months had personally stung. "For months now, the president of the United States publicly mocks me," Cohen said, "calling me a rat and a liar and insisting that the court sentence me to the maximum time in prison".
Prosecutor Nicolas Roos hit back, saying that Cohen had engaged in "a pattern of deception, of brazenness and of greed" that had "eroded faith in the electoral process and the rule of law".
Pauley, the judge, said Cohen had "lost his moral compass" and committed a "veritable smorgasbord" of crimes.
"The need for general deterrents is amplified in this case," Pauley said, adding, "as a lawyer, Mr Cohen should have known better".
Cohen also faced sentencing on a separate charge of lying to Congress when he said that a Trump Organization effort to build a tower in Moscow was terminated in January 2016, as presidential primary voting got under way. In fact, the Moscow project was still in the works after Trump clinched the Republican nomination for the presidency in the summer of 2016, Cohen admitted last month.
Cohen was also sentenced for tax and bank fraud crimes to which he pleaded guilty in August.
Sentencing guidelines had called for a prison term of four or five years. Last week Trump tweeted that Cohen "should, in my opinion, serve a full and complete sentence".
Lawyers for Cohen argued for leniency based on his cooperation with prosecutors in a filing last month. But prosecutors in the southern district asked that Cohen be given a "substantial term of imprisonment", noting that he had not entered a full cooperation agreement with them, which would have required him to testify fully about any and all criminal activity he might know about from his decade inside the Trump Organization or before or after.
In a parallel filing, however, special counsel Robert Mueller asked the judge to pay consideration to Cohen's work with Mueller's team, the details of which have not fully emerged but which Mueller indicated went to the heart of his investigation of alleged Trump campaign collusion with Russia and possible obstruction of justice by the president.
Jeannie S Rhee, a prosecutor from Mueller's office, told the judge that Cohen had provided "credible" and "valuable information" about "core Russia issues".
Rhee did not elaborate. "There's only so much we can say about the particulars at this time," she said.
Trump has denied any coordination with Russian operatives during the election and called the Mueller investigation a "witch-hunt".
Petrillo argued that Cohen's high profile had set him up for an aggressive prosecution. "Mr Cohen had the misfortune," Petrillo said, "to be counsel to the president".