15 Dec
News and Analyses, A Foreign Perspective
Nearly all of these are English-edition daily newspapers. These sites have interesting editorials and essays, and many have links to other good news sources. We try to limit this list to those sites which are regularly updated, reliable, with a high percentage of "up" time.
Recommended:

World Politics
United States
Trump welcomes decision in which judge agreed with 20 states challenging the law, on the eve of the 2019 sign-up deadline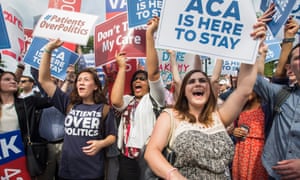 Demonstrators hold signs supporting the Affordable Care Act, commonly known as Obamacare. Photograph: Jim Lo Scalzo/EPA
A US federal judge in Texas ruled on Friday that the Affordable Care Act, commonly known as Obamacare, is unconstitutional, a decision that was likely to be appealed to the supreme court.
US district judge Reed O'Connor in Fort Worth agreed with a coalition of 20 states that a change in tax law last year eliminating a penalty for not having health insurance invalidated the entire Obamacare law.
O'Connor's decision was issued the day before the end of a 45-day sign-up period for 2019 health coverage under the law.
About 11.8 million consumers nationwide enrolled in 2018 Obamacare exchange plans, according to the US government's Centers for Medicare and Medicaid Services.
The coalition of states challenging the law was led by Texas attorney general Ken Paxton and Wisconsin attorney general Brad Schimel, both Republicans.
Republicans have opposed the 2010 law, the signature domestic policy achievement of Barack Obama, since its inception and have repeatedly tried and failed to repeal it.
The White House hailed Friday's ruling, but said the law would remain in place pending its expected appeal to the supreme court. "Once again, the president calls on Congress to replace Obamacare and act to protect people with preexisting conditions and provide Americans with quality affordable healthcare," the White House spokeswoman Sarah Sanders said in a statement.
Taking to Twitter on Friday night, Donald Trump celebrated the decision, calling the Affordable Care Act an "unconstitutional disaster".
"Great news for America!" he added.
The Democratic senator Chris Murphy, a member of the US Senate Health, Education, Labor, and Pensions (Help) Committee, criticized the decision in a statement late on Friday.
"This is a five-alarm fire – Republicans just blew up our healthcare system," he said. "The anti-healthcare zealots in the Republican party are intentionally ripping health care away from the working poor, increasing costs on seniors, and making insurance harder to afford for people with preexisting conditions."
In June, the justice department declared the healthcare law's "individual mandate" unconstitutional in federal court. The decision was a break with a long-standing executive branch practice of defending existing statutes in court.
A year ago, Trump signed a $1.5tn tax bill that included a provision eliminating the individual mandate.
Judge O'Connor is no stranger to the conservative resistance to Obama administration policies. A former state and federal prosecutor who was nominated to the federal bench in 2007 by President George W Bush and has been active in the Federalist Society, which describes itself as "a group of conservatives and libertarians interested in the current state of the legal order".
In 2016 he blocked a federal directive that required public schools to let transgender students use bathrooms consistent with their gender identity. He ruled that Title IX, which the Obama administration cited in support of the directive, "is not ambiguous" about sex being defined as "the biological and anatomical differences between male and female students as determined at their birth."
Also in 2016, he struck down new US Health and Human Services regulations that advised that certain forms of transgender discrimination by doctors, hospitals and insurers violated the Affordable Care Act. He declared that the rules placed "substantial pressure on plaintiffs to perform and cover (gender) transition and abortion procedures." A coalition of religious medical organizations said the rules could force doctors to help with gender transition contrary to their religious beliefs or medical judgment.

Turkish president says tape has been shared with US, Germany, France and Canada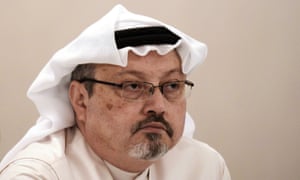 Jamal Khashoggi. Photograph: Mohammed Al-Shaikh/AFP/Getty Images
One of the killers of the Saudi journalist Jamal Khashoggi was heard saying "I know how to cut" on the audio of the murder, which Turkey has shared with US and European officials, the Turkish president, Recep Tayyip Erdo?an, said on Friday.
Erdo?an criticised Riyadh for its changing account of how Khashoggi, a Washington Post columnist and prominent critic of the Saudi crown prince, Mohammed bin Salman, was murdered at the Saudi consulate in Istanbul on 2 Oct. The journalist had gone there to collect documents for his forthcoming marriage.
The case has caused global outrage and damaged the international standing of Prince Mohammed, 33, the kingdom's de facto ruler. The US Senate delivered a rare rebuke to Donald Trump for his support of the crown prince, whom it blamed for the killing.
"The United States, Germany, France, Canada, we made them all listen … The man clearly says 'I know how to cut'. This man is a soldier. These are all in the audio recordings," Erdo?an said in a speech in Istanbul. He did not give further details about the recording.
Istanbul's chief prosecutor has said Khashoggi was suffocated by his killers in the consulate, before his body was dismembered and disposed of. His remains have not been found.
Khashoggi repeatedly told his killers "I can't breathe" during his final moments, CNN reported on Monday, quoting a source who had reportedly read the full translated transcript of the audio recording.
Saudi Arabia has said the prince had no prior knowledge of the murder. After offering numerous contradictory explanations, Riyadh later said Khashoggi had been killed when negotiations to persuade him to return to Saudi Arabia failed.
Erdo?an renewed his criticism of Riyadh's explanation of the killing. Originally it had said Khashoggi had left the consulate. That was disputed by his Turkish fiancee, who had waited outside the building and said he never emerged.
"The prince says Jamal Khashoggi left the consulate. Is Jamal Khashoggi a kid? His fiancee is waiting outside," Erdo?an said. "They think the world is dumb. This nation isn't dumb and it knows how to hold people accountable."
Turkish officials said last week the Istanbul prosecutor's office had concluded there was "strong suspicion" that Saud al-Qahtani, a top aide to Prince Mohammed, and Gen Ahmed al-Asiri, who served as the deputy head of foreign intelligence, were among the planners of Khashoggi's killing.
After Riyadh ruled out extraditing the two men, Turkey said this week that the international community should seek out justice for Khashoggi under international law.
Erdo?an has repeatedly said he would not give up the case. Trump has said he wants Washington to stand by the Saudi government and the prince, despite the CIA's assessment that it was probably the prince who ordered Khashoggi's killing.