17 Dec
News and Analyses, A Foreign Perspective
Nearly all of these are English-edition daily newspapers. These sites have interesting editorials and essays, and many have links to other good news sources. We try to limit this list to those sites which are regularly updated, reliable, with a high percentage of "up" time.
Recommended:

The circumstances of Jakelin Caal Maquin's sorrowful death are being seized upon as evidence both for and against the Trump administration's hardline approach to immigration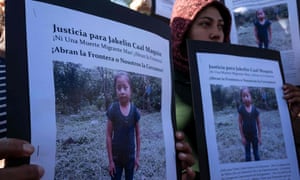 Central American migrants hold a demonstration after the death Jakelin Amei Rosmery Caal, seven, who died in a Texas hospital two days after being taken into custody by US border patrol agents. Photograph: Guillermo Arias/AFP/Getty Images
After a final stretch on foot along a dirt road through high desert, a father and his young daughter crossed into the United States at the end of a 2,000-mile journey through Mexico.
It was after dark and they were part of a group of 163 people, apparently including dozens of unaccompanied children, who had made it to Antelope Wells, New Mexico, considered the most remote spot along America's entire southern border.
And whilst the results of an autopsy may not be known for some days, the circumstances of her sorrowful death in the custody of the US border patrol agency are already being seized upon as evidence both for and against the Trump administration's hardline approach to immigration.
Donald Trump's supporters lay blame with a parent who would put their child's safety at risk on a perilous journey. Critics of the president's fear-mongering talk of an "invasion" at the Mexican border blame his policies for driving people to increasingly desperate measures.
As the Department of Homeland Security (DHS) begins an investigation, there are gaps in the story and some vital details are disputed by Jakelin's family.
According to DHS , her death followed days of traveling through the desert without enough food or water. A Washington Post report said the border patrol agency cited statements from her father.
An anonymous Customs and Border Protection (CBP) official also told the Post her father did not raise the alarm about her worsening fever while they were in custody. "There were plenty of opportunities, if her father had noticed anything and brought it to agents' attention," the official said.
Her father, Nery Gilberto Caal Cuz, 29, who has praised the efforts of emergency responders to save his daughter, later insisted in a lawyer's statement that he looked after her on the journey and made sure she was fed and had water.
Family members in Raxruha?, her tiny village home in Guatemala, said Jakelin, who celebrated her seventh birthday on the journey north through Mexico, had been given her first pair of shoes for the journey.
Grandfather Domingo Caal said the family got by on $5 a day earned harvesting corn and beans and Jakelin's father hoped to be able to send money home from the US.
The Associated Press described the family home, a "tiny wooden house with a straw roof, dirt floors, a few bedsheets and a fire pit for cooking, where Jakelin used to sleep with her parents and three siblings. The brothers are barefoot, their feet caked with mud and their clothes in tatters. A heart constructed out of wood and wrapped in plastic announces Jakelin's death."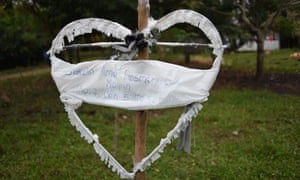 View of a heart-shaped sign with the name of Jakelin Amei Rosmey Caal Maquin. Photograph: Johan Ordóñez/AFP/Getty Images
Her grandfather said that the journey had taken about a week and her father had paid a human trafficker to get them across the border, making their crossing into a desolate section of New Mexico wilderness known as the Bootheel, where the border cuts across the mountainous Chihuahua Desert.
Ruben Garcia, director of the Annunciation House shelter in El Paso, Texas, where her father is now being looked after, said father and daughter were not part of one of the so-called "caravans" of people walking north across long distances.
"He came up as part of a smaller group that then gathered with other people on the way here," Garcia said. "He was traveling by bus and there were 40 people, that's what he told us."
Tekandi Paniagua, the Guatemalan consul in Del Rio, Texas, said Jakelin's father told him the group they were traveling with was dropped off in Mexico about a 90-minute walk from the border.
They crossed the border at Antelope Wells, which consists of just four buildings, the border agency's port of entry, two houses and a trailer. At 4,665 feet, it is higher than Ben Nevis, the UK's highest mountain, though sun-baked, and even in December, typically reaches daytime temperatures of 76F (24C).
DHS gave a timeline of what happened after the group of 163 who crossed the border on Tuesday 5 December and were stopped by three border agents at 9.15pm. It is said to be the most remote of 43 ports of entry along the border and those who do cross here are usually "give ups" who hand themselves in to border agents.
However, Trump policies of placing border sentries on international bridges to block people from stepping onto United States soil has increased the numbers traveling to more dangerous and remote spots.
Informal "waiting lists" to claim asylum are holding people up, but instead of waiting at ports of entry for days or weeks at a time, often in squalor or without shelter, frustrated asylum seekers are opting to cross the border between ports of entry.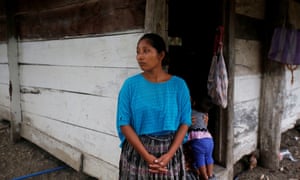 Claudia Marroquin, 27, the mother of Jakelin Caal, who died on 8 December. Photograph: Esteban Biba/EPA
The group Jakelin and her father were in was moved to a covered area and apparently interviewed and observed "to identify any health or safety problems to ensure that they receive necessary medical care".
The DHS said during the screening: "The father denied that either he or his daughter were ill. This denial was recorded on Form I-779 signed by the father. At this time, they were offered water and food and had access to restrooms".
The father's lawyers said in a statement that the form was in English, a language her father does not speak or read. He communicated with border agents in Spanish but he primarily speaks the Mayan Q'eqchi' language. "It is unacceptable for any government agency to have persons in custody sign documents in a language that they clearly do not understand," the statement said.
The agents decided to transport the large group by bus to the nearest border patrol station at Lordsburg, 90 minutes away. The bus arrived and at 18 minutes past midnight, took the first group of 50, all unaccompanied children.
At 4am the bus returned for the second group. "Around 0500, as the second group of detainees – including the child and father – was preparing to depart … the father advised border patrol agents that his child had become sick and was vomiting," the DHS said.

World Politics
United States
At least a scoundrel knows when he is doing wrong. But the president is blind to the very idea of public interest
'According to Donald Trump, North Korea's Kim Jong-un writes him such 'beautiful letters', that 'we fell in love'.' Photograph: Saul Loeb/AFP/Getty Images
T

rump has described the payments his bag man, Michael Cohen, made to two women during the 2016 campaign so they wouldn't discuss their alleged affairs with him, as "a simple private transaction".
Last Saturday, when ABC's George Stephanopoulos asked Cohen if Trump knew the payments were wrong and were made to help his election, Cohen replied "Of course … He was very concerned about how this would affect the election."
But even if Trump intended that the payments aid his presidential bid, it doesn't necessarily follow that he knew they were wrong.
Trump might have reasoned that a deal is a deal: the women got hundreds of thousands of dollars in return for agreeing not to talk about his affairs with them. So where's the harm?
After two years of Trump we may have overlooked the essence of his insanity: his brain sees only private interests transacting. It doesn't comprehend the public interest.
Private transactions can't be wrong or immoral because, by definition, they require that every party to them be satisfied. Otherwise there wouldn't be a deal.
Viewed this way, everything else falls into place.
For example, absent a public interest, there can't be conflicts of interest.
So when lobbyists representing the Saudi government paid for an estimated 500 nights at Trump's Washington DC hotel within a month of his election, and Saudi Crown Prince Mohammed bin Salman rented so many rooms at the Trump International Hotel in Manhattan that its revenues rose in 2018 after years of decline, Trump saw it as half of a private transaction.
The other half: Trump would continually go to bat for Saudi Arabia and the crown prince, even after the Senate passed a resolution blaming him for the murder of journalist Jamal Khashoggi.
"Saudi Arabia, I get along with all of them. They buy apartments from me. They spend $40m, $50m," Trump told a crowd at an Alabama rally in August 2015. "Am I supposed to dislike them? I like them very much."
Ethics shmethics. Without a public interest, no deals can be ethical violations. All are just private transactions.
When someone donated $1m to Trump's inaugural committee and subsequently received a $5bn loan from the Energy Department, what's the problem? Both parties got what they wanted. (Federal prosecutors are now investigating this.)
When Trump aide and former Fox News executive Bill Shine continues to rake in millions each year from Fox News, and Fox News continues to give Trump the positive coverage he wants, why worry? It's a good deal for both sides.
This private transactional worldview also helps explain Trump's foreign policy.
According to Trump, North Korea's Kim Jong-un writes him such "beautiful letters," that "we fell in love".
So what if Kim continues to develop nuclear missiles? Trump gets bragging rights as the first American president to have a good private relationship with the North Korean president.
He and Russian President Vladimir Putin have a "beautiful relationship," presumably opening the way to all sorts of private transactions.
In July 2016, after emails from the Democratic National Committee were leaked to the public, Trump declared "Putin likes me" and thinks "I'm a genius". Trump then publicly called on Russia to find emails Hillary Clinton had deleted from the private account she used when she was secretary of state.
That same day, Russians made their first effort to break into the servers used by her personal office, according to an indictment from the special counsel's office charging 12 Russians with election hacking.
So what? Trump asks.
Even as evidence mounts that Trump aides were in frequent contact with Russian agents during this time, Trump insists he wasn't involved in any collusion with Putin.
Collusion means joining together in violation of the public interest. If Trump's brain comprehends only private interests, even a transaction in which Putin offered explicit help winning the election in return for Trump weakening Nato and giving Russia unfettered license in Ukraine wouldn't be collusive.
When private deals are everything, the law is irrelevant. This also seems to fit with Trump's worldview.
If he genuinely believes the hush money he had Cohen pay was a "simple private transaction," Trump must not think the nation's campaign finance laws apply to him. But if they don't, why would laws and constitutional provisions barring collusion with foreign powers apply to him?
As we enter the third year of his presidency, Trump's utter blindness to the public interest is a terrifying possibility. At least a scoundrel knows when he is doing bad things. A megalomaniac who only sees the art of the deal, doesn't.
•

Robert Reich is a former US secretary of labor, and professor of public policy at the University of California at Berkeley

Nancy Pelosi seeks to stop Trump impeachment talks among Democrats – live updates
Incoming House speaker wants to protect Mueller's investigation, and allow him to finish his work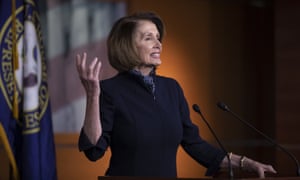 House Democratic leader Nancy Pelosi of California holds a news conference at the Capitol in Washington on 13 December. Photograph: J Scott Applewhite/AP