19 Dec
News and Analyses, A Foreign Perspective
Nearly all of these are English-edition daily newspapers. These sites have interesting editorials and essays, and many have links to other good news sources. We try to limit this list to those sites which are regularly updated, reliable, with a high percentage of "up" time.
Recommended:

'A fake Christmas tree has some obvious advantages over the real thing.' Photograph: Holly Anissa Photography/Getty Images
A

fake Christmas tree has some obvious advantages over the real thing. There's no sticky sap. No needles shedding everywhere. It never needs watering, and at the end of the season, it can be folded up, or disassembled (depending on the model) and stowed away in a closet, basement or attic until next year's Yuletide rolls around.
What's more, machine-made pines are evolving, steadily gaining ground on their biological forebears. Every year, more realistic models emerge, with fuller branches, softer needles and subtler, more life-like colors. One day, it may take the arboreal equivalent of a Voight-Kampff test to separate the real from the faux.
It's no surprise then that the fake tree business has boomed into a billion dollar industry, with sales figures fast approaching those of real Christmas trees.
But what about the environmental impact? Is it possible a plastic pine might not be that bad for the planet? Could it even do some good?
The fake tree industry wants you to think so. This November, the American Christmas Tree Association, a trade group funded by artificial tree manufacturers, released a "life cycle assessment," commissioned from an environmental consulting firm, purporting to show that after just five years of use, a plastic tree reached a "break-even" point, after which its environmental impact was less than, or equal to, that of a real tree.
In a brief animated video on its website, a chipper female narrator distills the report's conclusions: "When choosing between a real and artificial Christmas tree, consider that if you buy an artificial Christmas tree, and keep it for more than five years, you're making the environmentally responsible decision."
Could it really be that simple? Alas, no.
Diving into the 94-page report, I was struck by some curious gaps in the research. Most notably, there was little discussion of the primary raw material used to make most artificial Christmas trees: the plastic known as PVC, or polyvinyl chloride. Curious indeed, as PVC has long been targeted by environmental campaigners as a source of dangerous pollution during its manufacturing, which involves hazardous chemicals such as liquid chlorine, huge energy inputs, and vast outputs of toxic waste.
Looking for some more insight, I reached out to Brad McAllister, managing director of WAP Sustainability Consulting of Chattanooga, Tenn., who oversaw the study. By phone, McAllister told me, in a mild Southern twang, that the study was designed to evaluate the "cradle-to-grave" impact of real and fake Christmas trees. To determine the environmental impact of a plastic tree, he used data provided directly by the largest Chinese manufacturer of artificial Christmas trees, regarding factory emissions, raw materials, energy and water use, packing materials, and transportation. "The whole host of environmental data points," he said.
The PVC that went into the fake trees, McAllister told me, was all made in China. "They were all Chinese raw materials," he said.
That was an interesting fact, and seemingly nowhere in the report. And problematic, because roughly 80% of PVC manufactured in China is made not from oil or gas, as in most countries, but from coal, using an obsolete process that requires vast quantities of catalytic mercury. According to a 2015 EU-funded study, the amount of mercury released annually into the Chinese environment from PVC manufacturing is unknown, but "potentially enormous."
There are, of course, few substances more harmful to human health than mercury, a heavy metal that is indestructible, vaporizes easily, persists in nature, and accumulates readily in human and animal tissue. High concentrations have long been known to cause devastating and permanent neurological damage to humans, particularly young children or babies still in the womb.
So, were the fake Christmas trees in McAllister's study made from coal? "I really don't know," he said, a bit testily. "It does seem like a gotcha question." After a bit of back and forth, however, he conceded it was a good possibility. "Is coal used as a feedstock in the production of the tree? Likely," he said.
Jami Warner, executive director of the American Christmas Tree Association, told me she would try and hunt down the truth about the coal in her members' plastic Christmas trees. "No one's asked me that before," she said. I never heard back.
To be fair, growing, harvesting and moving tens of millions of actual trees to market, often across hundreds of miles, has plenty of impacts too, including pesticide and fertilizer runoff, and carbon emissions, primarily from transportation. But unlike their plastic counterparts, real Christmas trees are a product of nature, and easily recycled, with no toxic afterlife.
A plastic tree, on the other hand, is virtually impossible to recycle, and almost inevitably destined for the landfill, where it will likely persist for thousands of years, slowly leaching toxins into the soil and water.
If that prospect doesn't fill you with Christmas cheer, then perhaps you're better off choosing a real tree this year.
John Collins Rudolf is a writer and freelance journalist

World Politics
United States
Judge agrees to Flynn's request and hearing set for 13 March

'Arguably, you sold your country out' – judge's stinging rebuke
Michael Flynn outside court. The judge said: 'I'm not hiding my disgust, my disdain, for this criminal offense.' Photograph: Andrew Harrer/Bloomberg/Getty Images
The sentencing of Donald Trump's former national security adviser Michael Flynn has been delayed during a live-wire court hearing filled with stunning reversals in which the judge accused him of having "sold your country out".
Flynn had faced sentencing on Tuesday for the crime of lying to federal investigators about conversations he had with the Russian ambassador during the presidential transition period.
But Flynn made the request after US district judge Emmet Sullivan noted that it would be "rare" for him to be sentenced before his cooperation with prosecutors is complete. A member of special counsel Robert Mueller's team told the judge it was possible that Flynn, who has sat for 19 interviews with Mueller's team, might not be done cooperating.
The request to delay followed a stern rebuke of Flynn by Sullivan and a warning from the judge that Flynn could go to prison.
In a lacerating lecture before the delay was granted, Sullivan told the retired three-star general: "Arguably, you sold your country out."
He said: "I'm not hiding my disgust, my disdain, for this criminal offense."
Flynn left the court in Washington without making a statement. Demonstrators outside the courthouse chanted "USA! USA!", apparently in protest of Flynn, as he got into his vehicle.
Sullivan agreed to delay the sentencing, with a status hearing scheduled for 13 March.
Trump wished Flynn "good luck" just hours before the sentencing, which under federal guidelines could have landed Flynn in prison for up to six months.
Arguably, this undermines everything this flag over here stands for. Arguably, you sold your country out

Judge Sullivan
"Good luck today in court to General Michael Flynn," Trump tweeted. "Will be interesting to see what he has to say, despite tremendous pressure being put on him, about Russian Collusion in our great and, obviously, highly successful political campaign. There was no Collusion!"
But the hearing quickly took what seemed like a disastrous turn for Flynn – and by extension the president – as Sullivan, who was first appointed to the bench by Ronald Reagan in 1984, issued a stern condemnation of Flynn's conduct.
"I am going to be frank with you," Sullivan said. "This is a very serious offense. A high-ranking senior official of the government making false statements to the Federal Bureau of Investigation while on the physical premises of the White House."
"You were an unregistered agent of a foreign country while serving as the national security adviser to the president," Sullivan continued, referring to secret payments Flynn had taken from an agent for the government of Turkey. "Arguably, this undermines everything this flag over here stands for. Arguably, you sold your country out."
'Do your job Sarah!': Reporters pursue press secretary over Michael Flynn – video
After a recess in the hearing, Sullivan backtracked on his characterization of Flynn as a foreign agent, noting that Flynn appeared to have ended his work for Turkey in November 2016 – when he was still a Trump adviser, but before his brief White House tenure. "I felt terrible about that," Sullivan said.
In a second sally he later retracted, Sullivan asked Brandon Van Grack, a prosecutor with Mueller's team, whether a treason charge against Flynn had been weighed. "That was not something we were considering," Van Grack said.
After the recess, Sullivan said he was posing the question out of curiosity. "I'm not suggesting he committed treason," Sullivan said. The constitution narrowly defines treason as making war on the United States or giving aid and comfort to an enemy in war.
Flynn would have been the first former White House aide to be sentenced in the Russia investigation. The former Trump aide Michael Cohen was sentenced to three years in prison last week, while former aide Paul Manafort awaits sentencing on felony fraud and money laundering charges.
As the hearing opened, Judge Sullivan seized on a dubious argument Flynn's legal team had made in a sentencing memo. While Flynn accepted guilt, the memo said, he had not been advised before an FBI interview that lying to the agents was illegal.
Sullivan expressed concern that Flynn had not accepted his guilt after all, asking Flynn's lawyer, Rob Kelner, whether he believed Flynn was entrapped by the FBI. "No, your honor," said Kelner.
Asked whether he was aware that lying to the FBI was illegal, Flynn replied: "I was aware."
As part of his plea deal, Flynn admitted he had lied to FBI agents about discussing US sanctions on Russia with Sergey Kislyak, the Russian ambassador at the time, during the presidential transition. Flynn also denied conversations he had with Kislyak about a UN security council resolution condemning Israel.
Flynn further admitted to failing to file as a foreign agent for the government of Turkey and making misleading statements when he did file. A company headed by Flynn took in $530,000 in payments from a businessman connected with the Turkish government in exchange for Flynn's failed efforts to get the US government to extradite the cleric Fethullah Gülen, prosecutors demonstrated.
Flynn's business partner at the time, Bijan Kian, was indicted on Monday for failure to register as a foreign agent of Turkey. He entered a not guilty plea.
The US national security adviser, Michael Flynn, resigned late Monday amid a flow of intelligence leaks that he had secretly discussed sanctions with the Russian ambassador to Washington and then tried to cover up the conversations. In light of his departure, we revisit Flynn's fiery speech at last year's Republican national convention in which he led anti-Hillary Clinton chants ('Lock her up!)

Flynn, 60, is a former head of the Defense Intelligence Agency and a retired lieutenant general in the US army. He served briefly in the Barack Obama administration but was sidelined in part for his increasingly controversial views on Islam.
Flynn joined the Trump campaign in February 2016 as an adviser on national security issues. He was on Turkey's payroll when Trump made him national security adviser in November 2016.
At the Republican national convention in July 2016, Flynn became the first major Trump campaign figure to join the Republican crowd in a "lock her up" chant directed at the Democratic presidential nominee, Hillary Clinton.
"We do not need a reckless president who believes SHE is above the law," Flynn said, at which the "lock her up" chant began.
"Lock her up. That's right," Flynn said. "Yeah that's right, lock her up."

Amphibian's behaviour compared to US president's approach to global warming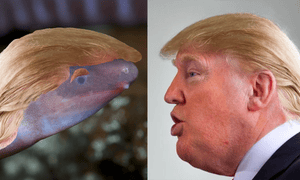 EnviroBuild image puts Donald Trump's hair on the amphibian. Photograph: EnviroBuild
A newly discovered blind and burrowing amphibian is to be officially named Dermophis donaldtrumpi, in recognition of the US president's climate change denial.
The name was chosen by the boss of EnviroBuild, a sustainable building materials company, who paid $25,000 (£19,800) at an auction for the right. The small legless creature was found in Panama and EnviroBuild's Aidan Bell said its ability to bury its head in the ground matched Donald Trump's approach to global warming.
Climate change is already harming Americans' lives, from wildfires to floods, and will get worse, according to a US government report published in November. Trump's response to the report was: "I don't believe it."
'Yeah, I don't believe it': Trump on his administration's own climate report – video
The only event his administration put on at the recent UN climate summit in Poland extolled the virtues of fossil fuels, to cries of "shame on you" from protesters.
The newly discovered creature is a caecilian and its naming rights were auctioned to raise money for the Rainforest Trust. The scientists who found the 10cm amphibian have agreed to use the name Dermophis donaldtrumpi when they officially publish the discovery in scientific literature.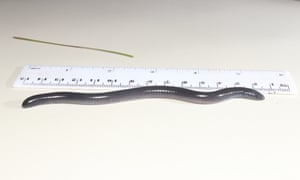 Bell said: "It is the perfect name. Caecilian is taken from the Latin caecus, meaning 'blind', perfectly mirroring the strategic vision President Trump has consistently shown towards climate change."
As an amphibian, the shiny animal is particularly susceptible to the impacts of global warming and is therefore in danger of becoming extinct as a result of its namesake's climate policies, the Rainforest Trust said.
Chris Redston, the executive director of Rainforest Trust UK, said: "Protecting the world's remaining rainforests is acknowledged as one of the most effective ways to mitigate climate change, yet every day nearly 70,000 acres of rainforest are destroyed forever.
"This destruction is not only one of the main causes of climate change, but it is also having a devastating impact on endangered wildlife, indigenous communities and the planet's weather patterns."