23 Dec
News and Analyses, A Foreign Perspective
Nearly all of these are English-edition daily newspapers. These sites have interesting editorials and essays, and many have links to other good news sources. We try to limit this list to those sites which are regularly updated, reliable, with a high percentage of "up" time.
Recommended:

Striking a balance between paranoia and preparedness is an unavoidable challenge. Reaching a reasonable, sensible position demands perception and an understanding, even a curious lay-man's one, of how the cogs of our world spin and, more importantly, how they can be manipulated.
The great difficulties around finalising an international agreement to try to avert climate change is an example of this balancing, but there are many others most of which underline humanity's increasing vulnerability.

London's Gatwick Airport is used by more than 45m passengers each year, yet this vital hub was closed for 36 hours this pre-Christmas week because unidentified drones were seen flying around the facility. It is an indication of the knife-edge world we live in that authorities had no option but to react as they did, a response that unfortunately left thousands of holiday travellers stranded.
The drone flights may well be no more than a schoolboy prank, but terrorist atrocity after terrorist atrocity means any unexpected event at an airport must be considered malign until proven otherwise.
There is simply no wriggle room. That such dramatic delays followed an event as unremarkable as a drone flying around an airport will not be lost on those zealots who imagine their causes are advanced by havoc and carnage.
Those malign forces need opportunity but they also thrive in an atmosphere of uncertainty, an atmosphere where old bulwark certainties become unreliable.
The political floundering around Brexit and the dire consequences of not managing that divorce in an optimal way create an unnerving atmosphere. So too does the widening gap between the rich and the rest of the world — France's gilet jaunes epitomise this.
Religious extremism, the negative connotations of resurgent nationalism, and unchecked autocracy dressed as populism also create a narrative all too easily exploited.
Tragically, those challenges pale into insignificance when compared to the unavoidable conclusion that US president Donald Trump's tenuous grip on reality has slipped further. That concern is exacerbated by the announcement that defence secretary Jim Mattis, the official who stymied Trump's off-the-cuff order that Syria's Bashar al-Assad be assassinated, is to leave the White House.
Mattis is seen as the last of four administration heavyweights once capable of curbing the president's short-fuse responses. Mattis, national security adviser HR McMaster, chief of staff John Kelly, and secretary of state Rex Tillerson, were seen as stabilising forces in the "crazytown" White House.
That the news of Mattis' departure came a day after Trump announced a surprise withdrawal from Syria adds greatly to those concerns — any doubt about that is put in context by Russian president Vladimir Putin's welcome for the retreat.
All of this may seem a party pooper's paranoia that we can do little enough to resolve.
That response may stand today, but when we return to the real world in a week or two, it will be time, especially as the Mueller investigation closes on its objective, to ask ourselves where our best interests lie, whether we can still look to Boston and Berlin.

Bounding blackbucks, a hungry baby bear, an albino orangutan and more

Badgers feeding at the National Trust's Dinefwr Park in Llandeilo, Wales, in July. Figures published this week showed 32,601 badgers were shot this autumn during the annual cull, the highest number on record
Photograph: Graham Harries/Rex/Shutterstock
A baby grizzly bear searches for food in Sar?kam??, Turkey
Photograph: Anadolu Agency/Getty Images

The death of seven-year-old Jakelin Caal in US custody follows decades of US-sponsored devastation in her home country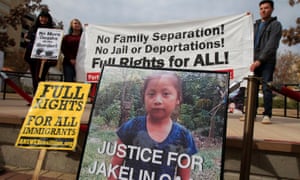 Protesters in El Paso, Texas, call for justice over the death of Jakelin Caal in US custody, December 2018. Photograph: José Luis González/Reuters
A

grainy cellphone image from a small indigenous Guatemalan village shows seven-year-old Jakelin Amei Rosmery Caal Maquin, wearing a blue blouse and jeans and looking diffidently into the camera with her arms hanging at her sides. Not long after the photo was taken, she accompanied her father on the over 2,000-mile journey to try and reach the US. She died while in US border patrol custody after arriving at a New Mexico port of entry to claim asylum.
Traveling with a father, like Jakelin was, accounted for the main reasons small children were regularly separated under Barack Obama (the other reason being the mass incarceration program Operation Streamline), though Donald Trump outmatched his predecessor in sheer scale if not in practice.
The father and daughter fled their small village in Alta Verapaz, one of the areas targeted for annihilation during two successive, US-backed regimes over the Carter-Reagan years, atrocities that a 1999 UN truth commission deemed "acts of genocide" perpetrated against indigenous Mayan ethnic groups that included Jakelin's Q'eqchi' people. Of the 200,000 people killed, eight out of 10 were indigenous.
The targeted scale of death, contrasted by the lack of global action and public outcry, led a group of international lawyers to call the period a "silent holocaust".
The term "holocaust" isn't exaggerated. Just over 100 miles from Jakelin's village, so many bodies were piling up that a Guatemalan military base in Huehuetenango (one of those that proliferated under Kennedy-era military funding programs) operated a crematorium to incinerate the bodies of "the disappeared".
Guatemala's unique national criminal trials in recent years, prosecuting lower soldiers, senior officers and heads of state, have implicated US national security doctrine, first instituted by Kennedy under the guise of fighting communism. US military and embassy officials over the years admitted to, even took credit for, the formation of informal death squads to assist military and security forces in the butchery.
The scale of death led a group of international lawyers to call the period a 'silent holocaust'
An estimated 10,000 people alone were killed in the first three months after a March 1982 military coup by President Reagan's favorite "man of great personal integrity", General Efraín Ríos Montt, trained at Fort Bragg, whose forces averaged 19 massacres per month. Whole villages (over 400 were destroyed) were literally burned off the face of their earth and their inhabitants killed, often gruesomely.
When people started fleeing the nightmare in record numbers (also from US-backed forces in El Salvador), the Reagan administration stepped up border security with methods first tried and tested in Guatemala's US counterinsurgency "laboratory".
Reagan denied asylum claims wholesale to people like Jakelin and her father by referring to them as economic migrants unworthy of asylum, instead of taking responsibility for creating the conditions of political economy that encompass both migrants and refugees. By 1984 a mere 0.79% of Guatemalan asylum applicants had their requests grants and, by the next year, Reagan was deporting 1,000 Central Americans per month back to the death squads. Then, as today, US civil society sanctuary efforts began.
Jakelin's mother recalls her daughter's dream to send money home from the US, a dream she shared with other members of Guatemalan civil society who implored President Clinton in 1999 to relax immigration controls, which skyrocketed under his watch, so that these valuable remittances could continue. Clinton was in Guatemala City the day the UN released its report on Guatemala. Looking genocide survivors in the face, he admitted the decades of decisive US military assistance "was wrong" but flatly rejected their pleas for immigration reform, because, he said, "we must enforce our laws".
Other forms of denial run deep. Obama's former UN ambassador, Samantha Power, wrote an authoritative study on genocide, A Problem from Hell: America and the Age of Genocide, whose index fails to even list "Guatemala". US-backed torture of Guatemala traces back to the Franklin D Roosevelt years and prior, but today conditions have only grown worse.
Every time the media fail to report this historical wreckage from which Jakelin's people are still fleeing across the US-Mexico border; every time US officials fail to treat these survivors with compassion – indeed massive financial reparations would be more appropriate – contributes to an active case of genocide denial.
There's a scene in Steven Spielberg's film Schindler's List where the protagonist Oskar Schindler watches, on horseback from the safety of a distant bluff, the Nazi liquidation of the Warsaw ghetto. Nazi soldiers are killing people indiscriminately, yet Schindler can't take his eyes off a little girl in a red coat, about the same age as Jakelin, who scuttles, unscathed, along the blood-soaked cobblestones – later to be seen in a pile of bodies. In a 2017 HBO documentary, Spielberg reflects that the red-coated little girl of Jakelin's age "was less about what turned" Schindler's sympathy and "more that the world turned a blind eye on the holocaust and the industrial process of wholesale murder".
In other words, the Nazi holocaust was once, like Guatemala's, a "silent" one.
While Jakelin, the little girl in the blue blouse, rates headlines for the time being, an enduring question remains. When will Guatemala's suffering grow louder than the din of US interests – from Roosevelt to Kennedy to Reagan to Clinton to Obama to Trump – and fill the silence of inaction with demands for justice and accountability on this side of the border?
•

Gabriel M Schivone is an immigration asylum sponsor and humanitarian aid volunteer on the Arizona/Mexico border

Holocaust survivor among last-known Jewish fighters from 1943 uprising against the Nazis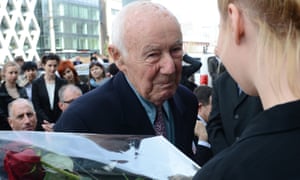 Simcha Rotem in 2013 on a visit to the sewer through which he and dozens of comrades escaped the Nazis during the Warsaw ghetto uprising 70 years ago. Photograph: Janek Skar?y?ski/AFP/Getty Images
Simcha Rotem, an Israeli Holocaust survivor who was among the last-known Jewish fighters from the 1943 Warsaw ghetto uprising against the Nazis, has died. He was 94.
Rotem, who went by the underground nickname Kazik, took part in the single greatest act of Jewish resistance during the Holocaust. Though destined to fail, the Warsaw ghetto uprising symbolised a refusal to succumb to Nazi atrocities and inspired other resistance campaigns by Jews and non-Jews alike.
Rotem, who died on Saturday after a long illness, helped save the last survivors of the uprising by smuggling them out of the burning ghetto through sewers. The Jewish fighters fought for nearly a month, fortifying themselves in bunkers and managing to kill 16 Nazis and wound nearly 100.
"This is a loss of a special character since Kazik was a real fighter, in the true sense of the word," said Avner Shalev, the chairman of the Yad Vashem Holocaust memorial in Jerusalem. "The challenge for all of us now is to continue giving meaning to remembrance without exemplary figures like Kazik."
Rotem was born in 1924 in Warsaw, at a time when its vibrant Jewish community made up a third of the city's population. During the second world war, he was wounded in a German bombing campaign that destroyed his family home. His brother and five other close relatives were killed. Shortly after, the city's Jews were herded into the ghetto.
The ghetto initially held 380,000 Jews and at its peak housed about a half million. Life in the ghetto included cramped conditions, random raids, confiscations and abductions. Disease and starvation were rampant.
The resistance movement began to grow after the deportation of 22 July 1942, when 265,000 men, women and children were rounded up and later killed at the Treblinka death camp. As word of the genocide spread, those who remained behind no longer believed German promises that they would be sent to forced labor camps.
A small group of rebels began to spread calls for resistance, carrying out isolated acts of sabotage and attacks. Some Jews began defying German orders to report for deportation.
The Nazis entered the ghetto on 19 April 1943, the eve of the Passover holiday. They set it ablaze three days later, turning it into a fiery death trap, but the Jewish fighters kept up their struggle for nearly a month before they were suppressed.
The teenage Rotem served as a liaison between the bunkers and took part in the fighting, before arranging for the escape of the few who did not join the revolt's leader, Mordechai Anielewicz, in the command bunker on 18 Mila Street for the final stand.
The Nazis and their collaborators ultimately killed 6 million Jews before the Allies' victory brought an end to the Holocaust.
After the war, Rotem emigrated to pre-state Israel and fought in its war of independence. He was later an active speaker and member of the Yad Vashem committee responsible for selecting the Righteous Among the Nations, non-Jews who risked their lives to save Jews during the Holocaust. On the revolt's 70th anniversary in 2013, he was honoured by Poland for his role in the war.
"Kazik fought the Nazis, saved Jews, immigrated to Israel after the Holocaust, and told the story of his heroism to thousands of Israelis," the Israeli prime minister, Benjamin Netanyahu, said. "His story and the story of the uprising will forever be with our people."
Rotem is survived by his two children and five grandchildren.
With his passing, there is only a single known remaining Warsaw ghetto uprising survivor left in Israel – 89-year-old Aliza Vitis-Shomron. Her main task had been distributing leaflets in the ghetto before she was ordered to escape and tell the world of the Jews' heroic battle.
More On This Story:

World Politics
United States
The McGlynn: It takes an enemy to shut down our government. INDICT! This mad man is a traitor.
Donald Trump has threatened "a shutdown that will last for a very long time" if he does not get money for his US border wall on Friday, as the federal government braced for a partial closure that could begin at midnight