25 Dec
News and Analyses, A Foreign Perspective
Nearly all of these are English-edition daily newspapers. These sites have interesting editorials and essays, and many have links to other good news sources. We try to limit this list to those sites which are regularly updated, reliable, with a high percentage of "up" time.
Recommended:

In a way I should not really be calling it a shock because I should have seen it coming.

Let me explain. This is how it started. I was in getting my haircut and Andy was talking away telling me about some movie, but I could not help overhearing two women who were sitting reading magazines. One said ' I'm at the stage where I hate Christmas, such a big fuss, and for what?'
Her friend answered ' I know and it's all about money, oh I wish it was over!' 
I felt I had been kicked in the stomach. Did she really say she hated Christmas? And as for wishing it was over?
As I say I think that was the start of it.
A few days after that I was in the Full Stop Cafe and I heard people at the table next to me putting forward the well-worn argument that the whole ' Christmas thing' was just for kids. 
I can understand there are reasons why some people may not be looking forward to Christmas and indeed why some people may not enjoy it.
It is hard to enjoy something when you, or indeed someone close to you, is sick. It is hard to enjoy Christmas when you are missing a loved one. For these reasons and others, we may well not be up for much fun or be in form for a party, but all of us, including, no, actually especially, the sad, the sick and the lonely, as followers of Jesus, are called to celebrate Christmas. Oh, I have just remembered I still haven't told you about the shock.
I met a man the other day who quite bluntly told me he did not believe in Santa.
Now when he said it first I thought he was joking. Then he said it again.
What was worse was his wife and her sister were with him, and they seemed lovely, but they agreed with him. They were almost laughing, you would nearly think they were proud of the fact, that they do not believe in Santa!!
When I was a child I absolutely adored Christmas. My parents made the crib a real focus. We even had a bit of fun with it, with the Wise Men travelling over the pelmet on the far side of the room gradually making it across the top of the television to the crib, in time for 6th January.
It was a time of real awe.

Santa was really brilliant to us. I remember those fire engines. I remember books and paints. I remember my six-shooter and my U.S. Marshal's badge. I will never forget the train set.
I think our Dad, after his years on the old steam trains of the Great Northern Railways, got as much, and maybe more, pleasure out of that train-set.
Dad brought us on a tour of the cribs all over Belfast, on the lazy, cold, crisp days of the New Year. Later I learned in school about the origin of Silent Night. Later again I learned how the soldiers on both sides in the war had climbed out of the trenches to sing it.
What about now? What about Christmas now? Well I pray for snow? And I sing Christmas carols and mad Christmas songs constantly. I adore mince pies. I prefer the brown of the turkey and I love the ham. And I'm crazy about peas. I love Christmas in the Church. Adeste Fideles and Silent Night are my favourites.
And Santa? Of course I believe in Santa. I know Santa comes.
I never open a present before Christmas morning. I know he slips in quietly in the deep of Christmas Eve night. St. Nicholas. Spirit of Christmas and blesses my presents with the Presence of Jesus.
The presents in the wrapping paper I do look forward to, but I delight in his Presence at Christmas, presence of love, joy and peace. This is my prayer for each one of you.
Delight in his Presence.
Happy Christmas!!

Many towns claiming to be the birthplace of Santa Claus have seen unseasonal temperatures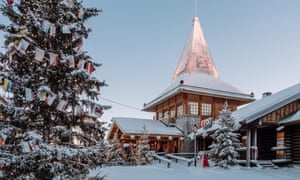 Santa Claus village in Rovaniemi, Finland. Photograph: Elena Petrova/Alamy
After a year in which the climate has been far more naughty than nice, even Father Christmas – in his various guises – is feeling the heat, according to the towns that claim to be his birthplace.
From Alaska to Finland, half a dozen Arctic towns have staked a claim to be the home of Santa Claus or whatever other name he is locally known as. And almost without exception, these winter wonderlands are hotting up.
In Sweden, festive tourists flock to Mora, which boasts a Santa headquarters known as Tomteland that follows local traditions dating back to the Viking era. But the effects of global warming are becoming harder to ignore.
Reindeers are becoming confused by unseasonal temperatures, according to the indigenous Sami. This spring, there were bad floods, and in summer, nearby woodland was destroyed by wildfires that swept through many areas in Sweden.
"I have consulted Mr Santa – or 'Tomten' which is his real Swedish name – and he is very concerned about climate change," Anders Rosén, Mora's communications manager, told the Guardian. "He has a very strong message to the decision makers of the world: 'Please take climate change seriously and make decisions in order to save the planet.'""
A more stable climate would also be better for business. Local ski slopes and cross-country tracks sometimes have to be kept in operation by artificial snow machines. A few years ago, there was no snow on 25 December but the temperature this week is –10C and there have been some falls in recent days so hopes are high that this year will deliver a white Christmas. "Even without snow, we are very good at creating the right Christmas atmosphere," Rosén said. "The tradition of Christmas is very strong in Sweden."
The Finnish city of Rovaniemireceives tens of thousands of letters to Santa from children around the world. Residents of the Lapland capital said the summer was freakishly hot and dry with temperatures above 30C for several weeks in a row. The winter snow arrived so late this year that tourist companies had to improvise with new activities for visitors, including hikes across lakes, where the ice is so crystal clear that fish can be seen near the bottom.
"The lakes are normally covered in snow," said Sanna Kärkkäinen, the managing director of Visit Rovaniemi. "The weather has changed for sure in the past three to five years. It used to be more stable but now it goes from long mild periods to sudden extreme cold."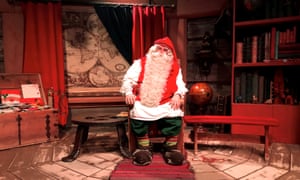 Santa poses for a picture at the Santa Claus Office located on the Arctic Circle near Rovaniemi. Photograph: Attila Cser/Reuters
In recent weeks, the weather has returned to something like its normal pattern and the population of the city – which triples each December with tourists from as far afield as Australia and the US – is once again living in a white landscape. Even so, the locals are worried. Every year, the character of Joulupukki (Old Man Christmas) delivers a festive message – and this year's was a call for action. "Our friend nature has been in trouble for a while now and now we all can give one gift together: we can help nature. I wish you all a merry Christmas," he told one reporter.
Drøbak – a Norwegian town 25 miles (40km) from Oslo – is home to another Santa Claus post office, as well as a year-round Christmas house. The local tourist manager claims to be the cousin of Santa Claus, who is said to live in the nearby island of Håøya. Compared with other Christmas grottos, this is in a relatively southern location and so the climate is mild with only a 60%-70% chance of a white Christmas. When the seasonal lights were turned on at the start of Advent it was raining, but the snow has finally come.
Hans Petter Treider, a local author who has written a book about the life and history of Santa Claus, said Drøbak was doing its bit to fight climate change with an electric ferry service to Santa's island and a promise to make the town centre car-free by 2030. "We have one earth, and we must take care of it," he said.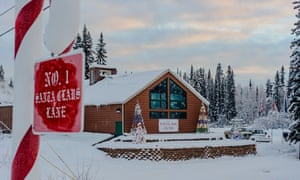 City hall decorated for Christmas in North Pole, Alaska. Photograph: Robert Lype/Getty Images
The Alaskan city of North Pole, which has its own Santa Claus house complete with a 42ft (13-metre) tall statue of the man in red, is in the middle of its second warmest winter on record. It was only last week that it finally registered freezing temperatures, a delay that one resident described as "unheard of". Snow used to fall in October but, in recent years, people in the small city close to Fairbanks are more likely to see freezing rain. Last month, the US federal climate assessment said Alaska was warming faster than almost anywhere else in the world and that Alaskans would a hefty bill to pay as the population were forced to adapt.
Alaskan senator Lisa Murkowski, however, is pushing for more oil drilling in the state. The Republican also seems to be looking at the melting Arctic as a business prospect.
"There are very real opportunities for commerce in the Arctic region. I think Santa figured out that the shortest way to get around the globe was over the pole. He understood the geostrategic position of the Arctic," she recently tweeted.
In Canada, the government has previously granted Santa Claus citizenship rights and established a postal district H0H 0H0 (Ho Ho Ho!) to cover the territory where the old man dressed in the country's national colours is said to live. The environment ministry was reluctant to comment on a specific individual, but said the broader trends were apparent. "The ice-free area in the North Pole is getting larger and the ice that remains tends to be thinner, younger ice," wrote spokesperson Mark Johnson. "The Arctic has been warming more than twice as fast as the world as a whole for the past 50 years. The area and duration of snow cover continue to decrease in the Arctic. Over the past 15 years snow has melted from the land surface earlier in the spring (April, May, June) with a shallower snowpack". Although there has been warm spells over recent years, the weather this winter is expected to be seasonal.
Representatives of several other Christmas themed regions including the towns of Santa Claus, Indiana, in the US, Uummannaq in Greenland, and Veliky Ustyug, the putative home of Russia's Ded Moroz (Father Frost), did not respond to the Guardian's request for comment.
More On The Environment
Gunmen storm government compound as workers run for their lives to escape attack blamed on Taliban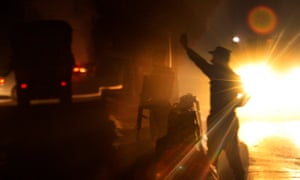 A group of insurgents has attacked an Afghan government building in Kabul. Photograph: Hedayatullah Amid/EPA
An hours-long gun and suicide attack on a Kabul government compound killed at least 43 people, the health ministry said on Tuesday, making it one of the deadliest assaults on the Afghan capital this year.
No militant group has claimed responsibility for the raid, which caps a bloody year for Afghanistan as long-suffering civilians and security forces were slaughtered in record numbers.
Another 10 people were wounded in Monday's massacre on a site where the ministry of public works and an office that handles pensions and benefits for war veterans are located, spokesman Waheed Majroh said.
Gunmen stormed the compound mid-afternoon after detonating a car bomb at the entrance, sending terrified government workers running for their lives. Some jumped from windows several floors high to escape the militants.
Hundreds more were trapped inside buildings for hours as heavily armed security forces swarmed the area, engaging the attackers in a fierce gun battle punctuated by multiple explosions.
At least four militants, including the suicide bomber, were killed and more than 350 people freed, officials said. Most of the dead and wounded were civilians, who have borne the brunt of the 17-year war.
It was the deadliest assault in the Afghan capital since a suicide bomber blew himself up in the middle of a religious gathering last month, killing at least 55 people.
The president of Afghanistan, Ashraf Ghani, whose government has been criticised over its security failures, said "terrorists attack civilian targets to hide their defeat on the battleground".
Afghanistan's de facto prime minister, Abdullah Abdullah, also sounded a defiant note as he blamed the Taliban for the attack.
"Every attack they carry out against our people, our resolve is further strengthened to eliminate them," he said.
But their statements belie the grim reality on the battlefield, where the Taliban have the upper hand.
Afghanistan's largest militant group has made significant territorial gains this year as its fighters inflict record casualties on government forces.
The raid followed a tumultuous few days in Afghanistan where officials were reeling from US president Donald Trump's plan to slash troop numbers, which many fear could harm efforts to end the conflict with the Taliban.
It also comes after a major security shake-up in Kabul that has placed staunch anti-Taliban and Pakistan veterans in charge of the police and military.

NGOs say they could be forced to leave India after authorities freeze their bank accounts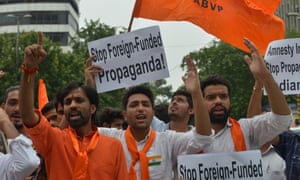 Demonstrators protest against Amnesty's involvement in an event held in disputed Indian Kashmir, which led to sedition charges being laid against the NGO. Photograph: K Asif/India Today Group/Getty Images
Global charities have said their operations in India are in danger after the government froze their bank accounts, forcing them to shed staff.
Amnesty International and Greenpeace have accused India of launching a "smear campaign" against NGOs, activists and journalists critical of the government.
Amnesty's Indian operation is in the midst of a sustained crackdown by the country's home ministry that has cut the group off from its bank accounts and forced it to shed nearly 70 employees, with many senior leaders now working on a voluntary basis.
Greenpeace India has also been targeted for investigation by authorities in past weeks and could leave the country altogether. Activists say it is an extension of a wider campaign against human rights groups in India that has seen nearly 20,000 local NGOs deregistered since 2014.
"We've had to downsize substantially," said Smriti Singh, the media and advocacy manager at Amnesty International India. "Senior management are going through an exercise to see how we can operate with the minimum we have."
The London-based membership organisation, which has been in India since 1966, has cut its workforce by 68 people since late October when its Indian headquarters in Bengaluru were raided by tax authorities.
India's Enforcement Directorate (ED) has claimed Amnesty's Indian branch is illegally receiving foreign money.
Amnesty has been denied a licence to bring in money from overseas under India's stringent Foreign Contribution (Regulation) Act, established in the 1970s when leaders feared the US Central Intelligence Agency and other groups might try to fund civil society groups to foment dissent in the country.
Though it cannot receive foreign donations, Amnesty has set up a private company which sells the group's human rights education toolkit to Amnesty branches overseas, part of which is then used to fund Indian advocacy, alongside dues from local members.
Amnesty says the arrangement, which is common in countries where foreign funding is closely scrutinised, has been disclosed on its website for years and is "fully compliant with Indian laws and regulations".
Its bank accounts were frozen after the ED raid and a judge has permitted access only to funds donated by members since 26 October.
Sensitive details about the investigation were leaked last month to Times Now, a stridently nationalist Indian news channel, which ran an hour-long "super exclusive" report detailing the ED's allegations.
Amnesty has said the leak was part of a "smear campaign" and has organised protests across several Indian cities as well as outside India's high commission in London.
Greenpeace India had its licence to bring foreign donations into India cancelled in 2015, and had to shrink its organisation by 30%. In October, it also had some bank accounts frozen, limiting access even to its Indian funds.
Closing Greenpeace's India office was now "a scenario we can't rule out", said Nandikesh Sivalingam, the group's campaign manager for climate and energy.
He said Greenpeace and Amnesty were visible targets because they were international and urban-based, but that the scrutiny on them was part of a wider campaign against NGOs, activists and critical journalists in a country that boasts it is the world's largest democracy.
"It's about how the government perceives dissent in our country," Sivalingam said.
Foreign funding of charities is a highly sensitive issue in India and often cast in sinister terms as a tool of overseas governments to stifle India's economic growth or stoke social instability.
More than 19,000 NGOs have been blocked from receiving funds from overseas for violations ranging from not filing the appropriate paperwork to engaging in "activities not conducive to the national interest" under the Narendra Modi government. It claims to have reduced the total flow of foreign funds from £1.6bn in 2014 to £691m last year.
In 2014, an intelligence report was leaked to the media accusing NGOs of reducing India's GDP by 2-3% each year by campaigning against mining and other projects.
One of India's largest foreign charities, the Christian aid group Compassion International, ended its 40-year operations in the country last year because it could no longer use overseas funds.
The Indian government accused the group of conducting spiritual activities, a highly sensitive issue in a country that was sought after by British missionaries in the colonial era, and more recently by American evangelical groups, as a source of new Christians.
Since its accounts were frozen, Amnesty has published a report on the "inhumane conditions" inside foreigners' detention camps in the north-east border state of Assam, but said progress on future investigations would be severely slowed.
"We don't know if our accounts will ever be opened again," Singh said. "We hope justice will reign but we can't put a timeline to it."

World Politics
United States
Beto O'Rourke showed up to boost locals and activists seeking to give migrants some festive season cheer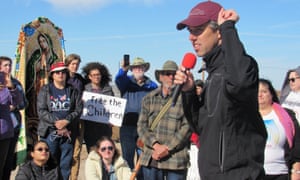 Beto O'Rourke addresses activists at Tornillo. Photograph: Edwin Delgado for the Guardian
Singing and chanting as loud as they could, a few hundred feet from where thousands of children remain detained in a tent-like facility, activists and members of the public hoped their voices would find their way across fences and barbed wire. They wanted to let the children know people were thinking of them during this holiday season.
El Paso organizations put together the Christmas Caroling event in Tornillo, which began on Sunday and will continue daily until 1 January. The idea came from Joshua Rubin, an activist from Brooklyn who has spent the past two months at the border, monitoring the treatment of migrants held by the federal government.
Rubin first visited McAllen, Texas in the summer, when the Trump administration's controversial family separation policy was in place. He came back in October, after learning about the expansion of the Tornillo facility.
"I decided to come down, sit here at the gates and watch what goes in and what goes out," he said. "I gather what I see and report to people, and maybe if I'm here watching, the rest of the country might start watching and these kids won't be forgotten."
As of last week, more than 2,700 minors remained in custody at the temporary facility next to the Tornillo-Guadalupe port of entry. The camp lies to the east, surrounded by pecan fields and empty lots, away from the eyes of the public.
These children have done nothing wrong. They should be with their families

Martin Bates
The caroling attracted a strong contingent of locals. Supporters also came from New York, Ohio, Dallas, Houston, San Marcos and elsewhere.
Martin Bates and his wife had driven from Fort Collins, Colorado. Bates said they had wanted to come to the border for some time, to support the migrants. When they found out about the singing, it felt like a great opportunity. They planned to head to McAllen, too.
"These children have done nothing wrong," Bates said. "They should be with their families."
Attendees spoke about their dislike of Trump immigration policies, sang carols and chanted "No están solos" – "You're not alone" – in an attempt to remind the migrant children they had a community behind them.
"I really hope they can hear us and that it would help them raise their spirit just a little during the holidays," said Anna Diaz, from El Paso.
Texas state senator José Rodriguez thanked everyone who showed up and encouraged them to keep up the pressure, to make sure the facility closes sooner rather than later. Both the children in the camp and the White House should know Donald Trump's hardline policies do not represent the values of the country, he said.
Diego Adame, an organizer for Hope Border Institute, told attendees to remember the thousands of other migrants held in similar facilities across the US.
We can witness with our own eyes, testify with our own words to our fellow Americans what is going on here

Beto O'Rourke
"This is my home," he said. "I'm happy that you are here but I'm ashamed to tell you that we let this happen at our community. What scares me the most is that Tornillo was put in place for the sake of greatness. This does not make us great. We are sick and Tornillo is just another symptom of ignorance and hate."
The facility opened in the summer with a capacity of about 300. The government has extended its contract with BCFS, the operator, three times. The current contract expires on 31 December. BCFS officials told Texas Monthly they did not want to renew the contract, but with thousands of children still in detention it would take weeks before all of the minors could be released.
Last week, the Trump administration relaxed requirements for sponsors who wanted to look after the children. From May, the Department of Health and Human Services had asked all adults living in a sponsor's home to submit fingerprints, information it shared with Immigration and Customs Enforcement. Now only a sponsor must submit fingerprints.
The El Paso congressman Beto O'Rourke, who made a national name for himself in a narrow Senate defeat by Ted Cruz in November, was not scheduled to speak at the rally. But the potential presidential candidate showed up anyway and addressed the crowd, thanking them for their persistence.
"Let's continue to show up here," he said, "let's continue to get behind Josh and others who have been here every single day so that we can witness with our own eyes, testify with our own words to our fellow Americans what is going on here. The fact that you are here is producing the change that these kids so desperately need."
O'Rourke told the crowd he had spoken to the BCFS chief executive, Kevin Dinnin. He was told, he said, the company was no longer accepting children and had 300 ready to be reunified with their families as soon as flights and bus rides could be found. If BCFS stays strong, O'Rourke said, Tornillo could be shut down by mid- or late January. Late on Sunday, the New York Times reported that would happen.
Rubin disputed the BCFS claim, saying he had seen a bus carrying children come in on Saturday. But he said: "I think it's possible that this place can close down. It's possible that, if enough of us make a fuss and keep the pressure on, this place will close. If enough of these people are willing to stay here for a few days in a row, I think we can have an effect."
Adame said rallies would continue so the press and public could be reminded that the children held at Tornillo are "human beings".
"They are our brothers and sisters," he said. "They are us."
.