29 Dec
News and Analyses, A Foreign Perspective
Nearly all of these are English-edition daily newspapers. These sites have interesting editorials and essays, and many have links to other good news sources. We try to limit this list to those sites which are regularly updated, reliable, with a high percentage of "up" time.
Recommended:

As we look back on a disastrous year readers describe the moments climate change hit home for them – and the action they are taking
Devastating California wildfires that killed at least 89 people and destroyed 19,000 homes and businesses prompted some readers to act. Photograph: Josh Edelson/AFP/Getty Images
'The extent and ferocity of the wildfires in California truly scared me'
This summer's heatwave was a real wake-up call. I felt we were up against it and it was becoming real. Seeing British lawns the colour of dry hay for weeks, getting a heatstroke when vising Kew Gardens, and lastly the extent and ferocity of the wildfires in California truly scared me. I've joined Greenpeace. Catherine Laz, 56, London
'I was shocked by the IPCC report saying we have 12 years'
The moment that did it for me was reading the IPCC report that said we have 12 years to reduce carbon emissions to keep global warming to a limit of 1.5 degrees, and that 2 degrees is the tipping point. Knowing that we are warming at an average of 0.2 degrees per decade is scary, and the projections of reaching 4 degrees by 2050 if business as usual is continued shocked me. I've been reading more about climate change and the hot summer of 2018 has definitely been an eye opener in demonstrating its huge impact. We have been fed the lies by governments and businesses that we can significantly reduce climate change by taking personal responsibility – such as recycling more and turning off lights – when really we need to be demanding government to tax carbon, divest from fossil fuel and invest in renewables. Amina Jahan Ali, 26, London
'I had an uneasy feeling about the heatwave'
I've always thought I was reasonably aware of climate change so this summer I had a fairly uneasy feeling about the heatwave we were experiencing. In August I read the hot house earth article in the Guardian and had what can only be described as a mental breakdown. I had a week where I barely ate, drank or slept. It was like I was suddenly thrust into a different world. The thought of having brought children into a dying world was hugely distressing. I hid from the news for a week or two but then decided that this was making things worse so plunged into articles on the true state of the planet, and am doing what I can including going vegan and becoming a member of the Extinction Rebellion. Jennie Gibson, 34, Manchester

Temperatures hit record levels in India this summer. Photograph: Rajat Gupta/EPA
What really made me take notice was the UN report this year and an article in the New York magazine, which said we basically now have the permission to freak out. I don't think people realize how climate change is going to affect us – we've seen it in 2018 with extreme heatwaves in countries such as India. It makes me so mad to know that the really rich people in the world will probably escape death from this and the ordinary people are the ones who will suffer. It's very frightening and unjust. I heard children in Australia were striking in schools for more action to be taken and hope this tactic is adopted by more people to demand appropriate action if it's not being done. Margaret Lynch, 31, Ireland
'The launch of Extinction Rebellion really brought it home'
Climate change has made me fearful before, but in 2018 I am thinking about it every day, and I am terrified that the lives my children might be living in a few years will be ones of desolation and suffering.
It was really brought home by the launch of Extinction Rebellion, which I discovered via George Monbiot. I still feel unsure about what I can actually do, beyond the micro-scale – avoiding plastic, driving and flying as little as possible, etc. In this country I'm not prepared to get myself arrested – but what, other than civil disobedience, will change the minds of the policymakers? Shari Daya, 40, Cape Town
'This statistic walloped me, shocked me, and in fact frightened me beyond belief'
Fires in Northern California, where I live, were one of the main factors for me. Two years in a row, in addition to many lives lost and homes destroyed, we have had several days of choking, toxic smoke affecting millions and millions of people, including me and my loved ones. Last year the smoke lasted about 5 days; this year it was 12. Next year, will the smoke last for 20 days? A month? How much clean air will we have in Northern CA as the years go on? When my daughter becomes an adult, will she say "well, in my day at least we still did outside sports."
Of course I had heard about climate change before, but I think I really thought it was mostly about sea-level rise, and I thought, "well, as long as I live more than a few feet above sea level, I'll be okay." But in this piece, a professor says "the odds of human civilization reaching the 22nd century are often estimated at no better than 50/50." This statistic walloped me, shocked me, and in fact frightened me beyond belief. Among other things I have joined 350.org and attended the Climate March in San Francisco in 2018. Isobel White, 50, San Francisco Bay
Related stories:
World Politics
United States
Move is part of a series of rollbacks pursued on behalf of coal interests, decisions scientists say are detrimental to public health

While stripping mercury standards will not bring shuttered coal plants back to life, it could help some plants stay online a little longer, opponents of the change say. Photograph: Robert Nickelsberg/Getty Images
The Trump administration will reconsider the reasoning for restrictions on toxic mercury pollution from coal plants that is linked to developmental delays in children, it was announced on Friday.
The power industry has largely met the restrictions, which were imposed under former president Barack Obama, with plants either installing required controls or shutting down.
The standards will remain in place, but the Environmental Protection Agency (EPA) will re-evaluate the government's argument for why they are necessary and whether they will ultimately be tightened, the agency said on Friday.
The move by the Trump administration is part of a series of environmental rollbacks pursued on behalf of coal interests, decisions scientists say are detrimental to public health.
Charles Driscoll, a professor of environmental engineering at Syracuse University, said the administration was trying to "prolong the operation, the longevity of coal-fired power plants".
While weakening mercury standards would not bring shuttered coal plants back to life, it could help some plants stay online a little longer, opponents of the change warned before the proposal was released. The rollback could also be part of a broader Trump administration legal strategy to to benefit industry by ignoring some health benefits of cutting pollution.
The Obama-era mercury rule counted the economic effects of curbing mercury and the societal savings from slashing other pollutants that would have come from coal plants that shut down.
The revisions to the mercury rule may be a test, designed to see whether the EPA can stop counting such benefits, called co-benefits, in future air pollution standards. That would result in weaker public health protections, as regulators would consider only a fraction of the benefits of pollution proposals and standards would appear to cost more than they are worth.
"The main reason why they want to do this is to cut the legs off EPA in terms of our ability to protect public health and natural resources from toxics that are impacting our lives today," said the Obama-era EPA administrator Gina McCarthy.
The National Association of Clean Air Agencies, which represents a politically diverse group of state and local air regulators, argues the administration should continue to weigh co-benefits. Executive director Miles Keogh said co-benefits should be counted because they keep people from having to pay more in doctor's bills and miss more work.
"When you quit smoking it saves you a lot of money in what you're paying for cigarettes," he said, "but it saves you money in other ways that's not just what you're paying for cigarettes."
The mercury rule also helped reduce health problems and early deaths from the small particles of pollution people inhale from coal plants.
Trump agencies have been trying to boost coal by rescinding a slate of rules the industry opposes. For example, the EPA is weakening climate change standards for current and new coal plants, which have trouble competing with cheaper natural gas and renewable power.
In addition to emitting greenhouse gases, coal plants are the major source of mercury pollution in the US. The human body absorbs mercury through the air, land and water, and from fish that accumulate the neurotoxin as methylmercury.
The EPA has previously noted that more than 75,000 newborns in the US each year may have a higher risk of learning disabilities from in-utero methylmercury exposure.
Between 2006 and 2016, Driscoll said, mercury pollution from power plants declined 85% due to a combination of state and federal crackdowns and decline in coal use. Still, most people have mercury in their bodies.
Committee chairs issue just a letter rather than final report after inquiry that was condemned as ploy to undermine Robert Mueller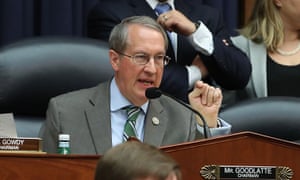 Robert Goodlatte during one of the congressional committee hearings into alleged FBI bias. Photograph: Mark Wilson/Getty Images
Republicans have quietly and unceremoniously ended their congressional investigation of whether the FBI and Justice Department were biased in their handling of inquiries into Hillary Clinton's emails and Donald Trump's ties to Russia.
House judiciary chairman Robert Goodlatte and oversight chairman Trey Gowdy, who are retiring next week, sent a letter rather than a full report to the Justice Department and the Senate majority leader Mitch McConnell. It wraps up an inquiry that was conducted mostly behind closed doors but also in public as Republican lawmakers often criticised interview subjects later and suggested they were conspiring against Trump.
Democrats have blasted the GOP-led congressional inquiry, saying it was merely meant as a distraction from special counsel Robert Mueller's Russia investigation. Its termination comes less than a week before Republicans cede the House majority to Democrats.
Goodlatte and Gowdy say in their letter that they reviewed thousands of documents and conducted interviews that "revealed troubling facts which exacerbated our initial questions and concerns". They call on the Justice Department to appoint a special counsel to investigate further. A separate report issued this year by the Justice Department's own internal watchdog found there was no evidence that the then FBI chief James Comey or the department were motivated by political bias toward either candidate.
Jerry Nadler, the top Democrat on the judiciary committee, and Elijah Cummings, top Democrat on the oversight panel, are expected to formally end the investigation when they take power in January. Nadler has called it "nonsense".
California's Adam Schiff, the top Democrat on the House intelligence committee, said on Friday evening that the Republican investigation was ending "not with a bang, but with a Friday, buried-in-the-holidays whimper, and one foot out the door".