31 Dec
News and Analyses, A Foreign Perspective
Nearly all of these are English-edition daily newspapers. These sites have interesting editorials and essays, and many have links to other good news sources. We try to limit this list to those sites which are regularly updated, reliable, with a high percentage of "up" time.
Recommended:

Emma's Torch teaches those fleeing persecution skills for a career in the kitchen – and lets them show off their culinary culture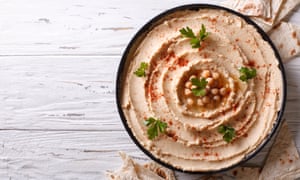 'There is an incredible amount of value of welcoming in refugees and it benefits us from an economic perspective, it benefits us in terms of flavors and cuisines.' Photograph: Alleko/Getty Images/iStockphoto
C

ulinary adventures are woven into the fabric of New York City. But in Brooklyn one December night, only one restaurant could offer a five-course meal that began with salmon cake and couscous from Mali and ended with an Iraqi dessert, including in between dishes from Honduras and China.
The restaurant is Emma's Torch, a non-profit that teaches refugees, asylum seekers and survivors of trafficking the culinary and communication skills needed for a career in the kitchen. Six days a week, diners are offered a menu described as: "New American cuisine – prepared by our new American students."
The restaurant began as a pop-up last year before expanding this summer into a bright, airy restaurant known for its earthy black-eyed pea hummus garnished with dried chillies. The New Yorker food critic, Hannah Goldfield, touted their "perfect shakshuka" served during weekend brunch service in her August review of the restaurant.
In 2019, they will open a second space at Brooklyn Public Library.
Emma's Torch is named for Emma Lazarus, the poet whose words are inscribed on the pedestal of the Statue of Liberty: "Give me your tired, your poor, your huddled masses yearning to breathe free."
On one night each month, Emma's Torch is also the site of a graduation dinner that showcases the flavors of students' homes, such as the lotus root dyed pink with dragon fruit sauce that was prepared by a Chinese student for the second course of the December dinner.
Before the first course was served, as the clock ticked down, the restaurant's founder, Kerry Brodie, spoke over the sounds of sizzling pans.
"There is an incredible amount of value of welcoming in refugees," she said, "and it benefits us from an economic perspective, it benefits us in terms of flavors and cuisines."
In an eight-week, paid apprenticeship, trainees learn how to properly use knives to slice, dice and chop. They also take English classes and participate in mock job interviews. They receive 400 hours of culinary training and are paid $15 an hour for their work at the restaurant and on catered events. In 2017, every graduate was placed in a culinary job.
"The level of training we can provide our students is unparalleled," Brodie said, "because by the time they are graduating and we are helping them secure a job, they know what it is like to work in a restaurant and they are ready to take on new jobs and more importantly to begin new careers."
On the day of the December dinner, one of the four trainees in the graduating class was nervous. After concluding her meal prep, however, her nerves gave way to high spirits, even as she described the dangerous circumstances that led her from Baghdad to Brooklyn.
Aya fled Iraq two years ago, fearing persecution because her husband was a professor. Violence against academics became common after the US-led invasion in 2003; the couple were being threatened for her husband's refusal to obey militias. Aya asked for her real name not to be used in this piece, because she feared for the safety of family members still in Iraq.
Granted refugee status, Aya arrived in the US in January 2016. She studied computer programming for two years but that gave way to cooking, as her efforts were praised by teachers and friends.
"One day," she said, "my teacher said: 'Why don't you open your own restaurant because your dishes and recipes are delicious.'"
Aya thought her teacher was joking but the praise kept coming, especially from her husband. He had always adored her cooking, she said, refusing to order in restaurants food that she could make at home, because it could not possibly be as good.
In Iraq, she could buy their favorite foods cheaply and easily. In the US, she had to craft meals from start to finish, scouring markets for Arab ingredients.
"It is very hard to find Iraqi food here," she said. "I depend on everything myself."
But as Aya kept friends, family and teachers happy with her meals from home, it was clear her future lay in cooking, not computers. The refugee agency Hias connected her with Emma's Torch.
At the graduation dinner, the self-reliance that helped Aya make prized Iraqi meals nearly 6,000 miles from home was threaded into her dishes. A relative, for example, had visited and brought a common ingredient: black lemon, which is actually dried lime. For the fourth course of the dinner, Aya mixed it with raisin, almonds, yellow rice and fried fish.
With two months of culinary training under her belt and the support of Emma's Torch, Aya is now searching for a job.
"The whole time they are here, we talk about what they want for their careers, what they think is going to benefit them long term and what we can do to support them," Brodie said. "So that's why by the time they graduate, it's still an intimidating process, but they know they have us in their corner."

Fearing Trump's crackdown on immigrants, thousands have entered Canada at unmarked locations along the border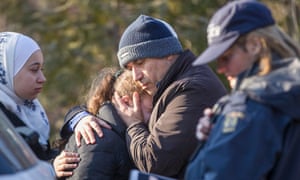 A man from Syria hugs his daughter after they were detained by the RCMP as they illegally crossed the US-Canada border near Hemmingford, Quebec, 28 February 2017. Photograph: Geoff Robins/AFP/Getty Images
I

t was once a vital corridor for Americans seeking to escape slavery. Now a stretch of land in the north-eastern US is in the spotlight again, as thousands traipse across the world's longest undefended border in search of asylum in Canada.
"You can call it the new underground railroad, I think," said Martha Swan of John Brown Lives, a humanitarian group named after the 19th-century abolitionist based in Westport, New York. "An informal network of people trying to help people who are under siege and who are trying to get to safety."
Since the start of 2017, more than 30,000 people – many of them driven by fears of Donald Trump's crackdown on immigrants – have entered Canada at unmarked locations along the border. By doing so, they hope to skirt a longstanding pact that bars most refugee claimants in the US from applying for asylum in Canada.
What started as a cross-Canada phenomenon, with migrants braving freezing temperatures, fields of waist-deep snow and icy ditches at times to enter the country, has narrowed to a few key spots along the border. The bulk of those crossing into Canada by foot now do so at Roxham Road in Quebec, where thousands entered last year in hopes of finding a safe haven in Canada.
The crossing has become a flashpoint in Canada, attracting anti-immigrant protesters as well as counter-protesters who hold up messages of welcome aimed at those entering.
And in an echo of the region's rich history, the crossing – once also vital to those looking to avoid fighting in Vietnam or escape wars in Central America – has also become a focal point for a loose coalition of activists, organisations and faith groups on both sides of the border.
Swan is quick to qualify her parallel with the underground railroad. "The difference is – and it's an important difference – thus far, it's not breaking any laws to provide some information and to hand out winter gloves and to help people on this crossing."
Still, the actions of those supporting the asylum seekers have at times landed them in crosshairs. After Canadian media reported on a pamphlet designed for migrants and which detailed the cost of taxis to the border and offered legal and emergency contacts, the group behind the flyer – a volunteer coalition of hundreds known as Plattsburgh Cares – saw a torrent of hateful comments flood their Facebook page.
The comments were "just vulgar, really hurtful", said Janet McFetridge of the group. "We weren't telling people how to come, we were telling them how to be safe."
McFetridge, who lives next to the US side of the crossing, began visiting the crossing last year, handing out anything from winter hats to snacks. "It was like a brief moment of kindness. It had to do with people that I felt were in need and that maybe I could offer a little bit of assistance," she said. "It had nothing to do with politics, it didn't even really have anything to do with immigration."
Her actions, however, had unwittingly tapped into Canada's simmering debate over the issue. Long buffered from irregular migration by its three coasts and the United States, a small number of Canada's politicians have seized on the soaring number of asylum seekers, stoking fears about those crossing the border.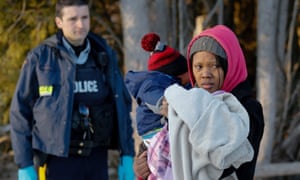 A Royal Canadian Mounted Police officer looks on as a woman waits to cross the US-Canada border into Canada in Champlain, New York, 14 February 2018. Photograph: Chris Wattie/Reuters
Ontario's Conservative government, led by Doug Ford, has withdrawn its support for the resettlement of asylum seekers who enter Canada irregularly, while this fall's election in Quebec saw the leader of the province's nationalist party muse about constructing a wall along the US border.
McFetridge's social media account became a target for angry Canadians – including a threat that she turned over to the New York state police. "I hope that doesn't represent most Canadians – I have a lot of admiration for Canada," she said.
Many bristled at the idea that Americans would be providing any sort of support to those crossing into Canada irregularly. "It's been hard to convince people that they're not really coming to Roxham Road to get a hat from me. They're really coming to go to Canada – it really has nothing to do with me," said McFetridge. "With or without me, they're still going to come."
Her organisation works closely with Bridges not Borders, a coalition of Canadian volunteers who live along the border. "People in need are coming to our border and are making a great deal of effort to get here," said Wendy Ayotte of the group. "And we want to see them having a fair chance to go through the asylum process and contribute to our country as so many other refugees have contributed in the past."
Every Sunday, members of the group travel across the US border to Roxham Road. "And we're just a welcoming presence, we don't encourage or tell people what do to."
Part of Ayotte's motivation is a deep conviction that Canada, home to some 36 million people, can do more. "There are so many people in distress and refugees in distress in the world, Canada takes in relatively so few. We're such a wealthy nation – there were 50,600 people who came last year in total – that's really a drop in the bucket. We're well able to cope with that number of people."
Her organisation has long lobbied the Canadian government to scrap the Safe Third Country Agreement, the pact with the US that forces Canada to turn away most asylum seekers who attempt to enter the country at official border crossings.
Doing so would allow asylum seekers to make claims at official ports of entry and ensure people aren't returned to a country where their lives or liberty are at risk, she said. "People wouldn't be risking their lives in the winter to come into Canada, the RCMP wouldn't be deployed, their resources wouldn't be used in this way," Ayotte added. "And the optic that the far right is using – using this as a way of stirring up a very false sense of Canada being invaded and our borders are threatened, which is not the case – they would no longer be able to use this argument."
For some like Swan, the desolate dirt road and shallow ditch – now the busiest unofficial crossing between Canada and the US – has become a broader symbol amid a political climate marked by a rising anti-immigrant sentiment. "We have a choice to make as individuals, as an organisation … We have to ask ourselves, what kind of a people are we?" Swan asked.
"Our abolitionist forebears, they had to ask themselves the same question," she added. "What is going to be our response?"

Justin Trudeau, in stark contrast to Donald Trump, has publicly welcomed families fleeing conflict and supported by sponsors
Eritrean refugee children experience first snowfall in Canada – video
Clad in oversized coats, the two children twirl, giggle and whoop with joy as they experience a life milestone: their first snowfall.
The brother and sister, who recently arrived in Toronto as refugees, had never before experienced an event most Canadians accept as an everyday part of life.
A video capturing their delighted reaction was tweeted on Sunday by a Toronto resident Rebecca Davies, who is hosting the two Eritrean children and their family until they find permanent housing.
Canada is one of the few countries in the world in which residents can pool money and resources together to help resettle and support refugees. Between 2015 and 2016, Canada resettled more than 25,000 refugees, many of them through private sponsorship programs.
The prime minister, Justin Trudeau, has publicly welcomed families fleeing conflict – even helping to hand out winter jackets at the airport – in stark contrast to Donald Trump's hostile attitude to refugees.
On Monday, Trudeau retweeted Davies' footage, with the comment: "Amazing – now convince them that shoveling is fun and you're all set. Thank you for everything you do, Rebecca. #WelcomeToCanada."
Davies is a member of a group called Ripple Refugee Project, which has raised tens of thousands of dollars to help sponsor and resettle four refugee families from Syria and Eritrea in Toronto.
"We were really touched by the video. We're very moved," said group member Andrew FitzGerald. "There seemed to be moments of pure joy coming from them."
For FitzGerald, the children's reaction to the snow cemented for him the importance of sponsoring families. "If people spent time with these families, they quickly realize these are very good people who are in difficult circumstances and need a hand."
One Twitter user commented: "I hate snow. This makes me want to rethink my stance."
Davies replied: "I'm hoping it also makes others 'rethink their stance' on the topic of newcomers and immigration."

World Politics
Brexit, Trump, Putin… but the biggest threat to our future is climate change

United States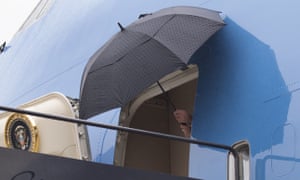 Unmanageable umbrellas were just the start of Donald Trump's problems in 2018. Photograph: Carolyn Kaster/AP
The administration's base-level awfulness has made this a competitive category but some weeks stood out as truly dire
I

t would be safe to say Donald Trump hasn't had the best year. From his longtime adviser flipping on him, to inside revelations about the level of his ineptitude, to being named in court filings as having allegedly directed illegal campaign payments, the president has faced a barrage of scandals.
Trump also lost the House of Representatives, held a number of bizarre press conferences and demonstrated his lack of familiarity with umbrellas. The president did, however, score one recent success, when his neologism "smocking" proved popular.
Let's take a look at Trump's worst weeks of 2018.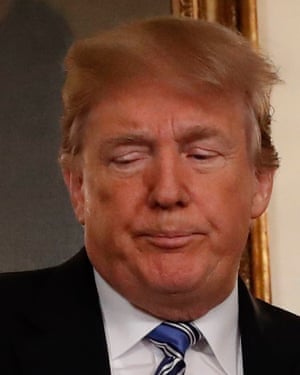 Photograph: Leah Millis/Reuters
Monday 12 – Friday 16 February 2018
What they were saying: "President Donald Trump hasn't had a lot of good weeks since becoming president last January. But this one looks like one of the worst."
What happened:
A lot.
Special counsel Robert Mueller indicted 13 Russian nationals for their role in interfering in the 2016 election. Then it emerged that Rick Gates, a senior adviser to Trump's presidential campaign, was close to a plea deal with Mueller. Michael Cohen – who will be featuring heavily in this compilation – admitted paying porn star Stormy Daniels $130,000 to keep quiet about an alleged affair with Trump. That was on the day before Valentine's Day.
The weekus horribilis didn't stop there. The New Yorker reported on an alleged affair between former Playboy model Karen McDougal and Trump, and introduced the term "catch and kill" to the public lexicon. McDougal said the National Enquirer – run by Trump's friend David Pecker – had paid her $150,000 for exclusive rights to her story, then buried it.
And: the Trump administration was criticised for not acting quickly enough in ousting the White House staff secretary, Rob Porter, after both his ex-wives accused Porter of domestic abuse.
Bonus misery: on Sunday 11 February the Washington Post reported how the Environmental Protection Agency (EPA) administrator, Scott Pruitt, had been splurging taxpayers' money on luxury travel. Pruitt was booted from the government in July.
Monday 16 – Friday 20 July
What they were saying: "President Donald Trump has had more than his share of bad weeks, but it's hard to imagine any week worse than this one."
What happened:
This was the week of Trump's now infamous tête-à-tête with Vladimir Putin in Helsinki. In a joint press conference that Senator John McCain dubbed "one of the most disgraceful performances by an American president in memory", Trump appeared cowed and subservient alongside the Russian president.
In the live briefing, Trump sided with Putin on Russia meddling in the US election.
"He just said it's not Russia," Trump said, nodding to Putin.
"I will say this," Trump continued, "I don't see any reason why it would be."
In doing so Trump rejected the advice of his own intelligence officials, who very much do see reason why it would be Russia who fiddled around in the 2016 vote. The meeting did little to quell rumors and speculation about the exact nature of Trump's relationship with Putin.
"Treasonous," said former CIA director John Brennan. "Thoughtless, dangerous, and weak," said Chuck Schumer, Democratic minority leader in the Senate. "Shameful," was the verdict of Republican senator Jeff Flake.
For his part, Trump said – after seeing the criticism – that he had used "a double negative", and that he did believe his own agencies' verdict on Russia. But that didn't really fly.
"An insult to America's intelligence," was the verdict of the Washington Post.

When Hurricane Ivan sank an oil platform owned by Taylor Energy in 2004, it has spewed hundreds of barrels of oil per day. And it's not stopped

E

ight years ago, the BP Deepwater Horizon oil spill in the Gulf of Mexico devastated communities, wildlife and livelihoods all along the Gulf coast. While dying dolphins and oil-soaked marsh grass dominated the headlines, the human cost was catastrophic. Now, it appears that a new disaster is slowly unfolding that may soon eclipse that horrific event to become the worst environmental disaster in US history.

In 2004, Hurricane Ivan triggered an undersea mudslide that sank an oil platform owned by Taylor Energy. Since then, between 300 and 700 barrels of oil have been spewing into the Gulf of Mexico every day. Let's put that into perspective. The Deepwater Horizon disaster spilled almost 200m gallons of oil into the Gulf. To date, the Taylor spill has released as much as 140m gallons of oil into the Gulf.

What is even more shocking is that, 14 years since the Taylor oil platform sank, federal officials estimate the uncapped wells could continue polluting the Gulf for decades, perhaps even a century. It is a nightmare scenario that should terrify anyone who cares about the health of the wildlife and people who live along the Gulf coast.

Meanwhile, the damage caused by the BP Deepwater Horizon leak remains a stark reminder of the havoc an oil spill can unleash on marine wildlife, coastal communities and local businesses that rely on a healthy ocean.

With these tragedies still fresh in our collective national consciousness, you would think no administration would pursue drastic expansion of risky offshore oil and gas development.

Unfortunately, you would be wrong.

Even as the magnitude of the Taylor Energy spill comes to light, the Trump administration is gearing up to announce the next iteration of its draft plan for offshore oil and gas development. It will be a revision of the plan announced this past January that proposed opening an astounding 98% of federal waters to oil and gas development.

That reckless plan was met with fierce opposition from both Republican and Democrat representatives, small businesses and major industries, and coastal and inland residents from Alaska to Florida. Several bills were introduced this Congress, many of them bipartisan, to prohibit or severely limit drilling in nearly every region of our outer continental shelf.

A supermajority of Floridian voters just approved a state constitutional amendment permanently banning offshore oil and gas development in their state's waters. Rightly, they are not ready to jeopardize their beaches and marine environment, which brought the state $88bn and 1.4m jobs in 2016.

In Alaska, the state legislature, Governor Bill Walker, the congressional delegation, the North Pacific Fishery Management Council and Alaska Native tribes rallied in vigorous opposition to oil and gas leasing in important and sensitive marine habitats throughout their state.

On the east coast, states are battling to prevent risky offshore oil and gas development. Senators from Maine cited the state's $1.7bn lobster industry, North Carolina's governor, Roy Cooper, talked about the state's $3bn a year in visitor spending, and New York's governor, Andrew Cuomo, referenced the 60% of the state's population that lives along its coastline.

Trump's 'energy dominance' narrative should be investing in renewable energy innovation instead of ceding dominance in that growing industry to other countries

Millions of us made certain that the Department of the Interior heard our opposition to risking our way of life and livelihoods in order to benefit oil companies during public comment periods to the proposed expansion. These views should now be taken into consideration before releasing the next iteration of the 2019-2024 offshore oil and gas development proposal.

Donald Trump's "energy dominance" narrative should be investing in renewable energy innovation instead of ceding dominance in that growing industry to other countries like China. This reckless plan also ignores the reality that we are already experiencing the impacts of climate change. Ocean acidification is changing the chemistry of our ocean, rising waters are eroding our coastlines and voracious fires, crippling droughts and increasingly powerful hurricanes are becoming the new normal.

Disasters such as Deepwater Horizon and the 14-year Taylor Energy spill offer vivid demonstrations of the environmental and economic risks of offshore drilling. If the next draft proposal continues to ignore the concerns of coastal communities, the Trump administration will have once again shown that it is prioritizing the profits of the oil and gas industry over all else.

As America continues to struggle with the after-effects of the BP oil spill and begins to wake up to the reality of the Taylor oil spill, we cannot allow the Trump administration to sow the seeds of yet another disaster that will devastate the health of our environment and the livelihoods of countless hard-working American families.

Janis Searles Jones is the CEO of Ocean Conservancy. Philippe Cousteau is the founder of EarthEcho International