02 Jan
News and Analyses, A Foreign Perspective
Nearly all of these are English-edition daily newspapers. These sites have interesting editorials and essays, and many have links to other good news sources. We try to limit this list to those sites which are regularly updated, reliable, with a high percentage of "up" time.
Recommended:

Recently, my wife and I went through one of the more excruciating experiences of our lives – the euthanasia of our beloved dog, Murphy. I remember making eye contact with Murphy moments before she took her last breath – she flashed me a look that was an endearing blend of confusion and the reassurance that everyone was ok because we were both by her side.

When people who have never had a dog see their dog-owning friends mourn the loss of a pet, they probably think it's all a bit of an overreaction; after all, it's "just a dog."
However, those who have loved a dog know the truth: Your own pet is never "just a dog."
Many times, I've had friends guiltily confide to me that they grieved more over the loss of a dog than over the loss of friends or relatives. Research has confirmed that for most people, the loss of a dog is, in almost every way, comparable to the loss of a human loved one. Unfortunately, there's little in our cultural playbook – no grief rituals, no obituary in the local newspaper, no religious service – to help us get through the loss of a pet, which can make us feel more than a bit embarrassed to show too much public grief over our dead dogs.
Perhaps if people realized just how strong and intense the bond is between people and their dogs, such grief would become more widely accepted. This would greatly help dog owners to integrate the death into their lives and help them move forward.
An interspecies bond like no other
What is it about dogs, exactly, that make humans bond so closely with them?
For starters, dogs have had to adapt to living with humans over the past 10,000 years. And they've done it very well: They're the only animal to have evolved specifically to be our companions and friends. Anthropologist Brian Hare has developed the "Domestication Hypothesis" to explain how dogs morphed from their grey wolf ancestors into the socially skilled animals that we now interact with in very much the same way as we interact with other people.

Perhaps one reason our relationships with dogs can be even more satisfying than our human relationships is that dogs provide us with such unconditional, uncritical positive feedback. (As the old saying goes, "May I become the kind of person that my dog thinks I already am.")
This is no accident. They have been selectively bred through generations to pay attention to people, and MRI scans show that dog brains respond to praise from their owners just as strongly as they do to food (and for some dogs, praise is an even more effective incentive than food). Dogs recognize people and can learn to interpret human emotional states from facial expression alone. Scientific studies also indicate that dogs can understand human intentions, try to help their owners and even avoid people who don't cooperate with their owners or treat them well.
Not surprisingly, humans respond positively to such unqualified affection, assistance and loyalty. Just looking at dogs can make people smile. Dog owners score higher on measures of well-being and they are happier, on average, than people who own cats or no pets at all.
Like a member of the family
Our strong attachment to dogs was subtly revealed in a recent study of "misnaming." Misnaming happens when you call someone by the wrong name, like when parents mistakenly calls one of their kids by a sibling's name. It turns out that the name of the family dog also gets confused with human family members, indicating that the dog's name is being pulled from the same cognitive pool that contains other members of the family. (Curiously, the same thing rarely happens with cat names.)
It's no wonder dog owners miss them so much when they're gone.
Psychologist Julie Axelrod has pointed out that the loss of a dog is so painful because owners aren't just losing the pet. It could mean the loss of a source of unconditional love, a primary companion who provides security and comfort, and maybe even a protégé that's been mentored like a child.
The loss of a dog can also seriously disrupt an owner's daily routine more profoundly than the loss of most friends and relatives. For owners, their daily schedules – even their vacation plans – can revolve around the needs of their pets. Changes in lifestyle and routine are some of the primary sources of stress.

According to a recent survey, many bereaved pet owners will even mistakenly interpret ambiguous sights and sounds as the movements, pants and whimpers of the deceased pet. This is most likely to happen shortly after the death of the pet, especially among owners who had very high levels of attachment to their pets.
While the death of a dog is horrible, dog owners have become so accustomed to the reassuring and nonjudgmental presence of their canine companions that, more often than not, they'll eventually get a new one.
So yes, I miss my dog. But I'm sure that I'll be putting myself through this ordeal again in the years to come.

As we reflect on a year of extreme weather and ominous climate talks, Guardian environment writer Fiona Harvey explains why 2019 could see some much-needed breakthroughs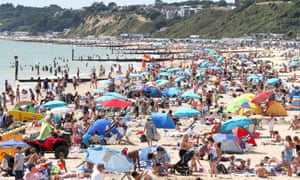 People enjoying the heatwave on Bournemouth beach in Dorset as the hot weather spread across the UK in summer, marking the driest start to a summer since modern records began in 1961. Photograph: Andrew Matthews/PA
E

xtreme weather hit the headlines throughout 2018, from the heatwave across much of the northern hemisphere, which saw unprecedented wild fires in Sweden, drought in the UK and devastating wildfires in the US, to floods in India and typhoons in south-east Asia.
According to the World Meteorological Organisation, last year was the fourth hottest on record and confirms a trend of rising temperatures that is a clear signal that we are having an effect on the climate. Droughts, floods, fiercer storms and heatwaves, as well as sea level rises, are all expected to increase markedly as a result.
Late in the year there was also the starkest warning yet from scientists of what our future will be if we allow climate change to take hold. The Intergovernmental Panel on Climate Change, the global body of the world's leading climate scientists, which has been producing regular reports on the state of climate science since 1988, produced its latest comprehensive overview examining what the future will look like if we undergo 1.5C (2.7F) of warming.
That does not sound like a lot – most people would be hard put to notice a temperature difference of 1.5C – but in climate terms, 1.5C above pre-industrial levels is enough to take us into the danger zone. It would see the mass die-off of coral reefs, the extinction of some species, rising sea levels, wet areas of the world becoming wetter and dry areas drier, and the decline of agricultural productivity across swathes of the globe.
That is a future we should obviously try to avoid. But the UN climate conference in Poland that ended the year's climate-related events in December showed little sign that the urgency of the scientists' warnings had been heeded. Instead, countries discussed a "rulebook" for putting the 2015 Paris agreement into practice, including such arcane matters as how countries measure and verify their emissions, and how often they should report on them, and rows over carbon credits.
In Poland, there were no firm commitments to ramp up countries' national targets in line with scientific advice, and this is unlikely to happen before 2020 at the earliest. On current national emissions-cutting targets, we are in for about 3C of warming. Yet the IPCC warned that if we want to avoid 1.5C of warming, we have about 12 years to bring global emissions under control and swiftly move to just half of their current level. That represents a massive shift needed in the global economy, and yet emissions worldwide look to be moving upward again slightly after a decade in which they showed signs of stabilising.
There was also bad news from the US at the talks, which played little part as Donald Trump prepares to withdraw from the Paris agreement, except to hold a side event at the conference celebrating a bright future for coal.
Looked at this way, the omens from 2018 were not good. Fortunately, however, 2019 may indeed be a breakthrough year. Public opinion is mobilising around the world and politicians and businesses are paying attention. There will be a series of high-profile events that will engage the public and governments and may provide a better way forward than was managed last year.
Chief among them is the promise of António Guterres, the UN secretary general, to hold a summit for world leaders that will require them to face up to the dangers of climate change head on. Guterres is uncompromising, warning in Poland that it would be "immoral and suicidal" not to take firm and urgent action commensurate with the scale of the problem.
Leaders will be put on the spot, and will come under very public pressure as coalitions of civil society groups seek to put their case around the summit and in the lead-up to it. The role of women, who are among the most vulnerable to climate change, will be highlighted, and the role of young people, who will have to live with the consequences of their elders' mistakes in a warming world.
The French president, Emmanuel Macron, is also holding a One World Summit, planned for the summer, at which the focus will be on persuading businesses to take a leading role, investing in projects to reduce greenhouse gas emissions and changing the way they use energy.
There are clear signs of hope on climate change also in the rapidly falling cost of renewable energy technology, which is now competitive with fossil fuels. And the keep it in the ground campaign has succeeded in encouraging many investors to move their money out of fossil fuel stocks.
But most of all the civil society campaigns which have ramped up in 2018 and look set to increase their momentum in the coming year are taking effect. Public opinion around the world is that our leaders, governments and businesses should be doing more on this vital issue. This can be seen in some unexpected ways, such as the rise of veganism and flexitarian eating, as people seek to reduce their impact on the climate from eating meat. Through well-publicised and effective movements and actions, more and more people are refusing silently to acquiesce in ignoring the dangers to the climate.

Comedian said of teen activists: 'You're not interesting because you went to a high school where kids got shot' at 16 December set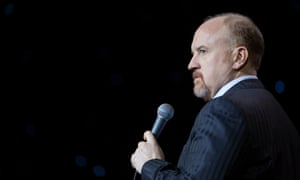 Louis CK in Louis CK: 2017. Photograph: Cara Howe/Netflix
Louis CK faces new controversy over a standup routine in which he appeared to mock survivors of the high school shooting in Parkland, Florida.
The comic has been attempting a comeback after admitting to sexual misconduct including masturbating in front of women. In audio posted online of a recent routine, he seeks to poke fun at the activism of teens who survived the mass shooting in which 17 people were killed.
"They testify in front of Congress, these kids," he says. "What the fuck? What are you doing? You're young. You should be crazy, you should be unhinged – not in a suit saying: 'I'm here to tell …' Fuck you. You're not interesting because you went to a high school where kids got shot."
Users who uploaded audio of the set to YouTube said was recorded on 16 December at the Governor's comedy club on Long Island, New York.
"Why does that mean I have to listen to you?" the comedian continued. "How does that make you interesting? You didn't get shot. You pushed some fat kid in the way, and now I've got to listen to you talking?"
The jokes were an apparent reference to students who survived the shooting at Marjory Stoneman Douglas high school on 14 February and have since become prominent advocates for gun control.
"It's a shame when you sink so low that your comeback plan is to make fun of school shooting survivors for speaking out," one Parkland survivor, Ryan Deitsch, wrote on Twitter.
Fred Guttenberg, whose daughter was killed in the shooting, wrote: "To anyone who knows Louis CK, please deliver this message for me. My daughter was killed in the Parkland shooting. My son ran from the bullets. My wife and I deal with loss everyday. Why don't you come to my house and try out your new pathetic jokes?"
CK also mocked political correctness among young people and requests by gender non-binary people to be addressed by certain pronouns. He also discussed his own "bad year", which was set in train after he admitted to allegations of sexual misconduct. CK lost his TV show and a planned standup special.
He told the audience he lost "millions and millions" of dollars: "You don't tell people you have $35m. But you can tell them you lost $35m, because that shit is hilarious."
Joking that the controversy had shown him who his real friends were, CK said: "People say that like it's a good thing. That's not a good thing. That's a horrible experience. Who the fuck wants to know who your real friends are? I liked having a bunch of fake friends and not knowing who was who."
He went on to say he was "really disappointed in the younger generation", calling them "boring" for objecting to what they consider offensive comments.
The routine was panned on social media.
"This hacky, unfunny, shallow routine is just a symptom of how people are afraid to feel empathy," actor and director Judd Apatow wrote on Twitter. "It's much easier to laugh at our most vulnerable than to look at their pain directly & show them love and concern. Louis CK is all fear and bitterness now. He can't look inward."
The comedian Andy Richter said: "You know what's the worst, most boring kind of comedy? The kind where older white men are angry that older white men can't do or say whatever the fuck they want any more."
"All it took for Louis CK to go from 'fuck Trump' to sounding exactly like him was being caught," said the standup comedian Dan Telfer.
CK appeared to acknowledge the possibility his jokes could cause offense: at the end of a bit mocking the shift from labeling children "retarded" to "intellectually challenged" he said the word didn't bother him.
"You can fucking get offended. Listen, fuck it. What, are you going to take away my birthday? My life is over, I don't give a shit. You can be offended. It's OK. You can get mad at me."
CK also declared that no subject was too taboo to joke about.
"Yes, that was a joke about fucking a child," he said at one point. "Which, by the way, I know fucking children is wrong. Joking about it is not, obviously."

World Politics
United States
Incoming Utah senator says president has abandoned allies and failed to lead a 'divided, resentful and angry' nation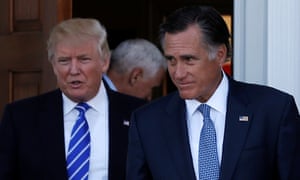 Donald Trump and Mitt Romney emerge after a meeting in November 2016 during discussions about Trump's pick for secretary of state. Photograph: Mike Segar/Reuters
Mitt Romney, the former Republican presidential candidate and incoming US senator, has sharply criticised Donald Trump both personally and professionally, accusing him of deserting the nation's allies and lacking the character to lead a "divided" nation.
In a Washington Post essay published on Tuesday evening, Romney said Trump's presidency "made a deep descent" in December and blamed him for the departures of defence secretary Jim Mattis and White House chief of staff John Kelly.
"The appointment of senior persons of lesser experience, the abandonment of allies who fight beside us, and the president's thoughtless claim that America has long been a 'sucker' in world affairs all defined his presidency down," he wrote.
"On balance, his conduct over the past two years, particularly his actions this month, is evidence that the president has not risen to the mantle of the office."
Romney praised Trump's tax policies, stance on China and appointment of conservative judges but said they were "mainstream" Republican policies.
"To a great degree, a presidency shapes the public character of the nation," he wrote. "A president should unite us and inspire us to follow 'our better angels'. A president should demonstrate the essential qualities of honesty and integrity, and elevate the national discourse with comity and mutual respect. As a nation, we have been blessed with presidents who have called on the greatness of the American spirit.
"With the nation so divided, resentful and angry, presidential leadership in qualities of character is indispensable. And it is in this province where the incumbent's shortfall has been most glaring."
He added that "Trump's words and actions have caused dismay around the world" and cited Pew reports suggesting belief among people in Germany, Britain, France, Canada and Sweden that Trump would "do the right thing" had fallen from 84% in 2016 to 16% a year later.
The White House did not immediately respond to a request for comment.
Romney is staking out an independent position two days before he takes office on Thursday. It is unclear whether Trump will face a serious challenge in 2020 to securing the Republican party's presidential nomination.
In February last year, Trump endorsed Romney's run for a Senate seat in Utah.
During the 2016 presidential campaign, Romney excoriated Trump as a "fraud" who was "playing the American public for suckers". Trump responded that Romney had "choked like a dog" in his unsuccessful 2012 campaign against Barack Obama.
Despite Romney's prior criticism, after Trump won the presidency in November 2016, Trump briefly considered tapping Romney as secretary of state.
In his essay on Tuesday, Romney said he "will speak out against significant statements or actions that are divisive, racist, sexist, anti-immigrant, dishonest or destructive to democratic institutions".
Romney has strongly defended press freedom and challenged Trump's repeated attacks on some news outlets as an "enemy of the people".
In an essay in November, he wrote: "The media is essential to our Republic, to our freedom, to the cause of freedom abroad, and to our national security. It is very much our friend."