04 Jan
News and Analyses, A Foreign Perspective
Nearly all of these are English-edition daily newspapers. These sites have interesting editorials and essays, and many have links to other good news sources. We try to limit this list to those sites which are regularly updated, reliable, with a high percentage of "up" time.
Recommended:

Exclusive: State department has ceased to respond to complaints from special rapporteurs in move that sends 'dangerous message' to other countries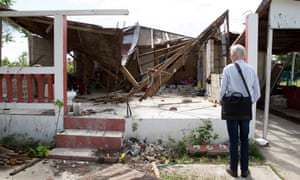 UN special rapporteur Philip Alston inspects damage by Hurricane Maria in Salinas, Puerto Rico, on 10 December 2017. Alston castigated the Trump administration for aggravating levels of inequality. Photograph: José Jiménez-Tirado/Getty Imag
The Trump administration has stopped cooperating with UN investigators over potential human rights violations occurring inside America, in a move that delivers a major blow to vulnerable US communities and sends a dangerous signal to authoritarian regimes around the world.
Quietly and unnoticed, the state department has ceased to respond to official complaints from UN special rapporteurs, the network of independent experts who act as global watchdogs on fundamental issues such as poverty, migration, freedom of expression and justice. There has been no response to any such formal query since 7 May 2018, with at least 13 requests going unanswered.
Nor has the Trump administration extended any invitation to a UN monitor to visit the US to investigate human rights inside the country since the start of Donald Trump's term two years ago in January 2017. Two UN experts have made official fact-finding visits under his watch – the special rapporteurs on extreme poverty and privacy – but both were invited initially by Barack Obama, who hosted 16 such visits during his presidency.
The silent treatment being meted out to key players in the UN's system for advancing human rights marks a stark break with US practice going back decades. Though some areas of American public life have consistently been ruled out of bounds to UN investigators – US prisons and the detention camp on Guantánamo Bay are deemed off-limits – Washington has in general welcomed monitors into the US as part of a wider commitment to upholding international norms.
Jamil Dakwar, director of the American Civil Liberties Union's human rights program, said the shift gave the impression the US was no longer serious about honoring its own human rights obligations. The ripple effect around the world would be dire.
"They are sending a very dangerous message to other countries: that if you don't cooperate with UN experts they will just go away. That's a serious setback to the system created after World War II to ensure that domestic human rights violations could no longer be seen as an internal matter," Dakwar said.
Among the formal approaches that have failed to receive a response from the US over the past several months are queries about family separation of Central Americans at the US border with Mexico, death threats against a transgender activist in Seattle and allegations of anti-gay bias in the sentencing to death of a prisoner in South Dakota.
The new breach with international experts comes at a perilous moment for the US, both externally and within its own borders. Externally, Trump has forged an increasingly unilateral path on foreign policy: in June he shocked the world by pulling the US out of the UN human rights council, complaining it was a "cesspool of political bias", and he has caused further consternation by siding with the Saudi crown prince, Mohammed bin Salman, despite evidence linking Prince Mohammed to the murder of the Washington Post columnist Jamal Khashoggi.
Domestically, Trump has run roughshod over the constitutional rights of asylum seekers at the US border, attempted to deny the legal existence of transgender people and introduced tax cuts that have greatly exacerbated income inequality in a country in which 40 million people live in poverty, among many other controversies.
The timing of the break in relations with UN investigators coincides with the publication in June of the official findings of Philip Alston's visit to the US to research poverty. As UN special rapporteur on extreme poverty, Alston castigated the Trump administration for aggravating levels of inequality that were already the most glaring in the western world.
Alston's robust criticism was received badly by Nikki Haley, then US ambassador, who accused him of biased reporting. She hinted that the administration was minded to turn its back on international accountability by saying it was "patently ridiculous" that the UN should focus on America's internal human rights standards when it could be looking into countries like Burundi.
It is not known whether the decision to sever cooperation with the UN monitors was directly related to the spat over Alston's report. But emails seen by the Guardian involving top US state department officials in Geneva show that by July they were rebuffing contact with international agencies on grounds that they were "considering how best to engage with special procedures", the blanket term for the network of UN special rapporteurs……………….."This suggests the US has abandoned even the most rudimentary forms of human rights accountability, and a whittling away of access to justice for those in the US whose human rights may have been violated," Farha said. "It also demonstrates a rather inappropriate arrogance, at a time when human rights in the US are particularly fragile."
The US government will not be able to avoid international scrutiny entirely. In 2020 it will face a routine "universal periodic review" undertaken by the human rights council – an obligation Trump cannot escape despite having withdrawn US membership.
Related:

Sexist headlines seem intended to stoke vitriol against the senator running for president as they did towards Clinton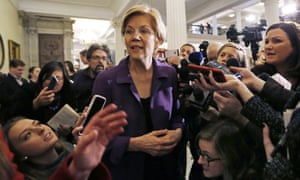 'The media is perpetuating the narrative that powerful women are unlikable.' Elizabeth Warren in Boston on Wednesday. Photograph: Elise Amendola/AP
The countdown to the US 2020 election has only just begun, but it's already starting to look like a hellish repeat of 2016.
On Monday, senator Elizabeth Warren became the first major Democrat to announce her intention to run for president. As you may be aware, Warren is a woman, which means that it is basically illegal not to compare her with Hillary Clinton, despite the two being very different politicians. It is also mandatory to analyse her "likability", which we all know is the most important issue when it comes to female candidates. Indeed, less than 24 hours after Warren had announced her bid, Politico published a story headlined "Warren battles the ghosts of Hillary". They publicised the story with a widely derided tweet, asking: "How does Elizabeth Warren avoid a Clinton redux – written off as too unlikable before her campaign gets off the ground?"
I'll tell you how Warren avoids a Clinton redux. It's actually very simple: the media focuses on the issues the Massachusetts senator stands for instead of fixating on her "likability". The media stops using "likability" as lazy shorthand for: "Is the US too misogynistic to vote in a female president?" The media stops perpetuating the narrative that powerful women are unlikable. The media starts treating her as a candidate, rather than a female candidate.
This isn't to say that Warren's gender doesn't matter. Of course it does. But there are ways to write about that without perpetuating sexist tropes. There are ways to address that without making her gender overshadow her policies. And there are ways to talk about that without making her gender more of an issue than it actually is. Let's not forget, after all, that despite Clinton's supposed unlikability, she won the popular vote. She got almost 3m more votes than Donald Trump; the largest ever total among a losing candidate. Despite her supposed unlikability, more Americans wanted her to be president than Trump.
Let's also not forget that a record number of women and minorities were elected in last year's midterms. On Thursday, the first day of congress, the halls of power in DC became more diverse than they have ever been. A record 102 women are now in the House of Representatives, and more than a third of these are serving for the first time. US voters have shown they are very capable of finding women likable enough to vote for; the media, on the other hand, seems to have a hard time coming to terms with this.
I know it's fun to blame all the ills of the world on Russia, but it wasn't just Russia that put Trump in the White House. The media played a significant part; one I don't think it takes enough responsibility for. Trump got billions of dollars in free coverage, with the press obsessing about his every inconsequential word. The press helped turned him from a joke into a viable candidate. At the same time, the media helped stoke vitriol towards Clinton. They helped turn her from a viable candidate into a caricature of a nasty woman. The way in which the media is already seizing on Warren's likability suggests that, unfortunately, we might not have learned very much from 2016.
The Politico article, by the way, didn't go unnoticed by Warren's campaign team, who quickly leveraged it for a fundraising email. "If you get frustrated when commentators spend more time covering Elizabeth or any woman's 'likability' than her plans … do something productive about it," the email read. It would be productive, I think, for the media to take that advice to heart.

World Politics

United States
More than 800,000 across the US are affected by the impasse, with some on unpaid leave and others working without pay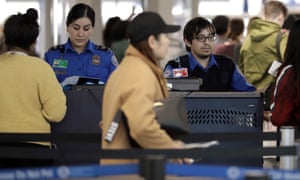 Of the roughly 800,000 federal employees facing deferred pay, more than half were deemed essential, such as TSA agents. They don't know when they will receive their next paychecks. Photograph: Nam Y Huh/AP
It has been two weeks since 25% of the US government shut down due to a funding row over Donald Trump's demands for $5bn funds for a wall on the southern border, and federal employees and contractors who can not go to work are feeling the impact.
More than 800,000 people across the country have been affected by the impasse, with some on unpaid leave, and others working without pay, but many calculating how to pay the bills and buy groceries as the shutdown stretches on indefinitely.
John Deal, a Nasa contractor who lives in Virginia, told the Guardian on Christmas Day that he and his wife – who also works for the agency – have lost 100% of their household income since the shutdown began. One of his daughters lives at home, and is helping pay for groceries from her first year teacher's salary.
"We're blue collar workers. We're not making six figure salaries like Mr Trump or Mr Pence," he said this week.
He and his wife are using vacation days to keep money coming in for the moment, he added, but the family's mortgage payment is coming up.
There is still no end in sight for the partial shutdown that was triggered on 22 December after the president's demand for more than $5bn funding to build the wall, a core campaign promise. Republicans have so far rejected a proposal from Democrats for a funding bill which would reopen the government, but doesn't offer funds for a wall.
The Smithsonian museums are closed due to the government shutdown. Photograph: Shannon Stapleton/Reuters
Just hours before the swearing-in of the new Congress on Thursday, Trump tweeted, blaming the shutdown on the 2020 election. At the outset of the shutdown, he had claimed full responsibility, saying, a week before the shutdown, "So I will take the mantle. I will be the one to shut it down."
The Office of Personnel Management, the federal agency overseeing federal workers, sent out sample letters last week, along with suggestions, for employees to negotiate lower rents during the furlough period. "As we discussed, I am a Federal employee who has recently been furloughed due to a lack of funding of my agency. Because of this, my income has been severely cut and I am unable to pay the entire cost of my mortgage, along with my other expenses," one suggested letter reads.
In Detroit, Michigan, Colleen Regan, 31, a federal law enforcement agency employee, lives alone in a friend's basement as she waits out the end of this shutdown. With very little savings after a move from Chicago for this job, she is making do with the last paycheck she received.
"I'm also a wounded veteran so I draw a pension and it's enough to cover some of my bills but not all. Everyone says you should have managed your money better and it stinks," she added. As soon as news of the shutdown broke, she ran to the grocery store and bought 20lb bag of rice and 10lb bag of potatoes to feed herself. "I can survive on very little," she said, "but once the bills hit this month, the money's going to be gone."
Regan spends most of her time doing research around the shutdown and looking for potential temporary job options but worries no one will hire someone in such an uncertain work situation.
Others are documenting their accumulating days without a paycheck, still using the hashtag #shutdownstories. Since the start of the furlough, Sharon Stiteler, a national park ranger who has documented various furloughs in years past, tweets a diary entry of her day. On day 11, she posted: "Wondering if I'm going back to work tomorrow … refresh news, refresh news, refresh news, refresh news, refresh news, refresh news, refresh news, refresh news, refresh news, refresh news, refresh news, refresh news, refresh news, refresh news, refresh news."

People bike past trash uncollected on the National Mall, due to the partial shutdown of the US government. Photograph: Andrew Caballero-Reynolds/AFP/Getty Images
US national parks have devolved into chaos without the order of enforced by park rangers, and Joshua Tree in California was forced to close this week. Trash cans are swimming in garbage, and human feces pile up in public toilets, without workers there to oversee the cleanup.
It also means that the already backlogged US immigration courts will experience further delays, as those with hearings who are not in detention "will be reset for a later date after funding resumes".
The Smithsonian in Washington DC and the National Zoo are closed indefinitely. Essential staff will take care of the animals for now, most likely without pay, like the hundreds of thousands of other federal employees.
Angel Stephensen, a transportation and security administration supervisor at Salt Lake City airport in Utah, has worked eight hours a day, five days a week in the last two weeks but has not been paid for her time. "My husband works [for TSA] as well so our entire household income is stopped because of this," she said in a message to the Guardian. "We are both essential, so we are required to report to work and do our jobs with no idea as to when our next paycheck will post. We do have some savings so we are better off than many that we work with, but the stress and anxiety of not knowing if we will get paid when we are supposed to is exhausting."

The US Office of Technology Assessment should be revived – in 2019 the world will need its expertise more than ever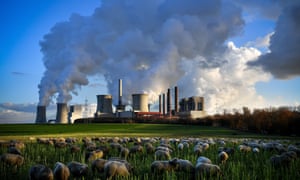 The Niederaussem coal-fired power plant in Bergheim, Germany. Photograph: Sascha Steinbach/EPA
M

any agree that one of the most pressing problems the world faces today is climate change. The question of what to do about it, however, has become highly politicised. Scepticism about climate change is typically a conservative position and trust in the conclusions of the scientific community a more progressive one. While this politicisation is perhaps most evident in the United States, it is well known in many other countries.
But this wasn't always the case. Between 1972 and 1995, a US agency named the Office of Technology Assessment (OTA) existed to provide the practical means to help overcome such politicisation. During its 23-year existence, the OTA was in a unique position to assist members of Congress in understanding complex issues in science and technology.
The OTA was a non-partisan agency governed by a technology assessment board which consisted of of equal numbers of senators and representatives and equal numbers of Democrats and Republicans. Its assessments strove for objectivity and comprehensiveness, and were considered state-of-the-art documents by many. The OTA provided Congress, at its request, with the information and options it needed for the issues with which it was grappling, but it was careful never to tell Congress what it should do. The methodology that OTA used was widely admired and imitated in the parliamentary units that many European countries established following OTA's lead.
In the early 1990s there was still Congressional interest in taking action on climate change, which most of the scientific community already understood would become a major problem if not addressed. Thus, in October 1993, the OTA published a two-volume, 700-page report, Preparing for an Uncertain Climate, at the request of three Congressional committees. I was a principal author. The report identified more than 100 options to help coastal areas, water resource systems, agriculture, wetlands, forests, and federally protected natural areas adapt to climate change. Not only that, but the OTA had also proposed – in its comprehensive 1991 assessment, Changing by Degrees – steps to reduce emissions of greenhouse gases that would help the US avoid climate change.
Imagine where we would be now if Congress had begun to address climate change at the time of these reports (and the early reports of other organisations, such as the Intergovernmental Panel on Climate Change).
Instead, the OTA was abolished in 1995, shortly after Republicans retook control of Congress and Newt Gingrich became speaker of the House of Representatives. At the time, the OTA was one of the most respected agencies in Washington.
Many reasons have been suggested for the move, but it mostly came down to a change in attitude towards the value of science and analysis in Congress. The OTA's abolition was the proverbial canary in the coalmine with respect to the current anti-science attitude among many conservatives in and out of Congress. Since the 1990s, the pace of technological change has continued to accelerate, but few in Congress have the scientific or technological background to understand the new developments.
Now more than ever, the US Congress, as well as legislative bodies in other countries, need sources of unbiased and comprehensive information and analysis they can trust. When Democrats retake control of the House in 2019, they will have an opportunity to re-establish the OTA or an agency like it to assist Congress with complex science and technology issues. Ideally, this should be done by Democrats and their Republican colleagues together, so that technology assessment can once again be a bipartisan benefit to Congress.
Congress has already scheduled two days of hearings in January 2019 to consider how to respond to a changing climate. It would be well served if it could turn to its in-house technology assessment office for advice. Congress might ask a reconstituted OTA, for example, to assess the costs and benefits of implementing the provisions of the Energy Innovation and Carbon Dividend Act, a bipartisan bill which was recently introduced in both the US House and Senate.
Climate change aside, the number of science and technology issues that may require legislative action continues to grow. A new OTA could also provide assistance, for example, on such issues as artificial intelligence, gene editing, cybersecurity, self-driving cars, alternative energy technologies, voting technologies, and dozens of other multifaceted issues that have, or should, come before Congress. These issues, of course, are of interest to countries other than the United States. The need for organisations in Europe and elsewhere that can provide impartial, non-partisan advice on the complicated science and technology issues of the day has never been greater.
We live in an age that seems at times to dismiss expertise, while the problems that require complex solutions grow ever greater. The OTA was an important source of clarity and understanding until it was abolished. Had we instead retained its valuable services, we could surely have reduced or avoided many of the very serious problems we now face.
In 2019, will the world prove able to heed this lesson?
•

William Westermeyer was a senior policy analyst for the Congressional Office of Technology Assessment from 1982-95 and a principal author of the 1993 report Preparing for an Uncertain Climate