06 Jan
News and Analyses, A Foreign Perspective
Nearly all of these are English-edition daily newspapers. These sites have interesting editorials and essays, and many have links to other good news sources. We try to limit this list to those sites which are regularly updated, reliable, with a high percentage of "up" time.
Recommended:

A DER SPIEGEL reporter committed large-scale journalistic fraud over several years. Internal clues and research have provided significant evidence against reporter Claas Relotius, who has since admitted to the falsifications and is no longer employed by DER SPIEGEL. Other media organizations may also have been affected.
Shortly before the end of his journalistic career, misery and glamor crossed paths in the life of Claas Relotius. On the evening of Monday, Dec. 3, Relotius, who had worked for DER SPIEGEL for seven years and had been employed as an editor for the past year and a half, was called onto a stage in Berlin. The jury for the 2018 German Reporter Prize was once again of the opinion that he had written the best feature story of the year, this one about a Syrian boy who lived with the belief that he had contributed to the country's civil war through a graffito he had daubed onto a wall in Daraa. The jurors praised the article for its "unparalleled lightness, intimacy and relevance that is never silent regarding the sources on which it is based." The truth, however — a truth that nobody could have known at that point in time — is that his sources were anything but clear. Indeed, it is likely that much of it was made up. Inventions. Lies. Quotes, places, scenes, characters: All fake.
That misery came in the form of an email, one which, as chance will have it, arrived some 17 hours before the glamor of the awards ceremony, at 3:05 a.m. The message came from a woman named Jan, short for Janet, who was doing media work for a vigilante group in Arizona conducting patrols along the border to Mexico. She asked Relotius — who two weeks earlier had written an article ostensibly about this vigilante group in the darkly dazzling DER SPIEGEL report "Jaeger's Border" — what exactly he was up to. How, she wanted to know, could Relotius have written about her group without even bothering to stop by for an interview? She found it very strange, she wrote, that a journalist would write stories without gathering facts locally.
The story "Jaeger's Border" would prove to be Relotius' undoing. It was one fabricated story too many, because this time, he had a co-author, who sounded the alarm while also collecting facts to counter his fiction. That co-author, Juan Moreno, has been traveling the world as a reporter for DER SPIEGEL since 2007. In the dispute with and surrounding Relotius, Moreno risked his own job, at times even desperately seeking to re-report his colleague's claims at his own expense. Moreno would go through three or four weeks of hell because his colleagues and senior editors in Hamburg didn't initially believe that Relotius could be nothing more than a liar.
In late November and into early December, some at DER SPIEGEL even believed that Moreno was the real phony and that Relotius was the victim of slander. Relotius skillfully parried all allegations and all of Moreno's well-researched evidence, constantly coming up with new ways of sowing doubt, plausibly refuting accusations and twisting the truth in his favor. Until, ultimately, his tricks stopped working. Until he could no longer sleep at night for fear that he might get caught. Relotius caved in last week when a superior, Özlem Gezer, deputy head of the "Gesellschaft" section where he worked, confronted him and told him outright that she no longer believed him. On Thursday, he sat down with his section head and the editor-in-chief and came clean — or at least his version of clean.
It has now become clear that Claas Relotius, 33 years old, one of DER SPIEGEL's best writers, winner of multiple awards and a journalistic idol of his generation, is neither a reporter nor a journalist. Rather, he produces beautifully narrated fiction. Truth and lies are mixed together in his articles and some, at least according to him, were even cleanly reported and free of fabrication. Others, he admits, were embellished with fudged quotes and other made-up facts. Still others were entirely fabricated. During his confession on Thursday, Relotius said, verbatim: "It wasn't about the next big thing. It was the fear of failure." And: "The pressure not to fail grew as I became more successful."
A Crude Mishmash
That crude mishmash, which looked like masterful works of feature writing, transformed him into one of the most successful journalists in Germany in recent years. It earned Relotius the German Reporter Prize on four different occasions, the Peter Scholl Latour Prize and the Konrad-Duden, the Kindernothilfe and the Catholic and Coburger media awards. He was named CNN "Journalist of the Year," he was honored with the Reemtsma Liberty Award, the European Press Prize and he even landed on the Forbes magazine list of the "30 under 30 – Europe: Media." One wonders how he could endure the praise at the award ceremonies without running out of the hall in shame.
These revelations come as a deep shock to everyone at DER SPIEGEL — the editorial staff, the research and fact-checking department, the business side and everyone who works here. We are all deeply shaken. The team and management of the "Gesellschaft" section where he worked at DER SPIEGEL in Hamburg are also stunned and deeply saddened by what has happened. One colleague who had been involved in the editing of Relotius' articles said at the beginning of the week that the scandal feels like "a death in the family."
The fact that Relotius had for years been able to slip through the vetting and fact-checking measures established over decades at DER SPIEGEL is particularly painful and it raises questions about internal structures here that must be addressed immediately. The fact that we were unable to prevent such flagrant violations of the DER SPIEGEL Statute, which has codified the values of this organization since 1949, is the source of tremendous pain.
Those entering the atrium of DER SPIEGEL's headquarters in Hamburg are greeted by the motto of DER SPIEGEL founder Rudolf Augstein. It distills the journalistic ideal to its most concise form: "Tell it like it is." That has always been the mission, and no one should think of those silver letters as mere wall decoration or journalistic folklore. In the words of the 1949 statute, that motto means: "All the news, information and facts processed and recorded by DER SPIEGEL absolutely have to be accurate. … The need for corrections should be avoided at all costs at DER SPIEGEL."
The Relotius case marks a low point in the 70-year history of DER SPIEGEL. We have fallen well short of the goals that we set for ourselves, we have radically undermined our own standards and long-established values have been violated — and we must still determine how often and in what ways. The young editor, who acted the part of the great reporter, cleaned out his office on Sunday and his employment contract was terminated on Monday.
As an author or co-author, he has published 55 original articles in DER SPIEGEL, three of which, translated into English, were published on the SPIEGEL International website and 18 were syndicated digitally to other websites. Relotius wrote articles specifically for SPIEGEL ONLINE three times. And in the decade he worked as a journalist, his work was also published in Cicero, the Neue Zürcher Zeitung am Sonntag, the now defunct Financial Times Deutschland, Die Tageszeitung, Die Welt, Süddeutsche Zeitung Magazin, Weltwoche, on ZEIT Online, in ZEIT Wissen and in the Frankfurter Allgemeine Sonntagszeitung. According to a self-penned biographical blurb, Relotius also wrote for the Guardian, but DER SPIEGEL has found no evidence for the claim in its digital archive.

Deaths reported at several sites amid staffing shortages, as local teams lend a hand at Yosemite, the Grand Canyon and elsewhere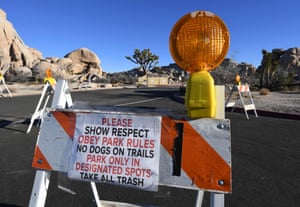 The federal government's partial shutdown has taken a toll on Joshua Tree national park. Photograph: Mark Ralston/AFP/Getty Images
Human waste by the side of a busy road in Yosemite. Overflowing toilets in the Grand Canyon. The Rocky Mountains inaccessible because of unplowed roads.
And in all these places, ordinary people stepping in to try to save some of America's most revered landmarks from being overrun.
As the impasse over funding for Donald Trump's border wall pushes the government shutdown into its third week, US national parks are bearing the brunt of the financial crunch.
The vast majority of park service staff are furloughed during one of of the busiest times of the year, particularly in the western US. Campers and hikers who might have been pleased to skip the entry fees into unstaffed parks have been welcomed by shuttered visitor centers, locked bathrooms, and garbage cans brimming over. Many have lost the reservations they had booked months or even years in advance.
At least three people have died in the parks since the shutdown began, the Washington Post reported. Two people fell, one at the Horseshoe Bend overlook in Arizona and the second in Yosemite; another was hit by a falling tree in Great Smoky Mountains national park. It is unclear if the deaths are related to the shutdown, but experts said the staffing shortage made visits potentially more dangerous. A park service spokesman told the publication that an average of six people die each week in the parks.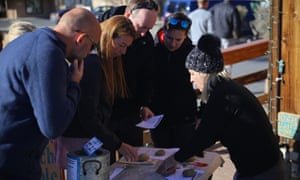 Volunteers help tourists find their way at Joshua Tree. Photograph: Jason Corning/handout
Across the west, Guardian reporters have found varying levels of crisis at three different national parks.
In the vast desert expanses of Joshua Tree, in southern California, the situation has been fraught. Unsettling news reports and cold weather have done little to drive visitors away. Just after the new year, lines of cars cruised past boarded windows where officials typically collect $30 per vehicle. Climbers and selfie-takers could be seen climbing rocks clumped high amidst the park's eponymous prickly trees.
"At Joshua Tree and Yosemite, impacts from human waste is a concern, which includes people relieving themselves in public places, such as behind buildings [and] on roadsides," said Andrew Muñoz, a park service spokesperson. He described the situation as a health hazard and said that the litter increased the risk of dangerous interactions between people and wildlife.
Though officials were scarce, local people are coming together to fill in the gaps, determined to keep the park accessible and clean.
Megan Edge, a barista at a coffee shop next to the closed-down visitor center, said she and other employees were handing out maps and showing out-of-towners where to go. "We live for this park and try to take care of it," she said, adding that they had already run of out maps by midday due to the high demand for help.
Each morning dozens of volunteers from the local not-for-profit organization Friends of Joshua Tree have been gathering to pick up trash, stock toilet paper, and clean toilets near campsites.
"We were not prepared for this level," said the executive director, John Lauretig, standing next to a truck loaded with toilet paper. "There are over 150 pit toilets in the park. So that's a lot of toilet paper. The visitation over this holiday has probably been upwards of 200,000 people."
The group has already spent more than $2,000 on toilet paper alone. "If we miss a day the toilets can get ugly quick," he said.
Campers have been surprised by the clean conditions. Brian Dillman, who lost the New Year's Day reservation he booked back in June for a group of 12, said he was lucky to find a new spot.
"I was expecting anarchy and chaos and filth. Instead, my experience was probably the smoothest and cleanest visit to a national part in the last few years," he said.
Even so, reports of pit toilets nearing capacity and off-roadingprompted officials to close Joshua Tree to campers on Wednesday. Dillman said he was glad. "It is too precious of a park to rely on the responsibility of visitors and the goodwill of community members."
In Arizona, state officials have rallied to keep their No 1 tourist attraction open. Attracting nearly 6 million visitors per year, the Grand Canyon is responsible for generating some $650m in tourism-related revenue and 10,000 jobs in local communities.
Immediately after the shutdown began, the state provided a $64,000 "donation" to the US government that was intended to pay for one week's worth of "essential functions": keeping restrooms clean, removing trash, plowing park roads. As the shutdown stretches on, Arizona is still footing the bill.
The restaurants and stores, which are privately run, were bustling over the holidays, and parking lots were full. Out on the trails it was more subdued, probably because of the below-freezing temperatures and snow over the holiday week, but rule-breakers were spotted.
"The perception is that rangers aren't on duty," said Helen Ranney, a hiking guide with the group Wildland Trekking. While leading clients on a hike down the popular South Kaibab trail on 27 December, Ranney encountered a woman with a dog off leash, which is against park regulations. "I told her the dog could spook mules or wildlife. She already knew this and she didn't care," Ranney said. Ranney also saw over-full composting toilets along the trail that were "appalling".
More On The Environment:
October's parliamentary elections may hinge on the recent pipeline nationalisation and the government's carbon tax plan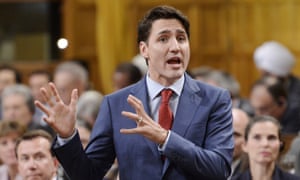 The prime minister, Justin Trudeau, has been attacked for doing too little on the environment – and too much. Photograph: Canadian Press/Rex/Shutterstock
I

n his four years leading Canada, the Liberal prime minister, Justin Trudeau, has gone to great lengths – at home and abroad – to bolster his environmental credentials. Now, with a federal election looming, he is gambling his parliamentary majority and political future on them.
When Canadians cast their votes next October, they will do so amid standard electoral issues: jobs, the economy and foreign policy. But in a country largely dependent on resource extraction, a pair of politically fractious additions have risen to the top: carbon taxes and pipelines.
"The good news for the prime minister is that when you ask Canadians who they think would make the best prime minister, he still has a comfortable advantage over Conservative leader Andrew Scheer," said Nik Nanos, a Canadian pollster. "The bad news is that leading up to the next federal election right now, it's basically a coin toss between the Liberals and Conservatives."
Canadians have shown an increasing concern for the environment, but in a country largely dependent on resource extraction, the results are often messy.
Earlier in the year, as part of its pan-Canadian climate change strategy, the federal government required all provinces have a minimum level of carbon pricing. For those that fail to do so, the government will implement its own carbon tax, set to begin in July 2019. Already, the levy has fired up Trudeau's political opponents – at both the provincial and federal level.
But the prime minister had been forced to fend off barbs from critics – including the left-of-centre New Democratic party and Indigenous communities, that any environmental goodwill he might have earned through his carbon tax has been sullied by the support for – and subsequent nationalisation of – an oil pipeline. "The only true test of a climate change plan, after all, is whether carbon is going up or down," said the NDP leader, Jagmeet Singh, in a statement about his frustrations with the Trans Mountain Pipeline, which runs from Alberta to the British Columbia coast.
The result for Trudeau is a tricky path forward as he heads off attacks that he has done too little on the environment – or too much.
"Trudeau has moved from having an environment that was friendly and pliant to one that is more combative and hostile," said Nanos, pointing to a string of shifts to Conservative – or right-of-centre – provincial governments across the country since Trudeau was elected in 2015. Doug Ford, Ontario's premier, has repeatedly called carbon pricing "the worst tax ever" and at least five provinces have banded together to fight the tax in the courts, a battle legal experts believe they will lose.
Along with their provincial counterparts, the federal Conservatives have pledged to repeal any carbon taxes, with Scheer dismissing the policy as an "election gimmick". This fight comes amid reports that Canada is not on pace to meet its 2030 climate goals.

United States
Cartoon
President says 'we can call it a national emergency' to bypass Congress and build wall 'quickly' at press conference
Government shutdown could last for years, says Trump – video