10 Jan
News and Analyses, A Foreign Perspective
Nearly all of these are English-edition daily newspapers. These sites have interesting editorials and essays, and many have links to other good news sources. We try to limit this list to those sites which are regularly updated, reliable, with a high percentage of "up" time.
Recommended:

Stephen Lynam says that while it is naïve to to enter the world of politics and expect civility, toning down the insults would be a a step in the right direction.
Stephen Lynam
LAST year was another bruising political year. Both at home and abroad, insults flew, tempers flared, and common decency seemed to be forgotten.
I was in America for the mid-term elections there and was struck by the unkindness and the vitriol that came from the mouths of voters and candidates, aimed at their fellow human beings.
Insulter-in-chief, of course, was US president Donald Trump, who labelled his former Secretary of State, Rex Tillerson, as "dumb as a rock", his accuser Stormy Daniels, with whom he is in a legal dispute, as "horseface", and said that Stacey Abrams, running for the governorship of Georgia, wanted to turn the state "into Venezuela", a country currently suffering a major humanitarian crisis.

It was not just the president who showed an inability to be kind. Abrams' opponent, the incumbent governor Brian Kemp, ran a campaign ad in which he sits in the back of a huge SUV and says: "'I've got a big truck, just in case I need to round up criminal illegals and take them home myself."
One can only imagine how immigrants and their children felt upon seeing that on their TV screens.
Similarly Rob Desantis, while running for governor of Florida, called on people not to "monkey this up" by voting for Andrew Gillum, his black opponent.
Days later, a white supremacist group phoned many voters, urging them to vote for Desantis, describing Gillum as a "monkey" and a "negro". Incumbent New Jersey congressman Leonard Lance said his opponent, Tom Malinowski, who suggested detainees at Guantanamo should receive due process, had "lobbied for terrorist rights".
For the record, Abrams and Gillum lost, albeit narrowly, while Malinowski won. To dwell on that, however, is to miss the point. While losing with honour is not a particularly satisfying consolation prize — ask Hillary Clinton — to win while forgetting one's own duty to lead by example leads to bad governance and a broken system.
Voters who reward unkindness through the ballot box are also failing to show younger people — the next generation of electors — that there can be a better way.
Unkindness, of course, begets unkindness. In the midst of a bitter Senate contest in Texas, Ted Cruz's challenger Beto O'Rourke — in an otherwise positive, uplifting campaign and after much provocation — repeated Trump's childish "Lyin' Ted" moniker against him before admitting he should not have done so. Last summer, Democratic Congresswoman Maxine Walters called on her followers to "confront" and "harass" members of the Trump cabinet if they spotted them in public.
It led to a rebuke from Nanci Pelosi, her boss, who eloquently — and kindly — said that "we must strive to make America beautiful again.
Trump's daily lack of civility has provoked responses that are predictable but unacceptable. As we go forward, we must conduct elections in a way that achieves unity from sea to shining sea."
We should not think that we are immune to this ugliness in Ireland.
The campaign by Peter Casey for the Presidency unleashed almost daily unkindnesses. His comments against the Traveller community received much attention, and probably won him a few votes.

Just as unkind were his various personal attacks on the President during the course of the RTÉ radio debate on October 13, when he said Michael D Higgins "will be lucky in a few years if he even does a walk around the park", adding that "it's not his fault he's 77".
These comments stood in stark contrast to those of the eventual winner.
Voters, too, have an important role to play here. It would take a Herculean effort to chronicle the insulting, unkind messages that politicians receive from some of the electorate via social media, but the abuse received by Fianna Fáil TD Jack Chambers is particularly noteworthy.
He has been called a number of other expletives by those who opposed his views on abortion.
While such words have been used to describe most politicians on social media, Mr Chambers' experience was eye-catching because it happened within days of his election as the youngest member of the new Dáil at the age of just 25.
Nobody, regardless of their political positions, should have to endure such abuse and it would be naïve to think his experience has not discouraged many young people from a life of public service. We get the politicians we deserve, it is said, and treating an elected person — a human being like you and I — in this way will only make politics a less hospitable place for people to participate.
There are steps all of us, politicians and voters, an take to stem the unkind tide. The first is to think carefully about what we say prior to saying it, weighing up if it is kind, if it is fair and if it is necessary.
The second is to apologise if we ever fail to live up to the standards of public discourse to which we should aspire — things are often said in the heat of the moment and there is no shame or weakness in simply saying sorry. Mr Casey might dwell on that one.
The third, perhaps more contentious, way to change things for the better is for those individuals who routinely insult others, be they whole groups or individuals, to be removed from the discourse altogether, even if only temporarily.
Imagine if all the media groups in America refused to cover the Trump agenda until he changed his ways and refrained from the verbal atrocities that have become his trademark. Imagine if, following Mr Casey's personalised insults aimed at the President, he was asked to leave that radio debate, or received no subsequent coverage of the remarks?
The new year is a time for resolutions and we could do worse than take a leaf from the book of New Zealand prime minister Jacinda Ardern who in 2018 made world headlines for, er, having a baby and who said that she was "proudly an empathetic, compassionately-driven politician" and remarked that "we teach kindness and empathy to our children, but then somehow, when it comes to political leadership want a complete absence of that".
Unkindness in politics in nothing new, but the virulence of invective is reaching new lows. In 2019, we should take a step back, and ask if we are proud of ourselves. If not, I might quote again Ms Ardern, and kindly suggest that we "chart a different path".
Stephen Lynam is a former special advisor to the Minister for Finance, Paschal Donohoe.

The sun sets behind the skeleton of a beached whale on display on the outskirts of the fishing town of El Cotillo in the Canary Islands, Spain. Photograph: Raphael Satter/AP
Rescued turtles, piggybacking toads and a sadly missed rhino feature in this week's gallery
A wild short-eared owl in flight in Gloucestershire, south-west England.
Photograph: Jerome Murray/Alamy Stock Photo
A young wild macaque monkey in the snow in a park on Qianling Mountain in China's central Guizhou province.
Photograph: Yang Wenbin/Barcroft Images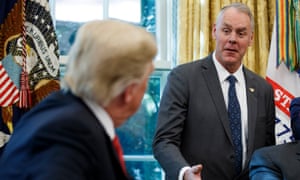 Donald Trump listens as secretary of the interior Ryan Zinke delivers remarks in October. Photograph: Shawn Thew/EPA
W

hen President Trump's new secretary of the interior Ryan Zinke rode a horse across the National Mall to the steps of his new office, there was cautious optimism, as a western congressman who professed to idolize Teddy Roosevelt seemed like a solid choice to govern 20% of the land base of the United States.
In the unforgiving milieu of Washington DC, Zinke and the "horse he rode in on" were subjected to withering ridicule. As the 18th director of the National Park Service (NPS), where I oversaw over 400 national parks and the equestrian patrol of the National Mall who accompanied the new secretary, I chalked it up to a publicity stunt.
But when Zinke had a new flag raised over the Interior Building, signaling to all there was a new sheriff in town, I knew we were in for some rough waters. Now that Zinke's flag has been unfurled for the last time over the Department of the Interior, many of us who care deeply about our national parks and public lands have breathed a collective sigh of relief.
The secretary of the interior has a complicated and important job. He or she oversees all of the national parks, the national wildlife refuges, and the public lands of the Bureau of Land Management, plus the scientific work of US Geological Survey, and leasing and regulation of coal mining and oil and gas development in the oceans off the coast of the United States. He or she carries a trust responsibility to Native Americans and is the water master of the Colorado river. The secretary is the keeper of the nation's history as the steward of the Statue of Liberty, homes of past presidents, civil war battlefields and our most powerful civil rights sites, such as the church of Dr Martin Luther King Jr.
At their best, past interior secretaries from both parties have found the right balance between conservation, preservation and development, bringing in science, public engagement and a stewardship view towards the future of our precious lands and waters. At their worst – embodied by James Watt, the secretary under President Ronald Regan who canceled a concert on the mall by the Beach Boys because they attracted the "wrong element" – science has been suppressed or ignored and resources that belong to the American people have been given away to those who saw only short-term profit.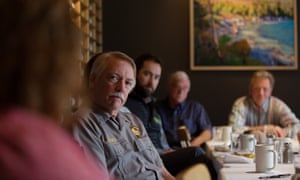 Jonathan Jarvis listens to community leaders in Maine in 2016. Photograph: The Washington Post/Getty Images
While we were hopeful that Zinke would be one of the good ones, we were soon disappointed, then appalled. As he was surrounded by the staff of Gale Norton, secretary of the interior to President George W Bush, his doors were soon darkened by profiteers, big game hunters, oil executives, and climate deniers. Under Zinke's flag, national monuments were carved up and reopened for development, exemplified by the reduction of Bears Ears national monument under the guise of a "review" under which Native American input was left out and public opposition ignored. Policies that planned for climate change's impacts on national parks were rescinded, and leasing of public lands for development was accelerated (despite a glut of oil).
Career public servants, such as the superintendent of Yellowstone national park, were randomly moved to force their retirements, and others were threatened with either a forced reassignment or a complete elimination of their program. Climate scientists were told to edit their own research, eliminating any reference to human causes (but fortunately some refused).
Then Zinke rolled out a series of poorly conceived ideas: eliminate national park passes for the active military and fourth graders, increase national park entrance fees by several orders of magnitude, and require upfront payment for first amendment protests on the National Mall. Two years after he took the reins, the positions of director of the National Park Service and head of the US Fish and Wildlife Service remain vacant, unprecedented in history, leaving the two agencies rudderless and adrift.
Zinke's flag has been lowered due to his own unethical excesses, but little will change at interior. In charge will be the deputy secretary David Bernhardt, the brains behind most of the unwinding of our national estate. As the acting EPA administrator Andrew Wheeler was to Scott Pruitt, David Bernhardt is to Ryan Zinke: smart, shrewd, low-profile and effective. When this all ends, what will be the lasting damage?
Millions of acres that were available for outdoor recreation will now be held by private companies for fossil fuel development. Many distinguished career public servants will be gone and many mid-level employees will be reconsidering their career choices. Regulations that protect our air, water and wildlife will be weakened and need rebuilding. And our options for addressing climate change will have been narrowed. The one thing that the Zinke administration cannot rewrite is history, and history will not be kind to his tenure.
There is good news besides his departure, and the legal challenges to many of his policies and actions, led by the conservation community. As I wrote in my book The Future of Conservation, I have faith in the rise in the millennial generation active for conservation. They are smart, diverse, innovative and fired up, forming not only resistance, but a movement that will stand up locally and nationally for the future of our parks and public lands for all, forever. Someone in this group will be a future secretary of the interior and they will be one of the good ones.
Jonathan B Jarvis was the 18th director of the National Park Service. Over his 40 years with the NPS, he served under 10 different secretaries of the interior. He is the co-author of The Future of Conservation in America, A Chart for Rough Water, from University of Chicago Press.
Read Full Article>>

World Politics
United States
Trump's America: Cartoon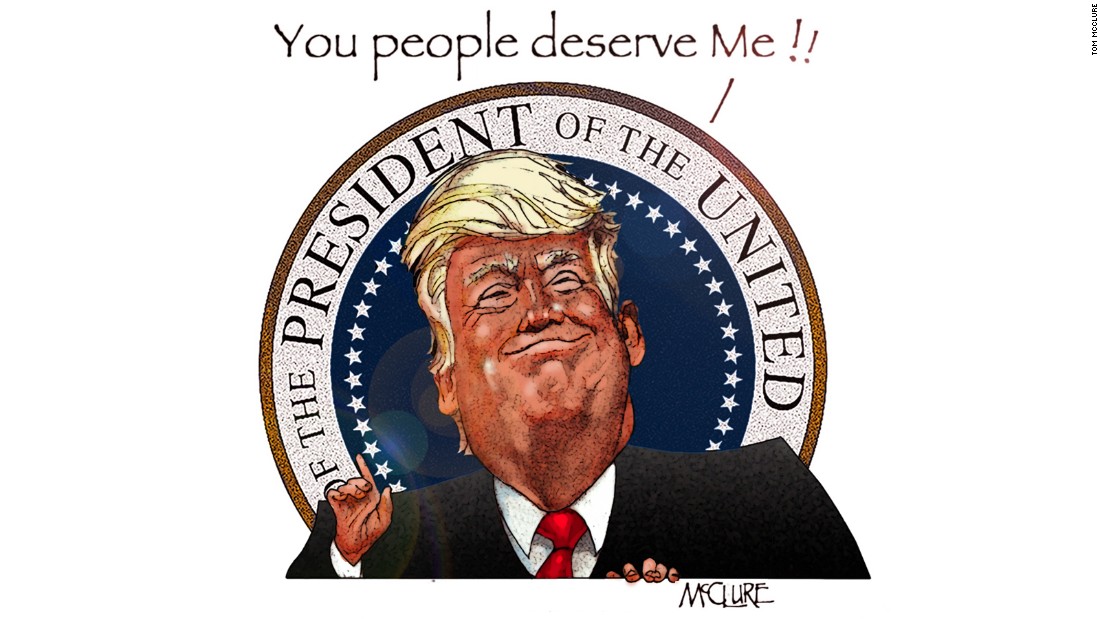 Trump's America: Cartoon views from around the world

Chuck Schumer condemns president's 'temper-tantrum'

800,000 federal US workers continue to go without pay
What does a government shutdown mean for the US? – video
Donald Trump abruptly ended a critical meeting with Democratic leaders on Wednesday, calling it a "total waste of time" as the partial shutdown of the US government dragged into its 19th day with no end in sight.
The further deterioration of negotiations over the funding lapse affecting nearly 800,000 federal employees came a day after the president used his first address from the Oval Office to reinforce his demands for a wall along the southern border with Mexico.
"Just left a meeting with Chuck and Nancy, a total waste of time," Trump said on Twitter, referring to the Senate minority leader Chuck Schumer and House speaker Nancy Pelosi. "I asked what is going to happen in 30 days if I quickly open things up, are you going to approve Border Security which includes a Wall or Steel Barrier? Nancy said, NO. I said bye-bye, nothing else works!"
Schumer, offering his version of events, told reporters outside of the White House that "the president just got up and walked out".
"He asked Speaker Pelosi: 'Will you agree to my wall?' She said no, and he just got up and said we have nothing to discuss and walked out," Schumer said. "Again, we saw a temper-tantrum because he couldn't get his way."
The meeting followed a closed-door lunch with Senate Republicans on Capitol Hill, during which Trump urged Republicans to "stick together".
A handful of Republicans have expressed concerns over the longevity of the shutdown. At least three Republican senators – Lisa Murkowski of Alaska, Cory Gardner of Colorado and Susan Collins of Maine – have said they would support reopening the government without funding for the wall.
But emerging from the private meeting with Senate Republicans on Capitol Hill, Trump showed no sign of backing down while threatening to declare a national emergency if a breakthrough is not found.
"The Republicans are totally unified," Trump said. "We talked about strategy, but they're with us all the way."
'He just walked out': Schumer on meeting with Trump over shutdown – video
"He gave no indication of any willingness to budge an inch," said John Kennedy, a Republican of Louisiana. "The president – and I happen to agree with him – believes that his only sin is that for the first time in 15 or 20 years he is actually enforcing America's immigration laws."
The shutdown, the third on Trump's watch, is the longest since 1995 and has forced the closure of national parks, placed certain food and drug inspections on hold, and sparked concerns over air travel.
Before their meeting with Trump, Schumer and Pelosi held an event with furloughed federal workers in a bid to highlight the impact of the shutdown.
"To use them as hostages through a temper tantrum by the president is just so wrong, so unfair, so mean-spirited," Schumer said. "It ought to end and it ought to end now."
Trump offered no new solutions at a nationwide televised address on Tuesday evening, but instead insisted that a wall was necessary to stem the flow of illegal immigration.
In a speech full of false claims and misleading statistics, Trump painted a portrait of a crisis at the US-Mexico border even as the rate of illegal immigration has steadily fallen over the years and in 2018 reached its lowest point in more than a decade.
Talks have remained at a stalemate over the president's insistence that any government funding bill include $5.7bn toward the construction of a border wall.
Democrats, newly in control of the House of Representatives, have said they will not allocate any money toward the wall, which remains a popular concept within Trump's base but has little support from the broader American public.
Although he stopped short of declaring a "national emergency" in his televised address, Trump insisted on Wednesday he had the "absolute right" to do so.
"I think we might work a deal, and if we don't, I may go that route," Trump told reporters at the White House. "My threshold will be if I can't make a deal with people that are unreasonable."
Asked about the federal workers who were going without pay, Trump said: "They're all going to get the money and I think they're going to be happy.
"Many of those people that you're talking about are on my side."
There is no evidence to support the notion that federal workers support a border wall or Trump's position amid the shutdown. It is also not clear if those who were either working or furloughed without pay would eventually be compensated.
Democrats, in a bid to amplify pressure on the White House and Senate Republicans, began a series of House votes on Wednesday to reopen the government one department at a time, beginning with passing a bill to reopen the Treasury, the Internal Revenue service and some other federal agencies.
However, Mitch McConnell, the Senate majority leader, has signaled the bills would hit a dead end in the upper chamber.
"We are all behind the president," McConnell told reporters with Trump by his side.
Without a resolution, the closure of several government operations could soon pose a threat to the delivery of food stamps and tax refunds for millions of Americans.
Clifton Buchanan, a cook supervisor with the Federal Bureau of Prisons in Houston, is among the hundreds of thousands of federal employees who have been furloughed since 21 December 2018, when parts of the government shut down.
Buchanan, who participated in the press conference with Democrats, turned 50 on Friday. But instead of celebrating the milestone, he sat around the kitchen table with his wife discussing which bills they could afford to pay without his income.
He said: "Right now I'm just trying to figure out how to pay my bills and feed my family. I'm not working. I'm not getting paid. I can't pick and choose who to blame. I just know I have no income."