12 Jan
News and Analyses, A Foreign Perspective
Nearly all of these are English-edition daily newspapers. These sites have interesting editorials and essays, and many have links to other good news sources. We try to limit this list to those sites which are regularly updated, reliable, with a high percentage of "up" time.
Recommended:

France's yellow vests, coming together in informally organised groups, took just one month to challenge policies on taxation, education, transport and environment, and make the Macron government back down.
'Daring to straighten up, to stand up'
by

Serge Halimi
D

ecember 15, place de l'Opéra, Paris. Three yellow vests read out an address 'to the French people and the president of the Republic, Emmanuel Macron' saying: 'This movement belongs to no one and to everyone. It gives voice to a people who for 40 years have been dispossessed of everything that enabled them to believe in their future and their greatness.'
The anger provoked by a fuel tax produced, within a month, a wider diagnosis of what ails society and democracy. Mass movements that bring together people with minimal organisation encourage rapid politicisation, which explains why 'the people' have discovered that they are 'dispossessed of their future' a year after electing as president a man who boasts he swept aside the two parties that alternated in power for 40 years.
Macron has come unstuck. As did previous wunderkinder just as young, smiling and modern: Laurent Fabius, Tony Blair, Matteo Renzi. The liberal bourgeoisie are hugely disappointed. His French presidential election win in 2017 — whether it was a miracle or a divine surprise — had given them hope that France had become a haven of tranquillity in a troubled West. When Macron was crowned (to Beethoven's Ode to Joy), The Economist, that standard-bearer for the views of the international ruling class, put him on its front cover, grinning as he walked on water.
But the sea has swallowed up Macron, too sure of his own instincts and too contemptuous of other people's economic plight. Social distress is generally only a backdrop to an election campaign, used to explain the choice of those who vote the wrong way. But when old angers build and new ones are stirred up without consideration for those enduring them, then, as the new interior minister Christophe Castaner put it (1), the 'monster' can spring out of its box. And then, anything becomes possible.
France's amnesia about the history of the left explains why there have been so few comparisons between the yellow vest movement and the strikes of 1936, during the Popular Front, which prompted similar elite surprise at the workers' living conditions and their demand to be treated with dignity. Philosopher and campaigner Simone Weil wrote: 'All those who are strangers to this life of slavery are incapable of understanding what has proved decisive in this situation. In this movement it is not about this or that particular demand, however important … After always having submitted, endured everything, accepted everything in silence for months and years, it is about daring to straighten up, to stand up. To take your turn to speak' (2).
The tables had turned
Prime Minister Léon Blum, speaking about the subsequent Matignon agreements of 1936, which granted paid holidays, a 40-hour week and better wages, reported an exchange between the employers' negotiators in which one said to another, when he saw the level of some salaries, 'How is this possible? How did we let this happen? (3)' Was Macron similarly enlightened by hearing yellow vests describe their daily life? Tense, pale, his eyes riveted to the teleprompter, he did admit in his address to the nation that 'the effort demanded of them was too great' and 'not fair'. The tables had turned and he was now the one learning a lesson.
After always having submitted, endured everything, accepted everything in silence for months and years, it is about daring to straighten up, to stand up. To take your turn to speak Simone Weil
How did we let this happen? Thanks to the yellow vests, everyone is more aware of the government's injustices: €5 a month less in 2017 for housing benefit while the progressive rates of tax on capital were abolished; the wealth tax eliminated; pensioners' purchasing power declining. The costliest measure was the replacement of the tax credit for competitiveness and employment (CICE, a corporate tax credit scheme for businesses) with a reduction in employers' social security contributions, which mean that this year the Treasury will effectively pay a double bonus to Bernard Arnault, the richest man in Europe, owner of Carrefour, LVMH, Le Parisien and Les Echos. This policy will cost almost €40bn in 2019, 1.8% of GDP and more than 100 times the saving from housing benefit cuts. In the short, angry video, viewed 6.2m times, that helped launch the yellow vest movement, Jacline Mouraud, 51, a composer and hypnotherapist from Brittany, asked Macron three times, 'What are you doing with the cash?' Now we know.
A hefty fuel price rise and a stricter roadworthiness test for cars were enough to bring everything to the surface. Such as banks that grow fat on every loan, yet in the name of cost-saving 'rationalise', meaning close, their branches, as they do the accounts of customers who write a cheque that bounces to get through to the end of the month. A government that raids pensions, already too low, as if they were a treasure chest. Single mothers who have trouble getting child support from their former partners, equally poor. Couples who want to split up but are forced to stay together because they cannot afford two rents. The Internet, computers and smartphones which are now necessities that have to be paid for, not for leisure purposes but because service rationalisations by the post office, tax authorities and railways, and the disappearance of public phones, make it impossible to live without them. And everywhere there are maternity unit closures and shuttered shops while Amazon opens new warehouses. This universe of anomie, imposed technology, form filling, productivity tracking and loneliness can be seen in other countries too. It has arisen under very different political regimes and predates Macron's election, but he seems in love with this new world and has made its accomplishment his social project — another reason why he is hated.
But not universally so. People who are doing well — graduates, the middle class, those in big cities — share Macron's optimistic outlook. As long as the country is calm, or in despair, which amounts to the same thing, the world and the future are theirs. A yellow vest who owns a detached house that in the 1970s would have been a symbol of upward mobility said, 'When planes fly low overhead, we think: Look, there are the Parisians who can afford a holiday. Dropping their pollution on us too' (4).

An adopted leopard cub, a preening moorhen and tiny turtles feature in this week's gallery
Scientists called study's findings upsetting and said toxic air must be cut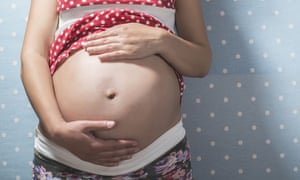 Raised levels of nitrogen dioxide pollution increased the risk of losing a pregnancy by 16%, the study reveals. Photograph: Rex/Shutterstock
Air pollution is as bad for pregnant women as smoking in raising the risk of miscarriage, according to a scientific study. They said the finding was upsetting and that toxic air must be cut to protect the health of the next generation.
The effect of long-term exposure to dirty air on the risk of miscarriage has been analysed previously. Studies from Brazil to Italy to Mongolia found a link, but others failed to do so.
However, the latest study is the first to assess the impact of short-term exposure to air pollution. It found that raised levels of nitrogen dioxide (NO2) pollution that are commonplace around the world increased the risk of losing a pregnancy by 16%.

Guardian graphic. Source: Leiser et al 2018, Fertility and Sterility
Air pollution graphic
"It's pretty profound," said Dr Matthew Fuller, at the University of Utah's department of emergency medicine and one of the research team. "If you compare that increase in risk to other studies on environmental effects on the foetus, it's akin to tobacco smoke in first trimester pregnancy loss." NO2 is produced by fuel burning, particularly in diesel vehicles.
The research, published in the journal Fertility and Sterility, was conducted in Salt Lake City in the US, and surrounding urban areas. But Fuller said the results were applicable elsewhere: "There are many places in the world that suffer from pollution that is far greater, so this is not a problem unique to Utah. This is a problem we are all facing." NO2 levels in Salt Lake City are similar to those in cities such as London and Paris.
Fuller was initially alerted to the issue when a family member lost a miscarried during a particularly poor period of air quality in 2016. He said: "That triggered the question in my mind and then I started noticing anecdotally that I was seeing spikes in miscarriage numbers in the emergency department during and after [pollution spikes]."
Fuller teamed up with the population health scientist Claire Leiser and others to see if the effect was real. They analysed the records of more than 1,300 women who attended the emergency department after miscarriages from 2007 and 2015.
A woman's exposure to air pollution at the time of the miscarriage was compared with similar times when she did not miscarry, meaning that age, weight, income and other personal factors were accounted for. The strongest link with a lost pregnancy was the level of NO2 in the seven days before the miscarriage.
The average seven-day NO2 level across the whole period was 34 micrograms per cubic metre (?g/m3), but peaked at 145?g/m3. The researchers found an increase in NO2 pollution of 20?g/m3 was associated with a 16% rise in the risk of miscarriage. "Many of us think there is an effect [of air pollution] on our health, but to find out there are actual effects on unborn children is very upsetting," said Fuller.
Higher levels of particle pollution were also linked to a greater risk of miscarriage, as found in a previous study, but the association in the new work was not statistically significant. However, other recent studies on long-term exposure to particle pollution in Iran, Italy, Mongolia and the US found significant links. Other air pollutants, including ozone and sulphur dioxide have also been implicated in these analyses.
The mechanism by which air pollution could harm a foetus has not yet been established but a likely hypothesis is that the pollutants cause oxidative stress and inflammation.
Dr Sarah Stock, at the University of Edinburgh and not part of the research team, said: "Air pollution is clearly detrimental to the health of millions of mothers, babies and children worldwide. Measures to reduce the impact of air pollution are crucial to ensure the health of future generations."
But she noted that the risk of miscarriage varied substantially with the number of weeks of pregnancy and that the study had not been able to record this information, potentially introducing a bias into the result.
Leiser said: "If we were able to get the gestation stage that would be a real benefit, to get a sense of when the woman is most at risk. There really needs to be more studies done on this specific issue. But we know enough about air pollution and birth outcomes to say, if you are pregnant, talk to your doctor."
The best action is to cut overall levels of pollution in urban areas, said Fuller. However he said women could choose to time their pregnancies to avoid the most polluted times of year. This is winter in Utah and many other places, but will vary depending on local conditions.
Fuller also said pregnant women could avoid exertion on polluted days and consider buying indoor air filters. "But in the developing world these are luxuries many people can't afford," he said.
Related:
World Politics
United States
Trump Cartoon
Firing of James Comey prompted investigation into whether Trump was working against American interests, the New York Times reports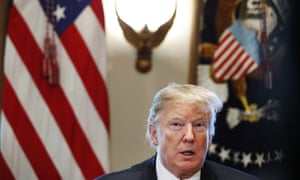 Donald Trump in the White House. Photograph: Jacquelyn Martin/AP
The FBI in May 2017 opened an inquiry into whether Donald Trump was working on behalf of Russia, the New York Times reports.
Citing unnamed former law enforcement officials, the paper reported Friday that in the days after the president fired the former FBI director James Comey, law enforcement officials were so worried about Trump's behavior that they began investigating whether the president was working against American interests and on behalf of Russia.
Counterintelligence investigators were reportedly considering whether Trump's actions constituted a national security threat, an extraordinary line of inquiry against a sitting US president. They also sought to determine whether the president was knowingly working for Russia.
The White House on Friday night dismissed the New York Times report as "absurd".
"James Comey was fired because he's a disgraced partisan hack, and his Deputy Andrew McCabe, who was in charge at the time, is a known liar fired by the FBI," said the White House press secretary, Sarah Sanders, said in a statement.
"Unlike President Obama, who let Russia and other foreign adversaries push America around, President Trump has actually been tough on Russia," she added.
Rudolph Giuliani, one of Trump's attorneys, also downplayed the significance of the investigation. "The fact that it goes back a year and a half and nothing came of it that showed a breach of national security means they found nothing," Giuliani told the paper.
Friday's remarkable report is sure to ramp up the pressure for a White House already feeling the heat from months of investigations. Trump's former campaign chairman Paul Manafort in August 2018 was convicted of financial crisis and later pleaded guilty to conspiring to defraud the US and conspiring to obstruct justice. Trump's longtime lawyer and aide Michael Cohen is set to begin a three-year prison sentence in March after pleading guilty to fraud, campaign finance violations and lying under oath.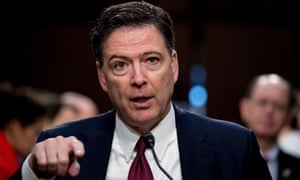 The former FBI director James Comey speaks at a Senate Intelligence Committee hearing. Photograph: Andrew Harnik/AP
Manafort was charged as part of the investigation by the special counsel Robert Mueller into Russian interference in the 2016 presidential election. The deputy attorney general, Rod Rosenstein, appointed Mueller shortly after Comey's firing in May 2017 to lead the investigation into Russian meddling and ties between the Trump campaign and Russian officials. Mueller is reportedly also investigating whether the president tried to impede the investigation into Russia's role in the election.
Mueller took over the FBI's counterintelligence investigation after being appointed, the New York Times reported, just days after it was first opened. FBI spokespeople did not immediately respond to a request for comment.
The report may also raise new questions for congressional investigators probing Russian meddling. Newly in control of the House of Representatives, Democrats have vowed to further scrutinize Trump's Russia ties.