14 Jan
News and Analyses, A Foreign Perspective
Nearly all of these are English-edition daily newspapers. These sites have interesting editorials and essays, and many have links to other good news sources. We try to limit this list to those sites which are regularly updated, reliable, with a high percentage of "up" time.
Recommended:

Since arriving in Berlin as U.S. ambassador to Germany, Richard Grenell has flouted diplomatic conventions and attempted to interfere in domestic politics. He has since become politically isolated in the German capital.
Trial is notable for highlighting land and nature defender murders that ordinarily go unpunished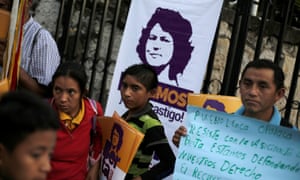 Demonstrators outside court during the murder trial of activist Berta Cáceres in Honduras. Photograph: Jorge Cabrera/Reuters
The sentencing on Thursday of seven men accused of murdering the Honduran environmentalist Berta Cáceres is only partial justice, but it should inspire anyone committed to ending the slaughter of land and nature defenders around the globe.
A court in Tegucigalpa handed down guilty verdicts on all but one of the eight accused, including two employees of the hydro-electric dam company that the indigenous Lenca woman had been campaigning against before her assassination on 2 March 2016.
The Goldman environmental prize winner was shot in her home by armed intruders along with Gustavo Castro, a Mexican environmentalist, who survived by pretending to be dead.
The judge ruled the murder was carried out by a gang of hitmen on the orders of executives of the Agua Zarca dam company Desa, who were frustrated at costly delays caused by the protests.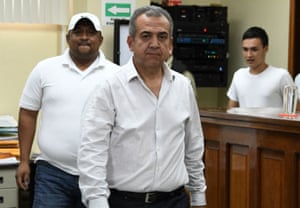 A number of those accused of murdering environmental leader Berta Caceres in a courtroom in Tegucigalpa. Photograph: Orlando Sierra/AFP/Getty Images
Two Desa managers were sentenced: Sergio Ramón Rodríguez, communities and environment manager; and Douglas Geovanny Bustillo, the company's former security chief.
Yet the verdict has not fully satisfied Cáceres's family, who believe the prosecutors imposed a ceiling on who they were willing to hold accountable for the killing. They are convinced the masterminds are still at large because high-level authorisation would have been needed for the killing of such a globally renowned activist.
The trial has been tainted by highly dubious procedures. Castro, the only witness to the killing, was not invited to testify, though he offered to fly to Tegucigalpa to identify the assassin. The Cáceres family's lawyers were also barred from participating and their access to the evidence has been restricted.
The most senior executive implicated – Roberto David Castillo, who was executive president of Desa at the time of the killing, is still awaiting trial. He and Desa have denied any wrongdoing.
Senior politicians and powerful families who were involved in the construction of the dam have not been called to account. There has also been inadequate focus on the international financial institutions who initially refused Cáceres's request to stop providing loans to a dam that was opposed by local people. Dutch bank FMO, Finnish finance company FinnFund and the Central American Bank of Economic Integration (Cabei) only pulled out after the murder.
Yet there has been progress of a sort. It is unlikely that anyone would have gone to prison without the huge domestic and international outcry that followed Cáceres's murder. The vast majority of the 200-plus defender killings in the world each year go unpunished and uninvestigated. A trial of this prominence is almost unheard of and should make those in power think twice in the future about approving assassinations.
For most of the past decade, Honduras has been one of the world's deadliest countries for land and environmental defenders, according to the watchdog group Global Witness. But there has been a marked decrease in the past year. One reason may be that the powerful interests behind the killings have been given notice that they can no longer rely on impunity.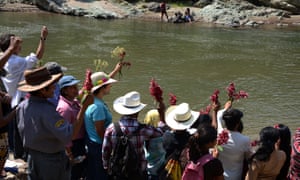 People honour the late assassinated environmentalist Berta Cáceres with a religious ceremony on the Gualcarque River near Tegucigalpa in 2016. Photograph: Orlando Sierra/AFP/Getty Images
This shows global public opinion can make a difference, particularly when focused through international institutions and NGOs. Cáceres's murder probably would not have gained as much attention if she had not been awarded the Goldman environmental prize. It would be harder to understand the context without watchdog groups like Global Witness. And the news would have reached fewer people without environmental and human rights campaigning organisations such as Amnesty International, Greenpeace and Human Rights Watch.
Cáceres's case is also often cited by the United Nations in its efforts to lobby member states to recognise the human right to a healthy environment. This would provide a legal instrument for campaigners to challenge polluters, land grabbers and extractive industries. It would also serve as a vehicle to encourage judges, police and prosecutors to pay more heed to environmental cases.
As John Knox, the former UN special rapporteur on human rights and the environment, noted in a call earlier this year for more support for the defenders like Cáceres: "If we can't protect them, then how can we protect the environment we all depend on?"

World Politics
United States
New York Times and Washington Post drop bombshell reports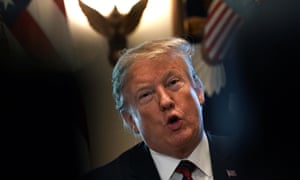 Donald Trump speaks in the cabinet room of the White House on Friday. Photograph: Alex Wong/Getty Images
The FBI launched an investigation into whether Donald Trump had been working on behalf of Russia against American interests – and Trump went to extraordinary lengths to conceal from his own administration the details of his conversations with Russian president Vladimir Putin, according to two bombshell reports.
The New York Times reported on Friday that law enforcement officials were so concerned about Trump's behavior after he fired James Comey as FBI director that they launched a counterintelligence investigation into whether he was acting as a Russian agent, either intentionally or unwittingly.
According to another report by the Washington Post, Trump has taken unusual steps to conceal the contents of his discussions with Putin. After meeting with the Russian president in Hamburg in 2017, the Post reported, Trump took his interpreter's notes and instructed him not to disclose what was discussed to other US officials.
On Saturday night, Trump was asked by a Fox News host whether he had ever worked for Russia.
"I think it's the most insulting thing I've ever been asked," he said.
Why is he so chummy with Vladimir Putin?

Senator Dick Durbin
He did not give a yes or no answer.
As for his conversations with Putin, he said: "I'm not keeping anything under wraps, I couldn't care less."
On Sunday, Democrats said the latest revelations raise serious questions about Trump's relationship with Putin and Russia.
"Why is he so chummy with Vladimir Putin – this man who is a former KGB agent, never been a friend to the United States, invaded our allies, threatens us around the world, and tries his damndest to undermine our elections?" Senator Dick Durbin, an Illinois Democrat, said on ABC's This Week.
"Why is this President Trump's best buddy? I don't get it."
Mark Warner of Virginia, the top Democrat on the Senate intelligence committee, said it was suspicious that Trump has "parroted" the policies of Putin.
"I do think it's curious that throughout that whole summer when these investigations started, you have Vladimir Putin policies almost being parroted by Donald Trump," he said on CNN's State of the Union.
This is not a traditional president. He has unorthodox means

Senator Ron Johnson
"You had Trump say only nice things about Putin – he never spoke ill about Russia. The Republican campaign doctrines softened on Russia and decreased their willingness to defend Ukraine."
Warner said the US government still does not know what took place in Trump's meetings with Putin, including another in Helsinki last summer where Trump appeared to embrace Putin's claim, rejected by US intelligence, that his country had nothing to do with an interference effort in the 2016 election.
"The American government does not know what was discussed between Trump and Vladimir Putin in that frankly pathetic, embarrassing encounter," Warner said.
Republicans defended the president, saying the US during his administration has imposed tough sanctions against Russia in response to its interference campaign during the 2016 election and its aggression in Ukraine.
"We've been very tough on Russia," House Republican leader Kevin McCarthy said on CBS's Face the Nation. "Look at the sanctions that we have taken with this administration. I know this administration and I know this Congress is very tough on Russia and we will continue to be so. But I want this president to be able to build a relationship, even on a person level, with all the world leaders."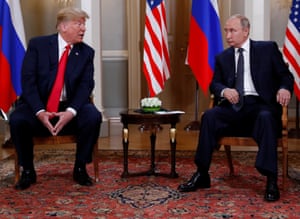 Trump meets Vladimir Putin in Helsinki, last July. Photograph: Kevin Lamarque/Reuters
Ron Johnson, a Wisconsin Republican senator and chair of the homeland security committee, said he had only heard "innuendo" about Trump's interactions with Russia, not any evidence of improprieties. He said there were legitimate reasons to want to guard the president's conversations with Putin.
"This is not a traditional president," he told CNN. "He has unorthodox means, but he is president of the United States. It is pretty much up to him in terms of who he wants to read into his conversations with world leaders. He was burned by leaks in other areas and he was pretty frustrated."
Senator Lindsey Graham of South Carolina, a close ally of the president, was more forceful, telling Fox News Sunday: "I am going to ask the FBI director: 'Was there a counterintelligence investigation opened up regarding the president as being a potential agent of the Russians?' I find it astonishing.
"If this really did happen, Congress needs to know about it. How could the FBI do that? What kinds of checks and balances are there?"
Secretary of State Mike Pompeo did not answer specific questions about whether he was aware of the FBI counterintelligence work when he directed the CIA.
"The notion that President Trump is a threat to American national security is absolutely ludicrous," he told CBS.