16 Jan
News and Analyses, A Foreign Perspective
Nearly all of these are English-edition daily newspapers. These sites have interesting editorials and essays, and many have links to other good news sources. We try to limit this list to those sites which are regularly updated, reliable, with a high percentage of "up" time.
Recommended:
World Politics
Great Britain
Ben Jennings on Theresa May and a possible delay to Brexit – cartoon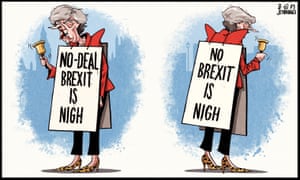 Illustration: Ben Jennings for the Guardian
United States
Former Trump campaign chief started communicating with Konstantin Kilimnik on plan for future of Ukraine in 2016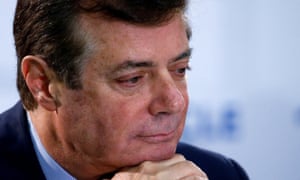 Robert Mueller alleges that Paul Manafort, above, lied when he claimed he had no communication with Trump administration figures after they took office. Photograph: Carlo Allegri/Reuters
Paul Manafort and an alleged Russian intelligence operative hatched a plan for the future of Ukraine during the 2016 presidential election campaign that continued even after Manafort was criminally charged, prosecutors indicated on Tuesday.
The office of Robert Mueller, the special counsel, said in a court filing that Manafort, Donald Trump's former campaign chairman, communicated with Konstantin Kilimnik between August 2016 and March 2018 about a topic that was blacked out from public view.
But an exhibit included with the heavily redacted court filing showed that Manafort worked on a Microsoft Word document titled "new initiative for peace" in February 2018 as part of his continuing discussions with Kilimnik.
Attorneys for Manafort, 69, revealed in a separate court filing last week that he is accused by Mueller of discussing a "Ukraine peace plan" with Kilimnik "on more than one occasion" – and then lying about it when questioned by investigators.
The allegations, if confirmed, would mean that Trump's campaign chief was working on a plan to settle Russia's conflict with Ukraine on terms favourable for the Kremlin while the Russian government was interfering in the 2016 US election to help Trump.
US intelligence chiefs concluded that the Russian interference operation was ordered by Vladimir Putin to benefit Trump's campaign and harm Hillary Clinton, his Democratic opponent. Mueller is investigating whether Trump associates were involved in the Russian activities.
Kilimnik, 48, trained at a university connected to Russia's military intelligence agency, formerly known as the GRU, which allegedly spearheaded the Kremlin's effort to disrupt the 2016 election.
Mueller has said Kilimnik was described as "a former Russian intelligence officer with the GRU" by Rick Gates, Manafort's deputy on the Trump campaign. Kilimnik denies that he worked for Russian intelligence.
Manafort and Gates were indicted on financial crimes in October 2017 in Washington and for further offences in Virginia in February 2018. Gates struck a plea deal with Mueller's team. Manafort was convicted in Virginia on eight counts and later pleaded guilty to charges in Washington.
The filing by Mueller's team on Tuesday was intended to support its allegations that Manafort lied about several subjects even after he pleaded guilty and began cooperating with the investigation. The alleged lies prompted Mueller to tear up a deal that promised Manafort favourable treatment when he is sentenced.
Manafort's attorneys deny that he intentionally lied. They blamed his false statements on a failure to recall certain details and his lack of access in jail to records that could jog his memory.
Mueller alleges that Manafort lied when he said he had no communication with members of Trump's administration after they entered office in January 2017. Tuesday's filing said Gates told investigators Manafort boasted that month that he was getting people "appointed in the administration" via an intermediary.
On 28 May 2018, according to Tuesday's filing, Manafort was sent a text message by an associate, who asked: "If I see POTUS one on one next week am I ok to remind him of our relationship?" Manafort allegedly replied: "Yes" and "even if not one on one".
Manafort joined Trump's campaign at the end of March 2016 and was promoted to campaign chairman that May. Following revelations that he received millions of dollars in illicit funds from Ukraine's pro-Kremlin former president, the campaign announced on 19 August 2016 that Manafort was leaving.
Mueller's team said on Tuesday that Manafort and Kilimnik discussed the Ukraine peace plan in person and in messages from 2 August 2016. Kilimnik has previously said the pair met in New York around that date.
Administration's alternative to clean power plan would let emissions 'rebound' via coal-fired power plants, researchers find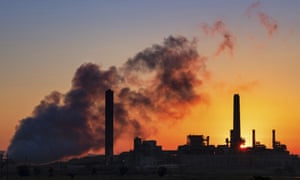 'It's a recipe for increased carbon emissions,' says a study coauthor of Trump's plan. Photograph: J David Ake/AP
The Trump administration's replacement for the linchpin Obama-era plan to combat climate change would increase greenhouse gas emissions in much of the US more than doing nothing at all, according to new research.
Planet-warming emissions would "rebound" under the Trump policy, researchers found, as it delays the retirement of coal-fired power plants. Carbon dioxide emissions would be 8.7% higher in 18 states and Washington DC by 2030, compared with having no policy at all.
The study by Harvard comes ahead of a congressional hearing on Wednesday to confirm Andrew Wheeler as the administrator of the US Environmental Protection Agency. Wheeler, a former coal lobbyist and an architect of the new Trump emissions policy, has been acting EPA administrator since his predecessor, Scott Pruitt, departed last July.
"This new plan essentially gives out a free pass for carbon pollution," said Kathleen Lambert, an expert in climate change and public health at Harvard who coauthored the research. "It's a recipe for increased carbon emissions. It will make it even harder for the US to meet its emissions targets under the Paris accord and sets us in exactly the opposite direction we need to go in."
The world faces disastrous climate change in the form of flooded coastlines, droughts, food insecurity and deadly heatwaves without radical cuts in greenhouse gases, with scientists warning that emissions must be halved within 11 years and completely eliminated by 2050 to avoid breaching critical warming thresholds.
Despite this urgency, greenhouse gas emissions crept up in the US as well as globally last year. The EPA's rollback "could make things even worse", said Jonathan Buonocore, another co-author of the Harvard report. "This will throw a wrench into the climate action plans for many states and cities."
The clean power plan, crafted by the Obama administration, would have set limits on carbon pollution and helped phase out the use of coal, the most polluting energy source for greenhouse gases. The plan was halted due to legal action, with the Trump administration intending to replace it with a watered-down alternative called the affordable clean energy rule.
The new rule sets no pollution limits for states and merely advises them to make power plants more efficient. Harvard researchers, who used EPA's own data, found such upgrades would probably enable coal-fired power plants to run for longer, boosting output of carbon dioxide and other pollutants.
Carbon emissions at nearly a third of coal plants would escalate over the next decade compared with no policy at all, the research found, while 20 states would experience climbing levels of sulfur dioxide or nitrogen oxides, which can form harmful smog.
The EPA's own analysis has shown the new Trump administration plan would result in about 1,000 additional deaths a year and raise carbon emissions by 3.5% compared with the clean power plan.
The dismantling of Obama's signature climate policy is a key priority for Wheeler, who has abetted Trump in his zeal for deregulation.
The acting administrator has overseen efforts to undo restrictions on power plants emitting mercury, a powerful toxin, as well as pare back clean car standards. There has also been a slowdown in the EPA's pursuit of polluters, with 2018 marking a 30-year low in the number of cases referred by the agency for criminal prosecution.
Trump has said Wheeler has done "a fantastic job and I want to congratulate him". The president nominated Wheeler to become permanent EPA administrator last week, with the confirmation process to push ahead despite a government shutdown.
He is likely to be approved by the Senate committee on environment and public works before being confirmed by the Senate itself, with both bodies controlled by Republicans.
"Putting a coal lobbyist like Andrew Wheeler in charge of the EPA is like giving a bank robber the keys to the vault," said Matthew Gravatt, the associate legislative director of the Sierra Club, one of nine environmental groups that called on senior Republicans to delay Wheeler's confirmation hearings.
"Wheeler isn't just friendly with corporate polluters, he's been on their team for years."
After extreme weather-related events, there is 'need for international cooperation'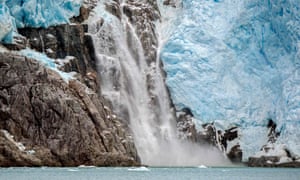 World Economic Forum chief Børge Brende wants 'coordinated, concerted action' among world's powers to halt climate change Photograph: Martin Bernetti/AFP/Getty Images
Growing tension between the world's major powers is the most urgent global risk and makes it harder to mobilise collective action to tackle climate change, according to a report prepared for next week's World Economic Forum in Davos, Switzerland.
The WEF's annual global risks report found that a year of extreme weather-related events meant environmental issues topped the list of concerns in a survey of around 1,000 experts and decision-makers.
But with Donald Trump announcing protectionist measures aimed at China and the European Union in 2018, the report said the international cooperation needed to limit further global warming was breaking down.
"Global risks are intensifying but the collective will to tackle them appears to be lacking. Instead, divisions are hardening," the report said, noting that nine out of 10 people polled said they expected relations between the leading powers to worsen in 2019.
"The world's move into a new phase of strongly state-centred politics, noted in last year's Global Risks Report, continued throughout 2018."
The global economy slowed in the second-half of 2018 and the report said activity this year would be held back by growing geo-economic tensions, with 88% of respondents expecting further erosion of multilateral trading rules and agreements.
Børge Brende, president of the World Economic Forum, said: "With global trade and economic growth at risk in 2019, there is a more urgent need than ever to renew the architecture of international cooperation."
"We simply do not have the gunpowder to deal with the kind of slowdown that current dynamics might lead us towards. What we need now is coordinated, concerted action to sustain growth and to tackle the grave threats facing our world today," he said.
Environmental risks continued to dominate the risks report, although there were also long-term concerns about the dangers posed by cybersecurity breaches in the years ahead.
The report tracks five environmental risks: biodiversity loss, extreme weather events, failure of climate-change mitigation and adaptation, man-made disasters, and natural disasters. All five are thought to be in the high-impact, high-likelihood category.
The risks report is a collaboration between the WEF, the Zurich Insurance Group and the professional services firm Marsh & McLennan
"It is no surprise that in 2019, environmental risks once again dominate the list of major concerns. So, too, does the growing likelihood of environmental policy failure or a lack of timely policy implementation."
Martin said a significant increase in infrastructure was needed to effectively respond to climate change in order to adapt to the new environment and transition to a low-carbon economy.
She added: "By 2040, the investment gap in global infrastructure is forecast to reach $18tn against a projected requirement of $97tn. Against this backdrop, we strongly recommend that businesses develop a climate resilience adaptation strategy and act on it now."
Trump's "America First" agenda has involved pulling the US out of the 2015 Paris climate change agreement, the introduction of tariffs on imports into the US, the announcement that American troops are being pulled out of Syria and the decision to withdraw from the Iran nuclear deal.
The risks report said: "Reconfiguring the relations of deeply integrated countries is fraught with potential risks, and trade and investment relations among many of the world's powers were difficult during 2018.
"Against this backdrop, it is likely to become more difficult to make collective progress on other global challenges – from protecting the environment to responding to the ethical challenges of the fourth industrial revolution."
More On The Environment: