18 Jan
News and Analyses, A Foreign Perspective
Nearly all of these are English-edition daily newspapers. These sites have interesting editorials and essays, and many have links to other good news sources. We try to limit this list to those sites which are regularly updated, reliable, with a high percentage of "up" time.
Recommended:
Damning government report says 'thousands of separated children' put in care up to a year before policy became public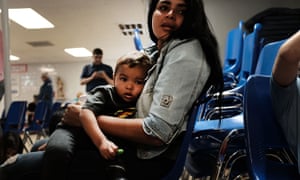 A woman with her son at the border. Advocacy groups had been warning for months that family separations were already taking place. Photograph: Spencer Platt/Getty Images
The Trump administration may have separated thousands of migrant children from their parents at the border for up to a year before family separation was a publicly known practice, according to a stunning government review of the health department's role in family separation.
A report by the health department's Office of Inspector General (OIG) published on Thursday said officials at the health department estimated "thousands of separated children" were put in health department care before a court order in June 2018 ordered the reunification of 2,600 other children.
"The total number of children separated from a parent or guardian by immigration authorities is unknown," the report said.
This report shows that not only did the US government probably separate thousands more children from their parents than previously thought, but it was separating families well before the policy was made public in April 2018.
In the summer of 2017, one year before the general public knew mass family separations were taking place, officials at the health department's Office of Refugee Resettlement (ORR) observed a steep increase in the number of children referred to ORR care who had been separated from their parents or guardians by the Department of Homeland Security (DHS), according to the report.
Usually, children put in health department care have traveled to the border without a parent or guardian. The health department then works to place them in the home of a sponsor, usually a relative or someone close to their family. If a sponsor cannot be found, children are put in foster care.
Occasionally, children would be separated from the adult who they traveled with but, the OIG report said: "Historically, these separations were rare and occurred because of circumstances such as the parent's medical emergency or a determination that the parent was a threat to the child's safety."
In response to the unusual increase in children whom the government separated from their families, officials began informally tracking separations using an Excel spreadsheet that was later processed into a database. This process was not formalized.
This informal tracking revealed that in 2016, of all the children in ORR care, 0.3% had been separated from a parent or guardian. By August 2017, the proportion of separated children had risen to 3.6%, according to the report.
"Thousands of children may have been separated during an influx that began in 2017, before the accounting required by the court, and HHS has faced challenges in identifying separated children," the report said.
It was not until April 2018, however, that the Trump administration publicly announced it was changing the law to make more family separations possible.
That month, the US attorney general, Jeff Sessions, announced the "zero-tolerance" policy that would allow parents to be held in immigration detention while children were put in health department custody. Advocacy groups had been warning for months that family separations were already taking place, but widespread public outcry against the practice did not emerge until after Sessions announced the policy.
Facing significant public pressure, the Trump administration on 20 June ended the family separation policy it had created.
A week later, a federal judge ordered 2,600 children to be reunited with their parents in response to a lawsuit brought by the American Civil Liberties Union (ACLU).
Lee Gelernt, the deputy director of the ACLU's Immigrants' Rights Project and lead attorney on the family separation case, said the civil rights group would return to court in response to the OIG report.
"This policy was a cruel disaster from the start," Gelernt said. "This report reaffirms that the government never had a clear picture of how many children it ripped from their parents."
There had not been a centralized system in place to identify, track or connect separated families, according to the report, but the government had to create a process to identify quickly and reunite families in compliance with the court order.
In the OIG report, the health department said in the five months following the order, it was still identifying children who should have been considered separated but were not being clearly tracked in government systems. So far, 2,737 separated children have been identified.
Those children are separate from the new estimate included in Thursday's report, which said: "The Court did not require HHS to determine the number, identity, or status of an estimated thousands of children whom DHS separated during an influx that began in 2017."
The health department's Administration of Children and Families (ACF), which oversaw care of separated children, emphasized its role in family separation was the care of children, not in enforcement of separations.
Lynn Johnson, assistant secretary for ACF, wrote in a letter included with the report that the agency has also introduced new processes to track separated children.
Despite the OIG's findings, warnings from child advocates and public outcry, the Trump administration has not ruled out bringing family separation back in a different form.
In November, Trump's nominee to run US Immigration and Customs Enforcement (Ice), Ronald Vitiello, declined to rule out the possibility that the US could again separate families at the border. And the Trump administration has reportedly weighed family separation alternatives including a "binary choice" plan that would give parents the option to separate voluntarily or be detained together for years.
World Politics
United States
How the president's two years in power have changed key US policies … North Korean envoy to meet Pompeo … Democrat takes charge of Flint water crisis investigation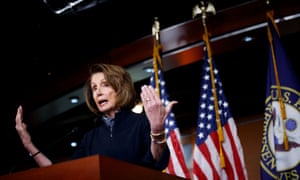 Pelosi had asked Trump to delay the State of the Union address due to the shutdown. Photograph: Ting Shen/Xinhua/Barcroft Images
Good morning, I'm Tim Walker with today's essential stories.
Top story: President cancels House speaker's visit to troops
Donald Trump has stepped up his personal feud with the Democratic House speaker, Nancy Pelosi, by denying her the use of a military aircraft to visit US troops in Afghanistan. On Wednesday, Pelosi suggested that the president postpone his annual State of the Union address to Congress over concerns that the agencies responsible for security at the event were overstretched during the partial government shutdown. On Thursday, Trump responded by postponing Pelosi's foreign trip and suggesting she "fly commercial" instead.
PR stunt. In his letter to Pelosi, Trump wrote that, due to the shutdown, "postponing this public relations event is totally appropriate". He added: "It would be better if you were in Washington negotiating with me."

'Utterly irresponsible.' Democratic House intelligence chief, Adam Schiff, criticised Trump for publicising Pelosi's travel plan, which would not normally be made public.
How two years of Trump have changed key US policies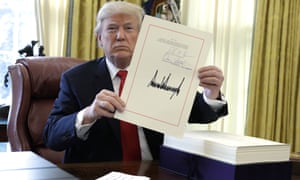 Trump signs a $1.5tn tax cut in 2017. On the economy, 'he has plenty to brag about but also some big problems, many of his own making', writes Dominic Rushe. Photograph: Evan Vucci/AP
With Trump marking two years in office this weekend, Guardian reporters take an in-depth look at how his administration has changed US policy in five key areas: the economy, criminal justice, the environment, immigration and foreign policy, which, writes Julian Borger, has been defined by its "confusion – not only in the frequent gaps between the paths taken by the president and his own administration, but also in the morass of contradictions and U-turns in his own impulses".
Little things. While Trump's climate change denial and EPA corruption allegations make headlines, it is "the more mundane unspooling of arcane regulations" that is likely to do deeper, long-term damage to the environment, writes Oliver Milman.
North Korean envoy to meet Pompeo in Washington

Kim Yong Chol, North Korea's nuclear negotiator and former spy chief, waits at Beijing airport for his flight to Washington DC. Photograph: YONHAP/AFP/Getty Images
North Korea's lead nuclear negotiator arrived in Washington DC on Thursday, where he is due to meet the US secretary of state, Mike Pompeo, in the hopes of paving the way for a second summit between Trump and Kim Jong-Un. Kim Yong-chol may also meet the president at the White House on Friday, as the administration renews its efforts to persuade North Korea to denuclearise.
Missile strategy. The visit comes a day after Trump unveiled plans for a new US missile defence strategy aimed at deterring attacks by "rogue states" including North Korea.
Democrat takes charge of Flint water crisis investigation

A woman with a Flint Lives Matter sweater walks to a hearing on the crisis in Washington. Photograph: Kevin Lamarque/Reuters
The new Democratic attorney general of Michigan, Dana Nessel, this month took over the investigation into the Flint water crisis, creating hope among activists that victims will be properly compensated and the officials involved face tougher punishment, reports Tom Perkins from Detroit. Critics say that under Republican leadership, the investigation let its targets off lightly, despite 15 state and city officials facing criminal charges or being prosecuted over the decisions that led to an environmental health catastrophe.
'Show trials'. During her 2018 campaign, Nessel described the prosecutions over the Flint crisis as "politically charged show trials" staged by her predecessor, Republican Bill Schuette, who ran for governor and lost to the Democrat, Gretchen Whitmer.
Dan Little, a retired forest service worker, took matters into his own hands when the shutdown left his local wilderness a mess
Little tweeted his expenses at the president. Photograph: Dan Little

The longest ever government shutdown has left US national parks chronically understaffed, with grim consequences: messy toilets, broken Joshua trees, and unsupervised campers.

But some are taking matters into their own hands. Enter Dan Little, a retired data expert with the US National Forest Service and the husband of Oregon's governor, Kate Brown. Little recently tidied up filthy bathrooms at Mount Hood national forest's sno-park – then sent the bill to the White House.

"This is just one of the many reasons I love my husband," the governor tweeted on Friday. "Like many national parks across the country, [he] found it a mess due to the partial government shutdown."

Brown's tweet includes a stark before-and-after picture of a bathroom whose trash can was overflowing with old food wrappers and dirty paper plates.

Many of America's major parks, historic sites and monuments are dealing with trash, vandalism and unruly visitors as the National Park Service struggles to manage public lands. More than 350 parks are experiencing some type of closure because of the shutdown, now in its fourth week, and the vast majority of park service employees – an estimated 16,000 – are furloughed.