24 Jan
News and Analyses, A Foreign Perspective
Nearly all of these are English-edition daily newspapers. These sites have interesting editorials and essays, and many have links to other good news sources. We try to limit this list to those sites which are regularly updated, reliable, with a high percentage of "up" time.
Recommended:

Number of students skipping school in protests inspired by Greta Thunberg, 16, reaches record numbers around world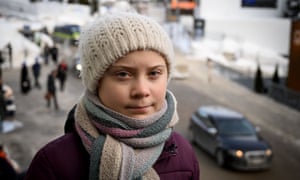 Swedish youth climate activist Greta Thunberg at the World Economic Forum meeting in Davos, eastern Switzerland. Photograph: Fabrice Coffrini/AFP/Getty Images
The number of students participating in school strikes for climate action is continuing to rise around the world.
Last week more than 60,000 students refused to go to their classes, the largest number yet.
The protests were sparked last year when 16-year-old Swedish student Greta Thunberg began a solo protest against inaction on global warming in August. Students around the world have been inspired to do the same, with thousands skipping school from Australia in November. Last Friday there were large strikes in Germany, Belgium and Switzerland, where more than 20,000 students skipped school.
Thunberg accused some leaders of putting profits ahead of tackling climate change. "Some people – some companies and some decision-makers in particular – have known exactly what priceless values they are sacrificing to continue making unimaginable amounts of money," she said.
"I want to challenge them into real and bold climate action, to set their economic goals aside and to safeguard the future living conditions for humankind," she said. "I ask you to stand on the right side of history. I ask you to pledge to do everything in your power to push your own business or government in line with a 1.5C world."
The world's scientists warned in October that, without a dramatic ramping up of action to cut emissions, global temperatures would rise by more than 1.5C above pre-industrial levels, with severe consequences for humanity. At the UN climate summit in December, Thunberg had a meeting with the UN secretary general and said: "Since our leaders are behaving like children, we will have to take the responsibility they should have taken long ago."
The school strikes last Friday were by far the biggest to date. In Germany, an estimated 30,000 students left their schools in more than 50 cities to protest, carrying banners including: "Why learn without a future?" and "Grandpa, what is a snowman?" One 17-year-old student in Kiel, Moritz, told Deutsche Welle: "We want to help shape and secure our future so that there will be another world for us to live in in 60 years."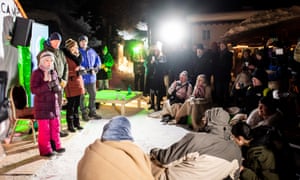 Greta Thunberg speaks to the media at the Arctic Basecamp in Davos. Photograph: Ennio Leanza/EPA
In Belgium, 12,500 students went on strike last Thursday and plan to strike weekly until the EU elections in May. Some teachers were tolerant of the truancy. Patrick Lancksweerdt, in Brussels, said: "Education has to turn youngsters into mature citizens. By their actions, they proved that they are."
School strikes also took place in 15 cities and towns in Switzerland. In Geneva, 12-year-old Selma Joly said: "Frankly, I would rather demand climate action than go to school. Otherwise, years from now, we may no longer be here."
Janine O'Keeffe, who helps coordinate and keep track of the school strikes from her home in Stockholm, Sweden, was surprised at the scale of last week's actions: "I am still in shock, actually – a nice kind of shock."
In the UK, a small number of students have already begun strikes, including 13-year-old Holly Gillibrand in Fort William. Plans are now being made for a big strike on 15 February.
As ice melts and shipping lanes open up, geopolitical tensions are growing and old cold war bases are being reopened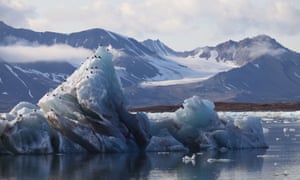 Melting glacier in Svalbard, Norway. Photograph: Goncalo Diniz / Alamy/Alamy
The climate crisis is intensifying a new military buildup in the Arctic, diplomats and analysts said this week, as regional powers attempt to secure northern borders that were until recently reinforced by a continental-sized division of ice.
That so-called unpaid sentry is now literally melting away, opening up shipping lanes and geo-security challenges, said delegates at the Arctic Frontiers conference, the polar circle's biggest talking shop, who debated a series of recent escalations.
Russia is reopening and strengthening cold war bases on the Kola peninsula in the far north-west of the country. Norway is beefing up its military presence in the high Arctic.
Last October, Nato staged Trident Juncture with 40,000 troops, its biggest military exercise in Norway in more than a decade. A month earlier Britain announced a new "Defence Arctic Strategy" and promised a 10-year deployment of 800 commandos to Norway and four RAF Typhoons to patrol Icelandic skies. The US is also sending hundreds more marines to the region on long-term rotations and has threatened to send naval vessels through Arctic shipping lanes for the first time.
While these strategic moves have echoes of the cold war, the modest buildup falls far short of that era, and there remains a strong spirit of cooperation in many areas. The current tensions are a result of a world warmed by industrial emissions. The Arctic is heating up twice as fast as the rest of the planet, shrinking sea ice and exposing more water and territory to exploitation and access.
"Right now, the reasons we are seeing more military activity is that countries are worried by the spectre of open water," one of the speakers, Klaus Dodds, a professor of geopolitics at Royal Holloway, University of London, told the Guardian. "The unique Arctic security architecture has shape and form that come from natural extremities. If the Arctic becomes just another ocean, this breaks down. It's elemental."
The Arctic's unique characteristics are under attack from all sides. Below, the once-frozen ocean is now mixed with warmer, more saline Atlantic waters. In the skies above, the polar vortex above is weakening, allowing intrusions of balmy air currents from the south.
Sea ice is being lost at a rate of more than 10,000 tonnes per second, according to Tore Furevik, a professor at the Geophysical Institute at the University of Bergen. "We're heading for a new and uncertain Arctic with ramifications for nature and politics," he said. "We should strive to be less suspicious, less hostile and more open-minded if we are to deal with a problem that we have so recklessly created."
By 2035, the Arctic is forecast to be free of ice during summer, which will allow ships to sail across the north pole.
Business interest is growing. For the first time, last summer, a Maersk container ship navigated the northern sea route from Asia to Europe carrying fish and electronic goods. Energy companies are exploring new oil and gas fields.
Once remote regions are becoming geopolitical hotspots. Tromsø, in Norway, which hosted the conference, was once a tiny trading post. Today, it's a tourism hub and a gateway to the mineral-rich north. "Now we have a historically strange situation with political and economic activity in the Arctic. So many people are knocking on our door, including business and state representatives from China, Pakistan, Singapore and Morocco," the mayor, Kristin Røymo, told the Guardian. "There is also a very obvious increased naval presence."
This concerns many conference participants, who highlight the peaceful history of cross-border cooperation in the far north. Even during the cold war, there were agreements on fishing, scientific research and reindeer herding that continue today.
Norwegian politicians were at pains to downplay the significance of the current military buildup. "There is no direct link between climate change and conflict," the former defence minister Espen Barth Eide said. "It's not because there is an immediate threat, it's that, as an area becomes more important, it's natural to have a heightened military presence."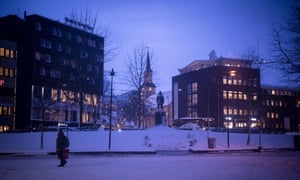 Tromsø was once a tiny trading post. Today, it's a gateway to the mineral-rich north with representatives from China, Pakistan, Singapore and Morocco 'knocking on the door', says its mayor. Photograph: Olivier Morin/AFP/Getty Images
He compared the situation to the South China Sea, where China, the US and other nations compete, not by firing weapons, but by demonstrating capacity and presence. "To some extent that is happening now in the Arctic," he said, although he stressed there were no territorial disputes to inflame passions.
The build-up is portrayed almost as a form of climate adaptation – strengthening the military presence along with infrastructure affected by melting permafrost.
However, there are tensions. In a keynote speech, the Norwegian foreign minister, Ine Marie Eriksen Søreide, complained about communications interference by Russia in the far north. She plans to arrange a meeting with the Russian deputy foreign minister, Sergei Ryabkov, to discuss the allegation. "Most important is to open political dialogue and talk not just about what we agree on but what we do not agree on," she said.
Norway is also contributing to the climate problem and the strategic tensions. It has just approved a raft of new oil exploration licenses in the Barents Sea and one of its citizens has been caught spying in Russia.
Russia is uneasy about recent Nato exercises that have pushed deep into the north, according to Teimuraz Ramishvili, the ambassador to Norway. He told the Guardian the military modernisation on the Russian side was overdue after 20 years of neglect and its significance should not be overstated.
"In Europe, you have military installations that are used for peaceful purposes. Why it that OK in Europe, but not in Russia?" he asked. He said Moscow put a high priority on the northern region, where the potential was so great that some talk enthusiastically of an "Arctic age".
"For us, this is a matter of sustainable development of Russian territory. This is not open water, it is Russian territory," said Ramishvili. "The Arctic isn't a nature resort. It's a place where Russians have lived for a long time."
Currently, cargo companies that use the northern shipping lanes need to pay Russia. But this will change as the sea ice recedes and Arctic routes open up in international waters. China, which has declared itself a "near-Arctic nation", is among the countries exploring this area. Last year, it launched a second Snow Dragon ice breaker and released an Arctic white paper that explored the potential for infrastructure investments in a Polar Silk Road.
The US, by comparison, is lagging behind. Although its nuclear submarines have operated under the ice for decades, its surface navy is ill-equipped for the Arctic. "Everyone's up there but us," the navy secretary, Richard Spencer, complained last month.
"The threat is back on. This is an area … we need to focus on," he said. Spencer has called for a strategic Arctic port in Alaska and US naval vessels to conduct navigation operations later this year in northern shipping lanes so they have the capacity to conduct emergency operations if necessary. "Can you imagine a Carnival line cruise ship having a problem, and the Russians do the search and do the extraction?" he said.
More On The Environment:
World Politics
Scotland
Salmond has been under investigation over sexual harassment allegations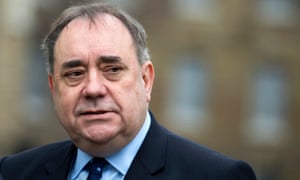 Alex Salmond has been under investigation by Police Scotland. Photograph: Will Oliver/EPA
Alex Salmond, the former first minister of Scotland, has been arrested and charged by police.
It is understood Salmond was arrested and charged on Wednesday night. It is not yet clear what charges he faces. He is expected to appear in court on Thursday afternoon.
A Police Scotland spokesman said: "We can confirm a 64-year-old man has been arrested and charged and a report has been sent to the procurator fiscal."
Salmond has been under investigation by Police Scotland following a confidential investigation by the Scottish government into allegations by two women that he sexually harassed them several years ago. The Scottish government sent their final report to police in August last year.
After the sexual harassment allegations came to light in August, Salmond has consistently denied that he was guilty of any criminal behaviour.
He said he had tried to resolve the claims made by the two women, who worked for the Scottish government, through mediation and arbitration.
There have been media reports that the Police Scotland investigation had been broadened to include allegations about incidents at Edinburgh airport more than a decade ago.
In early January, Salmond won a significant legal victory against the Scottish government after the civil service admitted its investigation into the two harassment claims had been mishandled.
It emerged that the senior personnel expert who led the formal investigation, Judith MacKinnon, had been involved in counselling and supporting the two complainants before they filed their official complaints.
The Scottish government acknowledged this was in breach of its rules, was unlawful and had the appearance of bias.
United States
'We cannot even calculate the level of risk currently at play, nor predict the point at which the entire system will break,' representatives write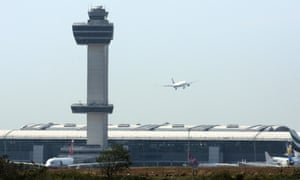 An aircraft flies past the control tower as it prepares to land at New York's John F Kennedy airport. Photograph: Trevor Collens/AFP/Getty Images
Union leaders representing air traffic controllers, pilots and flight attendants issued an urgent warning on Wednesday that the month-long government shutdown was threatening the safety and security of the nation's air travel system.
"We cannot even calculate the level of risk currently at play, nor predict the point at which the entire system will break," the union leaders wrote. "It is unprecedented."
In the joint statement, the National Air Traffic Controllers Association president, Paul Rinaldi, the Air Line Pilots Association president, Joe DePete, and the Association of Flight Attendants-CWA president, Sara Nelson, described a "growing concern for the safety and security of our members, our airlines, and the traveling public due to the government shutdown".
They said staffing at air traffic control facilities was at a "30-year low" as the rate of employee callouts continued to rise. To compensate for the staffing shortages, the union leaders said controllers were working overtime, including 10-hour shifts, six days a week.
The Federal Aviation Administration has frozen hiring as a result of the shutdown, meaning they are unable to fill staffing requirements, the statement says. It warns that 20% of current controllers are eligible to retire, and if they did because they are no longer able to financially support their families without a paycheck, "the National Airspace System (NAS) will be crippled".
"As union leaders, we find it unconscionable that aviation professionals are being asked to work without pay and in an air safety environment that is deteriorating by the day," the statement said. "To avoid disruption to our aviation system, we urge Congress and the White House to take all necessary steps to end this shutdown immediately."
The shutdown has strained the entirety of the air travel system. As many as 50,000 Transportation Security Administration (TSA) officers are among the 420,000 federal employees working without pay as the shutdown reaches a 33rd day over Donald Trump's insistence that Congress fund a wall along the south-west border. According to the TSA, the rate of unscheduled absences was 7.4% on Tuesday, compared with a 3.2% rate on the same weekday one year ago.
With reduced staffing, some airports have had to close security checkpoints or appeal for additional screeners to help with the long lines at checkpoints. Meanwhile, airlines are reporting tens of millions in lost revenue.
The partial shutdown, which began on 22 December, is the longest in American history.
The Senate will vote on Thursday on two proposals that would re-open the shuttered agencies, but neither is expected to pass.
This entry was posted on Thursday, January 24th, 2019 at 9:10 am and is filed under General. You can follow any responses to this entry through the RSS 2.0 feed. Both comments and pings are currently closed.