28 Jan
News and Analyses, A Foreign Perspective
Nearly all of these are English-edition daily newspapers. These sites have interesting editorials and essays, and many have links to other good news sources. We try to limit this list to those sites which are regularly updated, reliable, with a high percentage of "up" time.
Recommended:

Casey Hathaway from North Carolina hailed 'a survivor' by police after becoming lost in sub-zero temperatures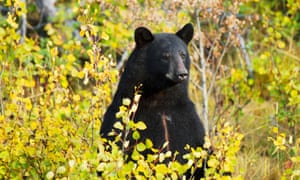 Casey Hathaway told family he hung out with a bear after he went missing near his grandmother's North Carolina home. Photograph: Alamy Stock Photo
A three-year-old boy who survived two nights alone in the woods in freezing conditions has told police and family he was helped out by a friendly bear that was with him the whole time.
Rescuers responding to reports of a baby crying found Casey Hathaway tangled up in thorny bushes, cold and soaked but safe on Thursday night. He had gone missing on Tuesday in conditions so bad the subsequent search had to be called off.
As it turned out, help – perhaps real, perhaps imaginary but certainly useful – was at hand in those woods in North Carolina, a state that is home to plenty of black bears. Craven county sheriff Chip Hughes said Casey "did say that he had a friend in the woods that was a bear that was with him".
The claim was reportedly repeated by the boy's aunt Breanna Hathaway. "He said he hung out with a bear for two days," Hathaway wrote in a Facebook post. "God sent him a friend to keep him safe. God is a good God. Miracles do happen."
Hughes said the boy had been playing with two other children in his grandmother's backyard in Ernul on Tuesday, but did not come inside with them.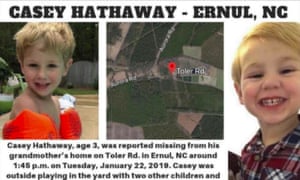 The missing poster for missing Casey Hathaway. Photograph: AP
Brutal weather conditions in the low 20s (Fahrenheit) and concerns Casey wasn't dressed for the cold sparked a search that involved helicopters, drones, K-9 units and divers, as well as hundreds of volunteers. By Thursday the wind and rain had become so bad authorities urged volunteers to stay away.
"He's a survivor," said Hughes on Friday, pointing out that rescuers had to wade through waist-high water to reach the boy, who stands at 2ft 2in (66cm). Casey escaped with just a few scrapes and simply wanted some water and his mother, he said.
Poles mourn critic of ruling party's anti-immigration policies who was stabbed at charity event
Agencies
Polish and European officials joined thousands of people from across Poland on Saturday for the funeral of Pawe? Adamowicz, the mayor of the northern city of Gda?sk, who died on Monday after being stabbed the night before at a charity event.
The European council president, Donald Tusk, a friend of Adamowicz, was among those attending the burial at the vast Gothic St Mary's Basilica. Poland's president, Andrzej Duda, and the prime minister, Mateusz Morawiecki, also attended along with former leaders including Lech Wa??sa.
Other dignitaries included the former German president Joachim Gauck and city mayors from other countries. The black urn with the mayor's ashes will be laid to rest at one of the basilica's chapels.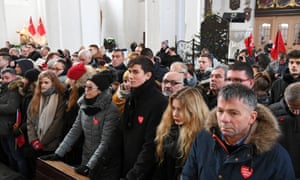 Mourners attend a funeral ceremony for Pawe? Adamowicz. Photograph: Adam War?awa/EPA
Crowds in the streets watched the ceremony on giant screens. A solemn procession brought Adamowicz's casket to the basilica for a mass on Friday night. The body was then cremated.
Earlier, thousands of Poles, carrying flags and candles in cold streets, walked beside the coffin.
The killing of a liberal critic of the ruling party's anti-immigrant policies highlighted the charged atmosphere in parts of eastern Europe, where populist leaders have fanned nationalist sentiment.
A car drove Adamowicz's corpse slowly through the Baltic coast city from the museum of the Solidarity movement that helped to bring down communism in Poland 30 years ago.
From there, it passed schools, monuments and other places significant in 53-year-old Adamowicz's life, en route to the city's main church, St Mary's Basilica, for burial on Saturday.
The streets, in some places covered with thin snow, were blocked, as crowds paid tribute to one of Poland's longest-serving mayors who ran the city since 1998 and beat the candidate of the ruling Law and Justice (PiS) party in October.
"We all feel great emptiness after the mayor has gone, mostly because he left in such a way, such a town, such a moment. I think that a certain stage of history, of humanity, is over," said mourner Ewa Wasinska-Stelter, 46, a teacher.
Adamowicz was attacked on stage during one of Poland's biggest annual charity events last Sunday and died the following day.
Polish authorities have arrested a 27-year-old former convict, named only as Stefan W, over the killing. Speaking on stage, the attacker accused the mayor's former party of putting him in prison, where he said he was tortured.
He was freed last month after serving 5–1/2 years for attempted bank robbery.
Authorities have also detained at least 10 people in recent days over calls on social media to murder and other acts of aggression in the wake of Adamowicz's death.
Critics blame Poland's politicians for cranking up hate speech in public life.
Adamowicz was one of 11 Polish mayors targeted with fake death certificates by a far-right group called All-Polish Youth in 2017, after signing a declaration to welcome refugees in opposition to government policy.
Support for the conservative PiS fell to 30% in the wake of Adamowicz's death, according to a poll conducted by Kantar Millward Brown for Gazeta Wyborcza daily, from 33% in November. The biggest opposition grouping Koalicja Obywatelska has 25%.
As well as encouraging migrants to seek refuge in Gda?sk, Adamowicz was known for backing a campaign to defend rule of law against what activists consider efforts by the PiS to increase political control over the judiciary and other bodies.
World Politics
United States
Trump lifts sanctions on firms linked to Russian oligarch Oleg Deripaska
Democrats in Congress opposed move to lift restrictions

Deripaska is ally of Russian president Vladimir Putin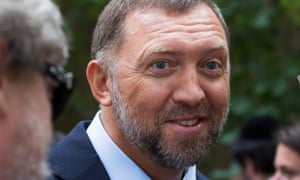 Oleg Deripaska seen in Moscow in 2015. Photograph: Alexander Zemlianichenko/AP
The Trump administration has lifted sanctions on three companies, including the aluminum giant Rusal, linked to Russian oligarch Oleg Deripaska. Democrats had led a push in Congress to continue the restrictions.
Earlier this month, Senate Republicans blocked an effort to keep the sanctions on Rusal, En+ Group and JSC EuroSibEnergo.
Some lawmakers from both parties have said it is inappropriate to ease sanctions on companies tied to Deripaska, an ally of Russian president Vladimir Putin, while special counsel Robert Mueller investigates whether Trump's 2016 presidential campaign colluded with Moscow.
Deripaska had ties with Paul Manafort, Trump's former campaign manager. Manafort pleaded guilty in September 2018 to attempted witness tampering and conspiring against the United States.
Trump administration officials and many Republicans who opposed the effort to keep the sanctions in place said they worried about the impact on the global aluminum industry.
They also said Deripaska had lowered his stakes in the companies so he no longer controlled them, a sign the sanctions were working.
In its statement on Sunday, the US treasury said the three companies had reduced Deripaska's direct and indirect shareholding stake and severed his control.
That action, it said, ensured that most directors on the En+ and Rusal boards would be independent directors, including Americans and Europeans, who had no business, professional or family ties to Deripaska or any other person designated for sanctions by the Treasury department.
"The companies have also agreed to unprecedented transparency for Treasury into their operations by undertaking extensive, ongoing auditing, certification, and reporting requirements," the department's statement said. Deripaska himself remained subject to US sanctions.
After the Treasury announcement, Rusal said Jean-Pierre Thomas had resigned as chairman and director of the company as part of the deal to lift the sanctions. Shares in Rusal jumped more than 5% in early trading in Hong Kong on Monday.
Rusal is the world's largest aluminum producer outside China. The sanctions on the company spurred demand for Chinese metal. China's aluminum exports jumped to a record high in 2018.
It's true that many young people stare at screens instead of being out in the wild – but others use technology to form a global community of conservationists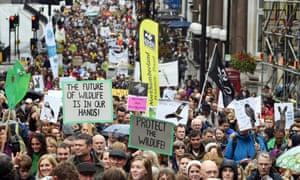 Young campaigners were prominent on the People's Walk for Wildlife, held in London in September 2018. Photograph: Facundo Arrizabalaga/EPA
S

ix years ago, I wrote with a certain amount of sadness a rather gloomy report for the National Trust entitled Natural Childhood. It highlighted the barriers standing in the way of engaging young people with nature: primarily dangers from traffic, parental fears of "stranger danger", and a growing aversion to exposing children to any form of risk. I concluded that we faced the very real danger of a "lost generation", who might never engage with the natural world.
Young people were, and still are, we're told, disconnected from nature, staring at screens when they should be out in the wild. But what I hadn't predicted back then is that it is these screens that are now enabling our children to join forces to save the natural world. The rise of new technology – especially social media – has allowed a new generation to connect with those who share their interests in a way that I never could have believed possible when I wrote Natural Childhood. As one young ornithologist recently told me: "I thought I was the only birder at my school, but on Facebook I found half a dozen others in my local area."
Another budding young naturalist, Abbie Barnes (who climbed Kilimanjaro in the same week she got her A-level results), introduced me to a young man working for conservation in Kenya. When I asked how long they had known each other, Abbie laughed, saying: "We've never actually met before, but we've connected on social media for the past couple of years."
This enthusiasm can be seen up and down the country and has resulted in some high-profile initiatives partly driven by younger campaigners, many of them involved in Chris Packham's People's Manifesto for Wildlife and People's Walk for Wildlife, held in London in September 2018. Packham is in no doubt that this generation will make a real difference, saying: "They're sharp, informed and very determined. Unleashing the brutal honesty and fabulous ideology of youth is the best chance we've got."
I thought I was the only birder at my school, but on Facebook I found half a dozen others in my area
So how did this movement evolve so suddenly and efficiently since my gloomy report? Much of the impetus behind it began at the annual British Birdwatching Fair, or Birdfair, held in Rutland in August, at which people from all over the world gather in England's smallest county to share their mutual passion for birds.
Until recently, one group was conspicuous by its absence: young people between the ages of 16 and 30. Then, thanks to some determined and far-sighted individuals, this began to change. Today, dozens of youngsters visit Birdfair each year, holding debates, swapping stories and forging careers in conservation, environment and the media.
Many are members of the organisation A Focus on Nature (AFoN), whose mission is "to connect, support and inspire young people across the UK with an interest in nature and conservation, and provide a voice for the youth conservation movement".
The idea for AFoN actually began at Birdfair, back in 2012, the same year I published my report. A young birder, Lucy McRobert, asked the company Opticron to donate binoculars to young conservationists who might otherwise not be able to afford them. Opticron said yes, and soon the idea of a larger and more ambitious network emerged: connecting young people with more experienced mentors, in areas such as nature writing, wildlife television and conservation. Yet the best guidance often came from the members themselves, who began to develop a peer-to-peer network, offering practical help and advice.
Bird-watching at an RSPB reserve. Photograph: RSPB
In 2015, AFoN organised a conference in Cambridge, leading to the publication of the report A Vision for Nature. It contained a thoughtful, clear and workable set of proposals to save our natural heritage, written by the generation who will have to clear up the mess we made.
Predictably, despite endorsement from Sir David Attenborough, the report was largely ignored by politicians and the media. Since then, however, AFoN committee members have twice been invited to Downing Street to meet environmental advisers and MPs.
AFoN is not the only youth organisation to spring up in recent years: others include the Bristol Nature Network and the now-disbanded Next Generation Birders, who in 2017 inspired the Telegraph headline "The rise of the hipster bird-watcher".
More On The Environment:
This entry was posted on Monday, January 28th, 2019 at 9:25 am and is filed under General. You can follow any responses to this entry through the RSS 2.0 feed. Both comments and pings are currently closed.