30 Jan
News and Analyses, A Foreign Perspective
Nearly all of these are English-edition daily newspapers. These sites have interesting editorials and essays, and many have links to other good news sources. We try to limit this list to those sites which are regularly updated, reliable, with a high percentage of "up" time.
Recommended:

Warming shelters open in midwest as Chicago area sees temperatures drop to -50F (-46C), with snow possible in southern states
Reuters
A blast of arctic-chilled air from the polar vortex brought dangerous, record-setting cold to a wide swath of the eastern US on Tuesday, stretching from the Dakotas through Maine, with snow expected as far south as Alabama and Georgia.
Cities in the midwest opened warming shelters as temperatures plummeted well below zero degrees Fahrenheit (-17.8C) . Regional governments closed hundreds of schools and airlines canceled more than 1,000 flights, including many to Atlanta days before the Super Bowl.
The midwest will be the hardest-hit area, with a life-threatening wind chill bringing temperatures down as low as minus 50F (minus 46C) in the Chicago area and northern Illinois by Tuesday evening, the National Weather Service (NWS) reported.

Guardian graphic. Source: Climate Prediction Center – NOAA. Data as of 4.58am, 29 January 2019
"This storm poses a serious threat to the wellbeing of people around the state, and we will use every tool at our disposal to keep our residents safe," said the Illinois governor, JB Pritzker, in a statement on Tuesday.
As much as 2ft of snow was forecast in Wisconsin, and 6in in Illinois.
"Listen to the people in your area … We're taking about what could be a very dangerous situation, especially for those traveling," the NWS forecaster Jim Hayes warned on Tuesday. He said frostbite was possible within 10 minutes in the intense cold, which was forecast to linger for days.
The brutal chill was caused by the polar vortex, a mass of freezing air that normally spins around the North Pole but has made its way south into the United States.
Officials in Chicago, which has the country's third-largest school system, said classes would be canceled for all 360,000 students on Wednesday due to the severe weather.
The freezing temperatures may have killed a Rochester, Minnesota, man who was found dead outside his home on Sunday, according to a reports by WCCO, a local CBS affiliate. Rochester police officials did not immediately respond to a request for comment.
Parts of north and central Georgia may see 2in or more of snow in the coming days, along with freezing rain and ice-slicked highways. Georgia's governor, Brian Kemp, shut government offices in 35 counties on Tuesday, and schools across swaths of the state were also closed.
Half of the flights out of Chicago's Midway international airport were canceled on Tuesday, according to the tracking service FlightAware.com.
Snow was expected through Wednesday from the Great Lakes region into New England.
Young people more likely to have depression at 18 if exposed to dirtier air at age 12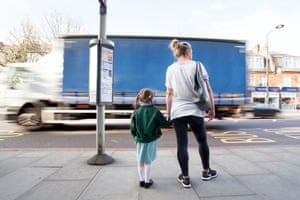 75% of mental health problems begin in childhood or adolescence. Photograph: Alicia Canter/The Guardian
Children who lived in areas with higher air pollution when younger are significantly more likely to have developed major depression by the age of 18, according to research.
In the first analysis of how common air pollutants affect teenage mental health, researchers found young people were three to four times more likely to have depression at 18 if they had been exposed to dirtier air at age 12. Comparison with earlier work indicates that air pollution is a greater risk factor than physical abuse in raising the risk of teenage depression.
The scientists said their findings are particularly significant because 75% of mental health problems begin in childhood or adolescence, when the brain is developing rapidly. The work also suggests a link between toxic air and antisocial behaviour, but more work is needed to confirm this. A larger study is expected later this year.
"High levels of air pollution are just not good for you, and particularly for your children, whether that be physical or mental health," said Helen Fisher at Kings College London, who led the research. "It is sensible to try to avoid the areas with the highest levels of air pollution. We really should be pushing for local and national government to reduce those levels."
The study, published in the journal Psychiatry Research, combined information from a group of children in London with high-resolution data on air pollution levels.
Of the 284 children studied, those who lived in the top 25% most polluted areas at age 12 were found to be three to four times more likely to have depression at 18, compared with those living in the 25% least polluted areas. In comparison, previous work has shown that children who suffer physical abuse are one and a half times more likely to develop depressive disorders.
The researchers took into account other factors that could affect mental health, such as a family history of mental illness, level of income, bullying and smoking habits. They also looked at levels of anxiety and ADHD, but found no link to air pollution.
The increase in risk of antisocial behaviour was three to five times higher. But unlike the link to depression, the result was not statistically significant, potentially because the number of adolescents in the study that behaved badly was small.
Compared with physical health, the effect of air pollution on mental health has been relatively little studied. Research on adults has so far produced conflicting results, although there is strong evidence that air pollution can result in a "significant reduction in intelligence".
The study was not designed to investigate the cause of the depression suffered by the adolescents, but Fisher said inflammation caused by toxic pollution was most likely: "We know the pollutant particles are small enough to cross the blood-brain barrier [and] we know there are big links between inflammation in the brain and the development of depressive symptoms."
She said children and adolescents are particularly vulnerable. "Their brains are developing, hormonally things are changing hugely, and they are exposed to a lot of stressful things," such as forming their relationship with the world, as well as exams and looking for work, she said.
Fisher said further research was important as tackling air pollution was likely to be less difficult than other factors that cause psychiatric harm. "If we can really understand what is going on, then we have the option potentially to intervene early and do something about it," she said.
"This study emphasises the dangers of air pollution to the teenage population of the UK, particularly those living in urban areas," where mental health problems are higher, said Robin Russell-Jones, a public health doctor.
Levels of nitrogen dioxide pollution are at illegal levels in most urban parts of the UK and small particle pollution exceeds World Health Organization guidelines in many places. The government accepts dirty air shortens lives and harms children, but its latest action plan on roadside pollution was described as "pitiful" by environmental lawyers.
Prof Chris Griffiths, a founding member of the Doctors Against Diesel campaign, said: "Further studies are needed, but the urgency to reduce dramatically the exposure of young people to toxic air pollution remains."
"The revelations are truly shocking and saddening and demonstrate just how critical it is that this public health crisis is properly dealt with," said Jenny Bates, at Friends of the Earth.
Rebecca Daniels, at health charity Medact, said: "The government's response is severely lacking – we need robust and comprehensive clean air policies now, including drastically reducing the number of polluting vehicles on our roads."
More On The Environment:
World Politics
United States
Public workers who lack any formal power to strike – but have the informal power not to work – are becoming a force in American politics and labor relations

'Controllers simply stayed home. No federal law prohibits federal employees from getting sick or calling in sick.' Photograph: Spencer Platt/Getty Images
Air traffic controllers hold the trump card (pardon the expression) in upcoming negotiations between Donald Trump and congressional Democrats over border security.
That's because the president and the Republicans know that another shutdown would likely cause a repeat of what happened last Friday, when so many of the nation's air traffic controllers called in sick that America's air traffic came to a near standstill. Hours later, Trump agreed to reopen the government without funding for his wall.
Never underestimate the power of airport delays to arouse the nation. Nancy Pelosi deserves credit for sticking to her guns, but the controllers brought the country to its knees.
Trump is threatening another shutdown if he doesn't get his way by 15 February, when government funding will run out again. "Does anybody really think I won't build the WALL?" he tweeted Sunday, after his acting chief of staff said that he was prepared to shutter the government for a second time.
But his threat is for the cameras. If there's no agreement this time around, the controllers won't work another 35 days without pay. Now that they understand their power, they will shut down the shutdown right away. Trump knows this.
Ironically, it was Ronald Reagan's audacious decision in 1981 to fire and replace more than 11,000 air traffic controllers who were then striking illegally that legitimized decades of union busting. It signaled to employers around the country that unions – both public and private-sector – were fair game.
It also unleashed political forces against unions, culminating last year with the supreme court's 5-4 decision in Janus v AFSCME, holding that government workers can't be forced to contribute to labor unions that represent them in collective bargaining.
But the decision last week by thousands of controllers not to come to work wasn't a strike, and it wasn't initiated by a union. Beforehand, Paul Rinaldi, the president of the controller's union, the National Air Traffic Controllers Association, even went so far as to announce that the union did not "condone or endorse any federal employees participating in or endorsing a coordinated activity that negatively effects the capacity of the National Airspace System".
Not all public workers can expect similar results by walking off their jobs. The walkout has to cause a major disruption
Controllers simply stayed home. No federal law prohibits federal employees from getting sick or calling in sick. And who's to say it was coordinated? Today, the internet can spread information about a voluntary walkout as quickly and efficiently as any centralized coordinator.
The larger story is that public workers who lack any formal power to strike – but have the informal power not to work – are becoming a new force in American politics and labor relations.
Look what teachers accomplished last year by walking out of their classrooms in the unlikeliest of places – West Virginia, Arizona, Oklahoma, Kentucky, Colorado and North Carolina. Most of these are Republican "right-to-work" states that bar strikes by public employees. In recent years, all have slashed school funding and eroded teacher pay and benefits.
Like the air traffic controllers, the teachers chose not to work rather than give in to what they considered intolerable conditions. These unauthorized "wildcat" strikes won gains in teachers' salaries and funding for schools. (Not incidentally, they also galvanized thousands of teachers to run for office in the 2018 midterm elections.)
These were especially powerful because they offered elected officials no union leader or chief organizer with whom to negotiate a deal, who would then sell it to rank-and-file workers. As with the air traffic controllers last week, officials had to back down because the people they were dealing with were all rank-and-file, and public pressure was mounting rapidly.
Not all public workers can expect similar results by walking off their jobs. The walkout has to cause a major and visible disruption. (A work stoppage by FDA inspectors would hardly be noticed, at least until the public begins to worrying about toxic drugs and tainted meat.)
And the public has to be supportive. By the fifth week of Trump's shutdown, polls showed the public highly sympathetic to federal workers who hadn't been paid. Likewise, most Americans have been on the side of teachers. National polls have shown the public largely in favor of higher teacher pay and supportive of teachers' right to strike.
Finally, it's not a weapon that can be used often because it relies for its potency on public frustration and inconvenience. If walkouts by public employees in France and other nations are any guide, public patience eventually wears thin.
But when elected officials in the United States abuse their power or take actions that unnecessarily harm the public, walkouts by public workers can function as an important constraint.
In the age of Trump, we need all the constraints we can get.
In a statement to the Senate, Daniel Coats said North Korea is unlikely to give up its nuclear weapons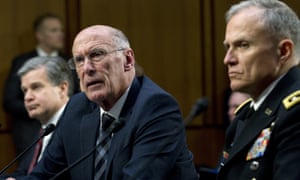 Daniel Coats, the director of national intelligence, testifies before the Senate intelligence committee on Capitol Hill. Photograph: José Luis Magaña/AP
The head of US intelligence has said that North Korea is "unlikely to give up" its nuclear weapons because its leadership sees them as "critical to regime survival" – in comments which contrasted sharply with Donald Trump's own assessment.
Daniel Coats, the director of national intelligence, made his assessment in a written statement on "worldwide threats" to the Senate on Tuesday, which was noteworthy for the many ways it differed from the rhetoric favoured by the president and his top aides.
The gaps were not only evident on North Korea, but also on Iran's nuclear programme, the continuing threat of the Islamic State in Syria and on the importance of climate change. The distance between the White House and its intelligence agencies was highlighted further in verbal testimony to the Senate intelligence committee by Coats, alongside the heads of the CIA, DIA and NSA who also testified.
Coats's assessment on North Korean intentions had particular impact as it comes in the run-up to a planned second summit at the end of February between Trump and Kim Jong-un.
Trump has rejected repeated reports that – while the Pyongyang regime has halted nuclear and missile tests since the first summit in Singapore last June – it has not paused its production of nuclear weapons and may have stepped it up.
"The media is not giving us credit for the tremendous progress we have made with North Korea," Trump complained in a tweet last week. The secretary of state, Mike Pompeo, has insisted that the diplomatic effort was aimed at complete North Korean disarmament.
In his written testimony, however, Coats said: "We continue to assess that North Korea is unlikely to give up all of its nuclear weapons and production capabilities, even as it seeks to negotiate partial denuclearization steps to obtain key US and international concessions."
"North Korean leaders view nuclear arms as critical to regime survival," Coats argued.
He went on to point out that Kim Jong-un's pledge in Singapore to pursue the "complete denuclearization of the Korean peninsula" – which Trump and Pompeo portrayed as a historic breakthrough – was no more than "a formulation linked to past demands that include an end to US military deployments and exercises involving advanced US capabilities".
That assessment of North Korea was echoed by the head of the Defence Intelligence Agency, Lt Gen Robert Ashley. He told the Senate committee: "The capability and threat that existed a year ago are still there."
In contrast, Coats said that US intelligence "continue to assess that Iran is not currently undertaking the key nuclear weapons-development activities we judge necessary to produce a nuclear device".
He noted that Iran's activities are limited by the 2015 multilateral nuclear deal, the Joint Comprehensive Plan of Action (JCPOA), but as Iran derives ever fewer benefits from the deal, hardliners are pressing for the state to break free of those constraints.
Trump abrogated the JCPOA in May last year and his administration has threatened sanctions against anyone doing business with Iran.
Pompeo and the national security adviser, John Bolton, have described Iran as the biggest terrorist threat in the world, but the intelligence community's worldwide threats assessment does not echo that view. It lists Iran below Isis and al-Qaida and homegrown extremists.
Coats's written testimony said: "Isis still commands thousands of fighters in Iraq and Syria, and it maintains eight branches, more than a dozen networks, and thousands of dispersed supporters around the world, despite significant leadership and territorial losses."
On a day that Trump ridiculed concern about climate change because of the current blast of arctic weather in the midwest, the intelligence report also includes sombre predictions of the repercussions of global warming.
Trump has dismissed climate change as a hoax, and on Tuesday tweeted: "What the hell is going on with Global Waming? Please come back fast, we need you!"
The administration has scrubbed references to climate science from government websites, but Coats's report presented it as a major threat.
"Climate hazards such as extreme weather, higher temperatures, droughts, floods, wildfires, storms, sea level rise, soil degradation, and acidifying oceans are intensifying, threatening infrastructure, health, and water and food security," Coats warned.
This entry was posted on Wednesday, January 30th, 2019 at 7:55 am and is filed under General. You can follow any responses to this entry through the RSS 2.0 feed. Both comments and pings are currently closed.