05 Feb
News and Analyses, A Foreign Perspective
Nearly all of these are English-edition daily newspapers. These sites have interesting editorials and essays, and many have links to other good news sources. We try to limit this list to those sites which are regularly updated, reliable, with a high percentage of "up" time.
Recommended:
Updates on its location – essential for everything from consumer electronics to runway names – are coming thick and fast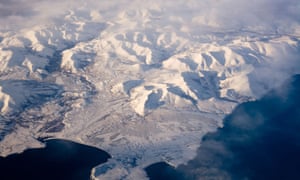 The north pole is moving about 34 miles a year, away from the Canadian arctic towards Siberia. Photograph: Jose Luis Stephens/Alamy Stock Photo/Alamy Stock Photo
Earth's north magnetic pole has been drifting so fast in recent decades that scientists say that past estimates are no longer accurate enough for precise navigation. On Monday, they released an update of where magnetic north really was, nearly a year ahead of schedule.
The magnetic north pole is moving about 34 miles (55 kilometres) a year. It crossed the international date line in 2017, and is leaving the Canadian Arctic on its way to Siberia.
The constant shift is a problem for compasses in smartphones and some consumer electronics. Planes and ships also rely on magnetic north, usually as backup navigation, said University of Colorado geophysicist Arnaud Chulliat, lead author of the newly issued World Magnetic Model. GPS is not affected because it is satellite-based.
The US military uses magnetic north for navigation and parachute drops and airport runway names are based on their direction in relation to magnetic north. Their names change when the poles are moved. For example, the airport in Fairbanks, Alaska, renamed a runway 1L-19R to 2L-20R in 2009.
The US National Oceanic and Atmospheric Administration and UK tend to update the location of the magnetic north pole every five years, but this update came early because of the pole's faster movement. The movement of the magnetic north pole "is pretty fast", Chulliat said.
Since 1831 when it was first measured in the Canadian Arctic it has moved about 1,400 miles (2,300 kilometres) toward Siberia. Since 2000, its speed jumped from about 9 miles a year (15km) to 34 miles a year (55km).
The reason is turbulence in Earth's liquid outer core. There is a hot liquid ocean of iron and nickel in the planet's core where the motion generates an electric field, said University of Maryland geophysicist Daniel Lathrop, who wasn't part of the team monitoring the magnetic north pole.
"It has changes akin to weather," Lathrop said. "We might just call it magnetic weather."
The magnetic south pole is moving far slower than the north.
In general Earth's magnetic field is getting weaker, leading scientists to say it will eventually flip, where the north and south pole change polarity like a bar magnet flipping over. It has happened numerous times in Earth's history, but not in the past 780,000 years. "It's not a question of if it's going to reverse, the question is when it's going to reverse," Lathrop said.
When it reverses, it won't be like a coin flip, but take 1,000 or more years, experts said.
More On The Environment:
World Politics
Great Britain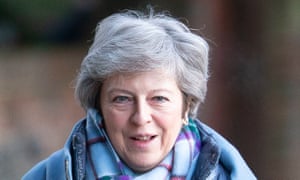 United States
The Massachusetts senator wants to be the 46th US president. The Democrat, whose criticism of big banks and corporations has made her a progressive star, faced unwanted headlines after releasing the results of a DNA test. But what else do we know about her?
Inquiry headed by Manhattan US attorney's office adds to legal threats swirling around presidency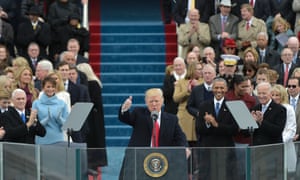 Investigators are reportedly examining how Trump's inaugural committee spent money and whether donations were made in return for influence over policy or access. Photograph: Mandel Ngan/AFP/Getty Images
As Robert Mueller's investigation continues, federal prosecutors in New York have separately ordered Donald Trump's inaugural committee to turn over documents related to the $107m celebration marking the start of his presidency in 2017.
Inaugural committee spokeswoman Kristin Celauro told the Associated Press that the committee had received the subpoena and was still reviewing it. "It is our intention to cooperate with the inquiry," she said.
A second spokesman, Owen Blicksilver, declined to answer questions about which documents prosecutors requested. The US attorney's office in Manhattan, which issued the subpoena, declined to comment.
The investigation is yet another legal threat surrounding the president as he prepares for the State of the Union address on Tuesday. The Russia inquiry, which has ensnared several senior figures from his presidential campaign, appears close to the end. But the administration is preparing for a blitz of oversight investigations that the newly empowered House Democrats have promised.
The subpoena, first reported by ABC, represents an escalation of the investigation, headed by the public corruption unit of the Manhattan US attorney's office.
The New York Times and the Wall Street Journal, citing sources familiar with the investigation, reported that federal prosecutors in New York's southern district on Monday issued a subpoena related to the committee's donors, finances and activities. Prosecutors are also examining whether any foreigners made illegal payments to the committee, the newspapers reported.
No one working for the committee has been accused of wrongdoing, the reports said, and there is no indication that the matter relates directly to Trump.
The Wall Street Journal reported in December that prosecutors were in the "early stages" of an investigation into whether Trump's inaugural committee and a pro-Trump Super Pac received illegal donations from foreigners hoping for influence over US policy.
Investigators are reportedly examining how the committee spent the money as well as whether the donations – a record sum raised for such an event – were made in return for influence over policy or access to the Trump administration as it entered power.
The Times reported that the inquiry was focused on whether individuals from Qatar, Saudi Arabia and other Middle Eastern nations used "straw donors" to hide their own gifts to the Trump funds.
The Journal reported that the investigation arose from an FBI raid on the home of Michael Cohen, Donald Trump's longtime lawyer and fixer who has been sentenced to three years in prison for lying to Congress and facilitating illegal payments to silence two women who alleged affairs with Trump.
FBI agents raided Cohen's home and office in April, which resulted in the disclosure of a recorded conversation between the lawyer and Stephanie Winston Wolkoff, a former adviser to Melania Trump, according to the newspaper. In the conversation, Wolkoff, one of the main producers of the 20 January 2017 inauguration celebrations, is alleged to have "expressed concern" about how the inaugural committee was spending the money it had raised.